..This is the live webcam at North Beach / Playa Norte
.
The "Morning Edition" has translated headlines & newspaper photos. This Afternoon Edition has translations of the articles, Daily Events & Live Music Schedules & the "Around the Internet in the Past 24 Hours" section including photos & info from individuals & local businesses ....

Daily In Isla Mujeres.

There are always links to the original articles in Spanish.
Port reopened for navigation by all vessels
Winds & rain of tropical wave #17 abated: Monitoring the levels of the salina lakes
Reabren puerto a la navegación
Martes, 03 de Septiembre de 2013 21:34
Amainan los vientos y las lluvias de la onda tropical 17: Vigilan niveles de las Salinas
ISLA MUJERES, 3 de septiembre.- The Harbor Master opened the port in the afternoon after the wind and rain of Monday night died down, with a recommendation of extreme caution for small boats. Tropical wave #17 extended from the Bay of Campeche through Tabasco and Chiapas to the Pacific Ocean and was interacting with a low pressure system above the Yucatan peninsula, which brought heavy showers Monday night and early Tuesday morning. They are monitoring lake levels, and have not needed to turn on the pumps.
Leer más...
Eight kilos of bees eliminated in two days
To avoid stings to passersby
En dos días eliminan 8 kilogramos de abejas
Martes, 03 de Septiembre de 2013 21:34
Para evitar picaduras a transeúntes
Manuel VALDEZ
ISLAMUJERES, 3 de septiembre.-
(
That's nearly 17 pounds.
) On Monday, Civil Protection received a call about a beehive at a private house near the basketball court and the Town Hall. It was removed by the firefighters and contained about two kilos of bees. The second call came on Tuesday concerning bees in an abandoned warehouse near the ISSSTE, where about six kilos of bees were living. Both hives were removed using pressurized water and detergent, and the public is advised to call Civil Protection to report any beehives, since sudden movements can set them off to attack. (
Many of the bees in this area are "Africanized" and can be aggressive. Traditionally Mayans gathered honey from stingless bees, but they produce less honey. Honey is exported from the Yucatan and is a significant agricultural product, and bees are depicted on the ancient Mayan ruins.
How do ya suppose one estimates a kilo of bees?
)
There was also an oil spill near a 'known supermarket' by a beer company, which was cleaned up after it was reported.
Leer más...
More than 260 bureaucrats giving the grito on the 15th
To be dropped from the payroll with the next administration
Más de 260 burócratas darán el grito el quince
Martes, 03 de Septiembre de 2013 21:19
Serán dados de baja para adelgazar nómina para la próxima administración
Manuel VALDEZ
ISLA MUJERES, 3 de septiembre.- The Mayor acknowledged that in these final days of his administration, there will be over 260 City workers laid off on Sept. 15th. The City has a list of over 990 employees, and at the end of his administration, they will reduce the support staff, and eliminate the compensations, and the other special services that do not belong to the City that were granted to institutions. He said there will be fewer staff during the final days, but services should not be affected. There is an explanation concerning final payment for personnel, such as directors, whose duties terminate on Sept. 29th. There have been cutbacks, especially in social services, due to the difficult economic situation of the City.
Leer más...
Tvisla Mujeres
HERE is an explanation in English about the politics behind the protests against recent Educational Reforms. This is a National issue, in response to laws backed by Pres. Nieto, and now passed by Congress.
As of this night, notices were posted in several schools suspending classes indefinitely. The signs confirm the work stoppage is occurring in preschools, primaries, and middle schools.
A partir de esta noche se hace extensivo el aviso en varias escuelas sobre la suspensión de clases de manera indefinida; A través de cartulinas confirman el paro de labores en los niveles preescolar, primaria y secundaria.
It says Today we decided to close the schools as of the day of tomorrow. Esten always open and free and public. This is a NATIONAL level work suspension. (Preschool/kindergarten, primary, middle school)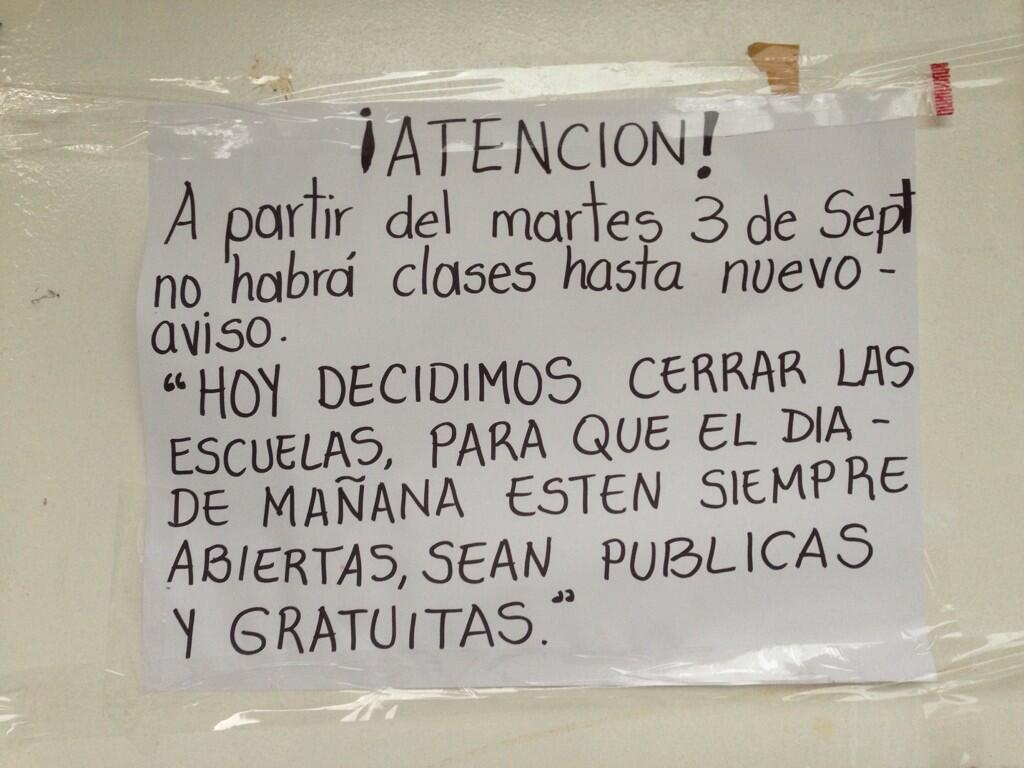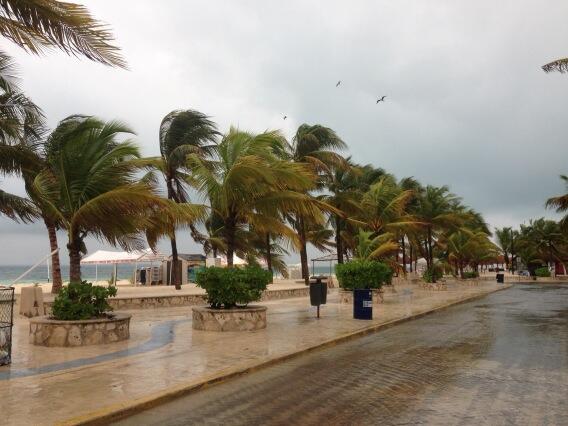 Noticias de Quequi......
Protesta

0

03 de septiembre de 2013 This article quotes comments of Facebook of support for the President and the Educational Reform. Another comment expresses concern about this harming the children, even though some parents may support the teachers.

---

Por Carlos Gasca.

Clima

No effects from the rainy weather

0

03 de septiembre de 2013

---

Por Carlos Gasca/Quequi The rains that fell on Monday morning and lasted until Tuesday morning did not cause harmful effects and the lakes were not full. The pumps were turned on in a timely manner downtown, so Abasolo and Hidalgo were not affected. (

Barlito's corner

). There is likely to be some more rain over the next couple of days. This interview was done with the Director of Civil Protection, Gabriel Sulu Martinez.
SIPSE
Planning increased monitoring in the school cooperatives
Diario La Verdad
por esto
Public schools close
Cerrados los planteles públicos
+]
Ver mas
More than 2000 students are likely to be left without classes, and representatives of the teachers have not announced when classes will resume. Parents have not issued a statement, but this is complicated because they have nowhere to leave their little ones, who will experience a delay in their educations.
Boating activities suspended
Actividades náuticas suspendidas
[+]
Ver mas
Bees swarm into a shed
Atacan abejas en una bodega
[+]
Ver mas

This blog is brought to you by....
MaraVilla Caribe

Bed & Beach

Three rentals with large glass doors overlooking our white sand beach and the beautiful Caribbean sea, with kitchenettes &

free WIFI.

In the coastal neighborhood of Bachilleres, among upscale villas & boutique hotelitos, convenient to downtown or the colonias, yet separate.

Quiet & Private.




Free amenities such as hammocks, bikes, outdoor shower, portable beach chairs & beach towels, washer, loungers & BBQ.

Breathtaking panoramic views from the rooftop terrace. Upstairs room also available.

Downtown is ~ a mile away; if you don't feel like walking or biking, flag a $2 taxi or hop on the bus. We also have room for parking,

You can enjoy the music & crowds downtown, then come home our quiet neighborhood of Bachilleres where you'll

sleep to the sounds of the sea.

.

$275/$325/$425 wk $40/50/$65nt Monthly Discounts

View from rooms
Small room
Large room
Fine dining a few steps away at Da Luisa or try the traditional neighborhood eateries a couple blocks farther. Stroll five minutes down the coastal sidewalk to Mango Cafe or Monchi's,shop at Chedraui or visit restaurants, bars, & beach clubs; minutes away by bike or on foot. Our guests recommend the Yoga classes a couple villas away at hotelito Casa Ixchel. Fresh juice, produce & tortillas a few blocks away in the village, as well as a pharmacy and variety of other stores and small local restaurants
UPCOMING EVENTS
Sept 5: 4-7 Thursday Art Fair On The Square

Sept. 7: Saturday 8:30am: Procession To Isla Contoy of Virgin of Caridad de Cobre. Meet at Church on Town Square at 8am. Return to Isla Mujeres ~3pm

Sept 7: International Beach Clean Up Day

Sept 14-16 Holiday Weekend: Mexican Independence Day begins with the Grito on Town Square Sunday at midnight
Sept. 30 Change of Municipal Government
Critter events...
It is currently the season for swimming with the whale sharks, and turtles are nesting on the eastern beaches in the wee hours. There are Tortugranja personnelmonitoring the beaches to prevent people from disrupting them, and to gather and transport the eggs for incubation.
By far, most of the turtles nesting in Isla Mujeres are Green turtles (called Blancas in Spanish), and the second most common are the huge Loggerheads, and there are some Hawksbills. The Green turtles take ~60 days to hatch and are held in the water tanks at the Tortugranja until the hatchlings are released by the public at events at dusk on Media Luna or Guadalupana. These events will occur periodically until early October and are usually announced a day or two in advance. They are rescheduled if the sea is rough.
Lately there have been many rays, in addition to many whale sharks. From MVC, we have been seeing dolphins from the balcony, and some large fish while snorkeling offshore. Lotsa mama turtles visiting our beach lately!
There are blue and red crabs migrate to & from the sea during the full moons, watch out for them at night on the coastal road at the southeastern part of the isle & in Sac Bajo
Lobster season began July 1 and continues until the end of February.
See Live Music tab at top of page...
J
ohn Cain's schedule is
Tuesday- Cafe Del Mar, 8-10, solo guitar & vocals
Wednesday- Bally Hoo, 7-9, Sol Rockers band
Thursday-Sunset Grill 7-9
Friday- Iguana Bar-7-9, solo guitar & vocals
Sunday- Bahia Tortuga- 7-9, Sol Rockers band
On the internet in the past 24 hours...
not today.
Playa Norte

now in real time in Isla Mujeres
"Time Lapse" of Playa Norte Webcam: LINK
.
.