..This is the live webcam at North Beach / Playa Norte
.
The "Morning Edition" has translated headlines & newspaper photos. This Afternoon Edition has translations of the articles, Daily Events & Live Music Schedules & the "Around the Internet in the Past 24 Hours" section including photos & info from individuals & local businesses ....

Daily In Isla Mujeres.

There are always links to the original articles in Spanish.


Building a new pier
It survived hurricanes Wilma & Gilberto, but not the crowbars
No navigation for boats under forty feet in length due to the effects of tropcial wave #19
Tvisla Mujeres
The Army will participate in the festivities for Independence Day
Friday at 11am will be the civic ceremoney of the 166th anniversary of the Heroic Events of Chapultepec, with participation for the first time by members of the Army. The public is invited to this event which will take place in front of the Navy base at the monument honoring the young heroes.
There will be about 150 Army soldiers and officers participating in the Independence parade on Monday Sept. 16. The mayor said it is unfortunate that the schools will not be participating. The events will be austere with some spending to liven up the night of Sept. 15th.
Noticias de Quequi......
Invasion of vacant lots
0

12 de septiembre de 2013

---

Por Carlos Gasca > Quequi.- In colonia La Caribeña, there were four lots that had been vacant, until yesterday when signs appeared saying "Constructora e Inmobiliaria Sotycab S.A de C.V." with a Benito Juarez address. The owners of the properties have their papers in hand, and have titles dating back 20 years, and were surprised by the signs. A company representative said they have been contacted by the Mayor and made a commitment to not touch anything. The representative explained they had been contacted by "a person" with an offer to carry out "a construction project", but after the installation of the signs they were contacted about an alleged invasion of private property. They say they will not begin any housing projects without proof of who owns the property, and do not want any problems. The owners have decided to start "defining" their land, to avoid someone else coming and surprising them.

ALTRUISMO

Volunteers give English classes

0

12 de septiembre de 2013

---

Por Carlos Gasca > Quequi. Foreign volunteers with the organization "Volunquest" are teaching English classes to over 50 grade school children affected by the teachers strike. The classes are taking place at the Community Center, where the children are also having classes in crafts, and outdoor games. Kristen Tywan explained that although classes are taught under the auspices of the Ministry of Education and Culture (SEyC), they are not intended to meet the planned school curriculum, but to offer support to parents and education to children.
SIPSE
Diario La Verdad
por esto
"Social Justice" cooperative will have a new pier
Justicia Social tendrá nuevo muelle
. [+]
Ver mas
Rain may spoil Independence festivities
Lluvias podrían "aguar" las fiestas patrias
[+]
Ver mas
Updating the Urban Image Regulations
Actualizan el Reglamento de Imagen Urbana
[+]
Ver mas
Losing ability to compete in the Caribbean
Pérdida de competitividad en el Caribe
[+]
Ver mas

This blog is brought to you by....
MaraVilla Caribe

Bed & Beach

Three rentals with large glass doors overlooking our white sand beach and the beautiful Caribbean sea, with kitchenettes &

free WIFI.

In the coastal neighborhood of Bachilleres, among upscale villas & boutique hotelitos, convenient to downtown or the colonias, yet separate.

Quiet & Private.




Free amenities such as hammocks, bikes, outdoor shower, portable beach chairs & beach towels, washer, loungers & BBQ.

Breathtaking panoramic views from the rooftop terrace. Upstairs room also available.

Downtown is ~ a mile away; if you don't feel like walking or biking, flag a $2 taxi or hop on the bus. We also have room for parking,

You can enjoy the music & crowds downtown, then come home our quiet neighborhood of Bachilleres where you'll

sleep to the sounds of the sea.

.

$275/$325/$425 wk $40/50/$65nt Monthly Discounts

View from rooms
Small room
Large room
Fine dining a few steps away at Da Luisa or try the traditional neighborhood eateries a couple blocks farther. Stroll five minutes down the coastal sidewalk to Mango Cafe or Monchi's,shop at Chedraui or visit restaurants, bars, & beach clubs; minutes away by bike or on foot. Our guests recommend the Yoga classes a couple villas away at hotelito Casa Ixchel. Fresh juice, produce & tortillas a few blocks away in the village, as well as a pharmacy and variety of other stores and small local restaurants
UPCOMING EVENTS
This is the Holiday Weekend for Mexican Independence Day
Grito: traditonal on town squares throughout Mexico (link)
Sept 15th on Town Square:
Tables available (300p)
9p Cultural Soiree
10:30 Independence Ceremony
11:30 Live Music....Dance with Super Crack band
Monday, Sept.16 8:30am Parade Main Street Rueda Medina
Sept. 19 6:55pm Moonrise (Sunset 6:45)
Sept. 30 Change of Municipal Government
Live Music

In Isla Mujeres: FRIDAY
EARLY



Casa de los Suenos

4-7 Live music & Half priced appetizers LINKwebsiteLINKfb





Iguanas

6:30 - 8:30 John Cain

LINK

Fb





Sunset Grill

6-7:30 Keyboard & Vocals LINK

~8p



Fenix:

8-10 La Guera & Willy's Blues LINK



Faynes

8-10 Raul Alexis LINK

Cafe del Mar 8 (?) LINK LINK



Las Brisas Grill

: (?

) Cuban music starts around dusk

LINK

Ocean Blues & Sassy Jazz

8-10

LINK

Late


La Terraza

10p Salsa & Latin

LINK



Faynes

10:30-12:15 Banda Sin Nombre LINK

Adelita's Tequila Bar 12:30-2:30 Banda Sin Nombre LINK

Tres Mentiras

?

LINK



La Catrina

:

?

LINK LINK



Poc Na

: ?

Link

J

ohn Cain's schedule is
Tuesday- Cafe Del Mar, 8-10, solo guitar & vocals
Wednesday- Bally Hoo, 7-9, Sol Rockers band
Thursday-Sunset Grill 7-9 Friday- Iguana Bar-7-9, solo guitar & vocals


Iguana's is planning a special Menu of Mexican Food
On the internet in the past 24 hours...
They actually have a shot at this & are moving up in the competition...but need help. If they don't make the Grand Prize, they may win a smaller amount of money. You don't have to give any info to vote, and it takes you right to the Isla Animals option. Very easy!
Like · · Follow Post · Share
Nothing exciting weatherwise in the Big Picture.... Ingrid is heading NW, and Humberto is losing strength. But we may get more rain this weekend.
Graphical Tropical Weather Outlook
|
Active Storms
|
Marine Forecasts
Tammi Lewis


Green Verde will offer delivery at the hours below beginning Sept. 18 (Wednesday) Their menu is HERE
Below it says....Tasty White Sandwichon..15p per half, 25p per entire square. Delivery Service. After 5pm call, whtsapp or FB inbox to
Daniela Rodriguez Rodriguez
Merca Isla
Kathy Ennis posted a photo

From TVIM via Twitter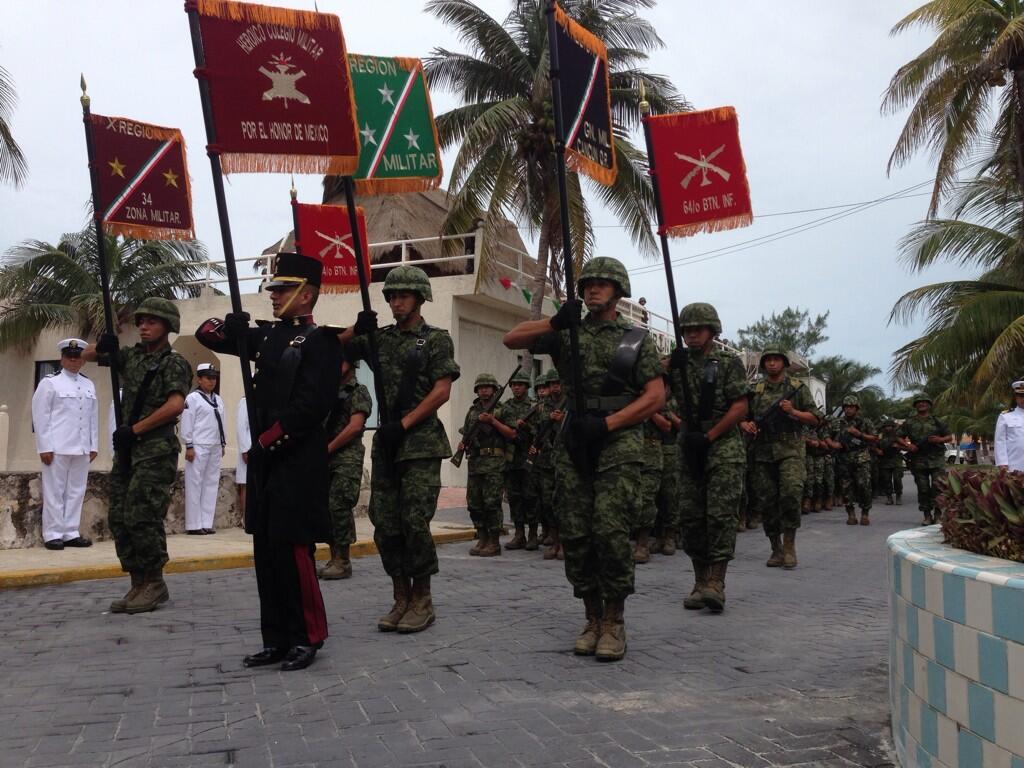 The poster below tells about the (166th) anniversary being commemorated today, of los Heroes Ninos at the assualt on the castle at Chapultepec, where their military academy was located. It explains that America declared war against Mexico in 1846 and tells about this battle near Mexico City, where a half dozen cadets refused to retreat and died...you can read more about it
HERE
, and
HERE
. (You may recall refugees from a war in the Yucatan,The Caste War, fled to Isla in 1848, establishing the town in 1850.)
Playa Norte

now in real time in Isla Mujeres
"Time Lapse" of Playa Norte Webcam: LINK
.
.