North Beach/Playa Norte In Real Time

In Isla Mujeres
L

INK

to 24 hour time laps

e of the webcam
WIFI service for our section of the neighborhood was down for several days, so publication of The Daily News from Sunday-Wednesday was delayed. Thank you for your patience.
There a

re

always links to the original articles in Spanish.
Check out our new Restaurant Guide.
..with Delivery numbers, Menus, & (coming soon) Special Deals...HERE!
Only lacking the formalization of Agapito Magana and Juan Carrillo as winners
Today the results for the Congressman-elect will be confirmed, and on Sunday they will do the same for the Mayor-elect
Tvisla Mujeres
Municipal police operation mounted after suspicion of a new arrival of undocumented immigrants in Isla Mujeres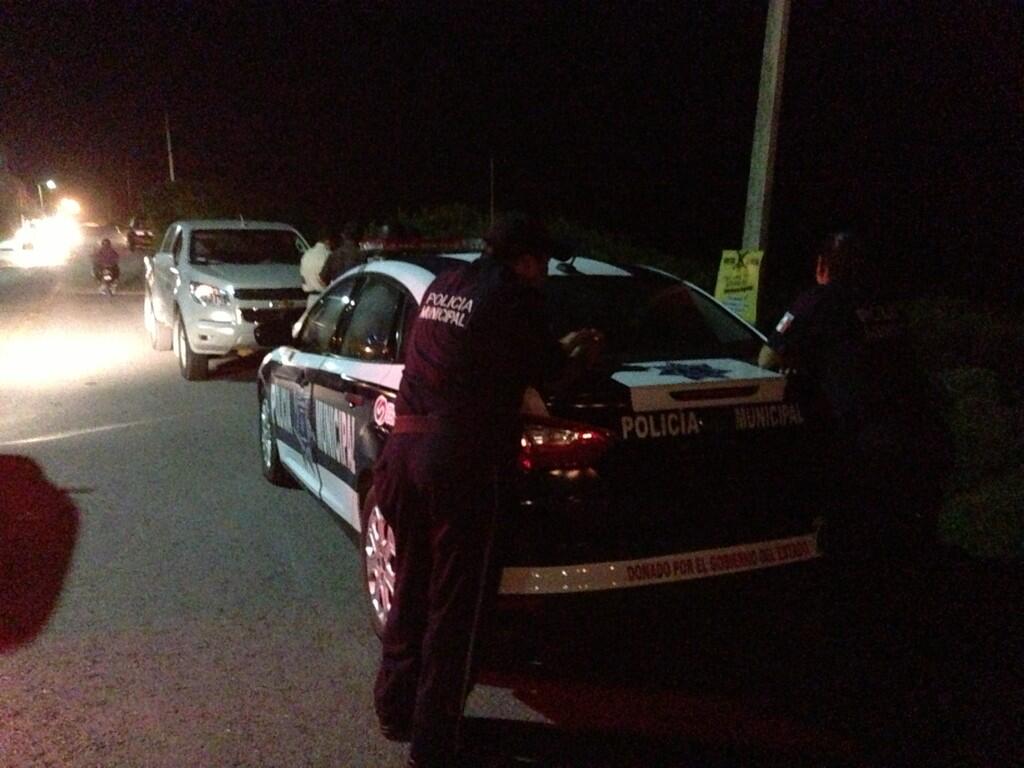 Noticias de El Quintanarroense
Isla Mujeres requires more educational spaces
Noticias de Quequi......
Empresarios

Urged to remove election propaganda

0

09 de julio de 2013

---

The Secretary General of the City Council called on the political parties to comply with the agreed upon guidelines of the Electoral Institute of Quintana Roo (IEQRoo) and remove political propaganda from the public roadways. He will meet with their representatives to encourage them to comply. If they do not act responsibly and accordingly, the city will remove the banners, signs, and placards, whose visual pollution is not pleasant for visitors at this tourist destination. In the past the cleanup was done approximately 24 hours after the election. Then the NGO "Amigos de Isla Contoy" recycled the materials, and it is hoped that will happen again this time, which is independent of the fact that citizens use them to cover items such as vehicles (

There is already a golf cart with a campaign sign as its roof

). In the case of the NGO, the recycled materials are sold to tourists as handbags at small businesses, which has been very successful.

PRI

Ready to deliver the confirmation of Juan Carrillo

---

Por Carlos Gasca-Quequi.-
Adequate capacity at the middle school
SIPSE
Preparing for the governmental changeover in Isla Mujeres
About 40 employees met at City Hall
Demand for labor in Isla Mujeres: Hotels hiring
Municipios | Demandan mano de obra en Isla Mujeres.Lanrry Parra With the arrival of the summer holiday season, at least a half dozen hotels and restaurants are seeking employees, with the anticipation of many daytrippers visiting the island in upcoming days. The CROC union maintains a registry of workers who are waiting to be called, for jobs such as waiter, kitchen help, and entertainer (animador). More workers are arriving from other parts of the state and country in search of job opportunities.
Congressman-elect & Mayor-elect await official confirmation
Elecciones Q. Roo | Diputado y alcalde electos esperan constancias


Increased number of students registered in Isla Mujeres



Registra Isla Mujeres sobredemanda de estudiantes
Diario La Verdad
por esto
Confirmation of Congressman-elect
Constancia de diputado electo
]
Ver mas
Decreased production and demand for lobster
Baja la producción y demanda de langosta
[+]
Ver mas
Fishermen report a slow start at 9 days into the lobster season, citing low demand and weather that stirred up the sea, causing some poor fishing conditions. Since the season began the Social Justicial cooperative has harvested a ton of live lobsters and 300 kilos of lobster tails. The minimum price for live lobster is between 200 and 220 per kilo and 400 pesos per kilo of lobster tail.Demand is expected to improve, and the fishermen are hoping for consistently good weather with the start of the summer holiday tourism season.
Using an exchange rate of 12.5, 400 pesos is $32usd, which is $14.50/lb for fresh lobster tails. Live lobster costs about half that much.
Considerable rebound of tourism
Inicia repunte turístico considerable
[+]
Ver mas
The head of the Chamber of Commerce (CANACO), Juan Carrillo Figueroa said tourism has increased significantly and he estimates that hotel occupancy is at 70 percent. He expects it to increase to 80 percent at the end of the month. He said the island does not benefit significantly from increased domestic holiday tourism because many people stay at hotels in Cancun and visit for the day, and therefore the best season for the municipality is in December. He said national tourists seek a destination like Cancun that includes shopping malls, theaters, clubs, and services not found in Isla Mujeres, which is known as a destination for relaxation, where people come to enjoy the beaches. He said, "This is one of the strongest seasons we have, but without a doubt, in December we do better."
This blog is brought to you by....
MaraVilla Caribe

Bed & Beach

Three rentals with large glass doors overlooking our white sand beach and the beautiful Caribbean sea, with kitchenettes &

free WIFI.

In the coastal neighborhood of Bachilleres, among upscale villas & boutique hotelitos, convenient to downtown or the colonias, yet separate.

Quiet & Private.




Free amenities such as hammocks, bikes, outdoor shower, portable beach chairs & beach towels, washer, loungers & BBQ.

Breathtaking panoramic views from the rooftop terrace. Upstairs room also available.

Downtown is ~ a mile away; if you don't feel like walking or biking, flag a $2 taxi or hop on the bus. We also have room for parking,

You can enjoy the music & crowds downtown, then come home our quiet neighborhood of Bachilleres where you'll

sleep to the sounds of the sea.

.

$275/$325/$425 wk $40/50/$65nt Monthly Discounts

View from rooms
Small room
Large room
Fine dining a few steps away at Da Luisa or try the traditional neighborhood eateries a couple blocks farther. Stroll five minutes down the coastal sidewalk to Mango Cafe or Monchi's,shop at Chedraui or visit restaurants, bars, & beach clubs; minutes away by bike or on foot. Our guests recommend the Yoga classes a couple villas away at hotelito Casa Ixchel. Fresh juice, produce & tortillas a few blocks away in the village, as well as a pharmacy and variety of other stores and small local restaurants
This is the "Early Edition" with translated headlines & newspaper photos, which usually publishes

around

sunrise.
The Final Edition publishes around noon with translation

s of the

news articles

, and

original photos including today's sunrise

&

the "Around the Internet in the

P

ast 24

H

ours" section, w

ith

upcoming events & activities....

In Isla Mujeres.
There a

re

always links to the original articles in Spanish.