..This is the live webcam at North Beach / Playa Norte
.
The Early Edition has headlines & newspaper photographs.
This Afternoon Edition has translated articles, events, & original photos with the "Around the Internet in the Past 24 Hours" section.
There are always links to the original articles.
If there is a headline, but no translation, the information was probably already translated recently.
.
Check out our Restaurant Guide.

.

.with Delivery numbers, Menus, & Today's Special Deals...HERE!
Low catch & demand for lobster
Live lobsters selling between 170 & 200 pesos per kilo
The season began with good catches, but now the lobster fishermen are complaining that production has stagnated and there is a lack of demand from the restaurants, so that they are having to sell lobster for 180 pesos a kilo. In general live lobster is selling for 170 to 200p/kilo and tails are selling between 300 and 400 pesos a kilo. (

Using 12.5 as an exchange rate, 300p/kilo for tails is $24 or $10.90/lb)
Children award a medal to Mayor Hugo Sanchez, for his support
Full support for sports from the present administration
Tvisla Mujeres
Governor inaugurates modern planetarium Ka 'Yok (

in Cancun

)
If Benito Juarez (

Cancun

) does not correct the problems at the (

mainland

) landfill, we will close the facility: HSM (

Mayor of Isla Mujeres

)
HSM: Where is PROFEPA QRoo, who are not monitoring compliance with the Environmental Impact Assessment at the (mainland) Trash Facility

?
.Traffic police install speed verifiers on Rueda Medina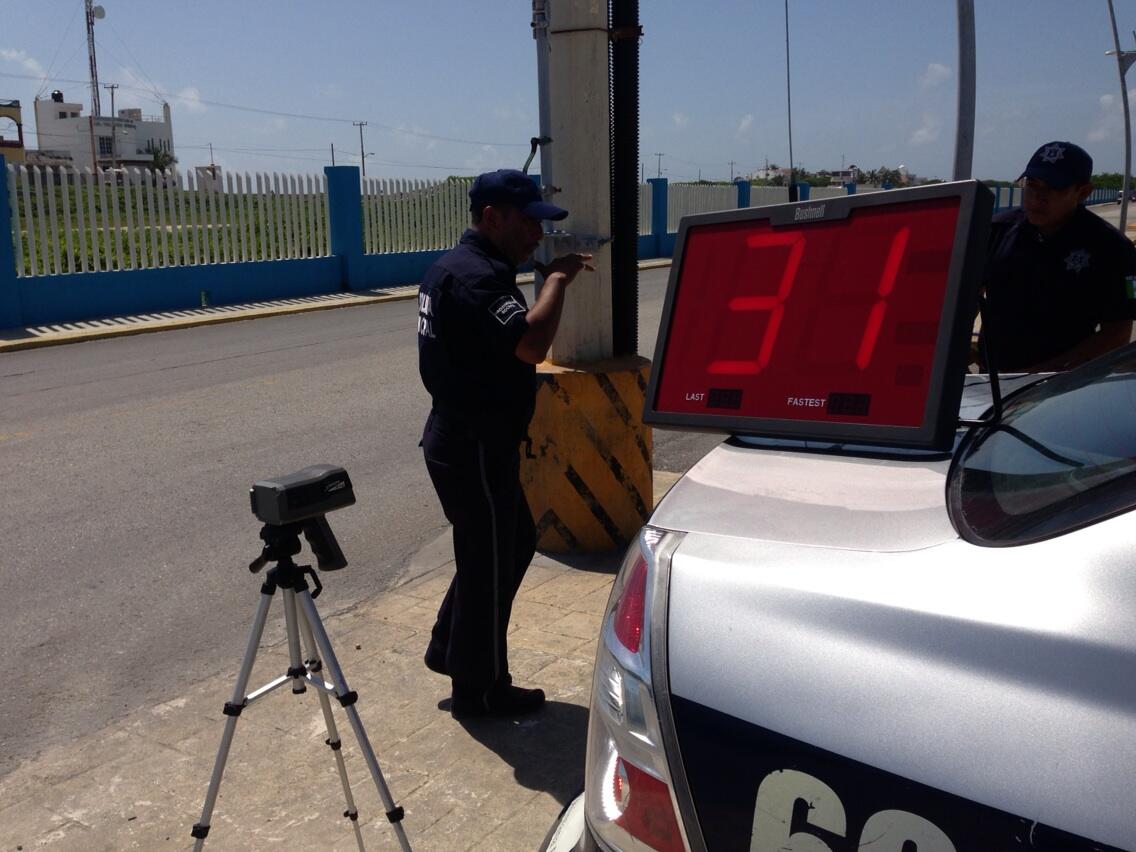 Noticias de El Quintanarroense
Initiate process of transition
Inicia proceso de transición
Ovidio Lopez
Noticias de Quequi......
Mayor leaves fishermen without financial aid

Comuna

---

Por Carlos Gasca-Quequi.- The Mayor acknowledged that there are financial committments that cannot be addressed before the end of his administration, due to economic reasons, and among them is the support for the fisherman, which totals ~2.2 million pesos. Although this support was offered to the fishermen, it will be impossible to meet this obligation, and other assistance of the City. There is support to doctors and teachers that has been discontinued. He said they will try to pay the fishermen as much as they can, but the priority is payroll and public service work issues, so social work will have to be secondary. He said he has genuine concern for the fisherman, but cannot pay this support if it will jeopardize the financial stability of the City.

SIRESOL accused of not fulfilling contract

Ayuntamiento

---

Por Carlos Gasca-Quequi.-The mayor said that it has been three months since the Waste Facility project started, which was sold as a plan with high tech equipment, but is functioning as an open air dump. He toured the location yesterday and spoke to the media. He does not want political conflicts with the municipality of Benito Juarez and urged the Mayor of Cancun to take into consideration the points set out in the agreement they signed. The Mayor of Isla Mujeres is considering legal action and does not want the next administration to inherit a problem as serious as this, and he is concerned that the payment be made. SIRESOL-Cancun is the paramunicipal Solución Integral de Residuos Sólidos , which could face closure for non compliance with the points of the contract and non payment of 400,000 pesos to the municipality of Isla Mujeres. (

This new facility is located in the mainland municipality of Isla Mujeres, and the municipality of Benito Juarez is charged $200,000 pesos monthl

y).

Comuna

---

Por Carlos Gasca-Quequi.-
The Trash Transfer facility on the island is reaching maximum capacity and needs over a thousand tons of trash removed. The issue of vehicles being out of order was discussed at the City Council meeting and the problem is being addressed that they need maintenance and tires. The City is concerned because waste production increases during the holiday period by ~20%, above the usual ~40 tonnes daily. They are working with the ferry company to increase the number of runs in order to achieve a more rapid removal of the trash.
Presents resources for sports facilities
Rehabilitation of recreational space
City workers were seen at the recreational sports area in colonia Electricistas, with machetes and brooms, removing weeds and leaves. The park is located beside Benito Juarez middle school (
On the west coastal road, ~a mile or less from tow
n) , and is a popular area for the students to relax, play, or just chat. Diario Respuesta had asked the Mayor to give attention to the area, and the Neighbors are grateful. The reporter notes that the Parks Department is an agency that is respected by the islanders because their employees are always seen out working from the early hours of the day.
SIPSE
Lacking units to take the trash of Isla Mujeres
The tires on the trash transfer vehicles are bad, and with a lack of resources for repairs; trash has built up, until there is a serious accumulation. The only way to resolve the problem is to move the trash to the mainland. The Mayor acknowledged there is a lack of sufficient vehicles to transport trash to the mainland, and said the trash accumulation has been complicated by a difference in the dimensions of one of the ferries. The transport vehicles, called 'gondolas', have useless tires and twenty tires are need, at a cost of 30,000 pesos each, while City resources are scarce.
Municipios | Brilla inconformidad en aprobación de obras
Disagreement over approval of works
Some City Council members complained about the lack of information regarding federal resources of 3.5 million dollars from CONADE ( Comisión Nacional de Cultura Física y Deporte /

the National Commission

of Physical Culture

and Sports

) for sports infrastructure, which will be used to maintain & renovate two sports facilities and to create an outdoor gym. The proposal was passed unanimously by the City Council during the 40th Special Session. They said the next administration should manage this money, but in the end they backed the Mayor's proposal.
Diario La Verdad
(
Potential
) Landfill closure in (
mainland
) Isla Mujeres
por esto
Electric company maintaining lines
Mantenimiento a las líneas de la CFE
[+]
Ver mas There is no text, just the headline & photo
Hotels maintain 50% occupancy
Hoteles mantienen 50% de ocupación
[+]
Ver mas
Lobster harvest is low in Isla Mujeres
A la baja la captura de langosta en la isla
[+]
Ver mas
This blog is brought to you by....
MaraVilla Caribe
Bed & Beach
Three rentals with large glass doors overlooking our white sand beach and the beautiful Caribbean sea, with kitchenettes &
free WIFI.
In the coastal neighborhood of Bachilleres, among upscale villas & boutique hotelitos, convenient to downtown or the colonias, yet separate.

Quiet & Private.
Free amenities such as hammocks, bikes, outdoor shower, portable beach chairs & beach towels, washer, loungers & BBQ.

Breathtaking panoramic views from the rooftop terrace. Upstairs room also available.

Downtown is ~ a mile away; if you don't feel like walking or biking, flag a $2 taxi or hop on the bus. We also have room for parking,

You can enjoy the music & crowds downtown, then come home our quiet neighborhood of Bachilleres where you'll

sleep to the sounds of the sea.

.

$275/$325/$425 wk $40/50/$65nt Monthly Discounts
View from rooms
Small room
Large room
Fine dining a few steps away at Da Luisa or try the traditional neighborhood eateries a couple blocks farther. Stroll five minutes down the coastal sidewalk to Mango Cafe or Monchi's,shop at Chedraui or visit restaurants, bars, & beach clubs; minutes away by bike or on foot. Our guests recommend the Yoga classes a couple villas away at hotelito Casa Ixchel. Fresh juice, produce & tortillas a few blocks away in the village, as well as a pharmacy and variety of other stores and small local restaurants
Sunrise this morning from Capt Tony Garcia
Upcoming Events
Saturday, July 20

9am Children's fishing tournament Weigh in-1pm
Saturday, July 20 Reggae Party at Fenix...details below
Saturday, July 20 Argentine Band at Poc Na...details below
Critter events...
It is currently the season for swimming with the whale sharks, and turtles are mating offshore & nesting on the eastern beaches. The mating is visible by day, especially off Punta Sur, the South Point. The nesting happens in the wee hours, and there are Tortugranja personnel, volunteers, and Naval staff monitoring the beaches to prevent people from disrupting them, and to gather and transport the eggs for incubation.
By far, most of the turtles nesting in Isla Mujeres are Green turtles (called Blancas in Spanish), and the second most common are the huge Loggerheads, and there are some Hawksbills. The Green turtles take ~60 days to hatch and the hatchlings are released by the public at events at dusk on Media Luna or Guadalupana beaches. The releases usually start around the end of July & are held periodically until early October.
Lately the water has been very calm and there have been many manta rays, with many swimming upside down, in addition to many whale sharks. Offshore from MVC, we have been seeing dolphins & turtles from the balcony, and lotsa big fish while snorkeling.
There are small red crabs that migrate to & from the sea in July, watch out for them at night on the coastal road at the southeastern part of the isle.
Lobster season began July 1 and continues until the end of February.
The Super full moon will be rising over the Caribbean at ~6:30 on Sunday and about an hour later nightly link
Saturday's Live Music:

EARLY SHOWS
Fenix: Usually has 3-5 Tropical

Groove..who are playing at the Reggae Beach party...see info & link below
LINK
Chuuk Kay: 3:30-6:30 Banda Sin Nombre LINK
Casa de los Suenos: 4-7 w 1/2 price appetizers LINK LINK
Iguanas: 6:30-8:30 Tropical Groove w BBQ ribs, steaks,etc LINK LINK
Brisas Grill: ~7p Cuban trio LINK
Sunset Grill: Sunset Keyboard & vocals LINK

A LITTLE LATER....
Fenix: 8-10 Latin Jazz w Fabio
(
today's ad says at sundown..dinnertainmen
t)
LINK
Faynes 8-10 Raul Alexis LINK
Comono 8:30-11 Marco LINK
Poc Na p Kapanga ?

Link


Ocean Blues & Sassy Jazz 8-10 La Guera & Willy's Blues LINK




LATE NIGHT


Fenix 10:30-2 Guest DJ & Fire Show LINK
Faynes 10:30-12 Banda Sin Nombre LINK
La Terraza 10p-close Salsa & Latin LINK
Poc Na Kapanga continues

Link
On the internet in the past 24 hours...
Fenix
Kapanga at Poc Na tonight at 8pm From Argentina
Marla Bainbridge
Happy Hour at Casa de Los Suenos and la Banda sin Nombre.
Hal and Karen, diving with us this week and going on the whale shark tour twice!! Shared this video with us today!! The Mantas are here in force, full time, swimming with us and the whale sharks. It is incredible!!
Isleñitos Isla Mujeres
entregan a
Hugo Ivan Sanchez Montalvo
medalla con su nombre


Oscar's Grill shared Al Travers's photo.
THE GENERAL EMERGENCY NUMBER, to report ACCIDENTS & CRIMES IS 066
"Time Lapse" of Playa Norte Webcam: LINK
Playa Norte

now in real time in Isla Mujeres
The Early Edition has headlines & newspaper photographs.
This Afternoon Edition has translated articles, events, & original photos with the "Around the Internet in the Past 24 Hours" section.
There are always links to the original articles.
If there is a headline, but no translation, the information was probably already translated recently.
.
Check out our Restaurant Guide.

.

.with Delivery numbers, Menus, & Today's Special Deals...HERE!
.
.