The first issue of The Isla Mujeres Magazine to benefit Isla charities has been published, featuring a variety of talented writers and photographers! Thank-you to everyone who has visited & shared it!
Check out the Charity document, patronize the supportive businesses & visit the blogs of the talented contributors! Contact me at westofcuba@gmail.com if you'd like to donate $15 to your fav charity, for an ad. Good causes, good exposure. Ad for a year is a $45 donation. 100% is contributed.

Feel free to copy & share the Charity document! Telling your friends about the Magazine & sharing links helps Isla Charities, too. Your support is appreciated & small efforts add up to big differences. Thanks!
This is the live webcam at North Beach / Playa Norte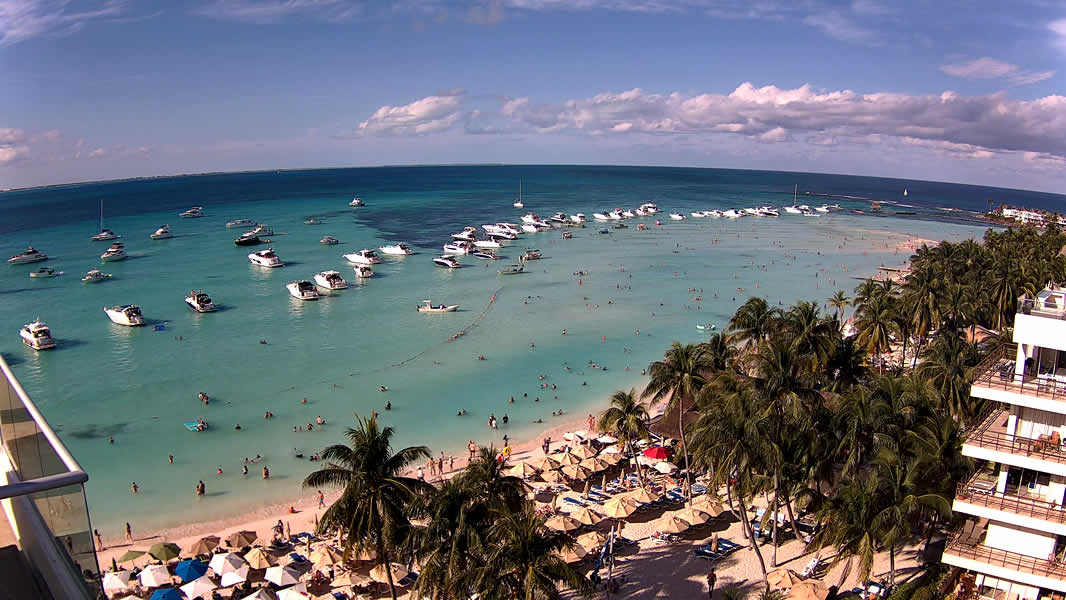 Seeking primary & secondary equivalencies
Fifty members of the CROC union
Buscan acreditar primaria y secundaria
Jueves, 03 de Abril de 2014 21:55
Medio centenar de afiliados a la CROC
ISLA MUJERES, 3 de abril.-
Leer más...
Approximately 50 members of the CROC union,
which represents hotel and restaurant workers
, prepare months in advance to obtain accreditation for equivalency of a primary or middle school education by exam, from the State Institute of Adult Education (IEEA). This improves their job opportunities.The certificates are delivered approximately 30 days after the exams.
In addition to this education program, CROC offers training in English and in computers, as well as benefits like life insurance.
"Escribanos" queda en tercer lugar
Jueves, 03 de Abril de 2014 21:50
En Liga Municipal de Básquetbol
"Escribanos"
won third place in municipal Basketball League
The final game of the tournament will take place Friday (tonight) at 8p, between the Mantarrayas" and "Elements". After Monday & Wednesday, the series is tied, because they each won one game.
Daily Asunción Ojeda Trujillo and Martín Jiménez Jerónimo were chosen to go to Congress as Child Representatives
Listos, diputados intantiles
Jueves, 03 de Abril de 2014 21:33
Eligen a Daily Asunción Ojeda Trujillo y a Martín Jiménez Jerónimo
ISLA MUJERES, 3 de abril.-
Leer más...
Two children were chosen to represent the municipality of Isla Mujeres at the Fourth Children's Congress 2014
"Cuarto Parlamento Infantil 2014"
, which will be held at the state capital, Chetumal, on April 29th. There were 24 elementary students competing for the honor by giving speeches at Colegio Bachilleres, the high school, on topics concerning the rights and obligations of children, in relation to school, family, ecology, education, democratic values, addiction, and gender equality, among other topics. The alternates are Mariana Elizabeth Chan González & Ariel Alejandro Gamboa Martínez.
Tourist police successful
Has reduced number of thefts & complaints from visitors
Cumple Policía Turística
Jueves, 03 de Abril de 2014 21:33
Desde su creación se ha reducido índice de robos y quejas de visitantes
Lanrry PARRA
ISLA MUJERES, 3 de abril.-
Leer más...
During March there were no cases of theft against tourists registered in a hotel or on the beach area, or at least no complaints were made, said a municipal official. During March the only complaints were by some tourists who had previously contracted a service that was not granted or it was offered at a different price. He said all cases that were presented to this municipal agency in a timely fashion were resolved satisfactorily, with the intention of satisfying the tourists as well as the tourism service providers. Overall, the activation of Tourist Police by the Mayor has been very successful for both tourists and tourism providers. They intend to continue this program.
Tvisla Mujeres
Noticias de Quequi......
Seamen expect improvement with the upcoming whale shark season

Economía.

---

The Sculpture Park continues to be forgotten

Comunidad

0

03 de abril de 2014

---
por esto
Scarcity of fish during Lent
Escasez de pescado en plena Cuaresma

[+] Ver mas

On Thursday the boat 'Esmeralda" was off the coast near the Boca Iglesia church when they suffered a crack at the base of the fiberglass boat. They stayed close to the coast and did not sink, but they took on about 25 centimeters of water, but they were able to continue to maneuver and transport their 80 kilos of fish.


Price war among hotels


"Guerra de precios" entre la hotelería

[+] Ver mas

According to their websites, the three star hotels of Nabalam and Chacchi. have "in advance" prices of 678 pesos. The hotel Isleño says they may be full, depending on incoming reservations, and their rates are 820 for a single and 920 for a double, through this weeken Some establishment have reservations for 30 percent of their capacity, and expect good occupancy rates.
Carmelina has prices for Easter week at 350, 500, and 650 pesos for families. Caracol is also "playing hard with these prices". The small hotels lament that the official website for Isla Mujeres has still not been activated, where their services were listed.


Finalizing details for the "Viacrucis" reenactment



Afinan detalles para representación del Viacrucis

. [+] Ver mas





Daily Asunción Ojeda y Martín Enrique Jiménez Jerónimo: In the Children's Congress





Daily Asunción Ojeda y Martín Enrique Jiménez Jerónimo, en el Parlamento Infantil

[+] Ver mas


This blog is brought to you by....
MaraVilla Caribe

Bed & Beach

Three rentals with large glass doors overlooking our white sand beach and the beautiful Caribbean sea, with kitchenettes &

free WIFI.

In the coastal neighborhood of Bachilleres, among upscale villas & boutique hotelitos, convenient to downtown or the colonias, yet separate.

Quiet & Private.




Free amenities such as hammocks, bikes, outdoor shower, portable beach chairs & beach towels, washer, loungers & BBQ.

Breathtaking panoramic views from the rooftop terrace. Upstairs room also available.

Downtown is ~ a mile away; if you don't feel like walking or biking, flag a $2 taxi or hop on the bus. We also have room for parking,

You can enjoy the music & crowds downtown, then come home our quiet neighborhood of Bachilleres where you'll

sleep to the sounds of the sea.

.

$275/$325/$425 wk $40/50/$65nt Monthly Discounts

View from rooms
Small room
Large room
Fine dining a few steps away at Da Luisa or try the traditional neighborhood eateries a couple blocks farther. Stroll five minutes down the coastal sidewalk to Mango Cafe or Monchi's,shop at Chedraui or visit restaurants, bars, & beach clubs; minutes away by bike or on foot. Our guests recommend the Yoga classes a couple villas away at hotelito Casa Ixchel. Fresh juice, produce & tortillas a few blocks away in the village, as well as a pharmacy and variety of other stores and small local restaurants
Charity Info
See tab at top of page!
Donation Drop offs:
Red Cross: Social Justicia Restaurant
(south of ferry terminal, north of car ferry)
Books for Grade School Reading Program, Items for Isla Animals, Diabetes Supplies, Shoes for the Kids, Items for
Little Yellow School House..
.Barlitos @ Marina Paraiso
~~~~~~~~~~~~~~~~~~~~~~~~~~~~~~~
Music
Miguel's high season schedule:

Thursday at 6pm Marina Paraiso Isla Mujeres with Seblues Hernandez Miranda - blues variety
Wednesday - Saturday at 10:30 Fayne's BarandGrill with La Banda Sin Nombre - Rock, blues & pop
Friday - Saturday at 12:00 mn Tequileria La Adelita with La Banda Sin Nombre - Salsa & Mexican
Sunday at 7:00 Bahia Tortuga with The Sol Rockers - Rock & blues .
John Cain's schedule
Tuesday, Cafe Del Mar, solo, 8 to 10 pm
Saturday, The Sunset Grill, solo, 530 to 730 pm
Sunday, Bahia Tortuga, The Sol Rockers, 630 to 900 pm
Banda Sin Nombre at Chuuk Kay 3:30p Sat & Sun
Fenix Sat ~1p Reggae/Cuban

Sun ~1p Salsa
(

Start times posted on menu board by entrance

)
Fenix Lounge

Domingo Salsa en Vivo con ¡¡Puro Sabor - Salsa Cubana !! :: Sunday Live Salsa with ¡¡Puro Sabor - Salsa Cubana !! + Gratis/FREE Chilpachole Pa' la Cruda! + Tragos/Drinks + SUP & Kayak :: See You There!! / No Falten!!



You may find live music after 9 or 10 on Hidalgo at Fayne's, La Terraza, or Comono, and at Poc Na Hostel.
~~~~~~~~~~~~~~~~~~~~~~~~~~~~~~~~~~~~~~
Saturday, April 5th from 6:30 to 8:30pm. Ken Wanovich is at Marina Paraiso
~~~~~~~~~~~~~~~~~~~~~~~~~~~~~~~~~~~~~
Texas Holdem Every Monday and Thursday
at 6:00pm
El Patio Caribbean Grill
~~~~~~~~~~~~~~~~~~~~~~~~~~~~~~~~~~~~~~~~~~
Time change tomorrow night
~~~~~~~~~~~~~~~~~~~~~~~~~~~~~~~~~~~~~~
APRIL
April 3 4p-9p Artist's Fair on Town Square
April 13 Palm Sunday
April 17 Maundy Thursday (bank holiday)
April 18 Good Friday (bank holiday)
10 am
Starting at Sacred Heart of Jesus in colonia La Gloria, going up
Paseo de las Aves, and by the park Las Tortugas, then over to prolongacion Rueda Medina, and entering the street by the new hospital, to come back to the church. 3000-4000 attendees expected
Noon For the representation by the Church of Immaculate Conception, they will start at the chapel to Guadalupe (la capilla de Nuestra Señora de Guadalupe) at noon to travel five kilometers under the rays of the midday sun to the church of Immaculate Conception. That is the chapel overlooking the Caribbean, near Mango Cafe in Salina Chica. 300-400 attendees expected
April 19 Holy Saturday
April 20
Easter Day
Children's Fishing Tournament "Buenaventura Delgado Díaz-Coleguita" Sponsored by the DIF celebrating Children's Day
April 30
Día del Niño
~~~~~~~~~~~~~~~~~~~~~~~~~~~~~
MAY
May 1 Thursday 4p-9p Artists Fair on Town Square
May 1 Labor Day in Mexico
May 1 May Day
May 3 Day of the Holy Cross (festival for mason/constrct wkrs /Dia de Santa Cruz, also called

El Día del Albañil. (Essay..maybe May 4th 2012)
May 5 Battle of Puebla 2012 "Cinco de Mayo"
May 8 Thursday Regata Al Sol XXVIII Departs for Isla Mujeres
May 9-11 Cosme Magana Fishing Tournament
May 10 Saturday Mother's Day in Mexico
~May 13-20 Festival of Lady of Fatima Rancho Vieho ~30+ yr tradition
May 15 Thursday Teachers Day
May 29 Thursday Ascension Day
~~~~~~~~~~~~~~~~~~~~~~~~~~~~~~~~~~~~~~~~~~~~~~
SUMMER-FALL
May 17- Sept. 17- Whale Shark Season
Early May - Nov. Sea Turtle Mating & Nesting
Whale Shark Festival TBA ~ late June-early July?
6th Annual
Alicia Ricalde Magana Women's Fishing Tournament TBA August?
Turtle releases August-Sept dates TBA, usually only a day or two in advance
Caribbean-Mayan Cultural Festival TBA Nov?
~~~~~~~~~~~~~~~~~~~~~~~~~~~~~~~~~~~~~~~~~~~
~~~~~~~~~~~~~~~~~~~~