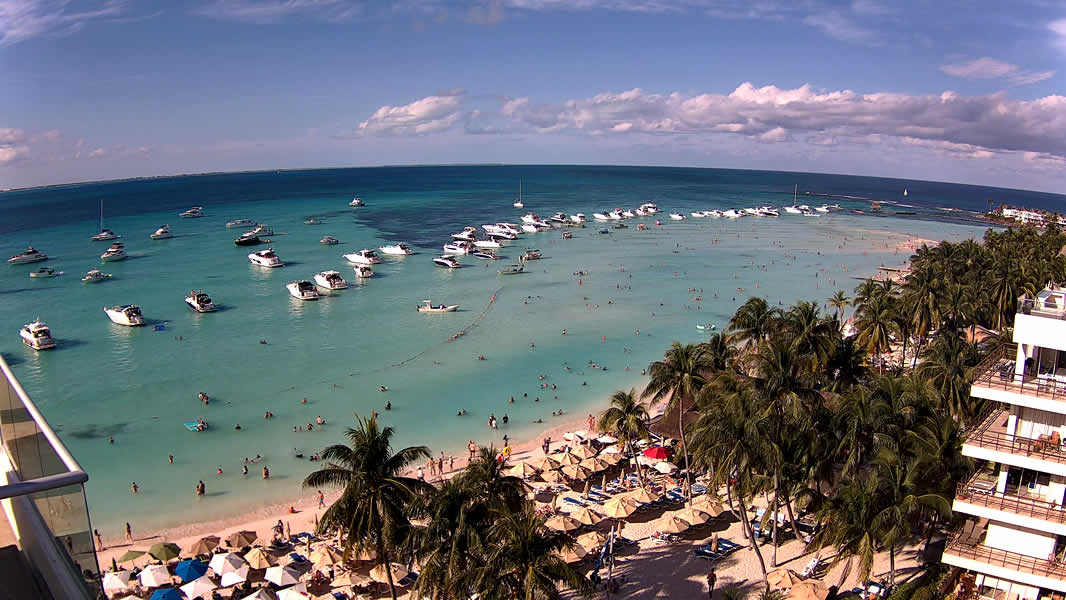 North Beach/Playa Norte In Real Time

In Isla Mujeres
LINK to 24 hour time lapse of the webcam
This is the "Morning Edition" with translated headlines & newspaper photos. The Afternoon Edition has translations of the news articles, Daily Events & the evening's Live Music Schedules. There are always links to the original articles in Spanish.
Ongoing medical brigades
Agapito ratifies commitment to medical care for the community
Tvisla Mujeres
"We are respectful and we listen to all voices, but not going backwards: On the beaches there will not be mobile vendors!"
Mobile vendors of Isla Mujeres arrive with placards in hand at the Town Hall to ask to return to the streets
.
In May a new taxi rate will go into effect
As a result of strong winds, the port remains closed.
The Harbor Master of Isla Mujeres continued the closure of the port for the third consecutive day, suspending nautical activities for more than 500....
Noticias de Quequi......
Navigation by small boats remains paralyzed
CLIMA

---
Announcement of increasing taxi rates
por esto
Electrical Commission avoiding responsibility
Evade responsabilidad la CFE[+] Ver mas








Opportunity for reconciliation with God


Oportunidad para la reconciliación con Dios

[+] Ver mas



Rescuing patriotic values
Hacia el rescate de los valores patrios [+] Ver mas
Two health modules are enabled
Habilitan dos módulos móviles de salud [+]
Ver mas
This blog is brought to you by....
MaraVilla Caribe

Bed & Beach

Three rentals with large glass doors overlooking our white sand beach and the beautiful Caribbean sea, with kitchenettes &

free WIFI.

In the coastal neighborhood of Bachilleres, among upscale villas & boutique hotelitos, convenient to downtown or the colonias, yet separate.

Quiet & Private.




Free amenities such as hammocks, bikes, outdoor shower, portable beach chairs & beach towels, washer, loungers & BBQ.

Breathtaking panoramic views from the rooftop terrace. Upstairs room also available.

Downtown is ~ a mile away; if you don't feel like walking or biking, flag a $2 taxi or hop on the bus. We also have room for parking,

You can enjoy the music & crowds downtown, then come home our quiet neighborhood of Bachilleres where you'll

sleep to the sounds of the sea.

.

$275/$325/$425 wk $40/50/$65nt Monthly Discounts

View from rooms
Small room
Large room
Fine dining a few steps away at Da Luisa or try the traditional neighborhood eateries a couple blocks farther. Stroll five minutes down the coastal sidewalk to Mango Cafe or Monchi's,shop at Chedraui or visit restaurants, bars, & beach clubs; minutes away by bike or on foot. Our guests recommend the Yoga classes a couple villas away at hotelito Casa Ixchel. Fresh juice, produce & tortillas a few blocks away in the village, as well as a pharmacy and variety of other stores and small local restaurants