This is the live webcam at North Beach / Playa Norte


Reactivating Sister-City status with Old Havana
Mayor reaches agreement with Ambassador
He said the price increase is solely due to the fluctuation in the exchange rate between the US dollar and the Mexican peso. Last season you could purchase a dollar for 12 pesos and now it is 15 pesos, which forces them to seek better prices for seafood since most of their equipment and the engines they use are of foreign origin. He said they wanted to ask for more, but they do not want to "kill" the restauranteurs. The meeting between the representatives of the fishing coops and the state federation of fishing groups is scheduled for Thursday, June 18 at the premises of the Federation in Puerto Juarez
Lobster prices during the 2014 season were reported to be $410 pesos per kilo for tails and 210p/kilo for live lobster (LINK) and in 2013 to be 400 pesos/kilo for tails and 200p/kilo for live lobster (LINK).
In 2013,

400p/kilo equals 181p/lb. for tails,
using an exchange rate of 12.5,

was $14.48/lb. (Whole lobster at 210p/kilo is 96p/lb or $7.68/lb).
In 2014, at 410p/kilo, exchange rate 12.5, was $14.90/lb for tails.
If this season, tails will be 500p/kilo
is 227p/lb with an exchange rate of 15, equals $15.15/lb
So, lobster tails cost ~$15usd/lb
~~~~~~~~~~~~~~~~~~~~~~~~~~~~~
From

the Municipal Facebook site.....

(you can join this FB page at this link)
In recent days the mayor, Agapito Magaña Sanchez, received the ambassador to Cuba, Dagoberto Martinez, who paid a visit to Isla Mujeres aimed at strengthening ties of friendship and cooperation between the two islands.

Isla Mujeres - The City seeks to reactivate Sister-City status between Old Havana and Isla Mujeres
The delegation from Cuba included Cuba's Consul in Cancun, Roberto Hernandez; the Minister of Tourism for the Cuban Embassy in Mexico, Xiomara Martinez; the Secretary of Tourism of Havana, Xonia Beltran; the Secretary of Tourism of Varadero, Ivis Fernandez; and the Director of HabanaTour, Lazaro O'Reilly.
During the cordial meeting, the Cuban diplomat and the Mexican mayor reviewed the history of good neighborliness, friendship, and cooperation that has existed since ancient times between the two Caribbean islands.
During a tour of various tourist, historical and cultural attractions of Isla Mujeres, members of the Cuban delegation expressed their appreciation and interest in knowing details about each site visited.
This is the first approach by the current municipal administration with the Cuban diplomats to revive the status of sister-cities between Old Havana and Isla Mujeres.
Mayor Agapito Magana Sanchez said, "We plan two objectives. First, to strengthen the indissoluble bonds of friendship based on closeness and history between our countries, and secondly, to revive the twinning by means of mutual collaboration."
The meeting demonstrated the willingness of the participants to finalize the 'twinning', with each one expressing and suggesting the best methods to achieve this and to continue the longstanding relationship of brotherhood from ancient times.
Finally, it must be emphasized that with the 'twinning' of our cities we are solidifying our relationships and links in the areas of history, tourism, culture, and commercialism, and above all to maintain close ties of friendship and solidarity.
The Municipal Department of Sports in Isla Mujeres, supported by the ferry company, provided sports equipment to the girls Alba Paola Castillo Silveira and Yesica Alejandra Arguelles Santiago, who are playing at a state level in the basketball Copa Telmex NBA in its regional stage and won a spot in the national competition
to be held in Guanajuato, Guanajuato.
on 26, 27 and 28 of June.
La Dirección Municipal de Deportes de Isla Mujeres, apoyó con transporte marítimo y con material deportivo a las niñas Alba Paola Castillo Silveira y Yesica Alejandra Arguelles Santiago quienes reforzaron al selectivo Quintanarroense de basquetbol Copa Telmex NBA en su etapa regional y ganaron el pase a la nacional que tendrá lugar en Guanajuato, Gto. los días 26, 27 y 28 de junio.
There are few tickets available to the conference "Gwabir and Social Networks", if you wish to attend, go to the Municipal DIF facilities located in Colonia La Gloria 9 am to 4 pm.
Quedan pocos boletos para la conferencia "Gwabir y las Redes Sociales", si deseas asistir, acude a las instalaciones del DIF Municipal ubicadas en la colonia La Gloria de 9 de la mañana a 4 de la tarde.
A pet deserves attention, food, respect and adequate space.
Law on Animal Protection and Welfare.
The poster says...If you lack time, space, and responsibility, this is your ideal dog.
Una mascota merece tiempo de atención, alimento, respeto y un espacio adecuado.
Ley de Protección y Bienestar Animal.
We're sharing the requirements for the Second State Council of Young Environmentalists.
Les compartimos la convocatoria del II Consejo Estatal de Jóvenes Ambientalistas.
~~~~~~~~~~~~~~~~~~~~~~~~~~~~~
From
Tvisla Mujeres

(You can join this fb page at this link

)
~~~~~~~~~~~~~~~~~~~~~~~~~~~~~
~~~~~~~~~~~~~~~~~~~~~~~~~~~~~
From por esto Link to their Isla Mujeres articles
This blog is brought to you by....
View from the rooms.
MaraVilla Caribe
Bed & Beach
Three rentals with large glass doors overlooking our white sand beach and the beautiful Caribbean sea, with kitchenettes &
free WIFI.
In the coastal neighborhood of Bachilleres, among upscale villas & boutique hotelitos, convenient to downtown or the colonias, yet separate.

Quiet & Private.
Kitchen in a large studio. (Sur & Norte are identical)



Kitchenette in small room, Medio. There's a table & chairs across from it & a double bed.
A large slider opens from each of the 3 rooms onto the patio where each has a table & chairs, hammock & clotheslines. The BBQ is behind the pole, and the outdoor shower is outa the pic at left.
Large studio (Norte), I'm standing in the kitchen
Free amenities such as hammocks, bikes, outdoor shower, portable beach chairs & beach towels, washer, loungers & BBQ.

Breathtaking panoramic views from the rooftop terrace. Upstairs room also available.

Downtown is ~ a mile away; if you don't feel like walking or biking, flag a $2 taxi or hop on the bus. We also have room for parking,

You can enjoy the music & crowds downtown, then come home our quiet neighborhood of Bachilleres where you'll

sleep to the sounds of the sea.

.

$275/$325/$425 wk $40/50/$65nt Monthly Discounts


Large studio (Sur) with Queen & Single bed. Slider door & view are behind me.




Fine dining a few steps away at Da Luisa or try the traditional neighborhood eateries a couple blocks farther. Stroll five minutes down the coastal sidewalk to Mango Cafe, Bufalo, Bahama Mama, Compadres Barbacoa or Manolitos. Walk less than 10 minutes to shop at Chedraui or to dine at Green Verde, Kash Kechen Chuc, or Seso Loco. Visit marinas, bars, & beach clubs that are minutes away by bike or on foot. Our guests recommend the Yoga classes a couple villas away at hotelito Casa Ixchel. Fresh juice, produce & tortillas a few blocks away in the village, as well as a variety of other stores and small local restaurants.
June Events
Sunrise ~6:05a
Sunset ~7:25p
Moonrise over the Caribbean
June 1 6:40
June 2 7:35
June 3 8:30
June 4 9:25
June 5 10:17
June 6 11:06
June 7 11:54
In the US, June is Caribbean-American Heritage month.
Link
.
In the US, June is also National Oceans Month
Link
.
June has the longest daylight hours of the year in the Northern Hemisphere and the shortest daylight hours of the year in the Southern Hemisphere,
June 1, Monday
Dia de la Marina..Navy Day
10am Ceremonies at Naval base plaza.
10:40 Boats depart for ceremonial placing of wreath on the waters of the Bay commemorating those who died in service.
The first and last Ultramar ferries are cancelled.
The cargo ferry is running fewer crossings. (Departing the island at 06:00, 09:30, 12:45, 16:15 and 19:15; and departing Punta Sam at, 07:15, 11:00, 14:45, 17:30 and 20:15.)
June 4 Thursday Corpus Christi...a religious holiday
June 5, Friday
World Environmental Day Most events 9a-noon
I will post more details about times and places when they are available This is translated from a May 29th Por Esto article. (Link)
"The Navy will staff an exhibit of their diving equipment and the rescue program to combat pollution at sea, as well as a conference that is open to the public, entitled "Mangrove". The CFE will present an exhibit of different ways to produce electricity, aimed at primary school children. The Human Rights Commission will have a booth. Members of the CROC union (los croquistas) will volunteer and are donating ornamental plants for reforestation. The municipal DIF will have their activities, and are distributing discs about water conservation. Aguakan will have an information booth. The Maritime Terminal is sponsoring a drawing contest titled "Caring for Nature thru the eyes of children". The Clínica Veterinaria de Isla Mujeres A.C will have a booth with animal for adoption, in addition to materials on animal care. The Tortugranja will have a booth about thei work they do for the preservation, reproduction, and care of sea turtles. The municipal Ecology department will be actively involved, and will have a booth. The Green Patrol will exhibit photographs from their 15 years of work with the educational activities.
June 7, Sunday
Election Day (for Federal legislators) Restriction of sale of alcohol to go and in some local bars. Alcohol has been sold in tourist bar-restaurants during past elections.
June 8, Monday
World Ocean's Day
Link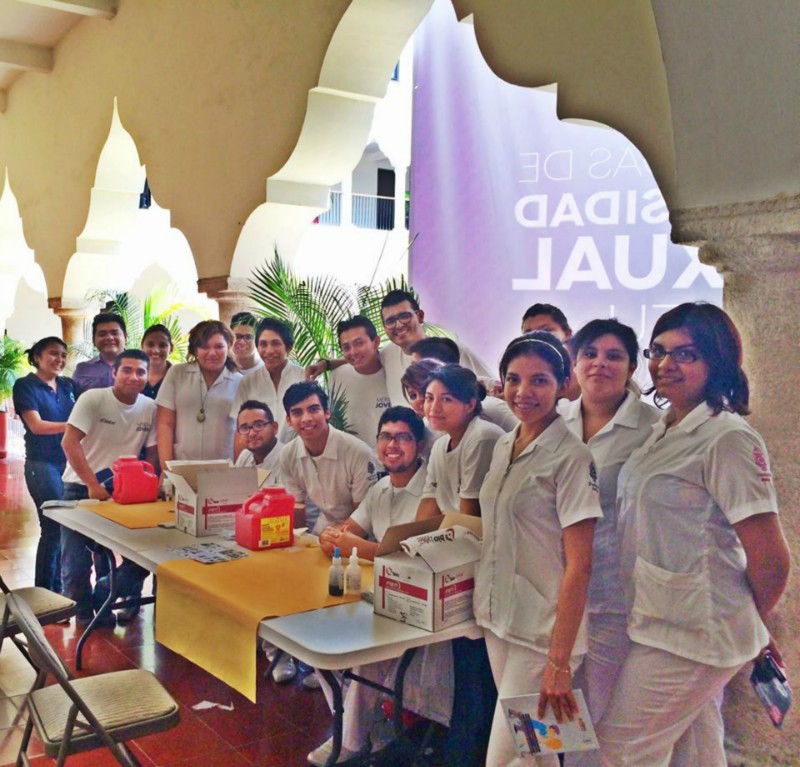 June 17-21
Brazos Abiertos (Open Arms) Seventh Annual Isla Mujeres HIV Testing, Sexual Education, and Teenage Pregnancy Prevention Campaign
LINK
to information & opportunity to donate
June 21, Sunday
Summer solstice
Father's Day
June 26 & 27, Friday & Saturday
Women's Fishing Tournament La Dorada Organized by DIF
Thursdays
at 8:30p at Poc Na
Fridays
Artes en Todas Partes events TBA
Texas Hold 'Em Poker Mondays & Thurdays at El Patio 6p on Hidalgo..more info HERE.
Discontinued for low season
No Artists Fairs since April, scheduled to resume in November
The Women's Fishing Tournament, "La Dorada", organized by the DIF is planed for June 26 & 27.
Charity Info
See tab at top of page!
Donation Drop offs:
Red Cross: Social Justicia Restaurant
(south of ferry terminal, north of car ferry)
Isla Animals: Vet clinic at Mundaca Hacienda
Books for Grade School Reading Program, Items for Isla Animals, Diabetes Supplies, Items for
Little Yellow School House, Moto Helmets for kids..
.Barlitos @ Marina Paraiso
For donations to Zapatos Para Los Ninos.. please contact Greg at bullridersnider@yahoo.com, or find them on Facebook at "Shoes For The Children.
"
Miguel's
schedule (may need updating):
Sunday: The Sol Rockers @ El Patio 9p - 11p
Monday: Miguel solo @ El Patio 6:30p - 8:30p
Tuesday: La Banda Sin Nombre @ El Patio 9:15p - 11:15p
Wednesday: The Sol Rockers@ El Patio 7p - 9p, Faynes 10:30p - 12:00a
Thursday: Miguel Solo @ el Patio 6p - 8p, Faynes 10:30p - 12:00a
Friday: Marina Paraiso 7p - 9p, Faynes 10:30p - 12:00a, Adelita's 12a - 2a
Saturday: Marina Paraiso 7p - 9p, Faynes 10:30p - 12:00a, Adelita's 12a - 2a
John Cain's schedule (Updated June 1)
Sunday & Wednesday 7:30pm - 9:30pm
El Patio Sol Rockers
Thursday Bahia Tortuga 6:45-8:45
Saturday. El Patio solo 630-830
Sunday Jazz from Toronto 5-7, Sol Rockers 7:30-9:30
, Isla Cali 9:30-11:30
Monday Jazz from Toronto 5-7, Miguel 7:30-9:30
, Isla Cali 9:30-11:30
Tuesday Jazz from Toronto 5-7, Ryan Rickman 7-9:30, Banda sin Nombre 9:30-11:30
Wednesday Sol Rockers 7:30-9:30, Radio Band 9:30-11:30
Thursday Closed for the month of June
Friday Ryan Rickman 7-9:30, Radio Band 9:30-11:30
Saturday John Cain 7:30-9:30, Isla Cali 9:30-11:30
Fenix ~2p~5p Live music at the beach in the afternoons on Sundays. Salsa, Cumbia, Cuban music. Update June 1: Last week they had live music again in the afternoons. ~2p.
Bahia Tortuga John Cain on Thursdays and Lara on Mondays...~7p (Updated June 1)
You may find live music at night on Hidalgo
Fayne's: 10:30-12 (see above)
La Terraza: ~10-12
Morgan's: Between 7 & 11 (see above)
El Patio (see above)
Poc Na Hostel: Starting ~10p to late
Veradara's Cuban restaurant Saturdays ~3p Cuban music
~~~~~~~~~~~~~~~~~~~~~~~~~~~~~~~~~~~~~
Artist Fairs on the Town Square, usually first Thursday, 4p-9p ~Nov-April.
Now the City is having Arte en Todas Partes events on Fridays.