This is the live webcam at North Beach / Playa Norte


Gustavo & Norma: Elected to represent the Island in the state competition
Each of these projects cost about 2 million pesos, and most of the funds came from the federal program Rama 23.
He said they are currently in the process of paving the road between the monument to Ramon Bravo Prieto (at the entrance to Sac Bajo) and the Naval housing compound. This will be about 18,000 square meters of pavement, at a cost of about 10 million pesos. They are also in the process of remodeling the parking lot of the municipal mercado downtown, "Javier Rojo Gomez" at a cost of about two million pesos, from SINTRA.
~~~~~~~~~~~~~~~~~~~~~~~~~~~~~
From

the Municipal Facebook site.....

(you can join this FB page at this link)
Historical day for Isla Mujeres: During the Eleventh Nataional Clean Beaches Meeting, mayor Agapito Magana Sanchez, representing the island, accepted the white and blue flags awarded to the beaches of this destination, designating their top quality to the world.
Día Histórico para Isla Mujeres: Durante el "XI Encuentro Nacional Playas Limpias", el alcalde Agapito Magaña Sánchez, recibió a nombre del pueblo isleño las banderas blanca y azul que acreditan a las playas del destino, como espacios de calidad para ofrecer al mundo.
Yesterday
the mayor,
Agapito
Magaña Sanchez was
accompanied by his
wife
Sra. Marthy
Vargas
Leon de
Magana,
president of the municipal
DIF,
and by legislator
Juan
Carrillo
Soberanis,
for
the
ribbon cutting
ceremony at the green dome in Salina Chica, which includes the tennis court.
Ayer el presidente municipal, Agapito Magaña Sánchez en compañía de su esposa la Sra. Marthy Vargas León de Magaña, presidenta del Sistema DIF municipal y el diputado Juan Carrillo Soberanis, hicieron el corte de listón del Domo Verde de la col. Salina Chica que incluye la cancha de tenis.
July 2 at 7:45pm on the Town Square
Danzarte Isla Mujeres 2015 Free
"Where dancing is most important"
Donde lo más importante es bailar
Este 2 de Julio a las 7:45pm en la explanada municipal.
~~~~~~~~~~~~~~~~~~~~~~~~~~~~~
link to Quequi
;s Isla Mujeres articles
Governor Borge providing funds for public works

INFRAESTRUCTURA

---

The municipal public works director, Miguel Ariel Caballero Garcia, said in addition to the domes recently inaugurated by mayor Agapito Magaña Sanchez, the inauguration of the new fire station is planned, where nearly

five million pesos was invested, from the fund Rama 23 which is managed Governor Roberto Borge Angulo, through the State Treasury Department.

ThePublic Works Director said they are now working to address some deficiencies in the bathrooms of the soccer field and softball field, as well as installing tiered roofs, painting and repairing wire mesh

with a budget of two million pesos

.

The official said that in addition to this, next year they are planning to install more lights in the walkway around Salina Grande lake, seeking to reach a total of forty lights, of which seventeen have already been installed. They are also planning to rehabilitate the "andador de la isla" (island walkway

), as well as installing new trash cans.

They have plans to construct a new police casita module, and are planning to consider the installation of speed bumps and crosswalks at locations where residents have requested them.

Scholarships for youths

EDUCACIÓN

---



The municipal department of Social Development, Edgar Gasca Arceo, urged young people to benefit from the support of academic scholarships and maritime transport scholarships, by submitting the required documents and application. One deadline is July 1st, and the other is July 15th, for scholarships from the period January-February, and the students must show their report card and proof of studies at the office of Social Development. The official encouraged people to spread the word so more students can take advantage of this opportunity.
~~~~~~~~~~~~~~~~~~~~~~~~~~~~~
From
Tvisla Mujeres

(You can join this fb page at this link

)
~~~~~~~~~~~~~~~~~~~~~~~~~~~~~
From por esto Link to their Isla Mujeres articles
This blog is brought to you by....
View from the rooms.
MaraVilla Caribe
Bed & Beach
Three rentals with large glass doors overlooking our white sand beach and the beautiful Caribbean sea, with kitchenettes &
free WIFI.
In the coastal neighborhood of Bachilleres, among upscale villas & boutique hotelitos, convenient to downtown or the colonias, yet separate.

Quiet & Private.
Kitchen in a large studio. (Sur & Norte are identical)



Kitchenette in small room, Medio. There's a table & chairs across from it & a double bed.
A large slider opens from each of the 3 rooms onto the patio where each has a table & chairs, hammock & clotheslines. The BBQ is behind the pole, and the outdoor shower is outa the pic at left.
Large studio (Norte), I'm standing in the kitchen
Free amenities such as hammocks, bikes, outdoor shower, portable beach chairs & beach towels, washer, loungers & BBQ.

Breathtaking panoramic views from the rooftop terrace. Upstairs room also available.

Downtown is ~ a mile away; if you don't feel like walking or biking, flag a $2 taxi or hop on the bus. We also have room for parking,

You can enjoy the music & crowds downtown, then come home our quiet neighborhood of Bachilleres where you'll

sleep to the sounds of the sea.

.

$275/$325/$425 wk $40/50/$65nt Monthly Discounts


Large studio (Sur) with Queen & Single bed. Slider door & view are behind me.




Fine dining a few steps away at Da Luisa or try the traditional neighborhood eateries a couple blocks farther. Stroll five minutes down the coastal sidewalk to Mango Cafe, Bufalo, Bahama Mama, Compadres Barbacoa or Manolitos. Walk less than 10 minutes to shop at Chedraui or to dine at Green Verde, Kash Kechen Chuc, or Seso Loco. Visit marinas, bars, & beach clubs that are minutes away by bike or on foot. Our guests recommend the Yoga classes a couple villas away at hotelito Casa Ixchel. Fresh juice, produce & tortillas a few blocks away in the village, as well as a variety of other stores and small local restaurants.
June Events
Sunrise ~6:05a
Sunset ~7:25p
Moonrise over the Caribbean
June 1 6:40
June 2 7:35
June 3 8:30
June 4 9:25
June 5 10:17
June 6 11:06
June 7 11:54
In the US, June is Caribbean-American Heritage month.
Link
.
In the US, June is also National Oceans Month
Link
.
June has the longest daylight hours of the year in the Northern Hemisphere and the shortest daylight hours of the year in the Southern Hemisphere,
June 1, Monday
Dia de la Marina..Navy Day
10am Ceremonies at Naval base plaza.10:40 Boats depart for ceremonial placing of wreath on the waters of the Bay commemorating those who died in service.
June 4 Thursday Corpus Christi...a religious holiday
June 5, Friday
World Environmental Day
Town Square 9a-noon First Isla Mujeres Environmental Fair 2015
June 7, Sunday
Election Day (for Federal legislators) Restriction of sale of alcohol to go and in some local bars. Alcohol can be sold with food to tourists.
June 8, Monday
World Ocean's Day
Link
You are invited to a Dance Workshop of Caribbean Rhythms, starting June 8th at the Mundaca Hacienda Palapa. 20 pesos. For more information contact the Cultural department 877 0767 culturaislamujeres@gmail.com
June 13, Saturday 10am or 11am 1st Gran Cabalgata (Mounted Parade)
The procession will include riders from Tizimín, Kantunilkín, Valladolid, Cancún and I sla Mujeres.
June 13, Saturday
API pier or Magana (wooden) pier Submarine tours begin in Isla Mujeres 300 pesos "Discover the sea without even getting wet while enjoying a drink & appreciating the seabed of our beloved island. For all ages. 9841762052 Gabriel." (From Merca Isla on FB)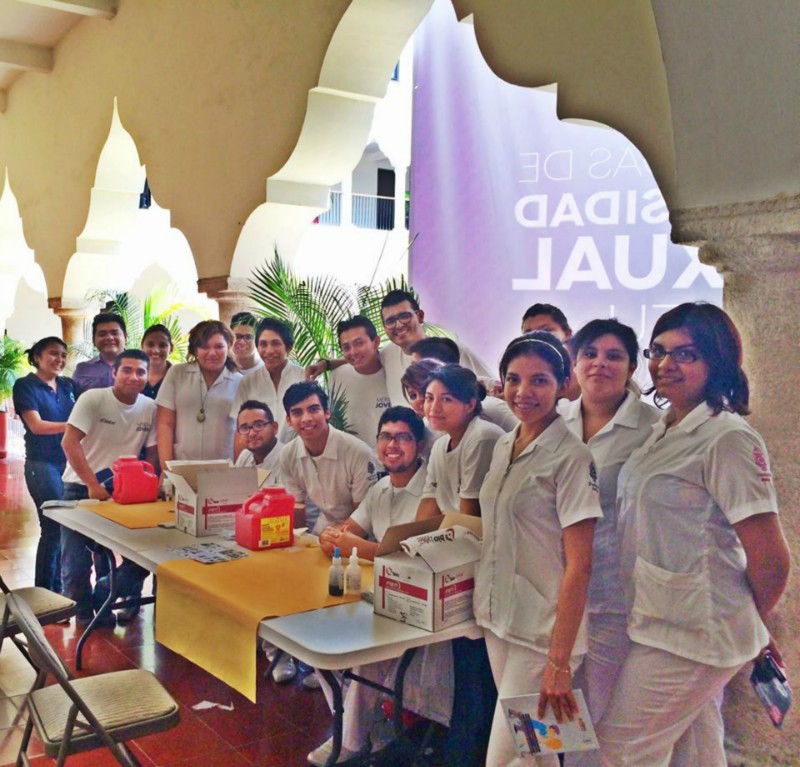 June 17-21
Brazos Abiertos (Open Arms) Seventh Annual Isla Mujeres HIV Testing, Sexual Education, and Teenage Pregnancy Prevention Campaign
LINK
to information & opportunity to donate
June 21, Sunday
Summer solstice
Father's Day
June 23, Tuesday 6p
Jean Piaget School
Presentation of a book of short stories by Miguel Manjarrez Torres "Nothing to Pretend"
June 24, Wednesday 7p Salina Chica Green Dome
"Certamen Abuelita y Abuelito Isla Mujeres 2015" (Grandma & Grandpa contest Isla Mujeres 2015)
June 25, Thursday
First Isla Mujeres Rap Competition, sponsored by the DIF. Salina Chica at the green dome. "Yo me uno" to put an end to violence against women. Register at the DIF Mon-Fri 9-4
June 26 & 27, Friday & Saturday
Women's Fishing Tournament. La Dorada, Organized by DIF. More than 500,000 pesos in prizes. Entry fee 3000 pesos
June 27, Saturday Noche de Estrellas at the Convention Center
Thursdays
at 8:30p Magic show at Poc Na see poster
Texas Hold 'Em Poker Mondays & Thurdays at El Patio 6p on Hidalgo..more info HERE.
Discontinued for low season
No Artists Fairs since April, scheduled to resume in November
JULY:
Sunset ~7:30
Moonrise over the Caribbean
July 1 6:40
July 2 7:35
July 3 8:30
July 4 9:25
July 5 10:17
July 6 11:06
July 7 11:54
July 2 Blue Flag raising event at Posada del Mar beach
July 2 Thursday at 7:45pm on the Town Square
Danzarte Isla Mujeres 2015 Free
July 5 Poc Na
July 11 Isla to Isla Open Water Swimming Event to arrive at Posada del Mar beach. Followed by samples of seafood from local restaurants
July 18, Saturday to July 24, Friday- Whale Shark Festival
Charity Info
See tab at top of page!
Donation Drop offs:
Red Cross: Social Justicia Restaurant
(south of ferry terminal, north of car ferry)
Isla Animals: Vet clinic at Mundaca Hacienda
Books for Grade School Reading Program, Items for Isla Animals, Diabetes Supplies, Items for
Little Yellow School House, Moto Helmets for kids..
.Barlitos @ Marina Paraiso
For donations to Zapatos Para Los Ninos.. please contact Greg at bullridersnider@yahoo.com, or find them on Facebook at "Shoes For The Children.
"
Miguel's
schedule (may need updating):
Sunday: The Sol Rockers @ El Patio 9p - 11p
Monday: Miguel solo @ El Patio 6:30p - 8:30p
Tuesday: La Banda Sin Nombre @ El Patio 9:15p - 11:15p
Wednesday: The Sol Rockers@ El Patio 7p - 9p, Faynes 10:30p - 12:00a
Thursday: Miguel Solo @ el Patio 6p - 8p, Faynes 10:30p - 12:00a
Friday: Marina Paraiso 7p - 9p, Faynes 10:30p - 12:00a, Adelita's 12a - 2a
Saturday: Marina Paraiso 7p - 9p, Faynes 10:30p - 12:00a, Adelita's 12a - 2a
John Cain's schedule (Updated June 1)
Sunday & Wednesday 7:30pm - 9:30pm
El Patio Sol Rockers
Thursday Bahia Tortuga 6:45-8:45
Saturday. El Patio solo 630-830
Sunday Jazz from Toronto 5-7, Sol Rockers 7:30-9:30
, Isla Cali 9:30-11:30
Monday Jazz from Toronto 5-7, Miguel 7:30-9:30
, Isla Cali 9:30-11:30
Tuesday Jazz from Toronto 5-7, Ryan Rickman 7-9:30, Banda sin Nombre 9:30-11:30
Wednesday Sol Rockers 7:30-9:30, Radio Band 9:30-11:30
Thursday Closed for the month of June
Friday Ryan Rickman 7-9:30, Radio Band 9:30-11:30
Saturday John Cain 7:30-9:30, Isla Cali 9:30-11:30
Fenix ~2p~5p Live music at the beach in the afternoons on Sundays. Salsa, Cumbia, Cuban music. Update June 13: Music Fri, Sat, Sun. ~2p.
Bahia Tortuga John Cain on Thursdays and Lara on Mondays...~7p (Updated June 1)
You may find live music at night on Hidalgo
Fayne's: 10:30-12 (see above)
La Terraza: ~10-12
Morgan's: Between 7 & 11 (see above)
El Patio (see above)
Poc Na Hostel: Starting ~10p to late
Veradara's Cuban restaurant Saturdays ~3p Cuban music
~~~~~~~~~~~~~~~~~~~~~~~~~~~~~~~~~~~~~
Artist Fairs on the Town Square, usually first Thursday, 4p-9p ~Nov-April.