The second issue of
The Isla Mujeres Magazine
to benefit Isla charities
is online,
featuring a variety of talented writers and photographers!
Here's a link to the Magazine
If you'd like to donate $15 to your favorite charity to have an ad in this 2015 issue, contact me at westofcuba@gmail.com
This is the live webcam at North Beach / Playa Norte


Punta Sam Maritime Terminal to be ready this year
Thirty percent completed
Estará lista este año
Obras en terminal marítima de Punta Sam presentan avance del 30%
ISLA MUJERES, 20 de junio.-
Director General of the Port Authority of Quintana Roo (APIQRoo) Ercé Barron Barrera, said once the Terminal is completed it will strengthen tourism on both the island and in the mainland area of the municipality.
He said that each month 12,000 passengers are transported to Isla Mujeres, and from the pier to the north, 30,000 passengers depart annually, mostly from May to September during the whale shark season when tours are offered by 300 tourism service providers who are members of cooperatives and individuals.
He said this new terminal is intended to meet the growing needs of this part of the municipality; to serve the needs of the new resort center in the Continental Zone of Isla Mujeres. The terminal is being built at the current port in Punta Sam, which is located at kilometer 5.6 on the road to Puerto Juarez.
The terminal will have shops, toilets, offices, and lockers, among other things. It will have a total area of 26,312 square meters, of which 11,736 meters will be on land and 14,575 will be over water, where two piers will be located; the North pier and the South pier.
The North pier will be 135 meters long and 5.1 meters wide, of reinforced concrete, to be used for operations by small boats and tourist boats, that take tours to Isla Contoy and the whale shark area. The South pier will be 129 meters long and 5.2 meters wide, made of reinforced concrete, and will also serve as a breakwater. It will principally be used by the cargo ferry.
Construction of palapas on beach could affect certification
Atentan contra certificación
La construcción de palapas en playas
ISLA MUJERES, 20 de junio.-
In the Federal Zone, in the area of the Posada del Mar beach, more than six palapas have been constructed and two more are being built, which are used for massages. Construction generally occurs at night and on weekends, which has raised questions about whether permits were obtained, among those who oppose the palapas which reduce the amount of beach available for recreation and use by the public.
~~~~~~~~~~~~~~~~~~~~~~~~~~~~~
From

the Municipal Facebook site.....

(you can join this FB page at this link)
~~~~~~~~~~~~~~~~~~~~~~~~~~~~~
link to Quequi
;s Isla Mujeres articles
Whale Shark licensees await response from DGVS
CONFLICTO

0

21 de junio de 2015 By Carlos Gasca

---

Martín Trejo Manzano is a whale shark licensee and a member of the nautical association of islanders who recently sent a delegation to Mexico City, to explain why they oppose the regulation of the New Management Plan that requires them to be off work every other day. He said the licensees are calm while awaiting a reply, because there are not many whale sharks currently, making them difficult to find.
The tour providers are hoping that conditions improve and they have better luck in July. They are also hoping the DGVS will show some flexibility and allow them to work in the same manner they did last year, without this restriction on their boats.

SOCIAL

0

21 de junio de 2015 By Carlos Gasca

---



Guillermo García Padilla, chief of the state department of Communication and Transport (DCT), explained that the golf cart concession which began operation last week at the beach club "El Pescador", has been authorized since 2011. He acknowledged that the carts are currently operating without license plates due to a problem with documentation, which should be resolved in upcoming days.
Meanwhile some taxi drivers are unhappy because they say this affects them, rather than the other golf cart rental agencies. One driver spoke anonymously saying, "
"These units will only harm the cabbies, because previously, when a cart was needed at the Beach Club, they requested the services of a taxi to go to a cart, but now that is no longer the case."
Some taxi drivers described the attitude of their union leader, Eduardo Peniche Rodriguez as unusual, since he had previously warned that radical action might be taken against golf carts circulating around the isle illegally. Therefore, many taxistas expected a serious conflict over this news, but it was quite the opposite, which bothered some drivers. The leader said no action will be taken against the concession which began operations a few days ago, explaining, 'We can do nothing. It has been authorized since 2011."
~~~~~~~~~~~~~~~~~~~~~~~~~~~~~
From
Tvisla Mujeres

(You can join this fb page at this link

)
~~~~~~~~~~~~~~~~~~~~~~~~~~~~~
From por esto Link to their Isla Mujeres articles
Garrafon Park: Abandoned
El Garrafón, en el abandono
. [+]
Ver mas
Garrafon Park facilities are municipal assets that have been under management by a private company, through a fideicomiso trust, for ~15 years. From the coastal road, one can see the old wooden signposts that have not been replaced since Xel-Ha took charge ~15 years ago, and there is untended brush inside and nearby.
You may recall that responsibility for the facility was handed over to Grupo Dolphin Discovery in 2005 after Hurricane Wilma. (
Como se sabe, ese consorcio traspasó la responsabilidad después del paso del huracán Wilma en 2005 al Grupo Dolphin Discovery, y este presunto abandono se da cuando comenzó la segunda mitad del tiempo del acuerdo con el gobierno municipal de 30 años de vigencia, desde 1998, según datos recabados).
Neighbors say the municipal government should require maintenance. A repeat tourist, Sra Marisa Abascal, noted that she while she enjoys spending time at spectacular Punta Sur, the weedy area that is now being neglected gives a poor impression.
Nicolas Ruis, who said he is a neighbor, praised the removal of the scenic tower, which had generated concern about its deterioration. He said he is waiting for the park to be tended to better, and he wants the Ecology department to intervene concerning a leak from the treatment plant a few meters from where the steel tower was located.
New golf cart agency is busy
En vigor nueva agencia de carros de golf
" y.. [+]
Ver mas
There has been strong opposition expressed by Isla Mujeres taxi drivers concerning a new golf cart rental agency, which is authorized by the state government to have 30 vehicles, making a total of 550 units of this type on the island streets.
The Director of the department of Communications and Transport, Guillermo García Padilla, explained that this concession was granted in April 2011, in the name of Francisco Carmim Fernandez, of the Beach Club "El Pescador". The rental agency recently began operations under the name "Funday" and currently has 21 units in circulation. The official said that he is aware of the opinions and issues in the community, but currently they are overcoming a problem with some documents that are preventing the issuance of license plates, and meanwhile, they have a 60 day permit which allows them to circulate without license plates.
He said this concession was authorized in the last moment of the sixth
pasado
(session of the legislature?), in April 2011, and that this occurred amid an institutional agreement not to clutter up the island with golf carts, following opposition by the taxi drivers since 2002, when the concessions began to "spread like wildfire" among those with political and economic influence.
The DCT, Department of Communications and Transport has received strong pressure concerning the displacement of taxi drivers by the number of these vehicles that are available, which are four times as many in less than 15 years, according to a recent interview with taxi union leader Eduardo Peniche Rodriguez. The taxi drivers blame the former Governor Félix González Canto for this exponential growth in these vehicles, and some say their leader is showing
pasibilidad
on this particular issue. (
"Passibleness": susceptibility to impressions from external agents)
~~~~~~~~~~~~~~~~~~~~~~~~~~~~~
This blog is brought to you by....
View from the rooms.
MaraVilla Caribe
Bed & Beach
Three rentals with large glass doors overlooking our white sand beach and the beautiful Caribbean sea, with kitchenettes &
free WIFI.
In the coastal neighborhood of Bachilleres, among upscale villas & boutique hotelitos, convenient to downtown or the colonias, yet separate.

Quiet & Private.
Kitchen in a large studio. (Sur & Norte are identical)



Kitchenette in small room, Medio. There's a table & chairs across from it & a double bed.
A large slider opens from each of the 3 rooms onto the patio where each has a table & chairs, hammock & clotheslines. The BBQ is behind the pole, and the outdoor shower is outa the pic at left.
Large studio (Norte), I'm standing in the kitchen
Free amenities such as hammocks, bikes, outdoor shower, portable beach chairs & beach towels, washer, loungers & BBQ.

Breathtaking panoramic views from the rooftop terrace. Upstairs room also available.

Downtown is ~ a mile away; if you don't feel like walking or biking, flag a $2 taxi or hop on the bus. We also have room for parking,

You can enjoy the music & crowds downtown, then come home our quiet neighborhood of Bachilleres where you'll

sleep to the sounds of the sea.

.

$275/$325/$425 wk $40/50/$65nt Monthly Discounts


Large studio (Sur) with Queen & Single bed. Slider door & view are behind me.




Fine dining a few steps away at Da Luisa or try the traditional neighborhood eateries a couple blocks farther. Stroll five minutes down the coastal sidewalk to Mango Cafe, Bufalo, Bahama Mama, Compadres Barbacoa or Manolitos. Walk less than 10 minutes to shop at Chedraui or to dine at Green Verde, Kash Kechen Chuc, or Seso Loco. Visit marinas, bars, & beach clubs that are minutes away by bike or on foot. Our guests recommend the Yoga classes a couple villas away at hotelito Casa Ixchel. Fresh juice, produce & tortillas a few blocks away in the village, as well as a variety of other stores and small local restaurants.
June Events
Sunrise ~6:05a
Sunset ~7:25p
Moonrise over the Caribbean
June 1 6:40
June 2 7:35
June 3 8:30
June 4 9:25
June 5 10:17
June 6 11:06
June 7 11:54
In the US, June is Caribbean-American Heritage month.
Link
.
In the US, June is also National Oceans Month
Link
.
June has the longest daylight hours of the year in the Northern Hemisphere and the shortest daylight hours of the year in the Southern Hemisphere,
June 1, Monday
Dia de la Marina..Navy Day
10am Ceremonies at Naval base plaza.10:40 Boats depart for ceremonial placing of wreath on the waters of the Bay commemorating those who died in service.
June 4 Thursday Corpus Christi...a religious holiday
June 5, Friday
World Environmental Day
Town Square 9a-noon First Isla Mujeres Environmental Fair 2015
June 7, Sunday
Election Day (for Federal legislators) Restriction of sale of alcohol to go and in some local bars. Alcohol can be sold with food to tourists.
June 8, Monday
World Ocean's Day
Link
You are invited to a Dance Workshop of Caribbean Rhythms, starting June 8th at the Mundaca Hacienda Palapa. 20 pesos. For more information contact the Cultural department 877 0767 culturaislamujeres@gmail.com
June 13, Saturday 10am or 11am 1st Gran Cabalgata (Mounted Parade)
The procession will include riders from Tizimín, Kantunilkín, Valladolid, Cancún and Isla Mujeres.
June 13, Saturday
API pier or Magana (wooden) pier Submarine tours begin in Isla Mujeres 300 pesos "Discover the sea without even getting wet while enjoying a drink & appreciating the seabed of our beloved island. For all ages. 9841762052 Gabriel." (From Merca Isla on FB)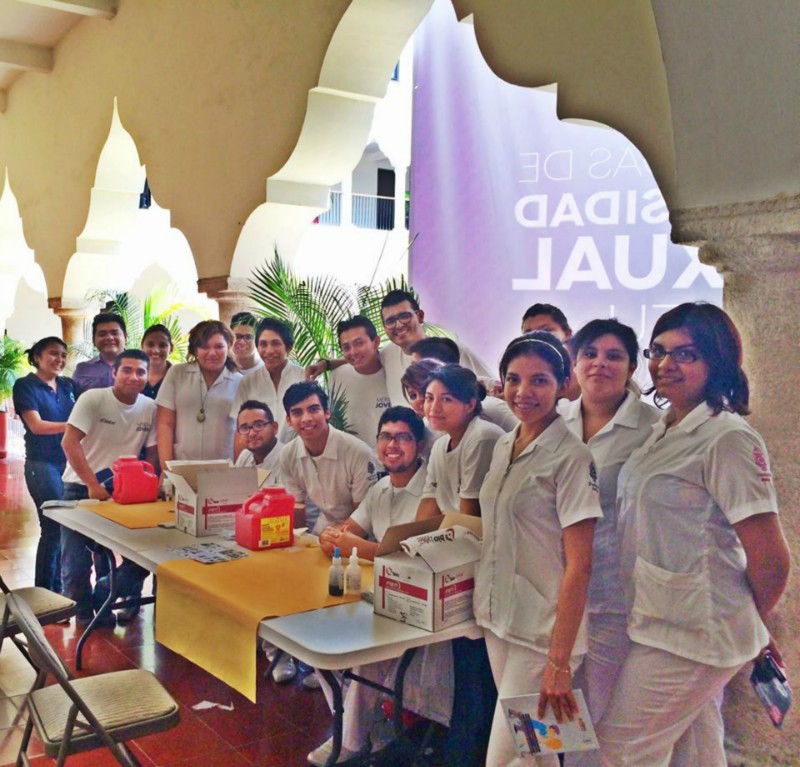 June 17-21
Brazos Abiertos (Open Arms) Seventh Annual Isla Mujeres HIV Testing, Sexual Education, and Teenage Pregnancy Prevention Campaign
LINK
to information & opportunity to donate
June 21, Sunday
Summer solstice
Father's Day
June 25, Thursday
First Isla Mujeres Rap Competition, sponsored by the DIF. Salina Chica at the green dome. "Yo me uno" to put an end to violence against women. Register at the DIF Mon-Fri 9-4
June 26 & 27, Friday & Saturday
Women's Fishing Tournament. La Dorada, Organized by DIF. More than 500,000 pesos in prizes. Entry fee 3000 pesos
June 27, Saturday
Noche de Estrellas
Thursdays
at 8:30p Magic show at Poc Na see poster
Texas Hold 'Em Poker Mondays & Thurdays at El Patio 6p on Hidalgo..more info HERE.
Discontinued for low season
No Artists Fairs since April, scheduled to resume in November
JULY:
July 11 Isla to Isla Open Water Swimming Event to arrive at Posada del Mar beach. Followed by samples of seafood from local restaurants
Saturday, July 18 to Friday, July 24- Whale Shark Festival
Charity Info
See tab at top of page!
Donation Drop offs:
Red Cross: Social Justicia Restaurant
(south of ferry terminal, north of car ferry)
Isla Animals: Vet clinic at Mundaca Hacienda
Books for Grade School Reading Program, Items for Isla Animals, Diabetes Supplies, Items for
Little Yellow School House, Moto Helmets for kids..
.Barlitos @ Marina Paraiso
For donations to Zapatos Para Los Ninos.. please contact Greg at bullridersnider@yahoo.com, or find them on Facebook at "Shoes For The Children.
"
Miguel's
schedule (may need updating):
Sunday: The Sol Rockers @ El Patio 9p - 11p
Monday: Miguel solo @ El Patio 6:30p - 8:30p
Tuesday: La Banda Sin Nombre @ El Patio 9:15p - 11:15p
Wednesday: The Sol Rockers@ El Patio 7p - 9p, Faynes 10:30p - 12:00a
Thursday: Miguel Solo @ el Patio 6p - 8p, Faynes 10:30p - 12:00a
Friday: Marina Paraiso 7p - 9p, Faynes 10:30p - 12:00a, Adelita's 12a - 2a
Saturday: Marina Paraiso 7p - 9p, Faynes 10:30p - 12:00a, Adelita's 12a - 2a
John Cain's schedule (Updated June 1)
Sunday & Wednesday 7:30pm - 9:30pm
El Patio Sol Rockers
Thursday Bahia Tortuga 6:45-8:45
Saturday. El Patio solo 630-830
Sunday Jazz from Toronto 5-7, Sol Rockers 7:30-9:30
, Isla Cali 9:30-11:30
Monday Jazz from Toronto 5-7, Miguel 7:30-9:30
, Isla Cali 9:30-11:30
Tuesday Jazz from Toronto 5-7, Ryan Rickman 7-9:30, Banda sin Nombre 9:30-11:30
Wednesday Sol Rockers 7:30-9:30, Radio Band 9:30-11:30
Thursday Closed for the month of June
Friday Ryan Rickman 7-9:30, Radio Band 9:30-11:30
Saturday John Cain 7:30-9:30, Isla Cali 9:30-11:30
Morgan's Restaurant & Bar - on Hidalgo
Mon - Tues 7pm - 9pm - Jazz with Norman and Darin
Wed- Sat 8pm - 11pm - Tips or Sex aka Alfedo & Jorge
Fenix ~2p~5p Live music at the beach in the afternoons on Sundays. Salsa, Cumbia, Cuban music. Update June 13: Music Fri, Sat, Sun. ~2p.
Bahia Tortuga John Cain on Thursdays and Lara on Mondays...~7p (Updated June 1)
You may find live music at night on Hidalgo
Fayne's: 10:30-12 (see above)
La Terraza: ~10-12
Morgan's: Between 7 & 11 (see above)
El Patio (see above)
Poc Na Hostel: Starting ~10p to late
Veradara's Cuban restaurant Saturdays ~3p Cuban music
~~~~~~~~~~~~~~~~~~~~~~~~~~~~~~~~~~~~~
Artist Fairs on the Town Square, usually first Thursday, 4p-9p ~Nov-April.