This is the live webcam at North Beach / Playa Norte


City prepares to pay scholarships for the final two bimonthly periods
De los dos últimos bimestres
At the end of July or in early August, the academic and transport scholarships will be paid by the City for the last two bimonthly periods, March-April and May-June, for the benefit of 568 students at primary, middle school, and high school levels.
The municipal Director of Social Development, Edgar Gasca Arceo, said the payments total 460,000 pesos for each two month period. He said they are working toward making the payments before the end of the school year, or a few days later.
He said in this way the City supports the students and promotes education, which is a priority of the mayor, Agapito Magana Sanchez. He said students who are eligible should submit a copy of their
boleta de estudios
and a copy of their
constancia de estudios
, between the hours of 9am and 4pm, before the deadline of July 15th.
~~~~~~~~~~~~~~~~~~~~~~~~~~~~~
From

the Municipal Facebook site.....

(you can join this FB page at this link)
"La Fortuna II" was the winning boat of the Second Edition of the Women's International Fishing Tournament "La Dorada del Caribe", organized by the City of Isla Mujeres as a way of promoting healthy living.
Winners of the 2nd edition of the International Fishing Tournament "La Dorada del Caribe":
1st place: La Fortuna II of Isla Mujeres with a total of 10, 990 points.
~~~~~~~~~~~~~~~~~~~~~~~~~~~~~
link to Quequi
;s Isla Mujeres articles
Women's Fishing Tournament ends
Of the first ten places in yesterday's International Women's Fishing Tournaments "La Dorada 2015", nine went to vessels from Isla Mujeres, and one went to a boat from Puerto Morales.
"La Fortuna II" won first place, second place went to "Matías", third place was "Quinto Sol", fourth place was "Bofitos"; fifth place was "Bicho", sixth place was "Sea Fox" (Puerto Morelos), seventh place was "Condorito", eighth place was "Huachisan III", ninth place was "Mega Byte" and tenth place was won by the boat "Lina".
The Mayor, Agapito Magana Sanchez, led the awards ceremony, accompanied by his wife, and with various city officials in attendance. The members of the organizing committee confirmed there were no incidents reported and said they plan to improve the prize package for next year to increase participation.
~~~~~~~~~~~~~~~~~~~~~~~~~~~~~
From
Tvisla Mujeres

(You can join this fb page at this link

)
~~~~~~~~~~~~~~~~~~~~~~~~~~~~~
From por esto Link to their Isla Mujeres articles
This blog is brought to you by....
View from the rooms.
MaraVilla Caribe
Bed & Beach
Three rentals with large glass doors overlooking our white sand beach and the beautiful Caribbean sea, with kitchenettes &
free WIFI.
In the coastal neighborhood of Bachilleres, among upscale villas & boutique hotelitos, convenient to downtown or the colonias, yet separate.

Quiet & Private.
Kitchen in a large studio. (Sur & Norte are identical)



Kitchenette in small room, Medio. There's a table & chairs across from it & a double bed.
A large slider opens from each of the 3 rooms onto the patio where each has a table & chairs, hammock & clotheslines. The BBQ is behind the pole, and the outdoor shower is outa the pic at left.
Large studio (Norte), I'm standing in the kitchen
Free amenities such as hammocks, bikes, outdoor shower, portable beach chairs & beach towels, washer, loungers & BBQ.

Breathtaking panoramic views from the rooftop terrace. Upstairs room also available.

Downtown is ~ a mile away; if you don't feel like walking or biking, flag a $2 taxi or hop on the bus. We also have room for parking,

You can enjoy the music & crowds downtown, then come home our quiet neighborhood of Bachilleres where you'll

sleep to the sounds of the sea.

.

$275/$325/$425 wk $40/50/$65nt Monthly Discounts


Large studio (Sur) with Queen & Single bed. Slider door & view are behind me.




Fine dining a few steps away at Da Luisa or try the traditional neighborhood eateries a couple blocks farther. Stroll five minutes down the coastal sidewalk to Mango Cafe, Bufalo, Bahama Mama, Compadres Barbacoa or Manolitos. Walk less than 10 minutes to shop at Chedraui or to dine at Green Verde, Kash Kechen Chuc, or Seso Loco. Visit marinas, bars, & beach clubs that are minutes away by bike or on foot. Our guests recommend the Yoga classes a couple villas away at hotelito Casa Ixchel. Fresh juice, produce & tortillas a few blocks away in the village, as well as a variety of other stores and small local restaurants.
June Events
Sunrise ~6:05a
Sunset ~7:25p
Moonrise over the Caribbean
June 1 6:40
June 2 7:35
June 3 8:30
June 4 9:25
June 5 10:17
June 6 11:06
June 7 11:54
In the US, June is Caribbean-American Heritage month.
Link
.
In the US, June is also National Oceans Month
Link
.
June has the longest daylight hours of the year in the Northern Hemisphere and the shortest daylight hours of the year in the Southern Hemisphere,
June 1, Monday
Dia de la Marina..Navy Day
10am Ceremonies at Naval base plaza.10:40 Boats depart for ceremonial placing of wreath on the waters of the Bay commemorating those who died in service.
June 4 Thursday Corpus Christi...a religious holiday
June 5, Friday
World Environmental Day
Town Square 9a-noon First Isla Mujeres Environmental Fair 2015
June 7, Sunday
Election Day (for Federal legislators) Restriction of sale of alcohol to go and in some local bars. Alcohol can be sold with food to tourists.
June 8, Monday
World Ocean's Day
Link
You are invited to a Dance Workshop of Caribbean Rhythms, starting June 8th at the Mundaca Hacienda Palapa. 20 pesos. For more information contact the Cultural department 877 0767 culturaislamujeres@gmail.com
June 13, Saturday 10am or 11am 1st Gran Cabalgata (Mounted Parade)
The procession will include riders from Tizimín, Kantunilkín, Valladolid, Cancún and Isla Mujeres.
June 13, Saturday
API pier or Magana (wooden) pier Submarine tours begin in Isla Mujeres 300 pesos "Discover the sea without even getting wet while enjoying a drink & appreciating the seabed of our beloved island. For all ages. 9841762052 Gabriel." (From Merca Isla on FB)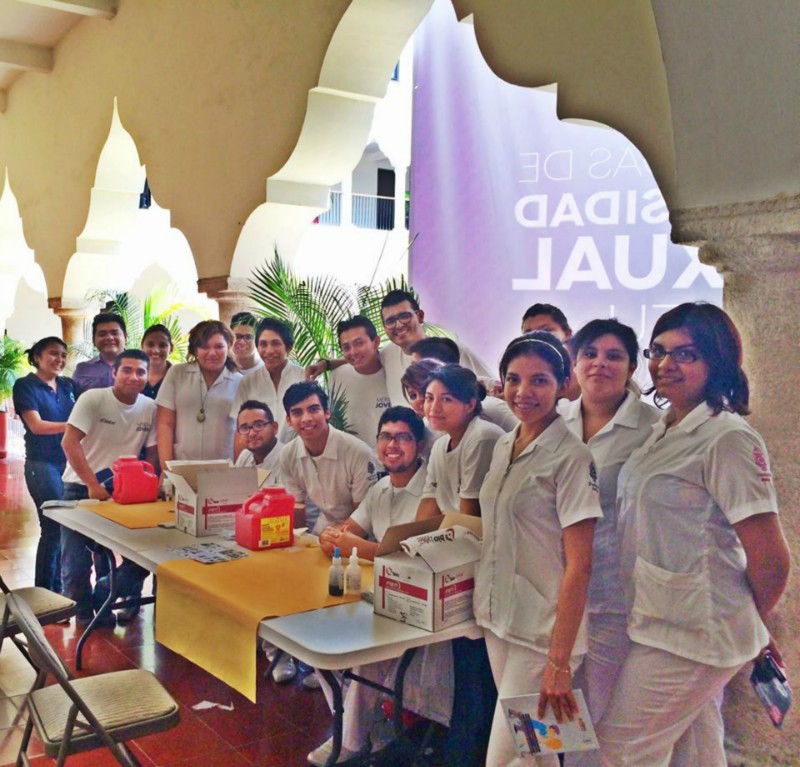 June 17-21
Brazos Abiertos (Open Arms) Seventh Annual Isla Mujeres HIV Testing, Sexual Education, and Teenage Pregnancy Prevention Campaign
LINK
to information & opportunity to donate
June 21, Sunday
Summer solstice
Father's Day
June 23, Tuesday 6p
Jean Piaget School
Presentation of a book of short stories by Miguel Manjarrez Torres "Nothing to Pretend"
June 24, Wednesday 7p Salina Chica Green Dome
"Certamen Abuelita y Abuelito Isla Mujeres 2015" (Grandma & Grandpa contest Isla Mujeres 2015)
June 25, Thursday
First Isla Mujeres Rap Competition, sponsored by the DIF. Salina Chica at the green dome. "Yo me uno" to put an end to violence against women. Register at the DIF Mon-Fri 9-4
June 26 & 27, Friday & Saturday
Women's Fishing Tournament. La Dorada, Organized by DIF. More than 500,000 pesos in prizes. Entry fee 3000 pesos
June 27, Saturday Noche de Estrellas
Thursdays
at 8:30p Magic show at Poc Na see poster
Texas Hold 'Em Poker Mondays & Thurdays at El Patio 6p on Hidalgo..more info HERE.
Discontinued for low season
No Artists Fairs since April, scheduled to resume in November
JULY:
Sunset ~7:30
Moonrise over the Caribbean
July 1 6:40
July 2 7:35
July 3 8:30
July 4 9:25
July 5 10:17
July 6 11:06
July 7 11:54
July 1 (In Canada) Canada Day
July 2 Blue Flag raising event at Posada del Mar beach
July 2 at 7:45pm on the Town Square. Danzarte Isla Mujeres 2015.
.
July 4 US Independence Day
July 5 Poc Na Reggae concert
July 11 Isla to Isla Open Water Swimming Event
to arrive at Posada del Mar beach. Followed by samples of seafood from local restaurants
July 18, Saturday to July 24, Friday- Whale Shark Festival
July 18 Anniversary of the death of President Benito Juárez (March 21, 1806 to July 18, 1872)
July 30 Anniversary of the death of Miguel Hidalgo (May 8, 1753 to July 31, 1811)
Charity Info
See tab at top of page!
Donation Drop offs:
Red Cross: Social Justicia Restaurant
(south of ferry terminal, north of car ferry)
Isla Animals: Vet clinic at Mundaca Hacienda
Books for Grade School Reading Program, Items for Isla Animals, Diabetes Supplies, Items for
Little Yellow School House, Moto Helmets for kids..
.Barlitos @ Marina Paraiso
For donations to Zapatos Para Los Ninos.. please contact Greg at bullridersnider@yahoo.com, or find them on Facebook at "Shoes For The Children.
"
Miguel's
schedule (may need updating):
Sunday: The Sol Rockers @ El Patio 9p - 11p
Monday: Miguel solo @ El Patio 6:30p - 8:30p
Tuesday: La Banda Sin Nombre @ El Patio 9:15p - 11:15p
Wednesday: The Sol Rockers@ El Patio 7p - 9p, Faynes 10:30p - 12:00a
Thursday: Miguel Solo @ el Patio 6p - 8p, Faynes 10:30p - 12:00a
Friday: Marina Paraiso 7p - 9p, Faynes 10:30p - 12:00a, Adelita's 12a - 2a
Saturday: Marina Paraiso 7p - 9p, Faynes 10:30p - 12:00a, Adelita's 12a - 2a
John Cain's schedule (Updated June 1)
Sunday & Wednesday 7:30pm - 9:30pm
El Patio Sol Rockers
Thursday Bahia Tortuga 6:45-8:45
Saturday. El Patio solo 630-830
Sunday Jazz from Toronto 5-7, Sol Rockers 7:30-9:30
, Isla Cali 9:30-11:30
Monday Jazz from Toronto 5-7, Miguel 7:30-9:30
, Isla Cali 9:30-11:30
Tuesday Jazz from Toronto 5-7, Ryan Rickman 7-9:30, Banda sin Nombre 9:30-11:30
Wednesday Sol Rockers 7:30-9:30, Radio Band 9:30-11:30
Thursday Closed for the month of June
Friday Ryan Rickman 7-9:30, Radio Band 9:30-11:30
Saturday John Cain 7:30-9:30, Isla Cali 9:30-11:30
Fenix ~2p~5p Live music at the beach in the afternoons on Sundays. Salsa, Cumbia, Cuban music. Update June 13: Music some weekdays, Fri, Sat, Sun. ~2p.
Bahia Tortuga John Cain on Thursdays and Lara on Mondays...~7p (Updated June 1)
You may find live music at night on Hidalgo
Fayne's: 10:30-12 (see above)
La Terraza: ~10-12
Morgan's: Between 7 & 11 (see above)
El Patio (see above)
Poc Na Hostel: Starting ~10p to late
Veradara's Cuban restaurant Saturdays ~3p Cuban music
~~~~~~~~~~~~~~~~~~~~~~~~~~~~~~~~~~~~~
Artist Fairs on the Town Square, usually first Thursday, 4p-9p ~Nov-April.