This is the live webcam at North Beach / Playa Norte



Awaiting the visit of Mariana to inaugurate "Marinero Breakfast" ~~~~~~~~~~~~~~~~~~~~~~~~~~~~~

From

the Municipal Facebook site.....

(you can join this FB page at this link)

To help the childcare center located in front of the Las Gaviotas park, we pruned the branches that were falling on the lines to avoid risk to the populace. Isla Mujeres: supportive municipality. En apoyo a la guardería infantil ubicada frente al parque Las Gaviotas, acudimos a podar ramas caídas sobre cables para evitar riesgos a la población. ISLA MUJERES, municipio solidario. During the recent rains, a tree was damaged at the fishing cooperative in the Makax Lagoon, therefore we lent them a chainsaw to remove it. Isla Mujeres: Supportive municipality. Durante las recientes lluvias, en la Cooperativa Pesquera en Laguna Macax, un árbol resultó dañado, acudimos a brindar apoyo con motosierras para su retiro. ISLA MUJERES, municipio solidario. Friday evening there was an interesting and helpful conference for young people about responsible use of the social media and protecting your information online, sponsored by the DIF. There were about 250 young people attending the talk given by Gabriel Wabi Rueda, an internet specialist. (

He is a popular vlogger on YouTube from Merida

). The talk lasted about two hours and included advice, tips, and recommendations. If you are looking for a job, here are options for you. Si buscas trabajo estas opciones son para ti. Renew and obtain your voter's card Renueva y obtén tu credencial para votar. ~~~~~~~~~~~~~~~~~~~~~~~~~~~~~ link to Quequi

;s Isla Mujeres articles

Rain affects sewers
SERVICIOS

---

Heavy rainfall caused flooding that affected the sewers in the colonias of La Gloria and Cañotal, generating odors from some of the storm drain grates.

Economic crisis for boaters

ECONOMÍA

---

It is estimated that the nautical community suffered three to four million pesos in losses due to heavy rains.The Harbor Master, Ismael Gonzalez Gil, said the boaters have been unable to work for six days, including the fishermen and those who offer whale shark tours.
There will also be economic losses from the boats that were partially swamped. Baltazar Gómez Catzín, president of the fishing cooperative "Por la Justicia Social", said all their boats were sheltered and did not suffer damage.
The Harbor Master said the passenger ferries resumed operation at 7am and the cargo ferry began operating at 9am.
~~~~~~~~~~~~~~~~~~~~~~~~~~~~~
From
Tvisla Mujeres

(You can join this fb page at this link

)
~~~~~~~~~~~~~~~~~~~~~~~~~~~~~
~~~~~~~~~~~~~~~~~~~~~~~~~~~~~
From por esto Link to their Isla Mujeres articles
This blog is brought to you by....
View from the rooms.
MaraVilla Caribe
Bed & Beach
Three rentals with large glass doors overlooking our white sand beach and the beautiful Caribbean sea, with kitchenettes &
free WIFI.
In the coastal neighborhood of Bachilleres, among upscale villas & boutique hotelitos, convenient to downtown or the colonias, yet separate.

Quiet & Private.
Kitchen in a large studio. (Sur & Norte are identical)



Kitchenette in small room, Medio. There's a table & chairs across from it & a double bed.
A large slider opens from each of the 3 rooms onto the patio where each has a table & chairs, hammock & clotheslines. The BBQ is behind the pole, and the outdoor shower is outa the pic at left.
Large studio (Norte), I'm standing in the kitchen
Free amenities such as hammocks, bikes, outdoor shower, portable beach chairs & beach towels, washer, loungers & BBQ.

Breathtaking panoramic views from the rooftop terrace. Upstairs room also available.

Downtown is ~ a mile away; if you don't feel like walking or biking, flag a $2 taxi or hop on the bus. We also have room for parking,

You can enjoy the music & crowds downtown, then come home our quiet neighborhood of Bachilleres where you'll

sleep to the sounds of the sea.

.

$275/$325/$425 wk $40/50/$65nt Monthly Discounts


Large studio (Sur) with Queen & Single bed. Slider door & view are behind me.




Fine dining a few steps away at Da Luisa or try the traditional neighborhood eateries a couple blocks farther. Stroll five minutes down the coastal sidewalk to Mango Cafe, Bufalo, Bahama Mama, Compadres Barbacoa or Manolitos. Walk less than 10 minutes to shop at Chedraui or to dine at Green Verde, Kash Kechen Chuc, or Seso Loco. Visit marinas, bars, & beach clubs that are minutes away by bike or on foot. Our guests recommend the Yoga classes a couple villas away at hotelito Casa Ixchel. Fresh juice, produce & tortillas a few blocks away in the village, as well as a variety of other stores and small local restaurants.
June Events
Sunrise ~6:05a
Sunset ~7:25p
Moonrise over the Caribbean
June 1 6:40
June 2 7:35
June 3 8:30
June 4 9:25
June 5 10:17
June 6 11:06
June 7 11:54
In the US, June is Caribbean-American Heritage month.
Link
.
In the US, June is also National Oceans Month
Link
.
June has the longest daylight hours of the year in the Northern Hemisphere and the shortest daylight hours of the year in the Southern Hemisphere,
June 1, Monday
Dia de la Marina..Navy Day
10am Ceremonies at Naval base plaza.
10:40 Boats depart for ceremonial placing of wreath on the waters of the Bay commemorating those who died in service.
The first and last Ultramar ferries are cancelled.
The cargo ferry is running fewer crossings. (Departing the island at 06:00, 09:30, 12:45, 16:15 and 19:15; and departing Punta Sam at, 07:15, 11:00, 14:45, 17:30 and 20:15.)
June 4 Thursday Corpus Christi...a religious holiday
June 5, Friday
World Environmental Day
Town Square 9a-noon First Isla Mujeres Environmental Fair 2015
The Navy will have a booth showing their diving equipment as well as their rescue program to combat pollution at sea, and a conference that is open to the public entitled "Mangroves".
The CFE (Federal Electrical Commission) will have a exhibition of various ways to produce electricity, aimed at grade school children.
The Human Rights Commission will have a booth and the state Director will inaugurate the fair, with the Mayor.
The labor union CROC is supplying volunteers and had donated ornamental plants, to be used for reforestation.
The DIF is participating and will be giving away discs showing how to conserve water.
Aguakan will have a booth, who often work with NGO's.
The Maritime Terminal is organizing a Drawing Contest titled "A Child's View of Caring for Nature" ( "la mirada de los niños en cuidado de la naturaleza"), and the ferry company will be responsible for the prizes.
The Veterinary Clinic of Isla Mujeres (La Clínica Veterinaria de Isla Mujeres AC) will have animals available for adoption and materials available about pet care.
The Tortugranja (Turtle Farm) will have a booth about the work they do as programs for reproduction and care for sea turtles.
The Municipal Ecology department are actively participating and will have a booth featuring the actions of their agency in favor of ecology.
The NGO Green Patrol/Paturlla Verde will present photographs from 15 years of educational work on the island.
June 7, Sunday
Election Day (for Federal legislators) Restriction of sale of alcohol to go and in some local bars. Alcohol has been sold in tourist bar-restaurants during past elections.
June 8, Monday
World Ocean's Day
Link
You are invited to a Dance Workshop of Caribbean Rhythms, starting June 8th at the Mundaca Hacienda Palapa. 20 pesos. For more information contact the Cultural department 877 0767 culturaislamujeres@gmail.com
June 13, Saturday 10am or 11am 1st Gran Cabalgata (Mounted Parade)
on Rueda Medina, from downtown in front of the Ferry Terminal along Rueda Medina until the
Unidad Deprotiva
(colonia Salina Chica?), where they will go toward Jesus Martinez Ross Avenue, then to the intersection of Paseo de los Peces in colonia La Gloria and over to the coastal road, to the southern part of the isle, stopping at the paths (dirt roads) in that area. After the horses drink water, they will take the same route back north to the chapel La Guadalupe and then gather at the El Pescador ballbark.(in front of Cheraui) The procession is expected to take about three hours. There will be a special brigade to remove the feces, and there will be collaboration with the Traffic police and Civil Protection to ensure a safe event. There will be entertainment at the park until 7pm, including the band "Laguna Verde". A donation of 20 pesos will contribute to the fund for the construction of a seminary being built in Bonfil.
The procession will include riders from Tizimín, Kantunilkín, Valladolid, Cancún and Isla Mujeres. Rain is forecast for Saturday, which could cancel the event.
June 13, Saturday
API pier or Magana (wooden) pier Submarine tours begin in Isla Mujeres 300 pesos "Discover the sea without even getting wet while enjoying a drink & appreciating the seabed of our beloved island. For all ages. 9841762052 Gabriel." (From Merca Isla on FB)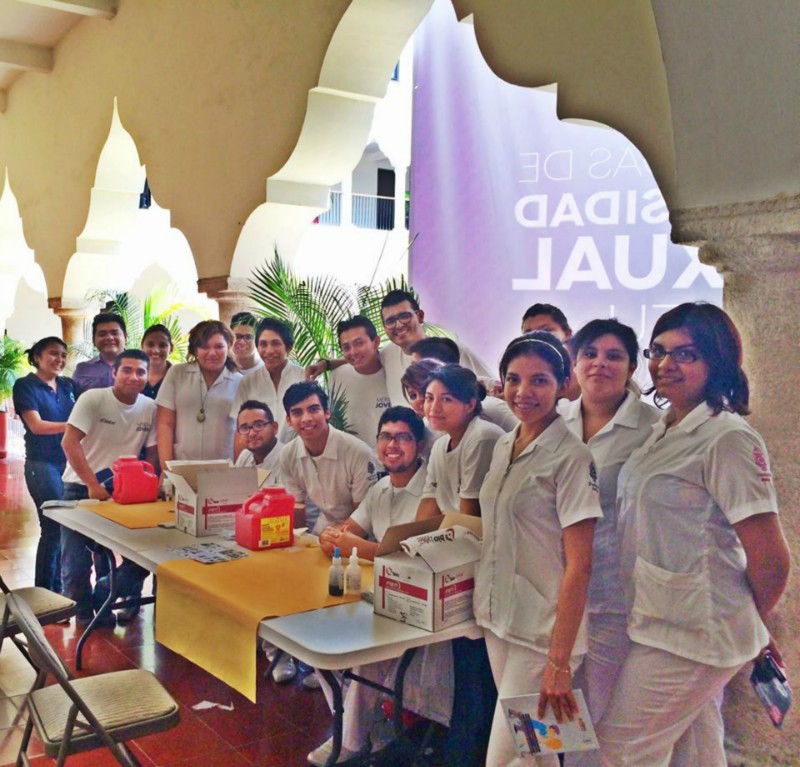 June 17-21
Brazos Abiertos (Open Arms) Seventh Annual Isla Mujeres HIV Testing, Sexual Education, and Teenage Pregnancy Prevention Campaign
LINK
to information & opportunity to donate
June 21, Sunday
Summer solstice
Father's Day
June 26 & 27, Friday & Saturday
Women's Fishing Tournament. La Dorada, Organized by DIF. More than 500,000 pesos in prizes. Entry fee 3000 pesos
June 27, Saturday Noche de Estrellas
Thursdays
at 8:30p Magic show at Poc Na see poster
Fridays
Artes en Todas Partes events TBA
Texas Hold 'Em Poker Mondays & Thurdays at El Patio 6p on Hidalgo..more info HERE.
Discontinued for low season
No Artists Fairs since April, scheduled to resume in November
July 11 Isla to Isla Open Water Swimming Event to arrive at Posada del Mar beach. Followed by samples of seafood from local restaurants
Saturday, July 18 to Friday, July 24- Whale Shark Festival
Charity Info
See tab at top of page!
Donation Drop offs:
Red Cross: Social Justicia Restaurant
(south of ferry terminal, north of car ferry)
Isla Animals: Vet clinic at Mundaca Hacienda
Books for Grade School Reading Program, Items for Isla Animals, Diabetes Supplies, Items for
Little Yellow School House, Moto Helmets for kids..
.Barlitos @ Marina Paraiso
For donations to Zapatos Para Los Ninos.. please contact Greg at bullridersnider@yahoo.com, or find them on Facebook at "Shoes For The Children.
"
Miguel's
schedule (may need updating):
Sunday: The Sol Rockers @ El Patio 9p - 11p
Monday: Miguel solo @ El Patio 6:30p - 8:30p
Tuesday: La Banda Sin Nombre @ El Patio 9:15p - 11:15p
Wednesday: The Sol Rockers@ El Patio 7p - 9p, Faynes 10:30p - 12:00a
Thursday: Miguel Solo @ el Patio 6p - 8p, Faynes 10:30p - 12:00a
Friday: Marina Paraiso 7p - 9p, Faynes 10:30p - 12:00a, Adelita's 12a - 2a
Saturday: Marina Paraiso 7p - 9p, Faynes 10:30p - 12:00a, Adelita's 12a - 2a
John Cain's schedule (Updated June 1)
Sunday & Wednesday 7:30pm - 9:30pm
El Patio Sol Rockers
Thursday Bahia Tortuga 6:45-8:45
Saturday. El Patio solo 630-830
Sunday Jazz from Toronto 5-7, Sol Rockers 7:30-9:30
, Isla Cali 9:30-11:30
Monday Jazz from Toronto 5-7, Miguel 7:30-9:30
, Isla Cali 9:30-11:30
Tuesday Jazz from Toronto 5-7, Ryan Rickman 7-9:30, Banda sin Nombre 9:30-11:30
Wednesday Sol Rockers 7:30-9:30, Radio Band 9:30-11:30
Thursday Closed for the month of June
Friday Ryan Rickman 7-9:30, Radio Band 9:30-11:30
Saturday John Cain 7:30-9:30, Isla Cali 9:30-11:30
Fenix ~2p~5p Live music at the beach in the afternoons on Sundays. Salsa, Cumbia, Cuban music. Update June 13: Music Fri, Sat, Sun. ~2p.
Bahia Tortuga John Cain on Thursdays and Lara on Mondays...~7p (Updated June 1)
You may find live music at night on Hidalgo
Fayne's: 10:30-12 (see above)
La Terraza: ~10-12
Morgan's: Between 7 & 11 (see above)
El Patio (see above)
Poc Na Hostel: Starting ~10p to late
Veradara's Cuban restaurant Saturdays ~3p Cuban music
~~~~~~~~~~~~~~~~~~~~~~~~~~~~~~~~~~~~~
Artist Fairs on the Town Square, usually first Thursday, 4p-9p ~Nov-April.
Now the City is having Arte en Todas Partes events on Fridays.