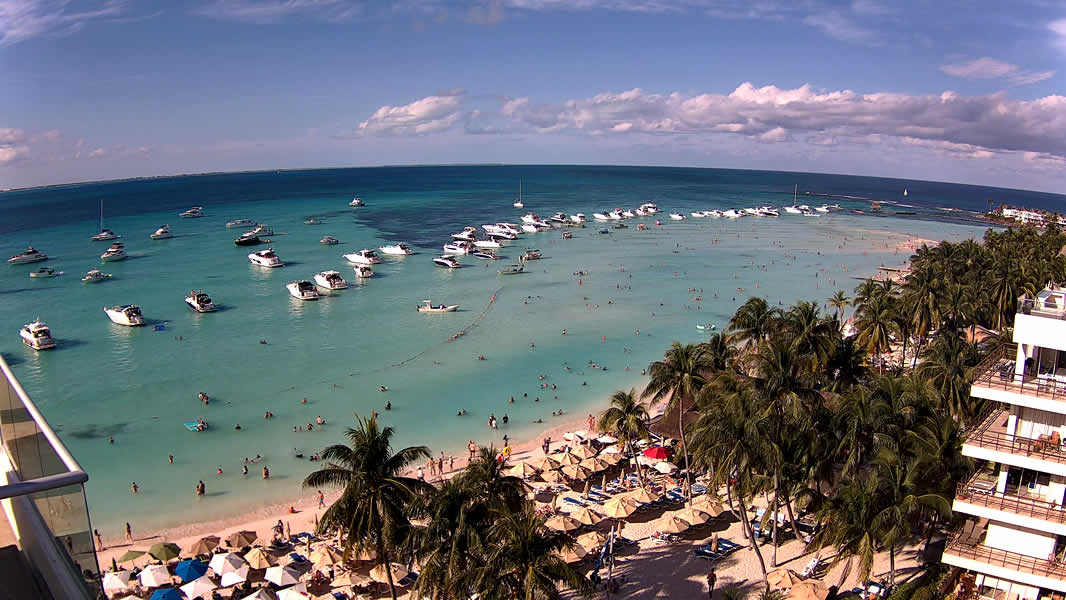 This is the live webcam at North Beach / Playa Norte. HERE is a timelapse version, that you can set to slow or fast (fps-frames per second). It takes a few seconds to load.
Follow Isla Mujeres News & Events on Facebook for highlights of news & events, and more photos & videos
Both

issues of
The Isla Mujeres Magazine
are
h

ere,
featuring a variety of talented writers and photographers!
~~~~~~~~~~~~~~~~~~~~~~~~~~~~~~~~~~~~~~~~~
Working to maintain a safe municipality
Juan Carrillo, en Isla Mujeres
Lanrry PARRA
ISLA MUJERES, 13 de junio.-
Leer más..Full article at this link.
This information has already been translated about the increases in police and equipment in the municipality under this administration, which includes active officers increasing from 72 to 200, and improvements in communication equipment. The Mayor, Juan Carrillo Soberanis, says that safety and security of the residents and visitors is a priority for his administration.
~~~~~~~~~~~~~~~~~~~~~~~~~~~~~
From

the Municipal Facebook site.....

( FB page link)
No new articles....
The Casa de la Cultura posted a promo for Sunday's Noches Magicas...see Events section below.
~~~~~~~~~~~~~~~~~~~~~~~~~~~~~
From
Tvisla Mujeres

( link to photos & articles

)
Cabbie identified in tourist case
http://www.tvislamujeres.com.mx/identifican-al-taxista-involucrado-en-el-caso-de-la-turista/
The Secretary of Labor and Conflicts of the Isla Mujeres Taxi Union, Sergio Castillo Pacheco, has confirmed that the taxi driver has been identified who is involved in a complaint by a foreign tourist who alleges abuse. The woman entered the taxi at the corner of Hidalgo by the restaurant "Argentina" and was taken to her rental room in colonia La Gloria, very close to the FOVISSSTE apartments. She wrote on social networks that she had been drinking, fell asleep in the taxi, and alleges she awoke in an area by the Caribbean malecon with the drivers hand between her legs.
The taxi driver, A.R.V. was identified via a video showing the taxi (#215) being used by the woman, and he acknowledges providing transport to the tourist, but has categorically denied the woman's version. He has been working for the taxi union for 13 years and is a concessionary partner.
Authorities became involved after the woman posted her complaint on social networks, and she has assured them she will return in a few days to file the legal complaint, according to the Department of Tourism.
Following the publication of this scandal involving the taxi union, on Tuesday their leader, Eduardo Peniche Rodriguez said there is no room within the union for anyone who does something as serious as the accusation made by the woman. "They have to go" were the words used by the union leader, emphasizing that in Isla Mujeres people live on tourism, and if there is a serious problem, it is necessary to act accordingly. He said he is returning from a trip to Chetumal, and the case will be deliberated tomorrow, but there is no other way out for the driver
allegedly
involved.
Wildlife Department delivers coup de grace
http://www.tvislamujeres.com.mx/vida-silvestre-da-el-tiro-…/
The DGVS (Wildlife Department) had started to refuse permission to the whale shark tour boats, who say they had anticipated this since there have been delays with both this agency and CONANP (National Commission of Protected Natural Areas). The latter agency set a deadline which expires tomorrow regarding the permits they have not issued.
The tour operators are upset and confused because in some cases approval has been given by DGVS for the Aguas Azules and denied by CONANP (
for the Aguas Verdes)
. They are also upset because one participant received more than ten permits while others who applied for three were only given one.
It is noted that of the four months of the season for whale shark observation and swimming, one month has been used with procedures and a long waiting period.
Residents of colonia Cañotal request more police surveillance to curb burglaries-http://www.tvislamujeres.com.mx/vecinos-de-la-colonia-canotal-piden-mayor-vigilancia-para-frenar-ola-de-robos/
Adrián Ávila Gómez, who lives in colonia Cañotal, has asked the city of Isla Mujeres for a greater police presence for his colonia after he was robbed for the second time.
He said that even though he has video of the thieves on security cameras installed in his house, little has been done to recover his belongings.
He explained said the first time the mirrors of his motorcycle were stolen, but this time the thief entered his home and took a drill, a caladora, a JBL speaker with a value of 5000 pesos and a broken hammer, in addition to others
tools.
He commented he has managed to identify the thief from the security camera footage, who is considered to be responsible other robberies by the colonia
. He said that unfortunately the alleged burglar's family has hidden hime, even though they know that he has committed a crime.
The video has been posted on social networks (and accompanies this article), showing the thief in broad daylight and without any apparent fear, entering the home and coming out seconds later with some belongings.
Mr. Avila acknowledged he has not filed an official complaint, saying he has little hope for success or recovering his belongings. He said he considers this a waste of time, since after detaining the thief, the authorities will just release him, as has happened in other cases.
According to the security camera footage, it took 34 seconds for the burglar to enter and steal from the home located on prolongacion Rueda Medina, a block from Cablemas. He said, "I just hope I don't run into him, because I don't know what would happen...we'd just have to find out."
~~~~~~~~~~~~~~~~~~~~~~~~~~~~~
From por esto Link to their Isla Mujeres articles & photos
Dysfunctional enclosure
Disfuncional "jaula" de Capitanía
.. [+]
Ver masFull article at this link
There are complaints that enclosing of the area of Federal Zone by the pier used by the Harbor Master has deprived the community of access to the tacos of doña Alejandra, as well as blocking access to the foreign tourists arriving in their boats, who have traditionally used this pier for processing their entry documents with the five agencies, including International Health.
Migration, Sagarpa, Customs and the Harbor Master.
This dock was supposedly mentioned in a book from the 80's that is almost a Bible to sailors and directs them to this pier upon arrival. Now the Port Administration is changing, and being handed over to the Navy on June 17, and it is not known how the arrival of foreign boats and their crews will be handled.
Deadline is tomorrow for whale shark permits
Mañana conocerán los permisos
[+]
Ver masFull article at this link
Most of the information in this article has already been translated
. It is noted that if the whale shark tour boats did not meet the requirements during the recent inspection, they won't be able to carry out whale shark tours, unless they make the recommended adjustments or replace the boat with another that complies with the regulations. Last week the Harbor Master and CONANP carried out a review of the 150 boats whose permits are pending, and should release the results no later than today.
These requirements include being larger than 37 feet in length, having 2 four-stroke engines, and having a sufficiently high edge with certain safety measures to prevent tourists from falling or water from entering.
Complaint about bureaucracy
Burocratismo frena inversiones
[+]
Ver masFull article at this link
Marisol Pérez, who works for a consulting firm, complained that one of her clients wants to apply for a federal zone concession in the Isla Blanca area and SEMARNAT requires a the record of land use, but the Isla Mujeres Department of
Urban Development of Isla Mujeres refused to issue it without payment for the Federal Zone. She said the authorities are obligated to receive requests and they are also obligated to respond with documentation, so that it can be corrected. but in this case no response was made and the basic problem is that you cant ask for payment for something you don't have.
She explained, "
My client wants to apply for a federal zone concession, therefore SEMARNAT must conduct an analysis of the Ecological Management Plan (PDU) and one of the requirements is that the applicant requests and supplies the document showing the land use (uso de suelo) congruence. This
application is for conservation and according to the PDU, that is consistent this activity in Federal Zone, because it is to be maintained in its present state."
It is noted that a few minutes after this was denied, and Ms. Perez returned to the window after the presence of the reporter was observed, and then the land use congruence document was delivered, without payments for the Federal Zone.
Cabbie identified who is accused of abusing a tourist
Identifican a taxista que abusó de una turista
[+]
Ver masFull article at this link
This has the same information as the article above, noting that after the incident, the woman sought help from a friend and went to the police station. She said they told her they couldn't do anything and practically blamed her for what happened. After she posted her complaint on social networks, the Director of Tourism Promotion, Gustavo Rodriguez Orozco, became aware and involved almost immediately and began working with the Taxi Union to find the person responsible for sexually harassing the foreigner.
He said, "Once we found out, we got to work to look for possible clues and I had a meeting that morning with the Union's Secretary of Conflicts to determine which taxi was involved. Fortunately there was a video taken from a private address which showed the American, H.B., leaving the taxi at the place where she lives, almost right in front of the camera." He said on the video you can observe the taxi stopping, and the complainant gets out, which is how the driver, Andres R, was identified. He acknowledged that he drove the woman to her house, but denies that he ever touched her.
The official said that the woman traveled to the US on Tuesday, but will return on Monday and plans to file her complaint with the Public Ministry for acoso sexual. We will see what measures the Taxi Union will take against the driver who is involved, but according to the Director of Tourism Promotion, it warrants expulsion (
expulsion fulminante).
~~~~~~~~~~~~~~~~~~~~~~~~~~~~~
This blog is brought to you by....
View from the rooms.
MaraVilla Caribe
Bed & Beach
Three rentals with large glass doors overlooking our white sand beach and the beautiful Caribbean sea, with kitchenettes &
free WIFI.
In the coastal neighborhood of Bachilleres, among upscale villas & boutique hotelitos, convenient to downtown or the colonias, yet separate.

Quiet & Private.
Kitchen in a large studio. (Sur & Norte are identical)



Kitchenette in small room, Medio. There's a table & chairs across from it & a double bed.
A large slider opens from each of the 3 rooms onto the patio where each has a table & chairs, hammock & clotheslines. The BBQ is behind the pole, and the outdoor shower is outa the pic at left.
Large studio (Norte), I'm standing in the kitchen. A queen & single bed.
Free amenities such as hammocks, bikes, outdoor shower, portable beach chairs & beach towels, washer, loungers.

Breathtaking panoramic views from the rooftop terrace. Upstairs room also available.

Downtown is ~ a mile away; if you don't feel like walking or biking, flag a $2 taxi. Parking.

You can enjoy the music & crowds downtown, then come home our quiet neighborhood of Bachilleres where you'll

sleep to the sounds of the sea.

.

$275/$325/$425 wk $40/50/$65nt Monthly Discounts


Large studio (Sur) with Queen & Single bed. Slider door & view are behind me.




Fine dining a few steps away at Da Luisa or try the traditional neighborhood eateries a couple blocks farther. Within ten minutes walk are the restaurants Mango Cafe, Brisas, Manolitos, Green Verde, Kash Kechen Chuc, and the large department store-grocery Chedraui. Visit marinas, bars, & beach clubs that are minutes away by bike or on foot. Attend Yoga classes a couple villas away at hotelito Casa Ixchel. Fresh juice, produce & tortillas a few blocks away in the village, as well as a variety of other stores and small local restaurants. It takes 20-30 minutes to walk downtown.
```````````````````````````````````````````````````````````````````````
June

E

vents
Provided by MaraVilla Caribe & Isla Mujeres Daily News & Event
s
The Circus is in Town:
"Arriving for the first time & for a short period, directly from Mexico City, the Afeere Brothers International Circus. Feel the maximum excitement with the 4 suicidal motorcycles in the Globe of Death, and the acrobats performing feats on the Fantastic Pendulum more that 10 meters in the the air.
A show of this magnitude happens only once a year!"
Thursday, June 1 Navy Day
Día de la Marina
Memorial placing of the wreath at sea (in the Bahia). Boats leave the pier near the car ferry at 10:30am
Saturday & Sunday, June 3 & 4 Cosme Magana Fishing Tournament New Date: Weather permitting
Sunday, June 4 Noches Magicas at 8pm on the Town Square will feature the Isla Mujeres Senior Citizen's Choir & performances by three dance troupes from Cancun.
Monday, June 5 World Environment Day
Thursday, June 8 World Ocean's Day & Playa Centro (aka Posada Beach) will receive its third Blue Flag award,
during the XII National Meeting of Clean Beaches, which will be held in Bahía de Banderas, on the Riviera de Nayarit. The flag raising ceremony is scheduled for July 4.
June 9 7:41
June 10 8:30
June 11 9:17
June 12 10:03
June 13 10:47
June 14 11:29
Sunday, June 11
Town Square 8p: Special Edition of Noches Magicas "Senior Citizen's Club" featuring the Senior Citizen Choir, the Senior Citizen Dance Troupe, and the musical groupe Mar & Arena (Sea & Sand).
Sunday, June 18 Father's Day
& Noches Magicas at 8pm on the Town Square
presents performances by the Ballet Folklorico of Cancun & the dance troupe Playa Dance.
Tuesday, June 20 Summer Solstice (11:24pm)
Friday & Saturday, June 23 & 24 Women's Fishing Tournament Dorado del Carib
e Probably to be rescheduled
Saturday & Sunday, June 24 & 25 Cosme Alberto Martinez Magana Fishing Tournament
Saturday, June 24 Dance event 5p behind the Casa de la Cultura 4th Edition of Danzarte with over 200 dancers performing from Isla Mujeres & other parts of the state.
Sunday, June 25 Noches Magicas at 8pm on the Town Square