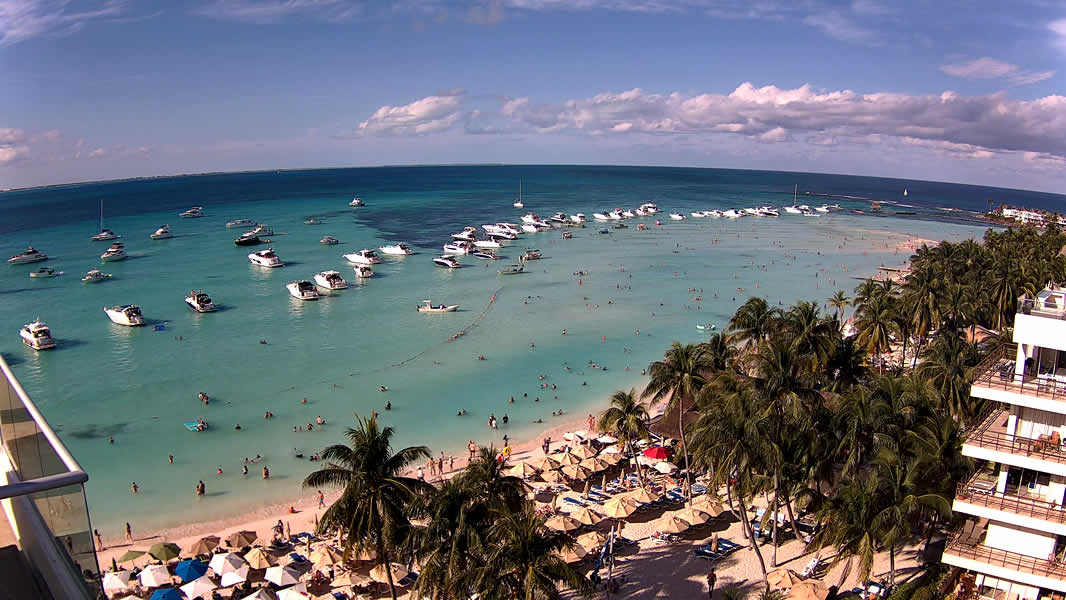 This is the live webcam at North Beach / Playa Norte. HERE is a timelapse version, that you can set to slow or fast (fps-frames per second). It takes a few seconds to load.
Mayor Juan Carrillo: Animal protection is a priority for this municipal government
Protección animal, prioridad
Leer más..Full article at this link.
See City section below....
"Pueblo Magico" status is intact with no risk of losing this distinction
"Pueblo Mágico" sigue intacto
Leer más...Full article at this link
See TVIM section below...
~~~~~~~~~~~~~~~~~~~~~~~~~~~~~
From

the Municipal Facebook site.....

( FB page link)
The City installed of the Citizen's Council for Animal Protection and Welfare
for the benefit and protection of the fauna in the municipality

.
The dolphin "Paki" was returned to his habitat.
These actions are possible because this administration is committed to having
coordinated work between the municipal, state, and federal governments, private industry and the community.
The mayor said that there could not be a better day for the installation of this Council for the Animal Protection and Welfare than when returning to the dolphin "Paki" to his habitat. The dolphin came to the island last May to the island, and has become a sign of goodwill and coordinated work between individuals, the government, and business. It is a source of pride for all the islanders who took part in his rescue and recovery
, helping him to return to the sea.
After about a month and a half, the severe dehydration and infection that afflicted "Paki" was reversed. Agencies involved with the rescue, recovery, and release included the Department of Ecology & Environment, the Department of Civil Protection and Fire Fighting, and PROFEPA, the Federal Attorney for Environmental Protection.
During the installation of the Citizens Council for Animal Protection and Welfare, Barranco García, director of the municipal Department of Ecology & Environment, explained that objective of the Council is to promote respect for animals and living beings that cohabit with society by modifying or promoting new rules, but
especially through the generation of a new consciousness, with an attitude of respect towards living beings, nature and the environment.
Juan Carrillo Soberanis, the mayor of Isla Mujeres, said that through coordinated work between the municipal government, island citizens and federal and state agencies, as well as private industry, results can be obtained in terms of protection of flora and fauna in Isla
Mujeres, with continued work to create awareness of the importance of their care, for the benefit of the whole community.
"For those of us who are part of this administration, it is important to be an active part of the solution with the uniting of wills, efforts and knowledge, because it is our concern to have a consultative body that will unite efforts and support the search for adequate solutions for
protection of animals, "said the Mayor.
All indications are that Isla Mujeres will host the XIV edition of the International Fishing Tournament, "Cosme Alberto Martinez Magaña" this weekend, June 24 and 25, after two postponements due to weather. The
Organizing Committee and the City are ready to receive about 100 boats, including participants from Isla Mujeres, as well as from other parts of Mexico and other parts of the world.
The Mayor, Juan Carrillo Soberanis, said various agencies are working in a coordinated manner to ensure a safe and orderly event. Officials
thanked the fishing fans, who despite the inconveniences, have remained determined to be part of this traditional Caribbean fishing tournament, and he urged those who have not yet signed up to do so directly with the Organizing Committee.
~~~~~~~~~~~~~~~~~~~~~~~~~~~~~
From
Tvisla Mujeres

( link to photos & articles

)
The fishing tournament will be held this weekend
http://www.tvislamujeres.com.mx/si-habra-torneo-de-pesca-e…/
The Mayor categorically denies that the Pueblo Magico designation of Isla Mujeres is at risk
http://www.tvislamujeres.com.mx/rechazan-que-este-en-riesg…/
June 22 Mayor Juan Carrillo Soberanis categorically denied that the Pueblo Magico designation is at risk of being lost, as has been claimed on some social networks. He said there are some malicious publications that only seek to affect this tourist destination.
The Mayor spoke to the media this morning (Thursday) after attending an event of the company Dolphin Discovery. He said the story claiming there is a risk of losing this important distinction is based on a study that was done last year, but no part of the study mentions that the designation of "Pueblo Magico" could be lost.
He said the designation is not at risk, since Isla Mujeres is the 'insignia' Pueblo Magico of Quintana Roo, and it is an honor for the islanders to belong to this group of towns. The Mayor said the story was written based on a publication from March, 2016, during the previous administration. The publication made suggestions based on a study about how to improve and increase the tourism industry of Isla Mujeres, but a no time did it allude to a risk of losing Pueblo Magico status.
The Mayor said this rumor has only caused misunderstandings, of which some are made with deceit towards this tourist destination. He said, "In front of you, I will categorically deny that Isla Mujeres is at risk of losing the "Pueblo Magico" status." He said that instead, they are seeking ways to increase tourism in Isla Mujeres. He said comments like these just oblige them to work twice as hard at increasing tourism promotion.
Paki has been returned to his habitat
http://www.tvislamujeres.com.mx/paki-ya-regreso-a-su-habit…/
There are videos of returning "Paki" to his habitat. A narrator says they are on the boat of the company "Garrafon" & at the end the Mayor briefly expresses his appreciation.
Do you know where the dolphin Paki is tonight? This is the most recent location
.
Sabe por donde anda el delfín Paki esta noche? aquí su última ubicación
The tracking device on the rescued dolphin "Paki" emits about 80 signals daily, and is made with biodegradable materials and will fall off in ~70 days
.
~~~~~~~~~~~~~~~~~~~~~~~~~~~~~
From por esto Link to their Isla Mujeres articles & photos
This blog is brought to you by....
View from the rooms.
MaraVilla Caribe
Bed & Beach
Three rentals with large glass doors overlooking our white sand beach and the beautiful Caribbean sea, with kitchenettes &
free WIFI.
In the coastal neighborhood of Bachilleres, among upscale villas & boutique hotelitos, convenient to downtown or the colonias, yet separate.

Quiet & Private.
Kitchen in a large studio. (Sur & Norte are identical)



Kitchenette in small room, Medio. There's a table & chairs across from it & a double bed.
A large slider opens from each of the 3 rooms onto the patio where each has a table & chairs, hammock & clotheslines. The BBQ is behind the pole, and the outdoor shower is outa the pic at left.
Large studio (Norte), I'm standing in the kitchen. A queen & single bed.
Free amenities such as hammocks, bikes, outdoor shower, portable beach chairs & beach towels, washer, loungers.

Breathtaking panoramic views from the rooftop terrace. Upstairs room also available.

Downtown is ~ a mile away; if you don't feel like walking or biking, flag a $2 taxi. Parking.

You can enjoy the music & crowds downtown, then come home our quiet neighborhood of Bachilleres where you'll

sleep to the sounds of the sea.

.

$275/$325/$425 wk $40/50/$65nt Monthly Discounts


Large studio (Sur) with Queen & Single bed. Slider door & view are behind me.




Fine dining a few steps away at Da Luisa or try the traditional neighborhood eateries a couple blocks farther. Within ten minutes walk are the restaurants Mango Cafe, Brisas, Manolitos, Green Verde, Kash Kechen Chuc, and the large department store-grocery Chedraui. Visit marinas, bars, & beach clubs that are minutes away by bike or on foot. Attend Yoga classes a couple villas away at hotelito Casa Ixchel. Fresh juice, produce & tortillas a few blocks away in the village, as well as a variety of other stores and small local restaurants. It takes 20-30 minutes to walk downtown.
```````````````````````````````````````````````````````````````````````
June

E

vents
Provided by MaraVilla Caribe & Isla Mujeres Daily News & Event
s
Thursday, June 1 Navy Day
Día de la Marina
Memorial placing of the wreath at sea (in the Bahia). Boats leave the pier near the car ferry at 10:30am
Saturday & Sunday, June 3 & 4 Cosme Magana Fishing Tournament New Date: Weather permitting
Sunday, June 4 Noches Magicas at 8pm on the Town Square will feature the Isla Mujeres Senior Citizen's Choir & performances by three dance troupes from Cancun.
Thursday, June 8 World Ocean's Day & Playa Centro (aka Posada Beach) will receive its third Blue Flag award,
during the XII National Meeting of Clean Beaches, which will be held in Bahía de Banderas, on the Riviera de Nayarit. The flag raising ceremony is scheduled for July 4.
June 9 7:41
June 10 8:30
June 11 9:17
June 12 10:03
June 13 10:47
June 14 11:29
Sunday, June 11
Town Square 8p: Special Edition of Noches Magicas "Senior Citizen's Club" featuring the Senior Citizen Choir, the Senior Citizen Dance Troupe, and the musical groupe Mar & Arena (Sea & Sand).