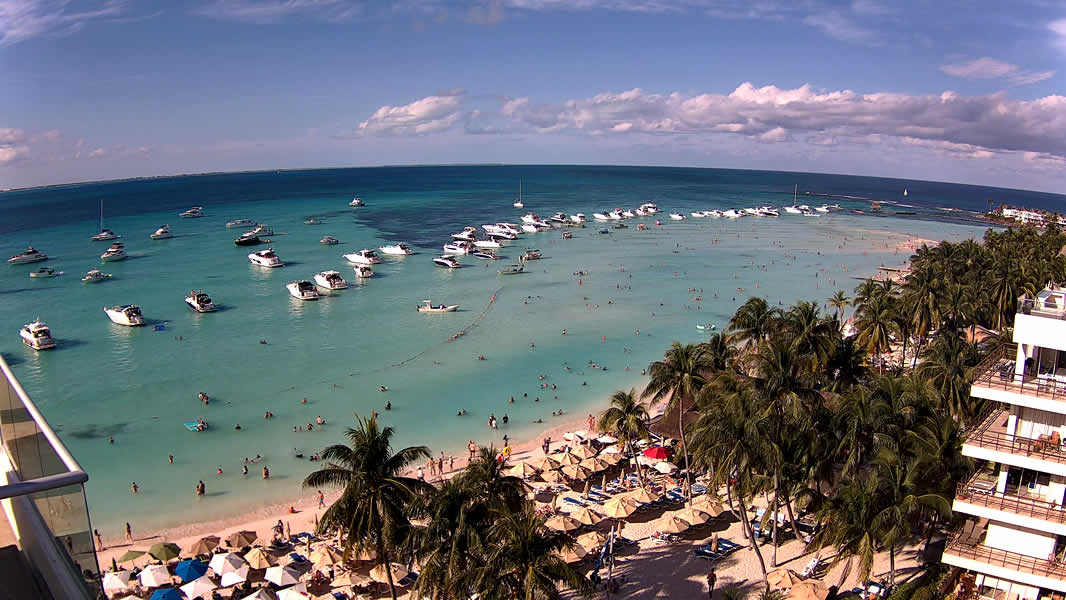 This is the live webcam at North Beach / Playa Norte. HERE is a timelapse version, that you can set to slow or fast (fps-frames per second). It takes a few seconds to load.
Whale shark tour operators frustrated by disorder
"Balleneros", a la buena de Dios
Leer más..Full article at this link.
The whale shark tour operators are annoyed by the lack of a properly defined Management Plan, which means there are no rules to strictly regulate the boats. They are also frustrated that dozens of permits were issued to boats that are not operational or are in dry dock.
The National Commission for Natural Protected Areas (CONANP) announced that they would revoke permits granted to vessels that do not comply with the established requirements for the operation during this activity.
The permit holders said they do not have a defined management plan and that sometimes Conanp and the Wildlife Department (DGVS) contradict each other,
~~~~~~~~~~~~~~~~~~~~~~~~~~~~~
From

the Municipal Facebook site.....

( FB page link)
Nebulization campaign begins in Isla Mujeres
June 28
After the intense rains that occurred recently in the municipality, the City of Isla Mujeres, headed by municipal president, Juan Carrillo Soberanis, is beginning a Campaign
of Nebulization on the island.
The municipal Director of Health, Juana Milián González, reported that the work will begin at 6pm in the colonia Electristas, and then it will continue in the colonias of Salina Grande, Caridad del Cobre, Miraflores, Cañotal, Sac Bajo and Garrafón.
She said, "Due to the rains, we are increasing these efforts to prevent the proliferation of mosquitoes that cause diseases like dengue, zika and chikungunya;
in accordance with instructions from our municipal president to take care of the health of all the island's citizens,."
The official invited all the families of Isla Mujeres to join this effort by reducing the number of items that can be used as nurseries for mosquitoes, such as tires, buckets, puddles, and containers, among others.
International Arbor Day
~~~~~~~~~~~~~~~~~~~~~~~~~~~~~
From
Tvisla Mujeres

( link to photos & articles

)
Whale shark tour operators could take legal action against CONANP
-
http://www.tvislamujeres.com.mx/nauticos-podrian-recurrir-…/
The delay in the delivery of permits and the lack of transparency on the part of the National Commission of Natural Protected Areas (Conanp) has caused the tour operators to consult with lawyers.
Lawyers explained that to date there is no properly defined management plan, nor are there rules that strictly regulate boats, and there has been no publication in the official newspaper of the federation (which is required for before a new regulation or law can go into effect).
This is not the case with the National Park Costa Occidental de Isla Mujeres, Punta Cancún, Punta Nizuc nor with the Isla Contoy Reserve, who have had studies and published their Management Plans in the official publication, which hasn't happened for the whale shark activities. There was no Management Plan establishing the number of permits as 240 and not 301 and regulating or restricting this activity. This has caused many doubts and some are considering the possibility of legal action.
CONANP has recognized errors in the issuing of the permits, and has mentioned the possibility of revoking some of those already delivered, and they determined that there is a "review" ("revisión") which depends on the Harbor Master. (Previous articles said the CONANP was planning to revoke permits from boats that didn't meet the requirements and to reassign those permits to boats that were in compliance. During the review, it was found that some boats didn't even have motors.)
Ministry of Health planning to invest 20 million pesos to improve the Community Hospital.
http://www.tvislamujeres.com.mx/secretaria-de-salud-gestio…/
The Director of the state Ministry of Health, Alejandra Aguirre Crespo said that she is working with the officials of the National Commission of Social Protection in Health to determine the equipment and improvements needed for the Community Hospital of Isla Mujeres. She said there will be funding of about 20 million pesos for this project, which the Governor committed to enacting during his last visit.
She said in upcoming days they will take a tour of the hospital, although many of the priorities are already known, which include improvements to the operating theaters, replacement of bedding equipment and of electrical medical equipment, as well as repair of the X-ray equipment. This information will be put into a report and presented to the National Commission for Social Protection in Health.
There is currently no X-Ray service, and suspension seals were recently placed by COFERPIS (Federal Commission for Protection Against Sanitary Risks). She said this issue is being addressed and resolved, and meanwhile patients are being referred to the General Hospital in Cancun.
It is noted that the Community Hospital was inaugurated less than two years ago, on December 15 2015, by then-Governor Roberto Borge Angulo, with an investment of state and federal funds totaling 143 million pesos. Therefore it was surprising that in such a short time from its initiation of operations, it suffers from many deficiencies, which could reflect a significant deviation of resources by the past administration.
Giving Benito Juarez municipality six months to pay for use of Isla Mujeres landfill
This debt has been accumulating since September 2012 and now exceeds 12 million pesos, owed by the municipality of Benito Juarez (Cancun). Isla Mujeres mayor Juan Carrillo Soberanis said he will exhaust all efforts at dialogue before filing a legal complaint. He said the landfill, which is operated by Siresol, is nearly reaching its limits of capacity, and another area will need to be constructed on property belonging to the island, which would increase the debt.
Mayor Juan Carrillo said he trusts that the government of Mayor Remberto Estrada is willing to pay this debt, since it is part of an official agreement signed between both municipalities for the consideration of the operation of the site of final disposal of garbage.
~~~~~~~~~~~~~~~~~~~~~~~~~~~~~
From por esto Link to their Isla Mujeres articles & photos
This blog is brought to you by....
View from the rooms.
MaraVilla Caribe
Bed & Beach
Three rentals with large glass doors overlooking our white sand beach and the beautiful Caribbean sea, with kitchenettes &
free WIFI.
In the coastal neighborhood of Bachilleres, among upscale villas & boutique hotelitos, convenient to downtown or the colonias, yet separate.

Quiet & Private.
Kitchen in a large studio. (Sur & Norte are identical)



Kitchenette in small room, Medio. There's a table & chairs across from it & a double bed.
A large slider opens from each of the 3 rooms onto the patio where each has a table & chairs, hammock & clotheslines. The BBQ is behind the pole, and the outdoor shower is outa the pic at left.
Large studio (Norte), I'm standing in the kitchen. A queen & single bed.
Free amenities such as hammocks, bikes, outdoor shower, portable beach chairs & beach towels, washer, loungers.

Breathtaking panoramic views from the rooftop terrace. Upstairs room also available.

Downtown is ~ a mile away; if you don't feel like walking or biking, flag a $2 taxi. Parking.

You can enjoy the music & crowds downtown, then come home our quiet neighborhood of Bachilleres where you'll

sleep to the sounds of the sea.

.

$275/$325/$425 wk $40/50/$65nt Monthly Discounts


Large studio (Sur) with Queen & Single bed. Slider door & view are behind me.




Fine dining a few steps away at Da Luisa or try the traditional neighborhood eateries a couple blocks farther. Within ten minutes walk are the restaurants Mango Cafe, Brisas, Manolitos, Green Verde, Kash Kechen Chuc, and the large department store-grocery Chedraui. Visit marinas, bars, & beach clubs that are minutes away by bike or on foot. Attend Yoga classes a couple villas away at hotelito Casa Ixchel. Fresh juice, produce & tortillas a few blocks away in the village, as well as a variety of other stores and small local restaurants. It takes 20-30 minutes to walk downtown.
```````````````````````````````````````````````````````````````````````
June

E

vents
Provided by MaraVilla Caribe & Isla Mujeres Daily News & Event
s
Thursday, June 1 Navy Day
Día de la Marina
Memorial placing of the wreath at sea (in the Bahia). Boats leave the pier near the car ferry at 10:30am
Saturday & Sunday, June 3 & 4 Cosme Magana Fishing Tournament New Date: Weather permitting
Sunday, June 4 Noches Magicas at 8pm on the Town Square will feature the Isla Mujeres Senior Citizen's Choir & performances by three dance troupes from Cancun.
Thursday, June 8 World Ocean's Day & Playa Centro (aka Posada Beach) will receive its third Blue Flag award,
during the XII National Meeting of Clean Beaches, which will be held in Bahía de Banderas, on the Riviera de Nayarit. The flag raising ceremony is scheduled for July 4.
June 9 7:41
June 10 8:30
June 11 9:17
June 12 10:03
June 13 10:47
June 14 11:29
Sunday, June 11
Town Square 8p: Special Edition of Noches Magicas "Senior Citizen's Club" featuring the Senior Citizen Choir, the Senior Citizen Dance Troupe, and the musical groupe Mar & Arena (Sea & Sand).