Your support for this project would be greatly appreciated! If you buy an ad for your business, blog, event, or whatever, your $15 is donated to your favorite Isla charity. Individuals with nothing to promote are encouraged to buy an ad for their favorite charity. Ads will be on display until the end of March, when the next issue will be published, and they can be renewed for another three months for a $10 donation. Contact me at westofcuba@gmail.com
I'd like to thank those who have already bought ads: Sally Margolis of Picky Picky Designs, Steve Broin of Casa Sirena Hotel, Ed & Judy Sutherland of Casa Alegre, Kathy Ennis, Bruce Roberts of MVC B&B, and Diane White Daniel of Isla Mujeres Travel Stickers. They have made donations to Little Yellow School House, Isla Animals, Isla Mujeres Cats Need Help, Brazos Abiertos, and the Red Cross of Isla Mujeres. Please consider supporting their businesses!
This is the live webcam at North Beach / Playa Norte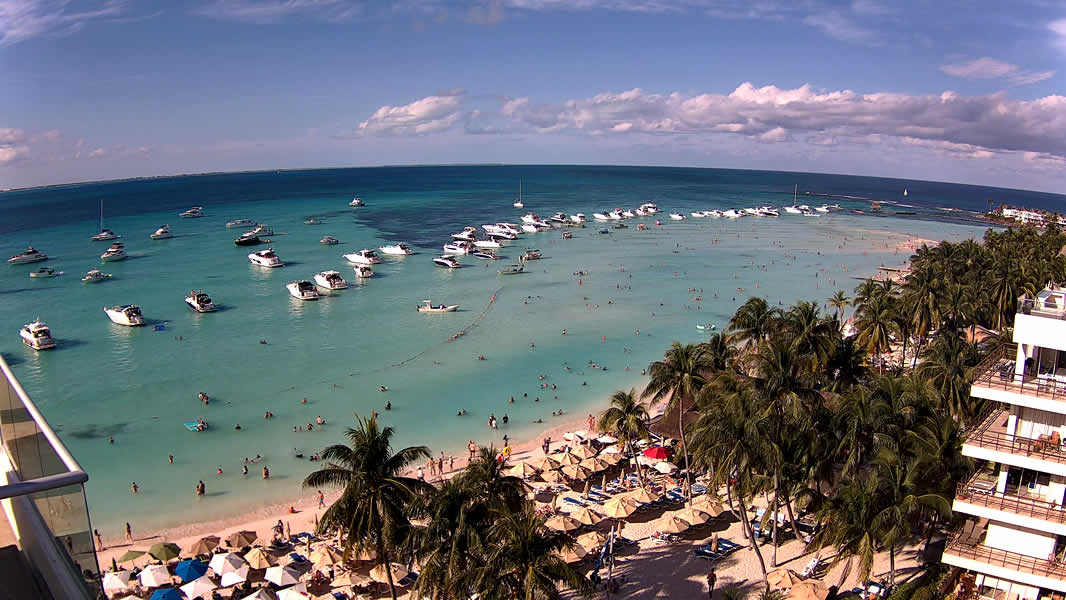 LINK to 24 hour time lapse of the webcam
The "Morning Edition" has translated headlines & newspaper photos. This Afternoon Edition has translations of the news articles, Daily Events, the Live Music Schedule & the "Around the Internet in the Past 24 Hours" section including photos & info from individuals & local businesses ....

Daily In Isla Mujeres.

There are always links to the original articles in Spanish.
No time now to catch up on yesterday...manana!
Hyperbaric chamber will be relocated to the new hospital
There will be 13 million pesos available to complete the equipping of the new hospital, which in 90 percent finished. It is expected to be inaugurated in May or June. The new hospital involves an investment of nearly 100 million pesos, and the project was initiated in 2009.
Tvisla Mujeres
The Secretary of Health visited the construction site of the new hospital in Isla Mujeres
They were working hard in English class, following recipes for banana splits.
Noticias de Quequi......



SALUD

---

Hospital will be ready in five months

INFRAESTRUCTURA

---

Transporte

---

The rate for residents is currently 13 pesos for the shortest distances, and this is expected to rise to 14 pesos. The increase of 6 to 8 percent is caused by increased costs for fuel and parts.

Por Carlos Gasca-Quequi

.
New hospital will be ready soon
por esto
Hospital nearly complete
Ahora sí casi acaban el hospital
[+]
Ver mas
Damage to carts being investigated
Se indaga sobre daño a carritos de golf
.. [+]
Ver mas
Children's rights information shared among youngsters
Nuevos difusores de derechos infantiles
.. [+]
Ver mas
This blog is brought to you by....
MaraVilla Caribe

Bed & Beach

Three rentals with large glass doors overlooking our white sand beach and the beautiful Caribbean sea, with kitchenettes &

free WIFI.

In the coastal neighborhood of Bachilleres, among upscale villas & boutique hotelitos, convenient to downtown or the colonias, yet separate.

Quiet & Private.




Free amenities such as hammocks, bikes, outdoor shower, portable beach chairs & beach towels, washer, loungers & BBQ.

Breathtaking panoramic views from the rooftop terrace. Upstairs room also available.

Downtown is ~ a mile away; if you don't feel like walking or biking, flag a $2 taxi or hop on the bus. We also have room for parking,

You can enjoy the music & crowds downtown, then come home our quiet neighborhood of Bachilleres where you'll

sleep to the sounds of the sea.

.

$275/$325/$425 wk $40/50/$65nt Monthly Discounts

View from rooms
Small room
Large room
Fine dining a few steps away at Da Luisa or try the traditional neighborhood eateries a couple blocks farther. Stroll five minutes down the coastal sidewalk to Mango Cafe or Monchi's,shop at Chedraui or visit restaurants, bars, & beach clubs; minutes away by bike or on foot. Our guests recommend the Yoga classes a couple villas away at hotelito Casa Ixchel. Fresh juice, produce & tortillas a few blocks away in the village, as well as a pharmacy and variety of other stores and small local restaurants
FOR JANUARY & FEBRUARY EVENTS>>>>visit the preview edition of the Isla Mujeres Magazine...which will benefit Isla Mujeres Charities! HERE
Jan 15 Full Moon rises ~5:15p over Caribe, Sunset over the Bay ~5:30
Jan 16 Moonrise ~6:05
Jan 17 Moonrise ~6:55
Jan 18 Moonrise ~7:45
Jan 19 Moonrise ~8:35
Jan 20 Moonrise ~9:25
Charity Info
See tab at top of page!
Donation Drop offs:
Red Cross: Social Justicia Restaurant
(south of ferry terminal, north of car ferry)
Books for Grade School Reading Program, Items for Isla Animals, Diabetes Supplies, Shoes for the Kids, Items for
Little Yellow School House..
.Barlitos:
On Hidalgo, the pedestrian street, at Abasolo
Activities in February with the Island Time Fishing Tournament that benefit the Little Yellow School House
~~~~~~~~~~~~~~~~~~~~~~~~~~~~~~~
Music
Thursdays....SeBlues
Sunday Bahia Tortuga with the Sol Rockers 7:00pm - 9:00pm
John Cain's schedule
Banda Sin Nombre at Chuuk Kay 3:30p Sat & Sun
Fenix Sat ~1 or 2p Reggae/Cuban

Sun ~1 or 2p Salsa
(

Start times have been variable. Posted on menu board by entrance

)
Fenix Lounge

Domingo Salsa en Vivo con ¡¡Puro Sabor - Salsa Cubana !! :: Sunday Live Salsa with ¡¡Puro Sabor - Salsa Cubana !! + Gratis/FREE Chilpachole Pa' la Cruda! + Tragos/Drinks + SUP & Kayak :: See You There!! / No Falten!!



You may find live music after 9 or 10 on Hidalgo at Fayne's, La Terraza, or Comono, and at Poc Na Hostel.
Texas Holdem Every Monday and Thursday
On the internet in the past 24 hours...