..This is the live webcam at North Beach / Playa Norte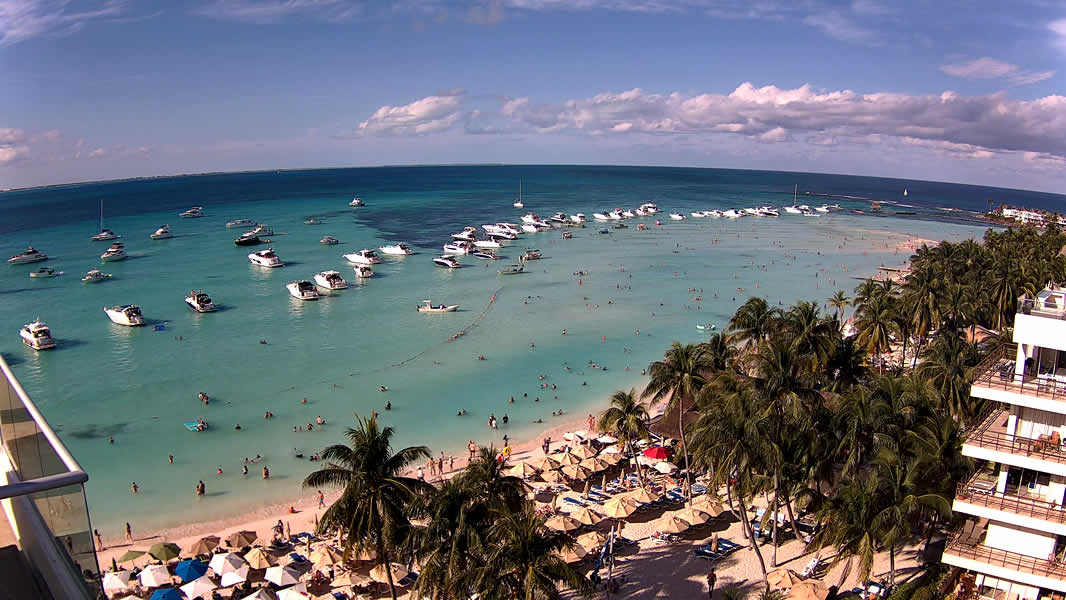 North Beach/Playa Norte In Real Time

In Isla Mujeres
LINK to 24 hour time lapse of the webcam
The "Morning Edition" has translated headlines & newspaper photos. This Afternoon Edition has translations of the news articles, Daily Events, the Live Music Schedule & the "Around the Internet in the Past 24 Hours" section including photos & info from individuals & local businesses ....

Daily In Isla Mujeres.

There are always links to the original articles in Spanish.
Check out the Daily Specials.

..with Delivery numbers and Menus...see tab at top of page.
Children first
Mayor and Social Service Agency Director sign "Pacto x la Infancia"
Tvisla Mujeres
Island president/mayor Agapito Magana Sanchez offering subsidies for students taking ferries to the mainland
Noticias de Quequi......


por esto
Devastation at Macax mangroves
Devastan manglares en Macax
[+]
Ver mas
Father is content & not filing a complaint
Padre contento, no hará demanda
Ver mas
José Manuel González Velasquez , 23 , is the father of the baby born in front of a hotel in Isla Mujeres, to his wife Nitzia Xiomara Chan Cruz. She is their second daughter, and weighed 3 kilos and 100 grams, and both mother and child are healthy and stable. He suffered a great deal of worry over his daughter, being born in the street, explaining that he works as a night watchman every night in order to support his family. He said there are islanders who are surprised that he is not filing a complaint, but he said they have received good care at the hospital, and they did studies to insure there was no infection from the birth. They are awaiting the results, and will be planning the babies christening.
He said their lives have returned to normal, and that he is fortunate that his wife and new child are enjoying good health, so now they can stay at home while he works at night. His mother will help with care of the baby, who is named Evelyn after her; a name that was chosen by his wife. Their first child is five years old, and a little jealous of her new sister.
Forecasting showers & cool winds
Habrá lluvias y vientos frescos
[+]
Ver mas
They called that right....it started raining, with gusto, after 2pm
) From Fb..taken2:30 ~3p Photo from
Marla Bainbridge
Swimming in centro
Student subsidies for ferry crossings
Becas de transporte marítimo
[+]
Ver mas
This blog is brought to you by....
MaraVilla Caribe

Bed & Beach

Three rentals with large glass doors overlooking our white sand beach and the beautiful Caribbean sea, with kitchenettes &

free WIFI.

In the coastal neighborhood of Bachilleres, among upscale villas & boutique hotelitos, convenient to downtown or the colonias, yet separate.

Quiet & Private.




Free amenities such as hammocks, bikes, outdoor shower, portable beach chairs & beach towels, washer, loungers & BBQ.

Breathtaking panoramic views from the rooftop terrace. Upstairs room also available.

Downtown is ~ a mile away; if you don't feel like walking or biking, flag a $2 taxi or hop on the bus. We also have room for parking,

You can enjoy the music & crowds downtown, then come home our quiet neighborhood of Bachilleres where you'll

sleep to the sounds of the sea.

.

$275/$325/$425 wk $40/50/$65nt Monthly Discounts

View from rooms
Small room
Large room
Fine dining a few steps away at Da Luisa or try the traditional neighborhood eateries a couple blocks farther. Stroll five minutes down the coastal sidewalk to Mango Cafe or Monchi's,shop at Chedraui or visit restaurants, bars, & beach clubs; minutes away by bike or on foot. Our guests recommend the Yoga classes a couple villas away at hotelito Casa Ixchel. Fresh juice, produce & tortillas a few blocks away in the village, as well as a pharmacy and variety of other stores and small local restaurants
November Calendar of Events
.
Nov 1 Dia de los Muertos / All Saints Day
Nov 2 Dia de lost Muertos / All Souls Day
Here is a LINK to an article I wrote about Hanal Pixan
HERE is the article I wrote about Day of the Dead in Isla Mujeres.
Nov 3 US Time Change / End DST
Nov 7 Art Fair at Town Square 4p-7p
Nov 7 Red Cross Benefit Concert 6:30 Hotel Ixchel Palapa downtown
Nov 8 Last day of Hanal Pixan
Nov 11 US Veteran's Day Canada Remembrance Day
Nov 12 Postal Worker Appreciation Day in Mexico /
Nov 12
Nov 14 World Diabetes Day
Nov 14 Naval Wives Breakfast 9am (Naval Club, usually).
Date of Caribe Maya Cultural Festival TBA? (Was this w/e in 2011 & 2012)
Buen Fin Weekend of discounts
Nov 16 International Day of Tolerance
Nov 18 Day off for Revolution Day (date of parade TBA)
Nov 20
Dia de la Revolución
Nov 22 Día del Músico
Nov 23
Nov 24 Solemnidad de Cristo Rey (Christ the King Day /
El día de Cristo Rey
)
Nov 25 Día Internacional de la Eliminación de la Violencia Contra la Mujer
Nov 27 Hanukkah begins
Nov 28 US Thanksgiving holiday
Nov 28 Beginning of Festival for Town Saint through Dec 8: Virgin of Immaculate Conception
HERE
is an article about the Festival
On November 28th the celebration of the taking out of the Virgin is scheduled to begin at 7pm with the Mass celebrating taking her down from her niche., Then a procession will take her through the streets downtown, and the event will end with a Kermes and dance in honor of the Patron Saint.
On December 4th the Confirmation Mass will be at 6pm.
On Saturday, December 7th the Paseo de Virgin will take begin at 7pm at the parish and go through the colonias and conclude with the singing of Las Manitas at the Church of Immaculate Conception downtown at ~10-10:30p
On December 8th at 3pm a procession will leave the parish of Immaculate Conception for the procession on the Bay, and there will be three large boats available for parishioners. There will be a grand Kermes, and then the Patron Saint will be returned to her niche. Father Jesus Martinez Penilla will celebrate the 50th anniversary of his priesthood.
.
Sunday Bahia Tortuga with the Sol Rockers 7:00pm - 9:00pm
John Cain's schedule
Banda Sin Nombre at Chuuk Kay 3:30p Sat & Sun
Fenix Sat 2p Reggae/Cuban
Sun 2p Salsa
Fenix Lounge

Domingo Salsa en Vivo con ¡¡Puro Sabor - Salsa Cubana !! :: Sunday Live Salsa with ¡¡Puro Sabor - Salsa Cubana !! + Gratis/FREE Chilpachole Pa' la Cruda! + Tragos/Drinks + SUP & Kayak :: See You There!! / No Falten!!

— at Fenix Lounge.
Iguana's has music on Friday evenings usually Reggae- Caribbean-Tropical music on Saturdays & Sundays, Starting around 6.
The Sol Rockers play at Bahia Tortuga on Sunday evenings.
You may find live music after 9 or 10 on Hidalgo at Fayne's, La Terraza, or Comono, and at Poc Na Hostel.
.