..This is the live webcam at North Beach / Playa Norte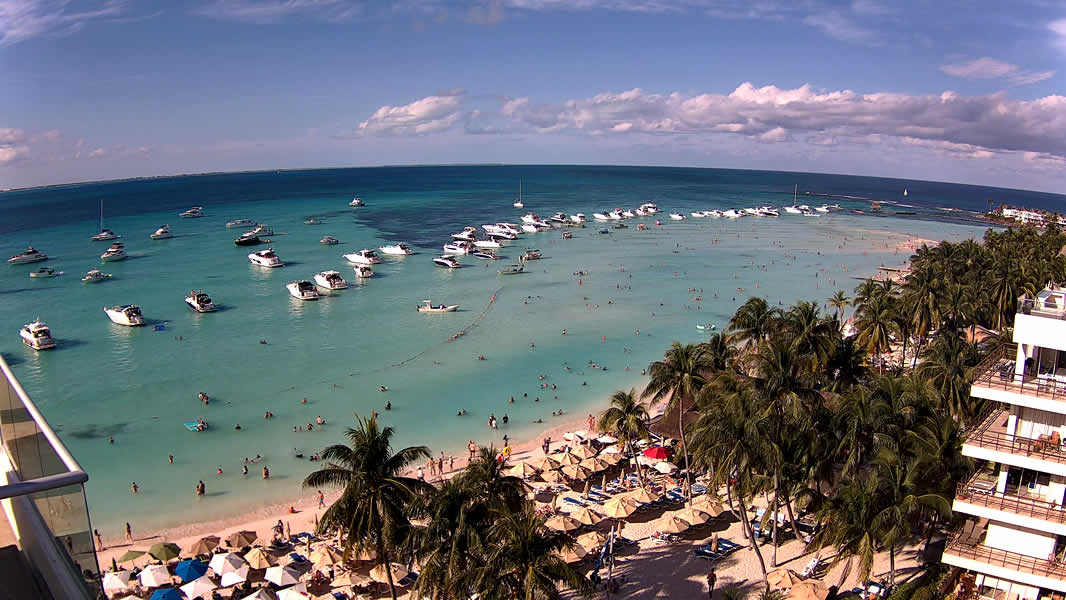 .
Cabbies Complain About Tricycle Operators
Taxi drivers are complaining about tricycle oerators soliciting clients near the Ultramar by telling tourists that their hotel is nearby and a vehicle in not required to get there. The taxi drivers say the tricyclistas are only allowed to offer their services from the pier, taking items to the taxi stand. But now, instead of taking them to the taxi stand or nearby, they tell the tourists that the taxis are expensive, in order to keep their clients. The cabbies are asking their leader, Eduardo Peniche to intervene and put an end to this situation. It is noted that in February their leader asked for the dismissal of the head of SINTRA (Ministry of Transportation and Infrastructure) because tricicleros had access to the area of the Taxi Union to take passengers with luggage. The taxi drivers say the situation has resumed and is out of control and are accusing the tircicleros of unfair competition, and they are asking for their leader and authorities to intervene and stop these bad practices. They say although the economic crisis is affecting all families on Isla, because in one way or another, everyone is dependent on tourism, people must have respect for each other's work. Source:
Diario Q Roo/Manuel Valdez
Requirements Delay Police Recruitment
The Chairman of the Public Safety Committee, Henry Tejero, insists there is a need to hire more police patrols in order to provide improved surveillance on the mainland of Isla Mujeres, where the population is growing rapidly and constantly. He said they need to hire two or three officers monthly for the remainder of this administration. The Mayor said he recognized the need recruit more personnel, but there have been changes, and the national system of Public Security has reformed the laws. They can no longer just hire someone who wants to be a police officer; there are a number of requirements to be met, and each candidate must meet qualifications over a two month period, and pass the exams, before they can be hired to work for the municipality. Source:
Diario Q Roo/Manu
el Valdez
Father's Day Diners
Disappoint Restauranteurs
The president of CANACO, the Isla Mujeres Chamber of Commerce, Juan Carrillo Figueroa, said sales for Fathers day did not meet expectations. Many people celebrated at home, with a fine meal, or at the beach. Magana ferry had a promotion allowing fathers to ride for free. Sales rallied about 15-20% for Father's Day, unlike Mother's Day when the restaurants were full. Source
Diario Respuesta/
Jesus Molina
Families Celebrate Departed Dads
On Sunday, many families visited the Municipal Cemetery of Isla Mujeres, beginning at 7am when it opened, bearing flowers and cleaning graves, to honor the fathers who are no longer with them. Families joined together to sing songs such as "Mi querido viejo", "Amor eterno", (My Dear Old Man, Eternal Love). Whole families were seen at both cemeteries, offering respect, and remembering the advice, hard work, and love of these men before they died. Source:
Por Esto
Preparing For Thunderstorms & Possible Flooding
Por Esto report
s: On Monday, in anticipation of the arrival of tropical wave number 3 (which NOAA calls #2), the Navy and Department of Civil Protection began "Operation Storm" (Tormenta). Heavy rains could affect the coasts of Quintana Roo, and the Yucatan Peninsula in general. They will be working to prevent flooding, such as that which occurred 15 days ago in some colonias, such as Miraflores and Salinas. Intense rainfall and thunderstorms are predicted, 5-7cm (~2-3inches) and residents are advised to monitor the weather bulletins. Residents are asked to clean up trash in front of their homes and to avoid putting trash bags in the streets. It is hoped that the showers will be reduced by Thursday. There are temporary shelters available if there are people affected by flooding. The public is advised to avoid leaving their homes during storms, whenever possible, and when it is necessary to go out, to use raincoats, umbrellas, and rain boots.
Busy Beaches Sunday
The beaches were busy on Sunday, the weather was hot, and families were celebrating Father's Day. The weather was good except for a few clouds in the afternoon. Otherwise the sun was bright and tourists could get a tan in 15 minutes. The Department of Tourism reported that hotel occupancy remained at 60 percent. Tourists were swimming and enjoying sports on the beach. The restaurant sector is hoping for more business during the summer vacation period. Source
Por Esto

This blog is brought to you by....
MaraVilla Caribe

Bed & Beach

Three rentals with large glass doors overlooking our white sand beach and the beautiful Caribbean sea, with kitchenettes &

free WIFI.

In the coastal neighborhood of Bachilleres, among upscale villas & boutique hotelitos, convenient to downtown or the colonias, yet separate.

Quiet & Private.




Free amenities such as hammocks, bikes, outdoor shower, portable beach chairs & beach towels, washer, loungers & BBQ.

Breathtaking panoramic views from the rooftop terrace. Upstairs room also available.

Downtown is ~ a mile away; if you don't feel like walking or biking, flag a $2 taxi or hop on the bus. We also have room for parking,

You can enjoy the music & crowds downtown, then come home our quiet neighborhood of Bachilleres where you'll

sleep to the sounds of the sea.

.

$275/$325/$425 wk $40/50/$65nt Monthly Discounts

View from rooms
Small room
Large room
Fine dining a few steps away at Da Luisa or try the traditional neighborhood eateries a couple blocks farther. Stroll five minutes down the coastal sidewalk to Mango Cafe or Monchi's,shop at Chedraui or visit restaurants, bars, & beach clubs; minutes away by bike or on foot. Our guests recommend the Yoga classes a couple villas away at hotelito Casa Ixchel. Fresh juice, produce & tortillas a few blocks away in the village, as well as a pharmacy and variety of other stores and small local restaurants
From MVC B&B
: June Events

Friday June 21: Summer Solstice
Fri-Sun June 21-23: Whale Shark Festival

See below re Friday's parade


Sat & Sun June 22 & 23 : Super Full Moon (6:50, 7:50, & ~hour later nightly)

Summer Solstice is the longest day of the year. BTW the serpent shadow moving on the steps of Chichen Itza occurs with the Equinoxes.

Super Moon of June: The biggest brightest moon of the year
This year the Supermoon will be up to 14% larger and 30% brighter than a typical Full Moon is. This is a result of the Moon reaching its perigree — the closest that it gets to the Earth during the course of its orbit. During perigree on June 23 the Moon will be "only" about 221,824 miles away, as compared to the 252,581 miles away that it is at its furthest distance from the Earth (apogee). Source link
Whale Shark Parade Friday....
Turismo De Isla Mujeres Te invitamos a participar al Festival del Tiburon Ballena, decora tu carrito con motivos marinos este viernes 21 de junio a partir de las 4:30 pm. Informes al tel. 8770307. We invite you to participate in the Whale Shark Festival by decorating your golf cart with sea themes this

Friday June 21st at 4:30pm,

for more info call 877 0307
LIVE MUSIC In Isla Mujeres
Scheduled for TODAY / TONIGHT: MONDAY
Early Time
The Joint 1-4 Marco (Reggae)
LINK
Casa de los Suenos 4-7 Banda Sin Nombre
LINK
LINK
Sunset Grill- Dusk keyboard/vocals
LINK
~7p
Iguanas 7-9 John Cain LINK LINK
Faynes- 8-10 Raul Alexis
LINK
Cafe del Mar- 8p ?
LINK
LINK
Comono Roof 8:30-11
La Guera & Willys Blues
LINK
On the internet in the past 24 hours...
Rick Melase shared
Fenix Lounge
's
photo
.
Richard Lowe

South Point nothing like these colors anywhere!
Jackie Conlon added 3 new photos to the album iOS Photos. — at Fenix Lounge.
Richard Lowe

Turtles mating in the water off south point.
Tony Garcia

At 7.10 am. Found this.turtle couple very close shore

This is a video on his page. They got caught in the waves & nearly pushed ashore. The males never go ashore after they hatch out & depart.
(Por Esto calls it #3) It has been a beautiful sunny morning with blue skies...breezy here on the east coast. Yesterday was clear & sunny. Around ~11am a dark cloud passed over, but otherwise the skies are blue & partly cloudy.
At ~12:30 we have dark skies, more wind & it's starting to rain.
NOAA NWS National Hurricane CenterNHC has begun issuing advisories on newly-formed Atlantic Tropical Depression #2 located over the western Caribbean Sea. Little change in strength is likely before landfall onto southern Belize this afternoon. There are no coastal watches or warnings in effect. The depression could emerge into the Bay of Campeche on Tuesday.For the latest information on this system, go to the NHC website at www.hurricanes.gov
Last 24 hrs
"Time Lapse" of Playa Norte Webcam: LINK
Playa Norte

now in real time in Isla Mujeres
The Morning Edition has newspaper photographs and headlines.
This Afternoon Edition has translated articles, events, and original photos with the "Around the Internet in the Past 24 Hours" section.
Both blogs always have links to the original articles.
Usually if there is a headline, but no translation, it was probably published in another paper recently, and the information was translated.in a previous post, usually in the past couple days.
.