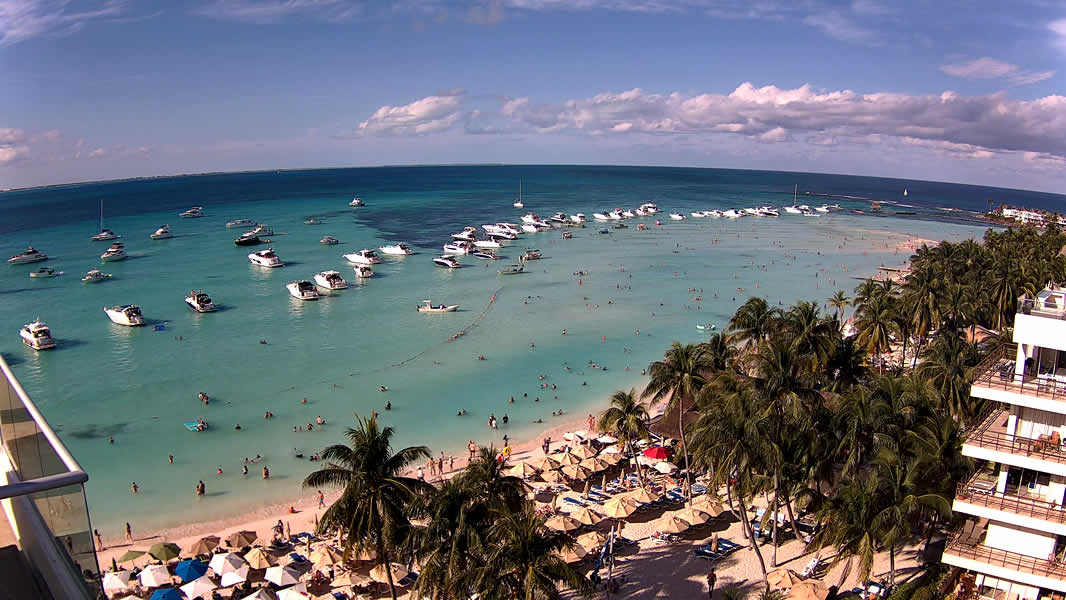 This is the live webcam at North Beach / Playa Norte. HERE is a timelapse version, that you can set to slow or fast (fps-frames per second). It takes a few seconds to load.
Restaurant closure: Safety hazards
Conjuran peligro en restaurante
Leer más..Full article at this link.
Three businesses were closed last weekend, by the municipal departments of
Civil Protection, Urban Development and the Municipal Treasury. After complying with the Treasury and Urban Development Departments, two of the three businesses reopened. However, the restaurant "La Argentina" is still closed and could owe a fine between 50,000 and 60,000 pesos according to the director of Civil Protection, Ulises Berman Graniel.
It is noted that this business was closed on January 8 (sic, it was January 17th, LINK) due to a fire in the kitchen's chimney, and after a review by the Department of Civil Protection, a number of recommendations were made to the owner to improve the facilities and thereby avoid accidents.
According to Mr Berman, two months later, the owner had ignored the recommendations made after that closure, and many more irregularities were noted. Some areas stand out as worse than others, including a bodega (storage area) that is full of ashes and containers that are full of used oil, which is at risk of burning. The butane gas tank is in the kitchen, which is filled with wood for the wood burning oven, in addition to the electrical connections on the stove, which represent a serious danger of fire.
The official said that the owner of the business is endangering the people who work for him, as well as the dozens of nearby businesses, with these negligent practices. He said that after this review, it is possible that COFEPRIS may carry out another inspection because it appears that there are unhealthy areas present, as well as all the filth going directly into the storm drainage system because there are no traps to accumulate the fat.
The head of Civil Protection said that what is sought is to have all areas of the island in compliance with the regulations, and therefore reviews are being made at all types of businesses in various parts of the island, with the intention of providing security for a
ll the residents.
Mayor Juan Carrillo recognized women on their day
Muchas gracias por su labor
Leer más..Full article at this link.
See City section below....
~~~~~~~~~~~~~~~~~~~~~~~~~~~~~
From

the Municipal Facebook site.....

( FB page link)
City of Isla Mujeres celebrates International Women's Day
Mayor Juan Carrillo Soberanis said, "Women are the most important part of every Mexican family, and in Isla Mujeres, many of you are even the main breadwinner." He said this important date, International Women's Day would be commemorated throughout the week with activities such as the group choreography "One Billion standing against violence towards women and girls". He thanked all the City employees and spoke about the history of the first Women's Day in in 1910 in Copenhagen, and the UN declaration in 1975 for International Day of Women.
Today we celebrate the struggle for equality, justice and the rights of women all over the world, Happy

#

díainternacionaldelamujer

.
Changes in the municipal government
Changes were announced in the directors of the municipal departments of Catastro (deeds), Urban Development, Ecology, and Public Safety & Traffic.
Guillermo Pinto Aguilar, who was in charge of Cadastre, will become the Director of Urban Development, and, Josué Francisco Villanueva Vargas, who has held that position, will now become the Director of Cadastre.
In the Department of Ecology, the Director, Jose Vega Macias, will become the Assistant Director, and Carlos Enrique Barrero Garcia, who has been the Assistant Director, will become the Director.
Elvis Alejandro Gutierrez Rodriquez was named the Administrative Director of Public Safety and municipal Traffic, replacing Martin Maldonado Teran, who was named as the Fiscalization (Enforcement) Coordinator in the Continental Zone.
The City Secretary General, Joel Sauri Galue, announced the changes and thanked them all, on behalf of the Mayor, Juan Carrillo Soberanis for their dedication and commitment to the various areas they represent, and he urged them to redouble their efforts to continue working on behalf of the citizens of the island. He said,
"These changes are being made in response to the need to streamline the work of the different areas that make up the City of Isla Mujeres and its municipal administration,"
Tourism promotion of Isla Mujeres increases tourism
The municipal government continues to work on tourism promotion of the island to maintain it as one of the main destinations in Quintana Roo and Mexico
Thanks to the good work of tourism promotion that has been carried out by the municipal government, headed by Juan Carrillo Soberanis, Isla Mujeres has experienced a high rate of tourists visiting during the first two months of the year and the first part of March.
The various actions that have been carried out to promote this municipality as a tourist destination have achieved an increase of up to 17 percent in the influx of visitors, mostly national tourists, although the arrival of foreign tourists should not be ignored.
City officials, restaurateurs, hoteliers, and tourism service providers will participate in the Tianguis Tourism Convention will be held in Acapulco March 27-30, taking part as on of the most beautiful destinations, as well as one of the 111 Pueblo Magicos of Mexico.
The good coordination that has been maintained between state and federal agencies and private industry has brought good results in this regard, and this work is expected to continue for the rest of the year;
Tourism service providers and the island community in general are invited to continue to provide quality services to those who visit the island.
~~~~~~~~~~~~~~~~~~~~~~~~~~~~~
From
Tvisla Mujeres

( link to photos & articles

)
Respect the warnings on the Isla Mujeres beaches
Exhortan a respetar las advertencias en playas de Isla Mujeres -
http://www.tvislamujeres.com.mx/exhortan-a-respetar-las-ad…/
Men & Women of Isla Mujeres against gender based violence
Hombres y Mujeres de Isla Mujeres todos contra la violencia de género -
http://www.tvislamujeres.com.mx/hombres-y-mujeres-de-isla-…/
~~~~~~~~~~~~~~~~~~~~~~~~~~~~~
From por esto Link to their Isla Mujeres articles & photos
This blog is brought to you by....
View from the rooms.
MaraVilla Caribe
Bed & Beach
Three rentals with large glass doors overlooking our white sand beach and the beautiful Caribbean sea, with kitchenettes &
free WIFI.
In the coastal neighborhood of Bachilleres, among upscale villas & boutique hotelitos, convenient to downtown or the colonias, yet separate.

Quiet & Private.
Kitchen in a large studio. (Sur & Norte are identical)



Kitchenette in small room, Medio. There's a table & chairs across from it & a double bed.
A large slider opens from each of the 3 rooms onto the patio where each has a table & chairs, hammock & clotheslines. The BBQ is behind the pole, and the outdoor shower is outa the pic at left.
Large studio (Norte), I'm standing in the kitchen. A queen & single bed.
Free amenities such as hammocks, bikes, outdoor shower, portable beach chairs & beach towels, washer, loungers.

Breathtaking panoramic views from the rooftop terrace. Upstairs room also available.

Downtown is ~ a mile away; if you don't feel like walking or biking, flag a $2 taxi. Parking.

You can enjoy the music & crowds downtown, then come home our quiet neighborhood of Bachilleres where you'll

sleep to the sounds of the sea.

.

$275/$325/$425 wk $40/50/$65nt Monthly Discounts


Large studio (Sur) with Queen & Single bed. Slider door & view are behind me.




Fine dining a few steps away at Da Luisa or try the traditional neighborhood eateries a couple blocks farther. Within ten minutes walk are the restaurants Mango Cafe, Bahama Mama, Brisas, Manolitos, Green Verde, Kash Kechen Chuc, and the large department store-grocery Chedraui. Visit marinas, bars, & beach clubs that are minutes away by bike or on foot. Attend Yoga classes a couple villas away at hotelito Casa Ixchel. Fresh juice, produce & tortillas a few blocks away in the village, as well as a variety of other stores and small local restaurants. It takes 20-30 minutes to walk downtown.
```````````````````````````````````````````````````````````````````````
March

E

vents
Provided by MaraVilla Caribe & Isla Mujeres Daily News & Event
s
Wednesday March 1 Ash Wednesday, beginning of Lent
Thursday, March 2 Artist Fair Casa de Cultura Art, Food, Craft Beer, Music, Fun
Be proud to be an islander. Don't miss it!
500 years since discovery 1517-2017
Program
Start of the Commemoration
Friday March 3
Official Ceremony to commemorate 500 years since the discovery of Isla Mujeres
9am at the eastern Malecon by the Paso de la Triguena (east of the Town Square by the bathrooms)
SATURDAY, MARCH 4
Carnaval Dance Troupe from Holbox "Las Dormadoras" dancing in the streets of Isla Mujeres.
Saturday March 4
Cultural Artistic Festival with the Ballet Folklorico of the State of Quintana Roo
"The Setting is Quintana Roo"
"Trova Islena"
Accompanied by the musical group "Mar y Arena" (Sea & Sand)
8pm Town Square
Monday, March 6 Town Square 5:30 The City of Isla Mujeres invites the island community to participate in a Zumba demonstration class as part of the International Day of Women.
Wednesday, March 8 International Women's Day
Thursday, March 9 Artist Fair Casa de Cultura 4-9, Art, Food, Craft Beer, Music, Fun
March 12 7:12 Full Moon
March 13 8:05
March 14 8:56
March 15 9:47
March 16 10:37
March 17 11:26
Thursday, March 16 Artist Fair Casa de Cultura Art, Food, Craft Beer, Music, Fun
Friday, March 17 St. Patrick's Day
Saturday, March 18 Oil Expropriation Day
Monday March 20 Equinox & Day off for Benito Juarez's birthday
Tuesday, March 21 Benito Juarez's birthday
Thursday, March 23 Artist Fair Casa de Cultura Art, Food, Craft Beer, Music, Fun
Saturday, March 25 Yoga on beach in front of the Posada Hotel. 150 pesos Registration 4p
Thursday, March 30 Artist Fair Casa de Cultura Art, Food, Craft Beer, Music, Fun
~~~~~~~~~~~~~~~~~~~~
The Artist's Fairs are scheduled weekly on Thursdays at the Casa de Cultura, 4-9 thru April 20.