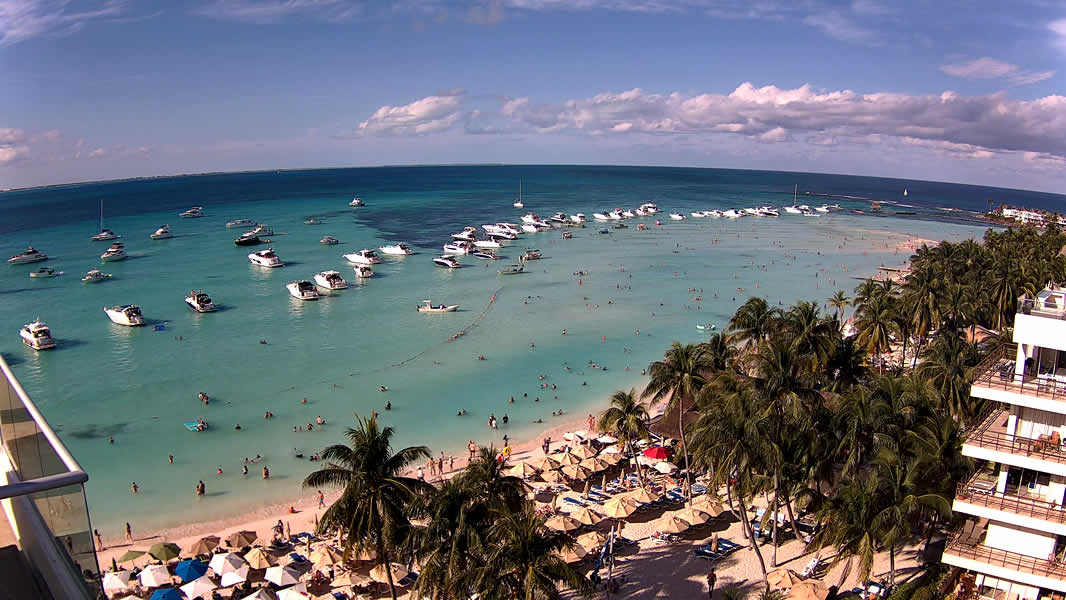 This is the live webcam at North Beach / Playa Norte. HERE is a timelapse version, that you can set to slow or fast (fps-frames per second). It takes a few seconds to load.
Follow Isla Mujeres News & Events on Facebook for highlights of news & events, and more photos & videos
Both

issues of
The Isla Mujeres Magazine
are
h

ere,
featuring a variety of talented writers and photographers!
~~~~~~~~~~~~~~~~~~~~~~~~~~~~~~~~~~~~~~~~~
Celebrating women
Mayor Juan Carrillo shows support
Juan Carrillo les reitera apoyo para su desarrollo
Lanrry parra
ISLA MUJERES, 11 de marzo
.-
Leer más..Full article at this list.
With participation by various municipal agencies, the City of Isla Mujeres, led by Mayor Juan Carrillo Soberanis, celebrated International Women's Day by carrying out various activities, both on the island and in the Continental Zone, f
or the benefit of the female community.
This included a large choreographed event "A Billion Standing Against Violence Toward Women and Girls", a Beauty Fair, and other activities by the municipal government, via the Women's Institute and the DIF, social service agency.
The Mayor said,
"I thank all the agencies that came together to support the commemoration of this important date for the entire community of women in Isla Mujeres and the world, one day whose purpose is to raise society's awareness about the importance of respect and
the eradication of violence against women."
He reaffirmed his commitment to continue working to promote and raise awareness about gender equity among the island population.
~~~~~~~~~~~~~~~~~~~~~~~~~~~~~
From

the Municipal Facebook site.....

( FB page link)
There is an invitation to the clean up yesterday at Las Tortugas park and photos from Carnaval in the Continental Zone.
~~~~~~~~~~~~~~~~~~~~~~~~~~~~~
From
Tvisla Mujeres

( link to photos & articles

)
~~~~~~~~~~~~~~~~~~~~~~~~~~~~~
From por esto Link to their Isla Mujeres articles & photos
Large number of visitors arriving
Masivo arribo de visitantes
.. [+]
Ver masFull article at this link
Thousands of tourists visited on Saturday, including in some 50 passenger and recreational boats, with no problems reported by the Tourism office nor the Civil Protection department, the police, or Harbor Master. By 10am, groups of visitors were strolling the streets, visiting the shops, and renting golf carts. Traffic police officers advised the golf cart rental agencies to give their clients instructions to comply with the laws, before giving them the keys, in order to avoid accidents, because there still have been cases of minors driving, or people not well trained in driving, judging by some recent events that have occurred on the roads of the island.
More problems with trash collection
Más problemas para la recolección de basura
[+]
Ver masFull article at this link
One of the trash collection trucks broke down as it was returning to the trash transfer facility, after picking up trash downtown before 8am. The incident occurred on the eastern coastal road, near the new speed bump by the airfield tower, and affected traffic until it was towed away by another truck.
Celebration of 500 years of evangelization
Celebración por 500 años de evangelización
. [+]
Ver masFull article at this link
On March 20 at 6:30pm, a special Mass will be held at the Church of Immaculate Conception to commemorate the
500 years of Catholic evangelization in Isla Mujeres, The Mass will be conducted by parish priest Raul Sanchez Alonso, and attending as special guests will be
Father Mauro from San Juan de Los Lagos and Catholic songwriter and preacher Roy Mendoza of the Nuevo Laredo diocese.
There will be praises, preaching and reflection;
a holy hour and laying hands on believers in order to strengthen faith, with special recognition and remembrance of the arrival of the Christian faith
in the first days of March 1517

with the arrival of Spanish navigator Francisco Hernández de Córdoba leading an expedition
from Cuba which discovered the Yucatan Peninsula and the first contact with the Maya in the proximity of Cape Catoche. (Except for Spanish survivors of a shipwreck in 1511 who were enslaved by the Maya & later rescued by Cortes, and members of Columbus's fourth voyage who plundered a Mayan merchant canoe near Honduras in 1502.).
At this location was built the church that is now known as Boca Iglesia, the first church in (North) America. according to (

some

) historians. The convent that was erected at that point is being evaluated for its possible rescue by the National Institute of Anthropology and History (INAH).
There is an outdoor mass planned in that convent, which is in ruins, and once all the official coordination is concluded, it could be celebrated in May. The initial plan for the beginning of March was suspended
.
San José
Festivities honoring San Jose will occur on March 20, with the celebrations beginning with novenas the Thursday before and concluding on Sunday March 19. These activities will take place in private homes and in the Immaculate Conception parish. All events are scheduled to start at 7pm, and on Monday there will be a special Mass in honor of 500 years of faith, which will be presented on the Square outside the church, and preceded by a kerme event.
~~~~~~~~~~~~~~~~~~~~~~~~~~~~~
This blog is brought to you by....
View from the rooms.
MaraVilla Caribe
Bed & Beach
Three rentals with large glass doors overlooking our white sand beach and the beautiful Caribbean sea, with kitchenettes &
free WIFI.
In the coastal neighborhood of Bachilleres, among upscale villas & boutique hotelitos, convenient to downtown or the colonias, yet separate.

Quiet & Private.
Kitchen in a large studio. (Sur & Norte are identical)



Kitchenette in small room, Medio. There's a table & chairs across from it & a double bed.
A large slider opens from each of the 3 rooms onto the patio where each has a table & chairs, hammock & clotheslines. The BBQ is behind the pole, and the outdoor shower is outa the pic at left.
Large studio (Norte), I'm standing in the kitchen. A queen & single bed.
Free amenities such as hammocks, bikes, outdoor shower, portable beach chairs & beach towels, washer, loungers.

Breathtaking panoramic views from the rooftop terrace. Upstairs room also available.

Downtown is ~ a mile away; if you don't feel like walking or biking, flag a $2 taxi. Parking.

You can enjoy the music & crowds downtown, then come home our quiet neighborhood of Bachilleres where you'll

sleep to the sounds of the sea.

.

$275/$325/$425 wk $40/50/$65nt Monthly Discounts


Large studio (Sur) with Queen & Single bed. Slider door & view are behind me.




Fine dining a few steps away at Da Luisa or try the traditional neighborhood eateries a couple blocks farther. Within ten minutes walk are the restaurants Mango Cafe, Bahama Mama, Brisas, Manolitos, Green Verde, Kash Kechen Chuc, and the large department store-grocery Chedraui. Visit marinas, bars, & beach clubs that are minutes away by bike or on foot. Attend Yoga classes a couple villas away at hotelito Casa Ixchel. Fresh juice, produce & tortillas a few blocks away in the village, as well as a variety of other stores and small local restaurants. It takes 20-30 minutes to walk downtown.
```````````````````````````````````````````````````````````````````````
March

E

vents
Provided by MaraVilla Caribe & Isla Mujeres Daily News & Event
s
Wednesday March 1 Ash Wednesday, beginning of Lent
Thursday, March 2 Artist Fair Casa de Cultura Art, Food, Craft Beer, Music, Fun
Be proud to be an islander. Don't miss it!
500 years since discovery 1517-2017
Program
Start of the Commemoration
Friday March 3
Official Ceremony to commemorate 500 years since the discovery of Isla Mujeres
9am at the eastern Malecon by the Paso de la Triguena (east of the Town Square by the bathrooms)
SATURDAY, MARCH 4
Carnaval Dance Troupe from Holbox "Las Dormadoras" dancing in the streets of Isla Mujeres.
Saturday March 4
Cultural Artistic Festival with the Ballet Folklorico of the State of Quintana Roo
"The Setting is Quintana Roo"
"Trova Islena"
Accompanied by the musical group "Mar y Arena" (Sea & Sand)
8pm Town Square
Monday, March 6 Town Square 5:30 The City of Isla Mujeres invites the island community to participate in a Zumba demonstration class as part of the International Day of Women.
Wednesday, March 8 International Women's Day
Thursday, March 9 Artist Fair Casa de Cultura 4-9, Art, Food, Craft Beer, Music, Fun
Saturday, March 11
International DJ Day with guest DJ's outside the Casa del la Cultura 1p-10p
Moon rise over the Caribbean
March 12 7:12 Full Moon
March 13 8:05
March 14 8:56
March 15 9:47
March 16 10:37
March 17 11:26
Thursday, March 16 Artist Fair Casa de Cultura Art, Food, Craft Beer, Music, Fun
Friday, March 17 St. Patrick's Day World Maritime Day
Saturday, March 18 Oil Expropriation Day
Monday March 20 Equinox & Day off for Benito Juarez's birthday
Tuesday, March 21 Benito Juarez's birthday
Thursday, March 23 Artist Fair Casa de Cultura Art, Food, Craft Beer, Music, Fun
Saturday, March 25 Yoga on beach in front of the Posada Hotel. 150 pesos Registration 4p
Thursday, March 30 Artist Fair Casa de Cultura Art, Food, Craft Beer, Music, Fun
~~~~~~~~~~~~~~~~~~~~
The Artist's Fairs are scheduled weekly on Thursdays at the Casa de Cultura, 4-9 thru April 20.