The second issue of The Isla Mujeres Magazine to benefit Isla charities will be published in July!, featuring a variety of talented writers and photographers! Thank-you to everyone who has visited & shared it!
Check out the Charity document, patronize the supportive businesses & visit the blogs of the talented contributors! Contact me at westofcuba@gmail.com if you'd like to donate $15 to your fav charity, for an ad. Good causes, good exposure. 100% is contributed. Donations will be totaled, published & turned over to the charities in July.
Update...The content & layout are finished, and awaiting publication, while I am now creating & posting the new ads. It is going slowly because I am busy with other things, your patience is appreciated.
Feel free to copy & share the Charity document! Telling your friends about the Magazine & sharing links helps Isla Charities, too. Your support is appreciated & small efforts add up to big differences. Thanks!
This is the live webcam at North Beach / Playa Norte
(I sent an email to the tourism director letting him know the cam has been stuck.)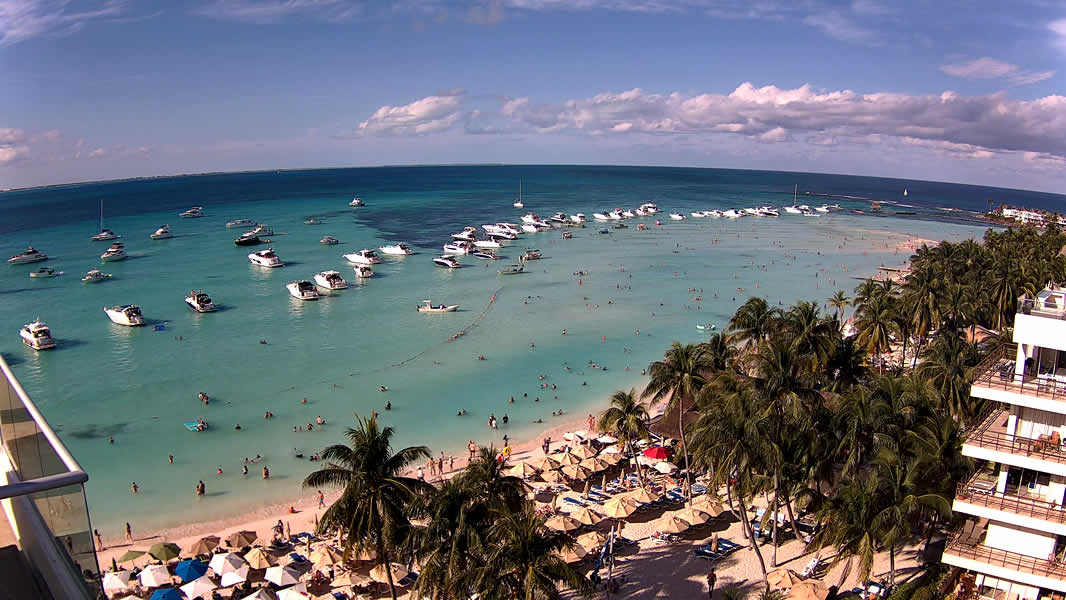 A year of successes
Agapito reflects on significant accomplishments & on challenges to be met
Un año de aciertos
Lunes, 07 de Julio de 2014 21:02
Agapito reflexiona sobre los más significativos avances y los retos a cumplir
ISLA MUJERES, 7 de julio.-
Leer más...
A year after he was elected president of the municipality of Isla Mujeres, Agapito Magana Sanchez reflected on the significant developments that have been accomplished, and the challenges to be met during the remainder of his administration. He said the main challenge for his administration was to restore the harmony, tranquility, and peace that the islanders are accustomed to, noting that pride, intrigue, threats, and retaliation from the government in charge are not a good sign for the development of our community, and that was their first step, which is slowly being accomplished.
Thanks to the efforts of the mayor, the Hyperbaric Chamber is operational, after a considerable period when it was not functioning, and it is noted that this is important to ensure the health of fishermen and divers in this municipality where fishing and tourism are the main generators of income for families.
During his campaign the Mayor made a notarized list of promises, including the deeding ("regularization") of land, which has been long awaited by the citizens of Rancho Viejo on the mainland. This was accomplished with the opening of a CORETT office. After 30 years of transporting water up to 4 kilometers, the 490 residents of Francisco May, on the mainland, have water to use for their basic needs.
Regarding an action that was not politically popular with some, and at some political cost, this administration proposed to regulate and manage the informal vendors, particularly those who were hawking on Playa Norte, who were removed from that location. There were repeated complaints from tourists about robberies, and about visitor's items disappearing when they didn't pay attention. The vendors who were retired from North Beach were assigned a new area to be developed, to perform their commercial activities within the law.
The municipal government has made it a priority to obtain the Blue Flag designation, under the Mexican Official Standard NMX AA 120 SCFI, and is working daily toward fulfilling the requirements. He concluded by thanking the community for electing and trusting him.
Tricycle porters worried about being regulated
Temen tricicleteros a la regulación
Lunes, 07 de Julio de 2014 20:18
Por "supuestas" trabas
ISLA MUJERES, 7 de julio.-
Leer más...
Prior to the meeting between tricycle porters and taxi drivers, Jorge Ochoa Bermudez, a member of the tricyclist's cooperative, said they fear that conditions and restrictions will be placed on the work that they have done for years. He said they formed the cooperative in order to be able to work at the dock of the Port Authority of Quintana Roo (APIQRoo) in Isla Mujeres. He said there are only 18 members, of whom only 10 to 12 are working daily. He explained that they do not charge a fee, and the live on tips which range from 10 to 20 pesos for cargo or luggage, generally, which they move from the ferry to a vehicle or business. He said they have never charged a fee of 50 or 60 pesos per load, and that they are paid in tips by the people who use the ferries.
He said they do not represent unfair competition for the taxi drivers, since they are only about a dozen workers daily, while the taxi drivers total more than a thousand, and they all need to bring money home to their respective families. He clarified that none of the tricyclistas have been transferring passengers, that they only transport luggage. He admitted there have been cases when they have gone to hotels to bring luggage for departing tourists, for whom they previously carried luggage to the hotels. He said they do not have plates (placas), but have been doing this work for over 10 years. (
A 'placa' is similar to a taxi 'medallion' or a permit.
)
Summer holiday season about to begin & boost business
Aumentará la chamba
Lunes, 07 de Julio de 2014 20:01
En unos días más, al iniciar la temporada vacacional de Verano
ISLA MUJERES, 7 de julio.-
Leer más...
Demand for personnel is expected to increase with the arrival of summer vacation season and the CROC labor union is making efforts to meet this demand. The arrival of domestic tourists is expected to increase considerably, and workers will be recruited from Cancun if necessary. Four hotels are seeking kitchen assistants, workers in public ares, waiters, kitchen assistants, bartender assistants, cooks, and housekeepers. These positions need to be filled this week, and on Monday another long list of positions will be posted, since it is on the verge of the holiday season.
Tvisla Mujeres
Tricycle porters are not competition for the cabbies: Ochoa Bermudez
· ·
Successful Barracuda Fishing Tournament in Isla Mujeres
ke
· ·
Noticias de Quequi......
CROC union provides listing of available jobs
LABORAL

---

Por Carlos Gasca > Quequi.- LA LLEGADA DEL VERANO, INCREMENTA LA DEMANDA DE EMPLEADOS.

"Marilyn" won first prize

COMPETENCIA

0

08 de July de 2014

The boat "Marlyn", with captain José Balladares, took first place in the PRI's VI Torneo de Pesca de Barracuda with a fish on nearly 20 kilograms. The event was a success with ~54 boats registered. The Mayor and other PRI officials gave the starting signal at 8am on the dock of the cooperative Caribe.

Prizes were awarded to the top ten boats, and the winning fish was un picudo (

a barracuda

) of 19.32 kilos, while second place was taken by the boat "Moby Dick" with captain Gerardo Garcia, with a 18.18 kilo fish, and third place was won by the boat "Roque's" with captain Roque de Jesus Vivas and a fish of 14.52 kilos. They each won a 100cc motorcycle and trophies.

Fourth prize went to the boat "Kraken" with captain Alfonzo Novelo Flor and a barracuda of 12.3 kilos, and fifth went to the boat "Condorito", with captain Pedro Romero Gonzales and a fish of 11.02 kilos, while sixth went to the crew of the boat "Asi soy y Que" with captain Jose Salome Chable, and a picuda of 10.52 kilos.

---

Por Carlos Gasca > Quequi.- La tripulación pescó una barracuda de 20 kilos.
Raising awareness among youth about caring for the beaches
Written by Diario Respuesta Jesus Molina
Category: Isla Mujeres
.
Read more: Concientizan a menores sobre cuidado de playas
Thirty second grade students of the primary school "Andres Quintana Roo" , which is located on avenue Juarez, spent a half hour on the area of the beach known as eastern malecon learning about the type and quantity of trash that is left upon these sands. The trash of this coast is very different from other places, and consists of litter left behind by tourists, with the most common item being cigarette butts, followed by glass bottles from beer that is consumed in great quantities by visitors, followed by caps from bottles of water or soda. The eight and nine year old youngsters heard a history about the accumulation of trash on island beaches, as well as tips on how to avoid contaminating our beautiful seas.
Delimiting areas of work between the unions
Written by Diario Respuesta Jesus Molina
Category: Isla Mujeres
Read more: Delimitan áreas de trabajo de sindicatos
Yesterday there was a meeting behind closed doors between the leaders of two groups that are at odds; the taxi union leader Eduardo Peniche Rodríguez alias "Wato" and representatives for the cooperative "Maleteros de Isla Mujeres", Sergio Barbudo Trejo & Jorge Ochoa. Recently there has been hostilities, insults, disagreements, and accusations between the two groups, with the taxistas claiming it is unfair competition for the tricycle porters to carry tourist suitcases for tourists who are arriving and departing at the dock area.
Cesar Poot said the two groups are having a private meeting to end this dispute which is damaging to the image of the island. He said, "This meeting is to organize, regulate, and define the roles of each group, but in no instance should they take justice into their own hands, for this there are institutions. In regard to the cooperative of the porters, they do not have their own regulations about which areas they may work and these zones are not defined, so we will work together, hand in hand, to come to a good understanding." He added, "We are not going to allow taxi drivers to break the law, and we insisted on this meeting to establish a dialogue and to define the work areas."
por esto
Crumbling at Salina Grande walkway
Se desmorona andador de la Salina Grande
.. [+]
Ver mas
This popular sidewalk along the lake gets a great deal of use in the morning and afternoon as hundreds of families use it for recreation, and to cross from one place to another. It is also popular for exercising. It is in need of general maintenance and the there are areas where the foundation is affected by erosion from the lake water. It is also noted that there is an increasing amount of liter, despite having a major clean up less than two months ago. The anti litter signs have not yet been posted.
Trash being dumped in colonia Caridad del Cobre
Caridad del Cobre, un basurero[+]
Ver mas
Trash is being dumped at an area of colonia Caridad de Cobre, in a location that was previously used for several years as a junk yard, without intervention by authorities. This includes the remains of appliances, mattresses, and glass & plastic containers. The area is located a few meters from the Salina Grande walkway, and is overgrown, with an old construction by indigent people, so families avoid the area at night
Champions are preparing for the pre season
Los campeones se preparan para la pretemporada
[+]
Ver mas
The forming of the two teams for the 4th and 5th divisions are progressing well, and parents are encouraged to call the coach Nabor Reyes Basulto at 9982601426 for information, because they are working hard to set up this new franchise.
In the final game on Sunday, Isla Mujeres players born in 2002 & 2003 won 2-1 against the Trojans (Troyanos). In the semifinals of the Youth League on Saturday, The Isla Mujeres team beat Atlas by a score of 4-2.
This blog is brought to you by....
MaraVilla Caribe

Bed & Beach

Three rentals with large glass doors overlooking our white sand beach and the beautiful Caribbean sea, with kitchenettes &

free WIFI.

In the coastal neighborhood of Bachilleres, among upscale villas & boutique hotelitos, convenient to downtown or the colonias, yet separate.

Quiet & Private.




Free amenities such as hammocks, bikes, outdoor shower, portable beach chairs & beach towels, washer, loungers & BBQ.

Breathtaking panoramic views from the rooftop terrace. Upstairs room also available.

Downtown is ~ a mile away; if you don't feel like walking or biking, flag a $2 taxi or hop on the bus. We also have room for parking,

You can enjoy the music & crowds downtown, then come home our quiet neighborhood of Bachilleres where you'll

sleep to the sounds of the sea.

.

$275/$325/$425 wk $40/50/$65nt Monthly Discounts

View from rooms
Small room
Large room
Fine dining a few steps away at Da Luisa or try the traditional neighborhood eateries a couple blocks farther. Stroll five minutes down the coastal sidewalk to Mango Cafe or Monchi's,shop at Chedraui or visit restaurants, bars, & beach clubs; minutes away by bike or on foot. Our guests recommend the Yoga classes a couple villas away at hotelito Casa Ixchel. Fresh juice, produce & tortillas a few blocks away in the village, as well as a variety of other stores and small local restaurants
Charity Info
See tab at top of page!
Donation Drop offs:
Red Cross: Social Justicia Restaurant
(south of ferry terminal, north of car ferry)
Books for Grade School Reading Program, Items for Isla Animals, Diabetes Supplies, Shoes for the Kids, Items for
Little Yellow School House..
.Barlitos @ Marina Paraiso
Follow up...The Go Fund Me campaign by Sally Margolis to assist with the HIV testing events by Brazos Abiertos was successful, & BA have also coordinated with the City to provide education about sexually transmitted diseases and teen pregnancy in the schools, monthly.
~~~~~~~~~~~~~~~~~~~~~~~~~~~~~~~
Music
John Cain's schedule
Tuesday, Cafe Del Mar, solo, 8 to 10 pm
Thurs, Marina Paraiso 7-9 pm
Saturday, The Sunset Grill, solo, 630 to 830 pm
Sunday, Bahia Tortuga, The Sol Rockers, 630 to 900 pm







Banda Sin Nombre at Chuuk Kay 3:30p Sat & Sun
Fenix
Sat ~2p Frequencia

Sun ~2p Salsa
Weekday's ~2p..Chucho (Jesus Campezino)
Wed: Blues W SeBlues..tho he's off isle right now.
You may find live music after 9 or 10 on Hidalgo at Fayne's, La Terraza, or Comono, and at Poc Na Hostel.
Saturday afternoon 3-5 Cuban music at Veradara's Cuban restaurant
~~~~~~~~~~~~~~~~~~~~~~~~~~~~~~~~~~~~~
July Events....
Thursday 5:30-9:30pm Artist Fair on Town Square (Note new hours)
Rain date...rescheduled to Friday
~~~~~~~~~~~~~~~~~~~~
Friday, Fourth of July US Independence Day
At Casa de los Suenos....
From Christy Dix....For those who are in Isla Mujeres and want to practice your Spanish, come join us!! Spend an hour at Barlito's at Marina Paraiso this Friday 7/4 (3-4pm) and practice your Spanish skills while helping those who are studying English. It's a win win!!
Soggy Peso, in the past, has had Red White & Blue jello shots & a smoked brisket special
Miquel's Moonlight bar has had 4th parties in the past
July 5 Saturday 7p Abuelito & Abuelita contest La Gloria open air theatre
July 6 Sunday PRI Barracuda Fishing Tournament 8am start, 4pm weigh in, awards to follow on Posada Beach. 2pm Son 3 performing on Posada beach..dance!
July 7 Town Square ~7p "Michael Jackson Extravaganza"
July 11 Friday Full Moon Rise: ~6:50 Sunset is ~7:30
Careful of the migrating crabs crossing the road to get to the sea to spawn, especially down at the south and south east part of the isle.
July 12 Saturday Full Moon Rise: ~7:45
July 13 Sunday Moonrise 8:41pm
July 14 Monday Moonrise 9:31pm
July 15 Tuesday Moonrise 10:17pm and ~50 minutes later nightly
July 20: Whale Shark Festival ..to last a week this year. Includes a parade w floats, sand sculpture contest, recreational activities, and more.
July 26: There will be 600 Mexican athletes competing on the island for the "Copa Isla Mujeres de Tae Kwon Do", including about 40 athletes from Isla Mujeres.
~~~~~~~~~~~~~~~~~~~~~~~~~~~
On August 31, about 500 athletes, both Mexican and international, are expected to participated in an open water swimming competition, Competencia de Nado de Aguas Abiertas, at Playa Norte/North Beach. The swimmers will travel distances between 250 meters and five kilometers, with the course being defined by a rectangle of buoys off Playa Norte. Dozens of foreigners are expected to participate, especially from the United States.
~~~~~~~~~~~~~~~~~~~~~~~~~~~~~~~~~~~~~~~~~~~~~~
SUMMER-FALL
Whale Shark Season

...ends Sept 15
It is Sea Turtle Mating & Nesting season
Red & Blue crabs are migrating to the sea for spawning during full moons
Turtle releases August-Sept dates TBA, usually only a day or two in advance
Caribbean-Mayan Cultural Festival TBA Nov?
~~~~~~~~~~~~~~~~~~~~~~~~~~~~~~~~~~~~~~~~~~~