The second issue of The Isla Mujeres Magazine to benefit Isla charities will be published in July!, featuring a variety of talented writers and photographers! Thank-you to everyone who has visited & shared it!
Check out the Charity document, patronize the supportive businesses & visit the blogs of the talented contributors! Contact me at westofcuba@gmail.com if you'd like to donate $15 to your fav charity, for an ad. Good causes, good exposure. 100% is contributed. Donations will be totaled, published & turned over to the charities in July.
Update...The content & layout are finished, and awaiting publication, while I am now creating & posting the new ads. It is going slowly because I am busy with other things, your patience is appreciated.
Feel free to copy & share the Charity document! Telling your friends about the Magazine & sharing links helps Isla Charities, too. Your support is appreciated & small efforts add up to big differences. Thanks!
This is the live webcam at North Beach / Playa Norte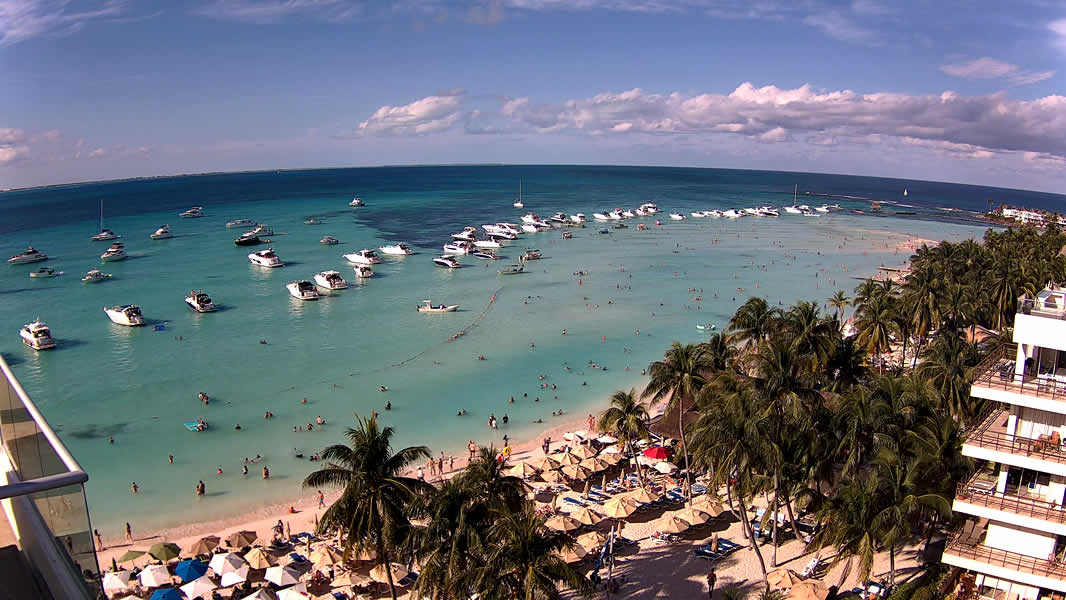 Tortugranja Turtle Farm: Ready to receive turtles during this season
Tortugranja, lista
Miércoles, 16 de Julio de 2014 21:51
Para recibir a turistas durante presente temporada
ISLA MUJERES, 16 de julio.-
Leer más...
Currently the Tortugranja is caring for seven hawksbill nests with 114 eggs, 92 loggerhead nests with 10,570 eggs, and 51 green turtle nests with 5331 eggs. So far among the hatchlings, there are 393 loggerhead 'tortugitas' (lil turtles) and 101 hawksbill babies.
The facility offers guided visits and is an iconic environmental project that provides educational opportunities as well as encouraging appreciation of history, culture, and nature. The Tortugranja is ready to receive and respond to the thousands of tourists who want to know about the life and characteristics of sea turtles. They offer protection to these vulnerable marine animals who appeared on earth 250 million years before the dinosaurs.
The origins of the Tortugranja go back to 1965-1975 when don Gonzalo Chale started the artificial incubation for the conservation of turtles, and thanks to the tremendous effort, Isla Mujeres is a pioneer in this experiment and effort.
The Municipal Program for the Protection of Marine Turtles began on May 15 and continues until October 15 and includes surveillance of the nocturnal nesting areas, collecting the eggs, controlled incubation of the nests, and care & release of the hatchlings.
Their hours of operation are 9am to 5pm.
Absence of agreements between cabbies & tricycle porters
Persiste la pugna
Miércoles, 16 de Julio de 2014 21:50
Entre taxistas y tricicleteros, ante la falta de acuerdos
ISLA MUJERES, 16 de julio.- .
Leer más...
No agreement has been reached yet between the taxi drivers and the tricycle porters, and the taxi union is seeking intervention from the City government. The cabbies say the porters should move luggage and cargo from the ferries to the passenger's vehicle or to the taxi stand, but that the tricyclists lack permission to assist tourist to their hotels.
The taxi union leader, Eduardo Peniche Rodríguez, said the porters had dollies or hand trucks at first, and when that went well, they got tricycles, and then they started offering other services that are not theirs to offer. He said the taxistas do not offer services of tours in boats because they do not have the corresponding permits, and it is equally illogical for tricyclists to transport tourists luggage to their hotels.
The taxi leader said he is not opposed to the work of the porters, but he supports that they each have their own corresponding areas of work, and the porters cannot just work anywhere they please. He said to make matters worse, the porters are exclusionary or selective and

(he alleges that

) they prefer foreigners because they get annoyed if a local offers 20 pesos, while a foreigner will pay five dollars, and sometimes as much as ten dollars or more.
Health agreement signed for benefit of CROC union members
Firman convenio de salud
Miércoles, 16 de Julio de 2014 21:47
Para atención más eficiente a croquistas
ISLA MUJERES, 16 de julio.-
Leer más...
The CROC union signed an agreement with the IMSS for their members to participate in the "PrevenIMSS" program. (
Confederación Revolucionaria de Obreros y Campesinos (CROC), and Instituto Mexicano del Seguro Social (IMSS
) ) This program will offer double vaccines for tetanus and diphtheria for people between the ages of 13 and 39, and vaccines against Hepititis B for adolescents, among other services.
Tvisla Mujeres
Noticias de Quequi......
Seeking change regarding alcohol sales
Fiscalización

The director of Enforcement again clarified that the regulations requiring small businesses to conform to established schedules apply to those that sell alcohol, and do not affect those which just sell groceries. He said they have notified each of the businesses that sell alcohol that they must conform to the established schedules.

He said in the past eight months they have given three notices to each one of the stores that sell beer, and the problem is specifically on Sundays when they must stop selling at 6pm. He said there are people on social networks that are trying to cause confusion to create an aura of persecution. He explained that these stores do not have to close at that hour, but they must stop selling alcohol.

---

Por Carlos Gasca > Quequi.- El horario no ha sido reducido, piden que se cumplan los establecidos.
Activating & educating with Baaxlo´ob Palalo´ob summer program
Written by Diario Respuesta
Category: Isla Mujeres Jesus Molina
Baaxlo´ob Palalo´ob 2014, .
Read more: Activan y educan con Baaxlo´ob Palalo´ob
The Baaxlo´ob Palalo´ob recreational sports program is anticipated with great expectations, and has become a tradition that is continued annually, to fill the free time of children during summer vacation. It involves the different levels of government including the Secretaría de Educación y Cultura, la Comisión para la Juventud y el Deporte y el municipio de Isla Mujeres. (the Ministry of

Education and Culture,

the

Youth Commission, and the municipal Sports agency.)
There are 35 children between the ages of 6 and 14 who have been enrolled, and the activities include crafts, chess, dance lessons, and sports like volleyball and basketball, as well as visits to museums and places of cultural interest, recreational activities, and visits to the beach. They will also participate in a reforestation project and learn about care and protection of the environment.
It will continue until August 8th, and registration remains open now that classes have concluded at the schools. The safety of the children is guaranteed by the Direcciones de Seguridad Pública and of Protección Civil, who are involved in the program (the police chief and the head of Civil Protection...

who are the lifeguards & firemen.

)

Improving the tap water network for the benefit of islanders
Written by Diario Respuesta Jesus Molina
Category: Isla Mujeres
Read more: Rehabilitan red de agua potable en favor de isleños
At a press conference, the executives of Aguakan announced an investment of 1.3 million pesos in network improvements that will begin on July 21st and are expected to be completed on August 13th in the communities of Lol-beh, Isla Blanca, Miraflores, and part of colonia La Gloria, ending on Contoy street in the colonia La Gloria. This will benefit more than 2300 people. They are using the technique of "Pipe Burster" that allows them to introduce new pipes without opening trenches, which is much more efficient. (

"Pipe Burster" is given in English...I know 'burster' isn't a word

.)


por esto
Serious deficiencies in the pavement
Graves deficiencias en el pavimento
[+]
Ver mas
Por Esto says a deficiency in the quality of materials used for the renovation of downtown in the past five years has caused a breakdown of manhole (register covers...
.tapas de registro
) covers, and damage is often caused by the passage of heavy vehicles. Residents and neighbors place plants or rocks to warn pedestrians, who often walk in the streets where some of these hazards are located,including Nicolás Bravo, Morelos, Madero, Abasolo and Matamoros, as well as Hidalgo and Rueda Medina. This can be problematic for tourists who are taking their luggage to and from the ferry.
There is also a complaint that on Tuesday on Morelos street, outside a bank, a vehicle sat for several hours and the police did not make it move, which is an example of vehicles blocking intersections, preventing the passage of tourists.
This blog is brought to you by....
MaraVilla Caribe

Bed & Beach

Three rentals with large glass doors overlooking our white sand beach and the beautiful Caribbean sea, with kitchenettes &

free WIFI.

In the coastal neighborhood of Bachilleres, among upscale villas & boutique hotelitos, convenient to downtown or the colonias, yet separate.

Quiet & Private.




Free amenities such as hammocks, bikes, outdoor shower, portable beach chairs & beach towels, washer, loungers & BBQ.

Breathtaking panoramic views from the rooftop terrace. Upstairs room also available.

Downtown is ~ a mile away; if you don't feel like walking or biking, flag a $2 taxi or hop on the bus. We also have room for parking,

You can enjoy the music & crowds downtown, then come home our quiet neighborhood of Bachilleres where you'll

sleep to the sounds of the sea.

.

$275/$325/$425 wk $40/50/$65nt Monthly Discounts

View from rooms
Small room
Large room
Fine dining a few steps away at Da Luisa or try the traditional neighborhood eateries a couple blocks farther. Stroll five minutes down the coastal sidewalk to Mango Cafe or Monchi's,shop at Chedraui or visit restaurants, bars, & beach clubs; minutes away by bike or on foot. Our guests recommend the Yoga classes a couple villas away at hotelito Casa Ixchel. Fresh juice, produce & tortillas a few blocks away in the village, as well as a variety of other stores and small local restaurants
Charity Info
See tab at top of page!
Donation Drop offs:
Red Cross: Social Justicia Restaurant
(south of ferry terminal, north of car ferry)
Books for Grade School Reading Program, Items for Isla Animals, Diabetes Supplies, Shoes for the Kids, Items for
Little Yellow School House..
.Barlitos @ Marina Paraiso
Follow up...The Go Fund Me campaign by Sally Margolis to assist with the HIV testing events by Brazos Abiertos was successful, & BA have also coordinated with the City to provide education about sexually transmitted diseases and teen pregnancy in the schools, monthly.
~~~~~~~~~~~~~~~~~~~~~~~~~~~~~~~
Music
John Cain's schedule
Tuesday, Cafe Del Mar, solo, 8 to 10 pm
Thurs, Marina Paraiso 7-9 pm
Saturday, The Sunset Grill, solo, 630 to 830 pm
Sunday, Bahia Tortuga, The Sol Rockers, 630 to 900 pm







Banda Sin Nombre at Chuuk Kay 3:30p Sat & Sun
Fenix
Sat ~2p Frequencia

Sun ~2p Salsa
Weekday's ~2p..Chucho (Jesus Campezino)
Wed: Blues W SeBlues..tho he's off isle right now.
You may find live music after 9 or 10 on Hidalgo at Fayne's, La Terraza, or Comono, and at Poc Na Hostel.
Saturday afternoon 3-5 Cuban music at Veradara's Cuban restaurant
Like Reggae? CD release party by local band Sunday/tomorrow....
:::Bucket of 5 Coronas & Nachos x $175 pesos & 2x1 Margaritas!:::
~~~~~~~~~~~~~~~~~~~~~~~~~~~~~~~~~~~~~
July Events....
Thursday 5:30-9:30pm Artist Fair on Town Square (Note new hours)
Rain date...rescheduled to Friday
~~~~~~~~~~~~~~~~~~~~
Friday, Fourth of July US Independence Day
At Casa de los Suenos....
From Christy Dix....For those who are in Isla Mujeres and want to practice your Spanish, come join us!! Spend an hour at Barlito's at Marina Paraiso this Friday 7/4 (3-4pm) and practice your Spanish skills while helping those who are studying English. It's a win win!!
July 5 Saturday 7p Abuelito & Abuelita contest La Gloria open air theatre
July 6 Sunday PRI Barracuda Fishing Tournament 8am start, 4pm weigh in, awards to follow on Posada Beach. 2pm Son 3 performing on Posada beach..dance!
July 7 Town Square ~7p "Michael Jackson Extravaganza"
July 11 Friday Full Moon Rise: ~6:50 Sunset is ~7:30
Careful of the migrating crabs crossing the road to get to the sea to spawn, especially down at the south and south east part of the isle.
July 12 Saturday Full Moon Rise: ~7:45
July 13 Sunday Moonrise 8:41pm
July 14 Monday Moonrise 9:31pm
July 15 Tuesday Moonrise 10:17pm and ~50 minutes later nightly
**July 24-27 : Whale Shark Festival. Includes a parade w floats, sand sculpture contest, recreational activities, and more.
**Some sources indicate the plans (again) are for the festival to last for a week, and that it will begin on July 20th.
The seventh edition of the Whale Shark Festival will take place July 24-27 and will include an agenda of activities that are: cultural, artistic, touristic, and environmental; with participation by artists, musicians, speakers, and environmental experts. There will be contests of: decorated golf carts, costumes, and sand sculptures; as well as parades, plays, lectures, performances by dance & music groups, photographic exhibitions, and other artistic activities.
A group of international artists plan to paint murals focused on the themes of conservation and protection of whale sharks, in a project titled "SEA WALLS". All events will be completely free and will take place at venues including the Town Square, the Posada Beach, and Rueda Medina Avenue (main street). Municipal gencies who are coordinating this event include the departments of Culture, Tourism, Public Relations, Ecology, and Social Communication.
July 26: There will be 600 Mexican athletes competing on the island for the "Copa Isla Mujeres de Tae Kwon Do", including about 40 athletes from Isla Mujeres.
~~~~~~~~~~~~~~~~~~~~~~~~~~~
On August 31, about 500 athletes, both Mexican and international, are expected to participated in an open water swimming competition, Competencia de Nado de Aguas Abiertas, at Playa Norte/North Beach. The swimmers will travel distances between 250 meters and five kilometers, with the course being defined by a rectangle of buoys off Playa Norte. Dozens of foreigners are expected to participate, especially from the United States.
~~~~~~~~~~~~~~~~~~~~~~~~~~~~~~~~~~~~~~~~~~~~~~
SUMMER-FALL
Whale Shark Season

...ends Sept 15
It is Sea Turtle Mating & Nesting season
Red & Blue crabs are migrating to the sea for spawning during full moons
Turtle releases August-Sept dates TBA, usually only a day or two in advance
Caribbean-Mayan Cultural Festival TBA Nov?
~~~~~~~~~~~~~~~~~~~~~~~~~~~~~~~~~~~~~~~~~~~