The second issue of The Isla Mujeres Magazine to benefit Isla charities will be published in July!, featuring a variety of talented writers and photographers! Thank-you to everyone who has visited & shared it!
Check out the Charity document, patronize the supportive businesses & visit the blogs of the talented contributors! Contact me at westofcuba@gmail.com if you'd like to donate $15 to your fav charity, for an ad. Good causes, good exposure. 100% is contributed. Donations will be totaled, published & turned over to the charities in July.
Update...The content & layout are finished, and awaiting publication, while I am now creating & posting the new ads. It is going slowly because I am busy with other things, your patience is appreciated.
Feel free to copy & share the Charity document! Telling your friends about the Magazine & sharing links helps Isla Charities, too. Your support is appreciated & small efforts add up to big differences. Thanks!
This is the live webcam at North Beach / Playa Norte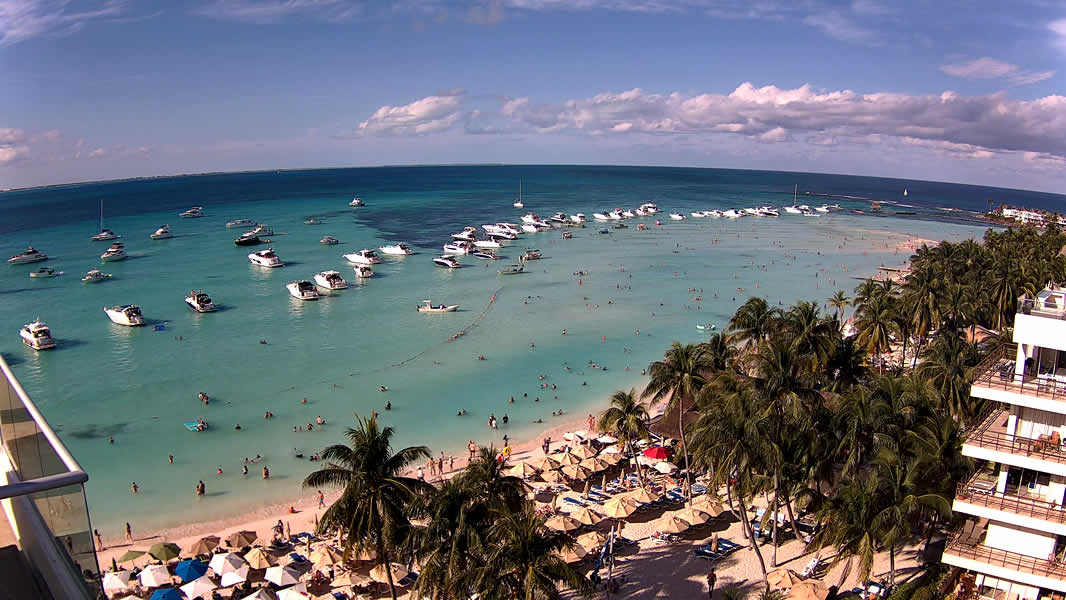 With boat ambulance 24 hours a day: Ercé Barrón
Con ambulancia marítima las 24 horas del día, resalta Ercé Barrón
ISLA MUJERES, 24 de julio.-
Leer más...
The director general of the State Port Authority (
Administración Portuaria Integral de Quintana Roo
(Apiqroo), Ercé Barrón Barrera, said in case of a medical emergency, the Isla Mujeres boat ambulance guarantees the peace and security of Islanders and of the thousands of tourists who come to this destination, especially during these summer holidays. He said the boat and captain are available to handle any urgent transport to the mainland, and to provide service 24 hours a day between Isla Mujeres and Puerto Juarez, under the express instructions of Governor Roberto Borge Angulo.
He recalled that the boat ambulance was one of the commitments of the Governor, in response to a longstanding concern of the Islanders. He noted that now this emergency service is a reality, thanks to the support of the chief executive, and coordination between the State Health Department, who are in charge of the patients, and APIQRoo who are in charge of the transport.boat.
Lack of signal at night caused boating mishap
Muelles peligrosos
Jueves, 24 de Julio de 2014 22:27
Falta de señalización nocturna provoca percance de embarcación
ISLA MUJERES, 24 de julio.-.
Leer más...
There are two docks on the northwest part of the island that lack signals, where a boating accident occurred recently. The tour boat was damaged when it struck a post by the piers, which are known as Nauty Beach and Islander, but there were no reports of injuries.
The Harbor Master, Ismael Gonzalez Gil confirmed that the accident occurred, but apparently the person in charge of the ship was intoxicated at the time of the accident. At this point no charges have been made, but investigations are ongoing to determine responsibility. The boat is being repaired at Marina D'Oscar.
It is noted that the two piers are located near the passage where boats of all drafts and sizes are obliged to pass to go in and out of the Bay of Isla Mujeres, and for this reason it is important that signals be placed at this site. Local fishermen commented that the lack of signal light on the piers represents a serious hazard to navigation in general.
Tvisla Mujeres
Whale Shark Festival begins today
17 Shares
LikeLike ·
Fri 6p Parade Rueda Medina
7p Costume contest Town Square
Sat 8a Beach clean up Playa Norte & Colegio Bachilleres
5p Conference about whale sharks City Council room
6p Recognizing the "Sea Walls" mural artists City Council room
7p Event with samples of Lion Fish dishes Town Square
Sun 10a Sand sculpture contest Posada Beach
4p Tour of the Sea Walls murals
Noticias de Quequi......
Increasing demand for tourism services from festival
Turismo

---

Por Carlos Gasca > Quequi.-
The providers who offer boat tours said that demand for their services increases with the summer vacation season, and has significantly increased with the Whale Shark Festival. The good weather has been good for their business, offering traditional tours to the area of el Farito (lil lighthouse). Some visitors prefer to tour the isle in golf carts, while others like to relax on the sands of North Beach.
The Whale Shark Festival began yesterday at the Town Square at 7pm, while today there will be a parade on Rueda Medina, followed by a costume contest. On Saturday the day starts at 5pm with a cleanup of the beaches by the high school Colegio Bachilleres, (
the poster says this is scheduled for 8am, so I think that is a typo
) and at 6pm recognition will be given to the mural artists, and the event will close with a demonstration of lion fish dishes. On Sunday the event begins at 10am with a sand sculpture contest, and it closes at 4pm with a tour of the murals of the "Sea Walls" project.
por esto
No environmental damage
No hubo daño ambiental
+]
Ver mas
The diesel freighter that was anchored for several days in the area of the Isla Contoy National park was empty and did not cause any environmental damage. The "Atlantic Sun", flying a Panamanian flag, was anchored 4 miles north of Isla Contoy because it had suffered mechanical failure, and on Wednesday it was towed out of Mexican waters.
It had been anchored within the park to prevent it from drifting into more hazardous areas. The owner sent the "Island Lady" from Honduras to move it into international waters and out of the protected natural area. It had six people on board and the situation has been monitored by CONANP, the
National
Commission of Natural
Protected
Areas
, the Navy, and SCT (
Secretariat
of Communications and Transportation. I
nspections on the boat were done in the company of personnel from the the Ministry of

Foreign Affairs

(responsible for

Migration

), and

the Ministry of Health

,

(

in charge of of the International

Sanitary Inspection

)

. "


.
Irresponsibility
Irresponsabilidad popular
. [+]
Ver mas
It is a common practice for people to throw dirty water into the street, which causes puddles and pollution. Photos can be taken of this in Colonia La Gloria at the intersection of the streets Picuda and Bonquinete where a resident threw wash water a few meters away from the new hospital and 200 meters from the office of the municipal Ecology Agency.
This bad habit occurs in the neighborhoods of Cañotal, Miraflores, and Salina, among others, where water used by people for washing and for cleaning their homes is flushed into the street, where it mixes with litter and animal feces to cause pollution. It also causes the formation of huge potholes. The head of the Ecology agency, Cristina Medina Figueroa acknowledged the problem and said sanctions can be applied against families that are detected doing this practice.
It is noted that there have been mechanical problems with the garbage collection vehicles, and trash has been seen on some corners, which was spread by dogs. Therefore unusual vehicles have been seen picking up trash, which is increasing in volume with the increasing numbers of tourist arriving., including an "Estaquitas" type vehicle. (
I think that's a pick up truck with higher sides
)
This blog is brought to you by....
MaraVilla Caribe

Bed & Beach

Three rentals with large glass doors overlooking our white sand beach and the beautiful Caribbean sea, with kitchenettes &

free WIFI.

In the coastal neighborhood of Bachilleres, among upscale villas & boutique hotelitos, convenient to downtown or the colonias, yet separate.

Quiet & Private.




Free amenities such as hammocks, bikes, outdoor shower, portable beach chairs & beach towels, washer, loungers & BBQ.

Breathtaking panoramic views from the rooftop terrace. Upstairs room also available.

Downtown is ~ a mile away; if you don't feel like walking or biking, flag a $2 taxi or hop on the bus. We also have room for parking,

You can enjoy the music & crowds downtown, then come home our quiet neighborhood of Bachilleres where you'll

sleep to the sounds of the sea.

.

$275/$325/$425 wk $40/50/$65nt Monthly Discounts

View from rooms
Small room
Large room
Fine dining a few steps away at Da Luisa or try the traditional neighborhood eateries a couple blocks farther. Stroll five minutes down the coastal sidewalk to Mango Cafe or Monchi's,shop at Chedraui or visit restaurants, bars, & beach clubs; minutes away by bike or on foot. Our guests recommend the Yoga classes a couple villas away at hotelito Casa Ixchel. Fresh juice, produce & tortillas a few blocks away in the village, as well as a variety of other stores and small local restaurants
Charity Info
See tab at top of page!
Donation Drop offs:
Red Cross: Social Justicia Restaurant
(south of ferry terminal, north of car ferry)
Books for Grade School Reading Program, Items for Isla Animals, Diabetes Supplies, Shoes for the Kids, Items for
Little Yellow School House..
.Barlitos @ Marina Paraiso
~~~~~~~~~~~~~~~~~~~~~~~~~~~~~~~
Music
John Cain's schedule
Tuesday, Cafe Del Mar, solo, 8 to 10 pm
Thurs, Marina Paraiso 7-9 pm
Saturday, The Sunset Grill, solo, 630 to 830 pm
Sunday, Bahia Tortuga, The Sol Rockers, 630 to 900 pm
Ken Wanovich
Wed 7/23 - Mamacita's, 7:00pm.
Fri 7/25 - Chi Chi & Charlie's, 4:00pm.
Mon 7/28 - Villavento Beach Hotel - Noon
Wed 7/30 - Mamacita's, 7:00pm.
Fri 8/01 - Chi Chi & Charlie's, 4:00pm.
Sat 8/02 - Marina Paraiso, 6:30pm.
Mon 8/04 - Villavento Beach Hotel - Noon
Tue 8/05 - Mamacita's, 7:00pm.
( Keys 4 Life is also bringing school supplies and 3 new LCD projectors for the elementary schools, and doing some minor construction projects to repair/improve several homes in Guadalupana.)
Banda Sin Nombre at Chuuk Kay 3:30p Sat & Sun
Fenix
Sat ~2p Frequencia

Sun ~2p Salsa
Weekday's ~2p.. Various artists including
Chucho (Jesus Campezino) & SeBlues..tho he's off isle right now.
You may find live music after 9 or 10 on Hidalgo at Fayne's, La Terraza, or Comono, and at Poc Na Hostel.
Saturday afternoon 3-5 Cuban music at Veradara's Cuban restaurant
~~~~~~~~~~~~~~~~~~~~~~~~~~~~~~~~~~~~~
July Events....
Thursday 5:30-9:30pm Artist Fair on Town Square (Note new hours)
Rain date...rescheduled to Friday
~~~~~~~~~~~~~~~~~~~~
Friday, Fourth of July US Independence Day
At Casa de los Suenos....
From Christy Dix....For those who are in Isla Mujeres and want to practice your Spanish, come join us!! Spend an hour at Barlito's at Marina Paraiso this Friday 7/4 (3-4pm) and practice your Spanish skills while helping those who are studying English. It's a win win!!
July 5 Saturday 7p Abuelito & Abuelita contest La Gloria open air theatre
July 6 Sunday PRI Barracuda Fishing Tournament 8am start, 4pm weigh in, awards to follow on Posada Beach. 2pm Son 3 performing on Posada beach..dance!
July 7 Town Square ~7p "Michael Jackson Extravaganza"
July 11 Friday Full Moon Rise: ~6:50 Sunset is ~7:30
Careful of the migrating crabs crossing the road to get to the sea to spawn, especially down at the south and south east part of the isle.
July 12 Saturday Full Moon Rise: ~7:45
July 13 Sunday Moonrise 8:41pm
July 14 Monday Moonrise 9:31pm
July 15 Tuesday Moonrise 10:17pm and ~50 minutes later nightly
July 20th...Start of Whale Shark Festival
The artists are also planning a beach clean up.
LINK t
o video of Day 3 Murals & their artists
LINK
to video of Day 2 of the murals & artists
This mural is on Guerrero around the corner & a lil north from the Super. The print (by Tatiana Suarez) is available for $65
HERE
Ixchel (above) is on the north wall of the Palacio (town hall) along the pedestrian street.
The mural below is on Guerrero, a lil farther north
Article about the mural projec
t LINK
(In English...Huffington Post)
**July 20 or 24th -27 :
Whale Shark Festival. Includes a parade with floats, sand sculpture contest, recreational activities, and more. (See schedule below)
Translation of news article.....
The seventh edition of the Whale Shark Festival will take place July 24-27 and will include an agenda of activities that are: cultural, artistic, touristic, and environmental; with participation by artists, musicians, speakers, and environmental experts. There will be contests of: decorated golf carts, costumes, and sand sculptures; as well as parades, plays, lectures, performances by dance & music groups, photographic exhibitions, and other artistic activities.
A group of international artists plan to paint murals focused on the themes of conservation and protection of whale sharks, in a project titled "SEA WALLS". All events will be completely free and will take place at venues including the Town Square, the Posada Beach, and Rueda Medina Avenue (main street). Municipal gencies who are coordinating this event include the departments of Culture, Tourism, Public Relations, Ecology, and Social Communication.
July 24-26 Miss Caribe de Mexico beauty pageant
Ten beautiful young women from the ten municipalities of the state will compete for the title of Miss Caribe de Mexico 2014 on July 24-26 in Isla Mujeres, and the winner will represent Quintana Roo in the national contest. The activities will take place on Hidalgo Avenue, and will begin on Thursday with the reception of the contestants and their official presentation. On Friday they will model swimwear, of the brand of the official sponsor, as well as jewelry and accessories. On Saturday the grand finale will be held, and the winner will be chosen. As part of the final competition, they will each present a topic about the place they represent, and the press will be in attendance.
July 25, 26, & 27
Fri 6p Parade Rueda Medina
7p Costume contest Town Square
Sat 8a Beach clean up Playa Norte & Colegio Bachilleres
5p Conference about whale sharks City Council room
6p Recognizing "Sea Walls" mural artists City Council room
7p Event with samples of Lion Fish dishes Town Square
Sun 10a Sand sculpture contest Posada Beach
4p Tour of the Sea Walls murals
Jul 26 Saturday 6pm Town Square Zumba event
July 26, Saturday: There will be 600 Mexican athletes competing on the island for the "Copa Isla Mujeres de Tae Kwon Do", including about 40 athletes from Isla Mujeres.
~~~~~~~~~~~~~~~~~~~~~~~~~~~
On August 31, about 500 athletes, both Mexican and international, are expected to participated in an open water swimming competition, Competencia de Nado de Aguas Abiertas, at Playa Norte/North Beach. The swimmers will travel distances between 250 meters and five kilometers, with the course being defined by a rectangle of buoys off Playa Norte. Dozens of foreigners are expected to participate, especially from the United States.
~~~~~~~~~~~~~~~~~~~~~~~~~~~~~~~~~~~~~~~~~~~~~~
SUMMER-FALL
Whale Shark Season

...ends Sept 15
It is Sea Turtle Mating & Nesting season
Red & Blue crabs are migrating to the sea for spawning during full moons
Turtle releases August-Sept dates TBA, usually only a day or two in advance
Caribbean-Mayan Cultural Festival TBA Nov?
~~~~~~~~~~~~~~~~~~~~~~~~~~~~~~~~~~~~~~~~~~~