The second issue of The Isla Mujeres Magazine to benefit Isla charities will be published in May!, featuring a variety of talented writers and photographers! Thank-you to everyone who has visited & shared it!
Check out the Charity document, patronize the supportive businesses & visit the blogs of the talented contributors! Contact me at westofcuba@gmail.com if you'd like to donate $15 to your fav charity, for an ad. Good causes, good exposure. Ad for the remainder of year is a $30 donation. 100% is contributed. Donations will be totaled, published & turned over to the charities in May.

Feel free to copy & share the Charity document! Telling your friends about the Magazine & sharing links helps Isla Charities, too. Your support is appreciated & small efforts add up to big differences. Thanks!
This is the live webcam at North Beach / Playa Norte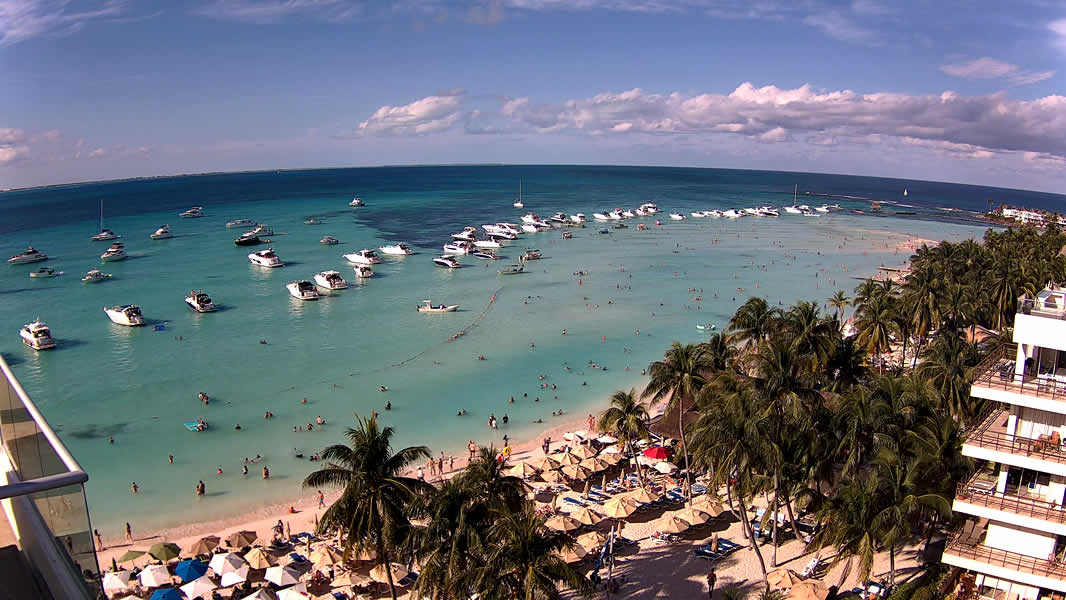 Improved supply of food
Collaboration with SEDESOL and DICONSA
Mejora abasto de alimentos
Sábado, 03 de Mayo de 2014 22:06
Sedesol coadyuva en Isla Mujeres a través de Diconsa
ISLA MUJERES, 3 de mayo.-
Leer más...
The delegate for SEDESOL, the Ministry of Social Development, Fabián Vallado Fernández, signed two agreements with the City and the DIF granting 3.2 million pesos to each one in the form of 21 food products from the DICONSA catalog. These products, will be distributed to families in need through each agency's social programs, to combat poverty and provide food security to marginalized citizens. The items supplied include
: oil , rice, black beans, tuna in water , toilet paper , mayonnaise, refined salt , sugar, galletas Marias (a type of cracker probably), biological detergent , powdered drinks , jalapeno peppers
, preserved fruit , medium diapers, corn flour, lentils. pasta for soup, soap, chocolate, oatmeal, and Liconsa milk .
Two dolphins rescued: One was dead
Laguna Chacmuchuch: Continental Isla Mujeres
Rescatan dos bufeos, uno estaba muerto
Sábado, 03 de Mayo de 2014 22:04
Vecinos de la laguna Chacmuchuch apoyaron en las labores que ejecutó Profepa
ISLA MUJERES, 3 de mayo.-
Leer más...
In the Continental area of Isla Mujeres, residents called officials when they witnessed two dolphins washing up in the vicinity of the Chacmuchuch lagoon. One was dead, and the other had vital signs with several injuries, and then it died. They were each about two and a half meters long, weighing around 120 kilograms. The first to respond were personnel from Public Safety (police), and Municipal Preventive Police (PMP), who were assisted by staff from Civil Protection, until the staff from the federal agency PROFEPA arrived.
PRI Children's fishing tournament today
Celebran hoy a niños con torneo de pesca
Sábado, 03 de Mayo de 2014 22:01
La familia priísta
ISLA MUJERES,
Leer más...
This was scheduled to begin at 9am on Sunday (
today, but I suspect the rain caused rescheduling
) to celebrate Día del Niño, by the PRI for all children in the town who wish to participate, at pier #6, next to the (
vehicular, I think
) ferry. Registration is open until one hour before the event at 99820 99719 or 99824 43444, and entries are free. Prizes (from first to third) are a family swimming pool, a water slide, and an inflatable floating 'island'.
Tvisla Mujeres
Noticias de Quequi......
Chicken prices increase 7%



INFLACIÓN

0

03 de mayo de 2014

The price of chicken meat increased from 42 pesos per kilo to 45 pesos.

---

Por Daniel Cauich..-

Nuevo golpe a la economía familiar: sube a 46 pesos el kilogramo.

Proposing reconnecting the Salina to the sea

Medio Ambiente

0

03 de mayo de 2014

Fidel Villanueva Madrid, municipal historian, explained that the problem of dead fish is not new and has been researched by PROFEPA in the past. (Federal Environmental Protection agency). He said,

"Unfortunately what we see today is something that will become common, because the water has little oxygen and this is reduced in the hot season, a situation that is difficult for the marine life of this place, and so then we have dying fish,"

When he was Mayor (1996-99) he was proposing the construction of the walkway around the Salina Grande, and water studies were done toward obtaining permits to connect the Salina with the sea, again. That project included a channel which would provide an additional port to shelter hundreds of small boats in a storm. He says it was a viable project, that was not enacted, and it would solve the problem of lack of oxygenation, as well as provide a place of more interest that could benefit the economies of islanders. The proposed project would include a bridge over the channel for navigation by small boats.

---

Por Carlos Gasca > Quequi .-

El cronista de la isla dice que se acabarían los peces muertes.
por esto
SEDESOL signs agreement with the City
La Sedesol firma convenio con la comuna

[+] Ver mas



Recognition of Deputy's career


Reconocen trayectoria de diputado constituyente

[+] Ver mas



Former mayor and depity constitutent of Isla Mujeres, Gilberto Pastrana Novelo appreciated the official recognition he was given Friday night by the City Council in front of hundreds of neighbors, friend, family members, and political constituents. He was mayor from 1984-87



Plan to clean the salina
Plan de limpieza del lecho lagunar
Ver mas
The Director of Ecology, Cristina Medina, announced a plan to clean sediment from the bottom of the Salina Grande, and to pump in air, as a way of improving oxygenation and opening the veins of water that have always fed the lake. She said this project would take three weeks, and she asked the City Council to impose financial sanctions on those who litter, and to reward and encourage neighbors to report complaints.
The fish were still dieing and a good volume of Tilapia were taken by truck to the Trash Transfer Facility. The arrival of rain is awaited which should help alleviate the problem which appears to be caused by a lack of oxygenation in the water as the cause of death of the fish.
It began to cloud up and there was thunder after noon (on Saturday), causing hopefulness that this difficult situation could be temporarily resolved. This is the effect of an unusual cold front, #54 which could bring heavy rain to the island

Ready to celebrate the 28th Regatta al Sol


Listo para celebrar regata 28 de "Al Sol"

[+] Ver mas

This article includes the names of the winners of the Regatta del Sol al Sol which included 18 competitors, who have received their awards.They have been officially welcomed, eaten tikinxic grilled fish, played basketball against islanders, and made purchases. Their official greeting included a military band and guard with the Mexican flag, as well as an announcement that the mayor of St Petersburg had declared April 24th as Isla Mujeres Day. This competition, which is in its 46th edition, began in 1968 and occurs annually, strengthening the bonds of friendship, cooperation, and cultural exchange between the two countries and communities.
The upcoming 28th Regatta del Sol will be departing for Isla Mujeres in a few days, from Pensacola. This competition occurs every other year and began with its first race in 1965. Actually preparations began fifty years ago when it was being arranged and discussed between representatives of the two countries.
The yachters are expected to arrive in Isla Mujeres on Saturday, May 10th, and the welcome event will take place the following day at Playa Norte at a local Yacht Club. The official declaration of Distinguished Guests will be on May 13th at 7pm and the award ceremony will be on May 15th.


This blog is brought to you by....
MaraVilla Caribe

Bed & Beach

Three rentals with large glass doors overlooking our white sand beach and the beautiful Caribbean sea, with kitchenettes &

free WIFI.

In the coastal neighborhood of Bachilleres, among upscale villas & boutique hotelitos, convenient to downtown or the colonias, yet separate.

Quiet & Private.




Free amenities such as hammocks, bikes, outdoor shower, portable beach chairs & beach towels, washer, loungers & BBQ.

Breathtaking panoramic views from the rooftop terrace. Upstairs room also available.

Downtown is ~ a mile away; if you don't feel like walking or biking, flag a $2 taxi or hop on the bus. We also have room for parking,

You can enjoy the music & crowds downtown, then come home our quiet neighborhood of Bachilleres where you'll

sleep to the sounds of the sea.

.

$275/$325/$425 wk $40/50/$65nt Monthly Discounts

View from rooms
Small room
Large room
Fine dining a few steps away at Da Luisa or try the traditional neighborhood eateries a couple blocks farther. Stroll five minutes down the coastal sidewalk to Mango Cafe or Monchi's,shop at Chedraui or visit restaurants, bars, & beach clubs; minutes away by bike or on foot. Our guests recommend the Yoga classes a couple villas away at hotelito Casa Ixchel. Fresh juice, produce & tortillas a few blocks away in the village, as well as a pharmacy and variety of other stores and small local restaurants
Charity Info
See tab at top of page!
Donation Drop offs:
Red Cross: Social Justicia Restaurant
(south of ferry terminal, north of car ferry)
Books for Grade School Reading Program, Items for Isla Animals, Diabetes Supplies, Shoes for the Kids, Items for
Little Yellow School House..
.Barlitos @ Marina Paraiso
~~~~~~~~~~~~~~~~~~~~~~~~~~~~~~~
Music
Miguel's high season schedule:

Thursday at 6pm Marina Paraiso Isla Mujeres with Seblues Hernandez Miranda - blues variety
Wednesday - Saturday at 10:30 Fayne's BarandGrill with La Banda Sin Nombre - Rock, blues & pop
Friday - Saturday at 12:00 mn Tequileria La Adelita with La Banda Sin Nombre - Salsa & Mexican
Sunday at 7:00 Bahia Tortuga with The Sol Rockers - Rock & blues .
John Cain's schedule
Tuesday, Cafe Del Mar, solo, 8 to 10 pm
Saturday, The Sunset Grill, solo, 630 to 830 pm
Sunday, Bahia Tortuga, The Sol Rockers, 630 to 900 pm
Banda Sin Nombre at Chuuk Kay 3:30p Sat & Sun
Fenix Sat ~1p Reggae/Cuban

Sun ~1p Salsa
(

Start times posted on menu board by entrance

)
Fenix Lounge

Domingo Salsa en Vivo con ¡¡Puro Sabor - Salsa Cubana !! :: Sunday Live Salsa with ¡¡Puro Sabor - Salsa Cubana !! + Gratis/FREE Chilpachole Pa' la Cruda! + Tragos/Drinks + SUP & Kayak :: See You There!! / No Falten!!



You may find live music after 9 or 10 on Hidalgo at Fayne's, La Terraza, or Comono, and at Poc Na Hostel.
~~~~~~~~~~~~~~~~~~~~~~~~~~~~~~~~~~~~~
Texas Holdem Every Monday and Thursday
at 6:00pm
El Patio Caribbean Grill
MAY
May 1 Thursday 4p-9p Artists Fair on Town Square
May 1 Formal welcome to Regatta Sol al Sol XLVI
May 1 Labor Day in Mexico
May 1 May Day
May 2 Regatta Amigos XLV 12:30 Isla Children sail around isle
May 2 Regatta Sol al Sol Awards dinner
May 3 Regatta Sol al Sol departure
May 3 Day of the Holy Cross (festival for mason/constrct wkrs /Dia de Santa Cruz, also called

El Día del Albañil. (Essay..maybe May 4th 2012)
May 5 Battle of Puebla 2012 "Cinco de Mayo"
May 8 Thursday Regata Al Sol XXVIII Departs for Isla Mujeres
May 9-11 Cosme Magana Fishing Tournament
May 10 Saturday Mother's Day in Mexico
~May 13-20 Festival of Lady of Fatima at Rancho Vieho ~30+ yr tradition Continental IM
May 14 7:25pm Full Moon Rise of Caribbean Sea
Rises an hour later each night
(Sunset ~7p)
May 15 Thursday Teachers Day
May 29 Thursday Ascension Day
~~~~~~~~~~~~~~~~~~~~~~~~~~~~~~~~~~~~~~~~~~~~~~
SUMMER-FALL
May 15- Sept. 15- Whale Shark Season
Early May - Nov. Sea Turtle Mating & Nesting
Whale Shark Festival TBA ~ late June-early July?
6th Annual
Alicia Ricalde Magana Women's Fishing Tournament TBA August?
Turtle releases August-Sept dates TBA, usually only a day or two in advance
Caribbean-Mayan Cultural Festival TBA Nov?
~~~~~~~~~~~~~~~~~~~~~~~~~~~~~~~~~~~~~~~~~~~