..This is the live webcam at North Beach / Playa Norte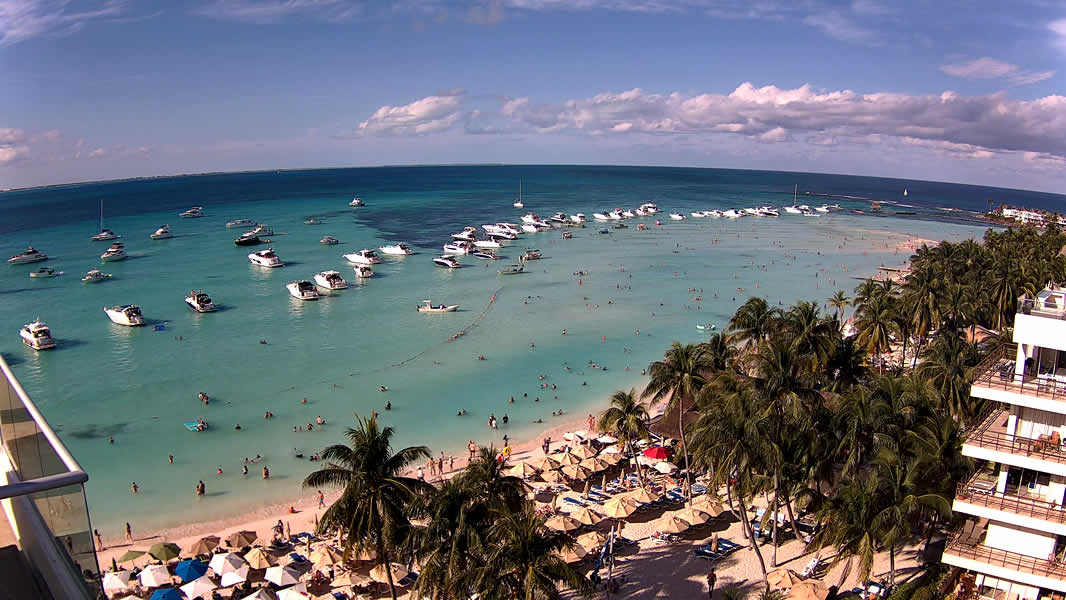 .
Turtle Statistics
The first turtle eggs for this season were from a
loggerhead
nest of 114 eggs collected on April 28, and the season will conclude on October 15th. Nine nests of loggerhead eggs have been collected containing a total of 1011 eggs. The turtle protection campaign began 21 days ago, and it is hoped that by the end of October they will rescue 100,000 eggs. Last year ~89,000 eggs were collected and over 84,000 hatchlings were released. It is a tradition that the first releases will begin next month, involving young school children, and students from Cancun participate also. The surveillance program on the beaches continues and is supported by the Navy and the municipal Civil Protection agency. Volunteers participate in the campaign, including tourists looking to experience a close look at the spawning turtles, as part of the awareness campaign for the conservation and protection of the species. Source:
Quintanarroense/Ovidi
o Lopez
Rogelio Magaña Moguel, head of the Tortugranja, said that the season officially began on May 18, and that the species who nest in Isla Mujeres include Carey, Caguama and Blanca (Hawksbill, Loggerhead, and Green). Last season there were 851 nests rescued.
They included 95,064 Greens; 6,215 Loggerheads; and 2537 Hawksbills. Of these 89.26 percent hatched out, and 92,670 hatchlings were released.
Source: La Verdad/Cinthia Ramos

I do not think these statistics are correct, because last year only one hawksbill nest was found in Isla Mujeres. Here are the statistics published for last year on April 20, 2013
by
Diario Q Roo/
Manuel Valdez: Last year over 89,000 eggs were collected and 84,405 baby turtles were released, of which 100 were hawksbill, 6305 were loggerheads, and 78,000 were green turtles.
Hurricane Shelter Inspections In June
During the first week in June, inspections will take place at the 14 hurricane shelters in Isla Mujeres. The hurricane season officially begins June 1, and the inspections will begin June 4th. According to the State Civil Protection Plan, the installation of the municipal committee will take place as follows: June 3 is Cozumel & Solidaridad, June 4 is for Isla Mujeres and Benito Juarez (Cancun) and the others occur on June 6th. Prior to the installation of the Committee in Isla Mujeres, there were be a meeting on May 29 to review the Municipal Contingency Plan. The director of Civil Protection, Gabriel Sulú Martínez, explained that there are seven shelters on the island and a similar number in the Continental Zone, and between them they have a capacity to receive ~2000 people. According to forecasts for the Atlantic sea, they are anticipating 9 tropical storms, 5 moderate hurricanes, and 4 intense hurricanes, with the season officially concluding November 30th. Source:
Diario Q Roo/Manuel
Valdez
Dogs At Large
Neighborhood residents are complaining about dog owners who allow them to roam freely in the streets. Recently in colonia La Gloria a small Chihuahua was attacked and killed by two dogs, one of which was a pit bull, causing 'mass hysteria' (
histeria colectiva
) among the residents. Minutes later, the two dogs made an attack toward a motorcycle, and caused it to skid. A resident called the police to report both incidents and it was determined that the dogs were owned by fisherman Gabriel Antonio Rosell Castro, and that he would be required to keep them within his property. Also there are three dogs who walk on the street Paseo de las Aves, near the park Las Tortugas, who have not caused any serious incidents, but drivers must avoid them, and the neighbors complain about them getting into their trash. Source:
Diario Q Roo/M
anuel Valdez
Regatta From Cancun To Isla Mujeres on Navy Day
There will be a regatta from the Hotel Zone in Cancun to Isla Mujeres to commemorate Navy Day, on June 1st. The Organizing Committee announced this at a press conference where they also described an extensive program of recreational and cultural activities, which begin on Monday. The will be a variety of sports competitions, as well as the regatta on June 1st which begins at Playa Tortugas, and they will race across the Bay to Isla Mujeres. Afterwards they will observe the traditional ceremony of placing a wreath at sea in honor of fallen sailors. Source:
Quintanarroense/Ovidio
Lopez
Dad Says Divorce Led To Daughter's Drinking
Alberto Velaquez, who has two daughters, has sought help from the DIF, social service agency, but claims no one has intervened on behalf of his children, whom he says are facing a crisis. He explained, "Last Saturday, one of them was found to be very drunk at Playa Tuburon, at five in the morning." He has asked the judge in Isla Mujeres to take into account the amount of emotional stress his children have suffered from the process of he and his wife divorcing, which was full of irregularities. He regrets the prolonged process of ceding ownership of the house to their daughters, but says his wife Adriana lives there with her boyfriend, while the daughters live with her mother. He says that his biggest regret concerns
his allegations about a
lawyer for the prosecution, who is named in the article. He has strong suspicions was she was spending time with one of his daughters ("
con­vi­ven, toman jun­tas"
) , who has now begun drinking alcohol. Source:
Quintanarroense/Ovidio
Lopez
Apocryphal Cigarettes For Sale
SIPSE/Lanrry Parra
reports there are an increasing number of cigarettes being sold in small shops of the island that are pirated foreign cigarettes, and the marketing of these apocryphal products is increasing. Apparently managers of the small shops do not know the possible harm they could cause. So far, health authorities have not conducted a review of these shops to detect these types of products.
Plans To Reopen Airstrip In June
Juan Carlos González Hernández, Secretary of Tourism in Quintana Roo, says that before the conclusion of the first half of the year, they will reopen the airstrip of Isla Mujeres, saying he has full backing of the state government. He said all that remains is that he needs to talk to the new representative of the Ministry of Communications and Transportation, Francisco Elizondo Garrido. It is noted that 12 million peso have been committed to change the lights on Avenue Rueda Medina, the island malecon (sea walkway). Source:
La Verdad/Carlos
Aquila
The runway is operated by the Navy, and only during daylight hours. There have been times when (very occasionally) small planes landed there, and times when that was not allowed.
Investigating Increasing Thefts By Juveniles
Por Esto reports
there has been an increase in the number of robberies committed by minors in Isla Mujeres, because the middle school and high school students who engage in illegal acts face less rigorous punishment because they are minors. The most common crimes are thefts of tourists belongings, and most recently, the theft of a golf cart. Both the Policía Judicial and the municipal Police are investigating the problem, and have not ruled out the possibility that adult criminals are inducing the young people to commit these crimes, which are affecting the image of this destination. The Comandante of the State Policia Judicial in Isla Mujeres, Arturo Enrique Medina Parra, said that although in general the thefts have not increased alarmingly, he clarified that they are being committed by minors, upon tourists, and they are already investigating the matter. In this regard, it is the local police who are in charge of making the arrests, and in less that two weeks there have been three cases where students were detained in association with robberies. One involved robbing the interior of a home of tourists, and the two suspects were 14 years old (their initials are given). They stole a golf cart downtown, which was impounded. They were released because they are minors, and they were turned over to the department in Cancun that specializes in Juvenile offenders.
Beach Weddings Increase 30%
Source: Por Esto
The Director of Tourism reports that there has been a greater demand for weddings on Isla Mujeres beaches, with an increase in recent months of 30 percent. Typically American or Canadian tourists are the ones who prefer to get married on the beaches of the island, and to a lesser extent the tourists from Europe, South America or Mexico. He said one reason these weddings are increasing is the hotels or wedding planners offer packages that are "all inclusive", which makes it easier because everything is ready upon their arrival. Weddings have increased in recent months in other tourist destinations also, such as Tulum, where 50 percent of the ceremonies are "representative", 40 percent are legal, and the other 10 percent are religious. In Isla Mujeres, 70 percent are legal ceremonies (marrying before the civil registry), 20 percent are religious, and the rest are "symbolic".
Merchants Resent Mobile Vendors
Por Esto/Angel Paredes
reports that merchants dislike the competition from mobile vendors, and consider their presence unfair because they do not have to pay rent, and other expenses. During the last holiday weekend, there were political rallies on the beaches which attracted a great number of people, which had a negative impact on the business people in other areas. The merchants request more stringent monitoring of the mobile vendors.

This blog is brought to you by....
MaraVilla Caribe

Bed & Beach

Three rentals with large glass doors overlooking our white sand beach and the beautiful Caribbean sea, with kitchenettes &

free WIFI.

In the coastal neighborhood of Bachilleres, among upscale villas & boutique hotelitos, convenient to downtown or the colonias, yet separate.

Quiet & Private.




Free amenities such as hammocks, bikes, outdoor shower, portable beach chairs & beach towels, washer, loungers & BBQ.

Breathtaking panoramic views from the rooftop terrace. Upstairs room also available.

Downtown is ~ a mile away; if you don't feel like walking or biking, flag a $2 taxi or hop on the bus. We also have room for parking,

You can enjoy the music & crowds downtown, then come home our quiet neighborhood of Bachilleres where you'll

sleep to the sounds of the sea.

.

$275/$325/$425 wk $40/50/$65nt Monthly Discounts

View from rooms
Small room
Large room
Fine dining a few steps away at Da Luisa or try the traditional neighborhood eateries a couple blocks farther. Stroll five minutes down the coastal sidewalk to Mango Cafe or Monchi's,shop at Chedraui or visit restaurants, bars, & beach clubs; minutes away by bike or on foot. Our guests recommend the Yoga classes a couple villas away at hotelito Casa Ixchel. Fresh juice, produce & tortillas a few blocks away in the village, as well as a pharmacy and variety of other stores and small local restaurants
Sunrise this morning from MVC B&B
On the internet in the past 24 hours...
La Terraza

: 10p Salsa & Latin
Fayne's

:

8:00-10:00-Raul Alexis
10:30-12 Banda Sin Nombre
Rob Herrin added 2 new photos.

Dragon Roll with wasabi eyeballs and a ginger snout!

— at Restaurant Asia Caribe.
Timeline Photos
Y acá estamos en Isla Mujeres grabando el próximo video. #QuintanaRoo #Mexico #WTF
TRANSLATION:
Here you will
,
SEE
THE
FAMOUS
COLOMBIAN
SINGER AND
SONGWRITER
"
FONSECA
"
RECORDING
A VIDEO CLIP
OF
his LATEST
SUCCESS:
"
IF
YOU REMEMBER
ME"
IN
DIFFERENT
LOCATIONS
OF
OUR BEAUTIFUL
"
ISLA MUJERES
."
-
This video
will serve to
promote
a
our island
internationally
,
and has been
coordinated
by
Isla Mujeres
tourism promotion agency
,
and may be
seen by thousands
of people in different
countries.
Timeline
Photos
And here we are
in
Isla Mujeres
next
video
recording
.
#
QuintanaRoo
#
Mexico
#
WTF
By:
FONSECA
.
In the comments Fonseca is described as a major musician in the genre "Latin Pop", and his songwriting talents are praised, noting his simple and charismatic style, and his encouragement of young singers while climbing to become very prominent in the world of Latin music. There is a sample of his music in yesterday's post.
Diane White Daniel added 2 new photos.
Who participated in the ceremony?
Priests, the chosen (men), and mature or elderly women. Children and young women were not involved. The name of the high priest was
Ahua Can
(Serpent Lord), or
Ah Kin
(The Sun). They called to the prophets with the name of
Chilamoob
;
Ah meneoob
was the name given to sorcerers, diviners and doctors. The
Nacomes
were the sacrificers. And the
Chacoob
were four elderly men that helped during the rites.
Meaning of the Mayan Colors
Green: used by royalty. Symbol of power.
Blue-green: used by the priests. Related to death. For this reason the sacrificed and the sacrifice stone were painted blue.
Red and Black: associated with warriors.
Yellow: associated with sorcerers and fortune tellers.
White: associated with people from the village.
Color in relation to the cosmic directions
Red: East.
Black: West.
Yellow: South.
White: North.
Blue-green: center.
Ritual Colors
The participants painted their bodies with colors alluding to the kind of rite
Black for fasting.
White, yellow or blue for sacrificial acts.
Red for war.
Mayan Rites' Structure
There was an overall structure to perform the rituals which consisted of:
Fasting, preliminary abstinence, symbol of purification of the Pixan (soul) and other ascetic rites to come into contact with the sacred: sexual abstinence, insomnia, food deprivation and painting the face in black (with soot).
Selection by priestly divination of the right moment for the celebration. The oracle or priest determined the day, the time and members of the celebration.
Steam baths or in water currents using fresh spring water, bloodletting, change of attire, public confessions and consecrating objects.
Sahumerio (perfuming with incense) of idols: With a special mix of herbs perfuming with incense the idols and participants of the ritual using copal resin, intake of alcoholic beverage(Balché and Chicha), and special food like corn, cacao, turkey or dog meat, among others.
Prayers and devotion according to the deity, celebrated with music, dances, songs, processions and dramatic performances.
Sacrifice, if possible of a living being, animal or human. This was a ritual in which an offering to the gods is transformed from profane to sacred, to serve as a link between men and the divine. Its purpose is to approach that which is sacred, in order to show gratitude for its benefits and strive to bring them about , to fertilize nature, to atone guilt, to keep off evil, to communicate with the spirits of the dead, to integrate with the divine power through a communion and achieve its transfiguration.
Offerings such as objects, food, plants, animals or the person itself. The Maya believed gods were invisible and intangible, they were sustained with subtle materials such as the scent of flowers and incense, the flavors of food and drinks; but mostly with the vital energy contained in the blood of animals and humans, which was released when the heart stopped beating or when burned.
Motives for Mayan Rituals
Rituals were public celebrations in honor of related calendar periods, major gods, fertility, unions, or initiation for religious men. They were also done for private family celebrations, divination, healing and life passages such as: pregnancy, birth, infancy, puberty, marriage and death.
Last 24 hrs
"Time Lapse" of Playa Norte Webcam: LINK
Playa Norte

now in real time in Isla Mujeres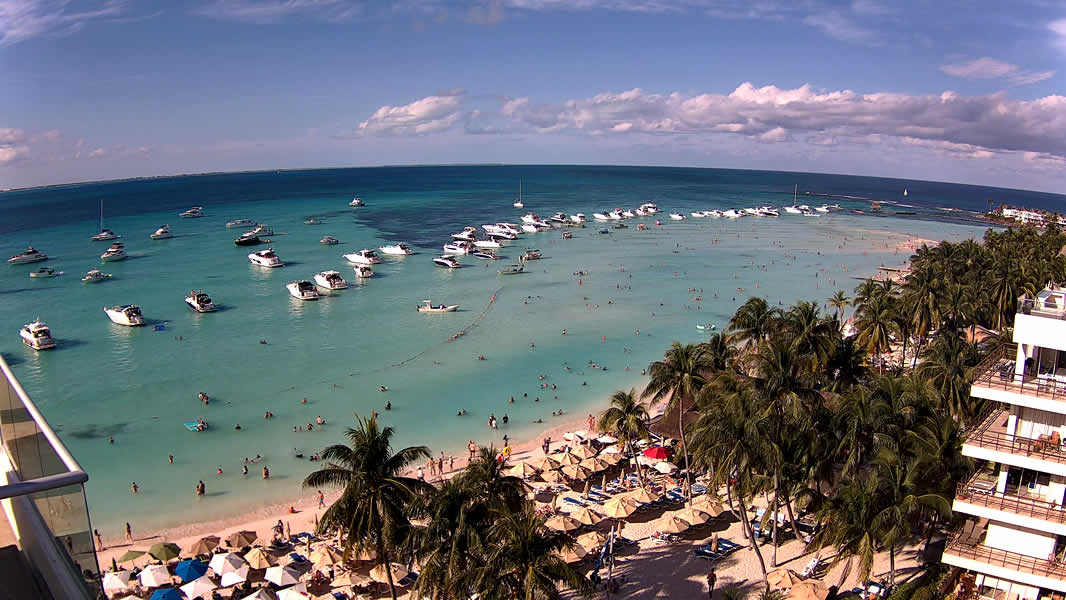 The Early Edition with the newspaper photographs and headlines is usually published around sunrise.
This Final Edition with the translated articles, plus original photos including the sunrise and the "Around the Internet in the Past 24 Hours" section usually publishes around
noon
.
Both blogs always have links to the original articles.
Usually if an article is "missing", it may have been published in another paper recently, and translated.in a previous post.
.