..This is the live webcam at North Beach / Playa Norte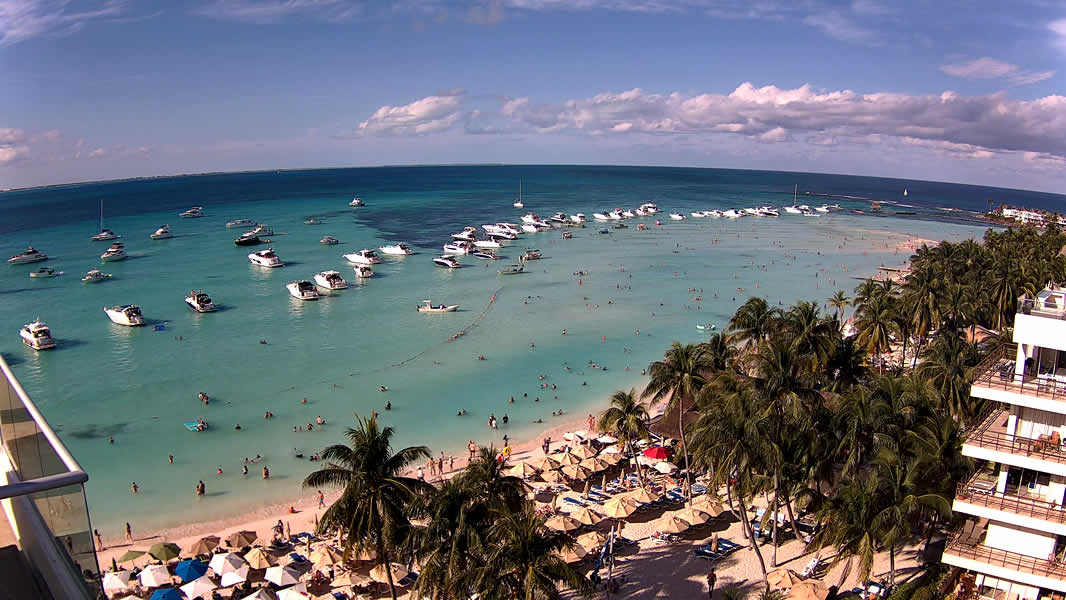 .
Winds restrict navigation
Source: Manuel Valdez/Diario Q Roo Leer más...
Gusts of winds suddenly blew up yesterday morning around 10am, of up to 35 km/hr, causing the Harbor Master to close the port to boats under 40 feet, and causing boat owners and managers to hustle to secure their vessels. Some of the boats were out doing whale shark tours. The winds calmed down after two hours and boats were allowed to conduct their tours in the bay.
Por Esto reports the port was closed at 11am to vessels under 40 feet, including in the bay. Heavy rain may occur in upcoming days and on Friday there may be winds of up to 40-60 km/hr. Por Esto
Ver mas
Diario Respuesta reports that yesterday's overcast skies and threats of scattered showers prevented many people from enjoying the attractions of Isla Mujeres.
Just now at noon it rained for ~half an hour & quit.At 1p the sun is shining again, with increasing patches of blue sky.
150 taxis inspected & 41 had irregularities: Sanction
Source: Manuel Valdez/Diario Q Roo Leer más...
Of ~150 taxis that were inspected, 41 were found to have minor irregularities, and the drivers were given an order of presentation. Inspectors gave the drivers until next Friday to make corrections and to present themselves with the order in the town offices. At that time they can show that the irregularity has been corrected and/or voice any objections. If they do not comply, they can be subject to fines that range from 250 to 600 minimum wages (
Minimum wage is ~65 pesos/day
). The irregularities included lacking current plates & registration, burnt out lights, and not having a working "TAXI" light on the car.
Golf Cart Race On Runway Friday
Source:
Diario Respuesta/Jesus Molina
The City has put out a post of events for Navy Day and I updated the schedule, with changes highlighted in yellow. There will be a golf cart race on the runway at 5pm on Friday and registration can be done at the Tourism Office or call the number given in the schedule. These articles have the same times as the previous articles, and I think the information released yesterday by the Tourism Office is more accurate.
Por EstoVer mas
The rehabilitation of the street in Sac Bajo in nearly finished, and all that is lacking is the last few meters of sidewalk. The work should be completed this week, and was done with an investment of ~6.7 million pesos. This are is popular with tourists because the Tortugranja and Dolphin Discovery are located along this street, as well as other businesses, which include hotels of high purchasing power and marinas.
From
State News...Not In Isla Mujeres
Concern about the "disappearance" of bees in the Zona Maya
Manuel
Salazar
/
SIPSE
FELIPE
CARRILLO
PUERTO
, Q.
Roo
Due to the lack of flowering plants, entire colonies of bees are leaving their apiaries, and beekeepers are having to supply food. Due to the intense heat, they are leaving to find more ventilated areas, such as locations near water. The departures of the swarms of bees will affect production.
Petition to save rainforest: Home of the spider monkey
Source:
SIPSE
The group "Causes" is collecting signatures for a petition titled "Save the last forest conserved between Cancun and Playa del Carmen", which is addressed to Mexican authorities, including the Governor and the President. They are concerned about the construction of a subdivision of 384 homes, and its potential effect on nearby flora and fauna, which include mangroves and spider monkeys. They say there are over 50 spider monkeys living in that area and they are offering to relocate them, or to at least chase them off to a safer habitat. The petition can be signed "virtually".
Seed Exchange
Manuel Salazar/SIPSE F
ELIPE CARRILLO PUERTO, Q.Roo.Farmers in the area of Laguna Kana are having a traditional exchange of seeds and products. These activities ensure a good variety of corn and other plants, which are adapted to the rugged local conditions, and improves the yield per acre. Angelino Caamal Tuz explained that the first rains have begun to fall almost 15 days late, but the earth has been prepared for planting, and now they are seeking the best seeds to produce not only the best products but also in the greatest amounts, to feed their families and animals.
Schedule Of Events This Week Celebrating

Día de la Marina Nacional LXXI..Navy Day!
Tuesday May 28 6p Basketball Game on Court by Town Square
Wednesday May 29 Volleyball Game on Court by Town Square
Thursday May 30

7p Men's Final Basketball Green Dome
8:30p
Coronation & Ball on Town Square
Friday May 31 10a Chess Tournament on Court at

Naval Club
11am Baseball El Pescador field
5p Golf Cart Race on Runway
Saturday June 1

7am

Aguathon Rueda Medina & Posada to City Pier (

by Fisherman's Monument at north end of Main Street

)
10 Regatta departs Cancun Playa Tortugas
info Asociados Nauticos 9981366438
10:30a

m Commemoration Ceremony At Navy Base &

10:45

To Pier & Ship For Placing Of Wreath At Sea (

They usually have boats & a ferry for the public to board to go out into the bay

)
2pm Recreational Games & Sand Sculpture Contest at Posada Beach
Here is last year's description of the Aguathon...which is open to all ages & genders. This year they said the swim is a round trip and didn't mention a sprint on the beach.
Saturday was a day of sports activities around the island in celebration of Navy Day. It began at 8am with an acuatlón /Aguathon in which ~30 swimmers participated and the winning duo was Félix Lincona Cruz & Andrés Argüelles. The event began with a footrace of 4 kilometers (2.5 miles) that started at the Monument to the Fishermen (by Jax at the north end of main street), which was followed by a swimming competition of 250 meters, and completed with a sprint down the beach of 250 meters, which the winning pair completed in just under 20 minutes.
There were 16 competitors in the tennis tournament, which was won by Tony Vince and Owen Magaña. The chess tournament drew 63 competitors, of which 35 were children playing in the Junior category.
Changes are highlighted in yellow
This blog is brought to you by....
MaraVilla Caribe

Bed & Beach

Three rentals with large glass doors overlooking our white sand beach and the beautiful Caribbean sea, with kitchenettes &

free WIFI.

In the coastal neighborhood of Bachilleres, among upscale villas & boutique hotelitos, convenient to downtown or the colonias, yet separate.

Quiet & Private.




Free amenities such as hammocks, bikes, outdoor shower, portable beach chairs & beach towels, washer, loungers & BBQ.

Breathtaking panoramic views from the rooftop terrace. Upstairs room also available.

Downtown is ~ a mile away; if you don't feel like walking or biking, flag a $2 taxi or hop on the bus. We also have room for parking,

You can enjoy the music & crowds downtown, then come home our quiet neighborhood of Bachilleres where you'll

sleep to the sounds of the sea.

.

$275/$325/$425 wk $40/50/$65nt Monthly Discounts

View from rooms
Small room
Large room
Fine dining a few steps away at Da Luisa or try the traditional neighborhood eateries a couple blocks farther. Stroll five minutes down the coastal sidewalk to Mango Cafe or Monchi's,shop at Chedraui or visit restaurants, bars, & beach clubs; minutes away by bike or on foot. Our guests recommend the Yoga classes a couple villas away at hotelito Casa Ixchel. Fresh juice, produce & tortillas a few blocks away in the village, as well as a pharmacy and variety of other stores and small local restaurants
Sunset yesterday from MVC B&B
Sunrise this morning from MVC B&B
On the internet in the past 24 hours...
Live Music Today/Tonight
In Isla Mujeres: Wednesday
EARLY
Casa de los Suenos 4-7 Banda Sin Nombre Half priced appetizers
LINKwebsite
LINKfb
Iguanas 6:30-8:30 Jazz Tapas Special
LINKwebsite
LINKfb
Bahia Tortuga 6-8 Open mic/Karaoke
LINK
Sunset Grill 6-7:30 Keyboard & Vocals
LINK
~8p
El Patio 8:30-11 La Guera & Willys Blues
LINK
Cafe del Mar 8 Jesus Campuzano
LINK
LINK
Faynes 8-10 Raul Alexis
Late
Faynes Banda Sin Nombre 10:30-12:15
LINK
~~~~~~~~~~~~~~~~~~~~~~~~~~~~~~~~~~~~~~~~~~~~~~~~~~~~~~~~~~~~~~~~~~~~
When you travel, you learn "baño"
Rosa Sirenas

Turtle love in full swing ~ 2 more nests across from Isla 33 Villas 🐢🐢🐢🐢
Celebrate

National

Navy Day

,

with your family on

Saturday

June

first

, with the traditional

voyage and

the offering to the sea of a

wreath for the

fallen

sailors

. From

the

concrete pier

located

next to the

ferry

at

10

am

Remember

to wear comfortable clothes

to enjoy this Naval

party

!

(June 1st)
The Math Behind Wind Forces.....
Last 24 hrs
"Time Lapse" of Playa Norte Webcam: LINK
Playa Norte

now in real time in Isla Mujeres
The Early Edition with the newspaper photographs and headlines is usually published around sunrise.
This Final Edition with the translated articles, plus original photos including the sunrise and the "Around the Internet in the Past 24 Hours" section usually publishes around
noon
.
Both blogs always have links to the original articles.
Usually if an article is "missing", it may have been published in another paper recently, and translated.in a previous post.
.