..This is the live webcam at North Beach / Playa Norte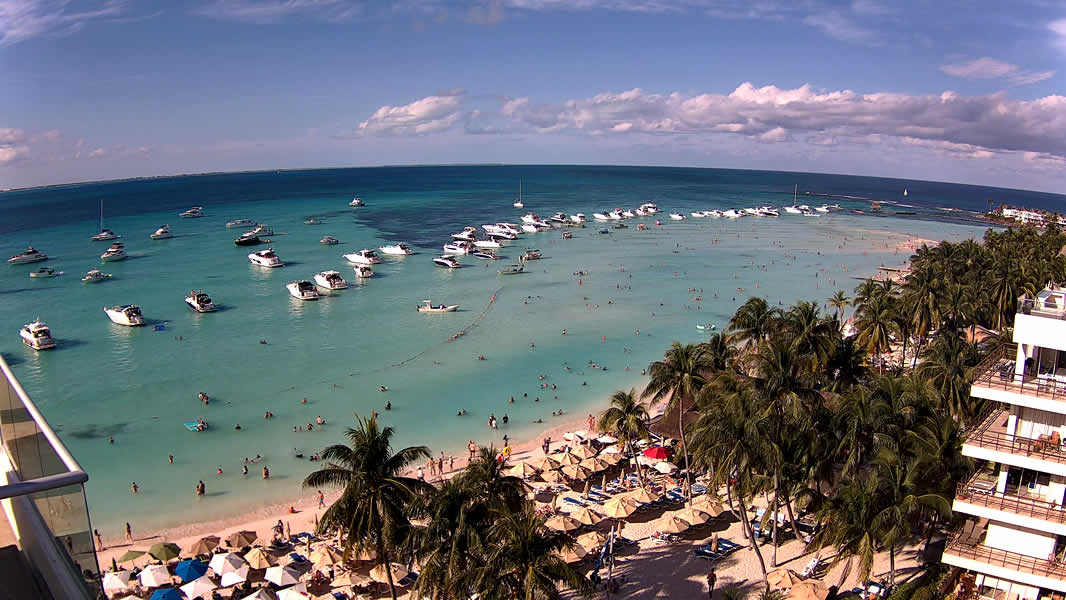 .
Labor Day Parade & Speeches
Diario Q Roo/Manuel Valdez
reports that ~300 unionized workers from various sectors participated in yesterdays parade commemorating Labor Day. It began at 9am, with the workers walking through the main streets of town, and concluding at the Town Square where the Mayor welcomed and thanked the both the workers and their union representatives. He spoke about the importance of their representatives working on their behalf with great commitment The municipal Secretary General spoke about the history of the holiday, mentioning the Martyrs of Chicago
(a reference to the Hay Market Affair which this holiday internationally commemorate
s
LINK
), and about the 1886 strike for an 8 day workday among Mexican workers in Sonora copper mines, where workers fought for better conditions and pay. The reporter noted the non participation in the parade of unions who previously joined in including CTC, CROC, and SUTSAIM, the municipal workers union.
CROC largely represents hotel and restaurant workers, and I am not familiar with CTC
. He notes that municipal government was represented with the participation of directors and department heads. The participation of other unions are mentioned from the schools and hospitals. The other newspapers carried the same information, with one calling it "emotional" and
Por Esto
saying it was poorly attended, noting "over 200 people participated".Photo from
muncipal website
Upcoming Tourism Expo: "Tianguis Turisitco"
The state Secretary of Tourism visited Isla Mujeres and spoke about the benefits of the upcoming Tourism Expo "Tianguis Turistico". They will soon chose a location in Cancun, and it is expected to be a resounding success to promote the 65,000 rooms in the Riviera Maya and the more than 85,000 room in the entire state, as well as the proximity of the international airport in Cancun. Source
Diairo Q Roo/Manuel Valdez
I already translated

t
he information abou
t 114 loggerhead eggs
being gathered and transported to the Tortugranja on April 28th,
and about the inauguration of the Caribbean Malecon and Iguana park
.
The
headline about real estate
is out of Playa del Carmen where realtors are hoping Congress will pass the
Constitutional changes to Article 27,
which would allow foreigners to own real estate that is currently held through a bank trust (fideocomiso), that the article says incurs 8% costs they would save after the reform. Realtors note the superiority of the real estate opportunities in this area, noting prices are 30% lower than competing markets such as the Bahamas and Costa Rica, and that this area offers better access to materials and inexpensive labor. The president of the Mexican Association of Professionals and Investors (AMPI) of the Riviera Maya offered this information, noting that "Other destinations, such as the Bahamas, have no construction industry". I already gave links & information about proposed changes affecting foreign property ownership & it is available online in English.
Waiting On Boat Ambulance & Sono Doc
The director of the General Hospital said within two weeks they will have a doctor on staff so they can provide sonograms to patients, who can then avoid the time and expense of going to Cancun. When asked about the boat ambulance, he expressed hope that it will soon be in service, noting previous delays were associated with obtaining its special permits. Source:
Diario Respuesta
/Jesus Molina
Regatta Sol a

l

Sol Welcomed
On Wednesday a cocktail party was held for the captains and families of the 22 sailboats that arrived as participants in the XLV Regatta Sol al Sol. Today at 7pm the formal ceremony will be held the City Council solemnly welcomes them as Distinguished Guests. Once again it is reported that this Regatta has been held continuously since 1965,
when all other information indicates it has been held since 1969, which is why it is the 45th Regatta
. The celebrations will continue with the annual basketball game, when the yachters will paly the Veteranos de Isla Mujeres. Source:
Por Esto
Collecting Junk To Prevent Mosquito Breeding Sites
On Thursday and Friday there will be a junk removal and spraying campaign by the Vectors department to combat the larvae of the mosquito Aedes Aegypti, which can cause Dengue. No cases have been reported on the island. On the last junk collection campaign over five tons were removed from streets and open lots. Residents are asked to take advantage of this opportunity to remove old pots, broken appliances, and other junk from their yards and patios to prevent potential mosquito breeding sites. Source:
Por Esto
This mosquito is known for its tendency to stay close to home, so there are campaigns to prevent breeding areas close to people, which include certifications that governmental facilities are free of potential larvae breeding sites, frequent inspections around residences & businesses, and fogging campaigns.

This blog is brought to you by....
MaraVilla Caribe

Bed & Beach

Three rentals with large glass doors overlooking our white sand beach and the beautiful Caribbean sea, with kitchenettes &

free WIFI.

In the coastal neighborhood of Bachilleres, among upscale villas & boutique hotelitos, convenient to downtown or the colonias, yet separate.

Quiet & Private.




Free amenities such as hammocks, bikes, outdoor shower, portable beach chairs & beach towels, washer, loungers & BBQ.

Breathtaking panoramic views from the rooftop terrace. Upstairs room also available.

Downtown is ~ a mile away; if you don't feel like walking or biking, flag a $2 taxi or hop on the bus. We also have room for parking,

You can enjoy the music & crowds downtown, then come home our quiet neighborhood of Bachilleres where you'll

sleep to the sounds of the sea.

.

$275/$325/$425 wk $40/50/$65nt Monthly Discounts

View from rooms
Small room
Large room
Fine dining a few steps away at Da Luisa or try the traditional neighborhood eateries a couple blocks farther. Stroll five minutes down the coastal sidewalk to Mango Cafe or Monchi's,shop at Chedraui or visit restaurants, bars, & beach clubs; minutes away by bike or on foot. Our guests recommend the Yoga classes a couple villas away at hotelito Casa Ixchel. Fresh juice, produce & tortillas a few blocks away in the village, as well as a pharmacy and variety of other stores and small local restaurants
Sunrise this morning from MVC B&B
I didn't

photograph

it

today, but Capt Tony did! The 'big news around the

isle' is

l

ast night we had a noisy storm with lotsa lightning and an hour or two of rain and wind, with the electricity going out briefly around 11:30pm. Thunder and some rain rolled in a lil before 3p, prompting the cancellation of this afternoons Artist's fair on the square,

& it is rescheduled for tomorrow.
On the internet in the past 24 hours...
HERE TV Isla Mujere
s has a photo of an accused thief in the colonia Carbena, held by police, named Gonzalo Percero Gomez
Here is a video of Isla Mujeres with scenes from Tulum also, published on YouTube on the 29th by
Pontus Sjogreen
· which has been getting many compliments online for this video shot mostly in Isla Mujeres, with some scenes from Tulum:
Here is a summary posted on TA by Tiffany of Barlitos & reposted on Isla Info by Chris
The first Thursday, May 2nd is

RESCHEDULED FOR FRIDAY due to rain.

... the day for the Isla Mujeres Artist Fair in the Square (zocolo). The event is from 4pm to 7pm. This month there are so many new local resident artists!

Emilio Sosa will be a participant. Many of you have probably have seen his work at his shop just across the street from the end of Hidalgo towards North Beach. He is the incredibly talented paper mache artist. His attention to detail is ridiculous. It is so hard to believe his creatures are made from newspaper & paste

Sergio, the one legged batik artist is also a participant. He used to just ride his bike around with some of his batiks in his bike basket before he set up "shop" on the beach across from Posada del Mar. He also does custom batiks.

Victor from Kash Keken Chuc will be selling his beyond yummy tamales. Usually you can only get these on Friday & Saturday nights at Kash Keken Chuc. Last month, he sold out so go to his table early on!

Alejandro is an organic farmer & painter. He displays his paintings & his homemade chutneys. His mango jalapeno chutney with cream cheese on a bagel is to die for!

Nubia Cakes often known as the Cake Ladies whose specialty is tres leche cakes will have a table. If you have had a tres leche cake on the Island, it is probably theirs. They are a favorite among kids, brides & birthdays!

Santos who makes beautiful belts, shoes & bags from leather will have two tables this month. His craftsmanship makes you miss the old days before everything was made in bulk & in factories.

There are so many more talented participants....please come show them your support
HERE is a link to the event's Facebook page where you will find lotsa Art Show photos.
HERE is a link
to a Huffington Post article about Amazing Places You Can Swim With Sharks...I'll vote for the Whale Shark option!
Sue Macdonald Lo reports that the Navy Wives Breakfast was wonderful, with a celebration of Mother's Day and a surprise gift taped to the bottom of their chairs of a necklace and earrings. Gail Marie Stewart commented that it was so nice, and she enjoyed the little ones who performed a ballet as well as the decorations, centerpieces and food.
These events benefit the Naval hospital
.
New business.....
"Time Lapse" of Playa Norte Webcam: LINK
Playa Norte

now in real time in Isla Mujeres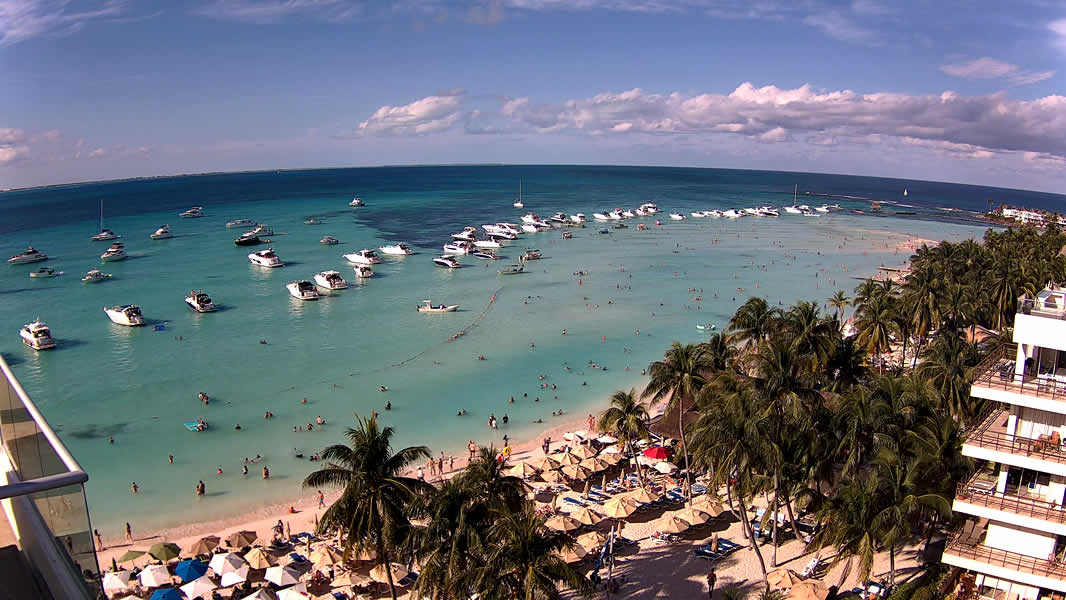 The Early Edition with the newspaper photographs and headlines is usually published around sunrise.
This Final Edition with the translated articles, plus original photos including the sunrise and the "Around the Internet in the Past 24 Hours" section usually publishes around
noon
.
Both blogs always have links to the original articles.
Usually if an article is "missing", it may have been published in another paper recently, and translated.in a previous post.
.