..This is the live webcam at North Beach / Playa Norte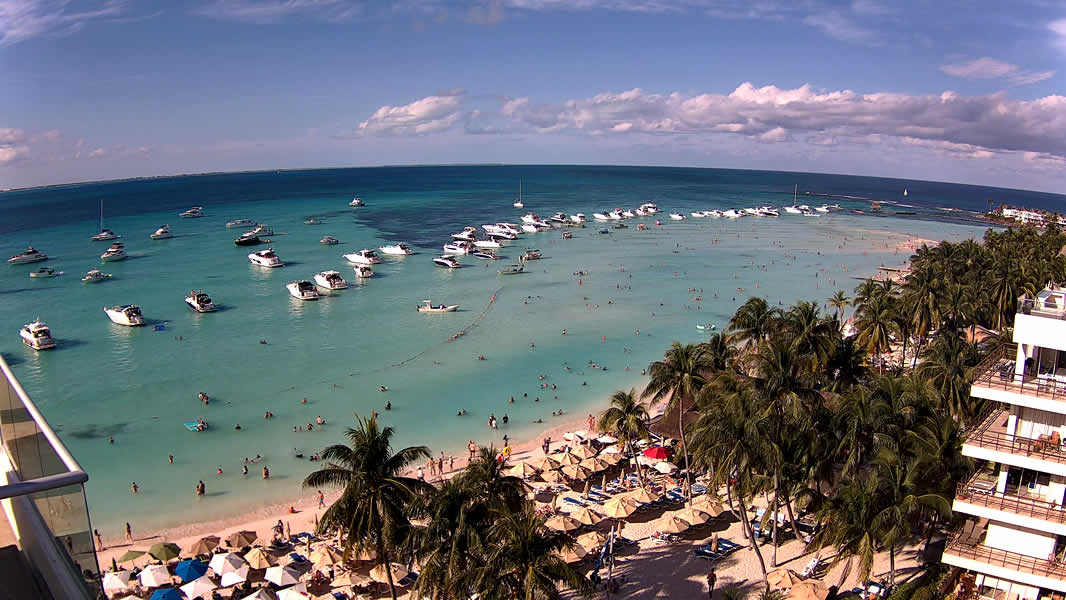 .
Working Mothers Thanked With Breakfast
The City gave Mother's Day off to employees who are working mothers, after honoring them with a buffet breakfast and Caribbean music at Garrafon Park, and paying them their bonuses. Hundreds of women attended, and the Mayor thanked them, noting that they are the backbone of the family. He spoke about their important roles within their families and raising children, as well as at the workplace. Source:
Municipal Website
Mothers Honored With Gifts At Schools
(
This story was in Diario Q Roo, and their site is down right now
)
Two Police Vehicles From Governor
On Friday the state Governor, Roberto Borge Angulo, gave keys of two police patrol vehicles to the Mayor of Isla Mujeres, Hugo Sanchez Montalvo. The vehicles given to the municipality are a pickup truck and a car. Source:
Municipal Websit
e
Slow Start To Fishing Tournament Registration
The
Tenth Annual
Fishing Tournament
"
Cosme
Alberto
Martínez
Magaña
" is scheduled for May 17, and is considered one of the best of the Yucatan peninsula. Only ten boats have registered, said Isaac Sulu Martinez, the Director of Tourism, adding that last year there were 114 entries, and many of them registered on the last day. He said it has become customary for them to register on the last day. The cost is 4500 pesos until the 15th when it increases to 5500 pesos. The cash prizes total nearly a million pesos, in addition to the vehicle, and it is hoped that more vehicles may be added to the awards.
Many of the competing captains and crews arrive for the tournament just before the Captain's dinner, which is held the evening before the event, where they register.
Source: C
arlos Gasca/Quequ
i
Concerns Over Possible Pregnancy
Parents attended a meeting with school officials at the grade school "César Mendoza Santana" after a pregnancy test was found in a school bathroom. Parents were advised to look for signs of pregnancy among the fifth and sixth year students, and to check their children's backpacks. Source:
Quintanarroense/
Ovidio Lopez
Fire Quickly Extinguished
TV Isla Mujeres ha

d

a report of a fire at ~11pm on Rueda Medina, that

wa

s then corrected to say Hidalgo & says it was Angelo's restaurant. Comments say it was a "short circuit that ignited a range hood and in five minutes it was extinguished by a Samaritan".

This blog is brought to you by....
MaraVilla Caribe

Bed & Beach

Three rentals with large glass doors overlooking our white sand beach and the beautiful Caribbean sea, with kitchenettes &

free WIFI.

In the coastal neighborhood of Bachilleres, among upscale villas & boutique hotelitos, convenient to downtown or the colonias, yet separate.

Quiet & Private.




Free amenities such as hammocks, bikes, outdoor shower, portable beach chairs & beach towels, washer, loungers & BBQ.

Breathtaking panoramic views from the rooftop terrace. Upstairs room also available.

Downtown is ~ a mile away; if you don't feel like walking or biking, flag a $2 taxi or hop on the bus. We also have room for parking,

You can enjoy the music & crowds downtown, then come home our quiet neighborhood of Bachilleres where you'll

sleep to the sounds of the sea.

.

$275/$325/$425 wk $40/50/$65nt Monthly Discounts

View from rooms
Small room
Large room
Fine dining a few steps away at Da Luisa or try the traditional neighborhood eateries a couple blocks farther. Stroll five minutes down the coastal sidewalk to Mango Cafe or Monchi's,shop at Chedraui or visit restaurants, bars, & beach clubs; minutes away by bike or on foot. Our guests recommend the Yoga classes a couple villas away at hotelito Casa Ixchel. Fresh juice, produce & tortillas a few blocks away in the village, as well as a pharmacy and variety of other stores and small local restaurants
Sunrise this morning from MVC B&B
On the internet in the past 24 hours...
Jackie Conlon added 14 new photos to the album Isla Mujeres May 2013.
We had a wonderful Mother's day dinner at Iguana's of a capon with cheeses and sauces that was wonderful with,tasty potatoes, and the mousse for dessert is always my favorite. We enjoyed John Cain's music & the amazing Anna joined in for some vocals that made the evening extra special. It was a lovely night weather wise as well..with great service and fine company.~wc
"Time Lapse" of Playa Norte Webcam: LINK
Playa Norte

now in real time in Isla Mujeres
The Early Edition with the newspaper photographs and headlines is usually published around sunrise.
This Final Edition with the translated articles, plus original photos including the sunrise and the "Around the Internet in the Past 24 Hours" section usually publishes around
noon
.
Both blogs always have links to the original articles.
Usually if an article is "missing", it may have been published in another paper recently, and translated.in a previous post.
.