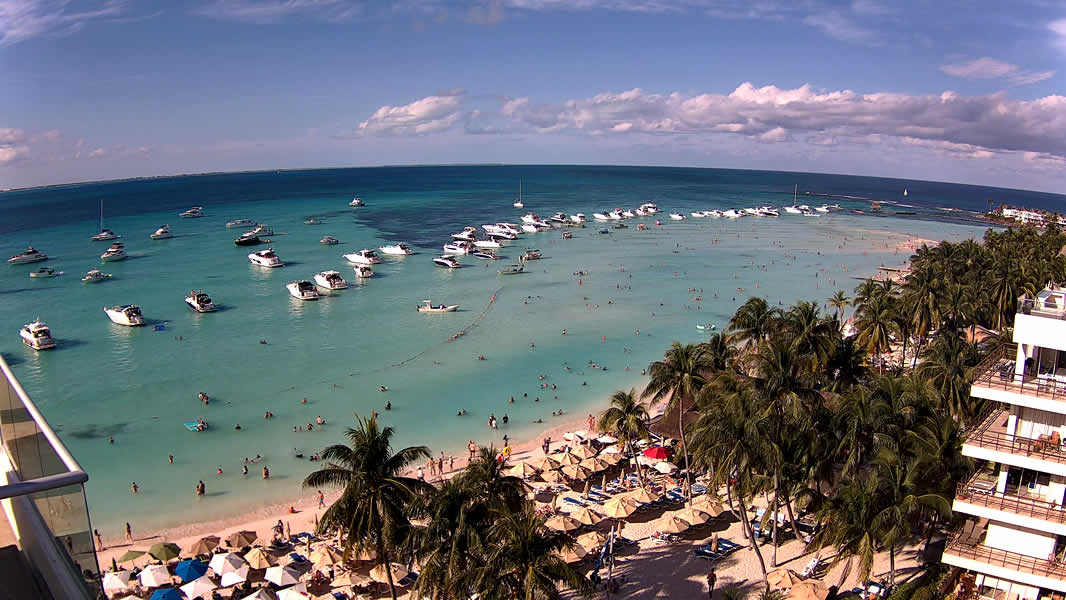 North Beach/Playa Norte In Real Time

In Isla Mujeres
LINK to 24 hour time lapse of the webcam
This is the "Morning Edition" with translated headlines & newspaper photos. The Afternoon Edition has translations of the news articles, Daily Events & the evening's Live Music Schedules. There are always links to the original articles in Spanish.
A big celebration for the state's 40th anniversary
Unconditional respect
Green Patrol cleans up the isle
Tvisla Mujeres
Teens of Isla Mujeres are representing the state of Quintana Roo in the National Tournament of the Telemex Cup in Leon Guanajuato.
This is about seniors obtaining their benefits, in cash, by registering with the INAPAM offices.
Noticias de Quequi......
Hawkers working in front of the terminal
Celebrating the sovereignty of the state
por esto
Wouldn't protect against even a Category 1 hurricane
No soportaría ni un huracán categoría uno
. [+]
Ver mas
Bringing order to the new maritime terminal
Ponen orden en la nueva terminal portuaria
+]
Ver mas
Conchs seized from local fishing boat
Incautan piezas de caracol en bote pesquero local
[+]
Ver mas
Tomorrow, in the town square, scheduled to start at 8pm, in honor of the state's 40th anniversary there will be live music, and dancing, in the town square featuring a popular cumbia group..Sonora Dinamita...
This blog is brought to you by....
MaraVilla Caribe

Bed & Beach

Three rentals with large glass doors overlooking our white sand beach and the beautiful Caribbean sea, with kitchenettes &

free WIFI.

In the coastal neighborhood of Bachilleres, among upscale villas & boutique hotelitos, convenient to downtown or the colonias, yet separate.

Quiet & Private.




Free amenities such as hammocks, bikes, outdoor shower, portable beach chairs & beach towels, washer, loungers & BBQ.

Breathtaking panoramic views from the rooftop terrace. Upstairs room also available.

Downtown is ~ a mile away; if you don't feel like walking or biking, flag a $2 taxi or hop on the bus. We also have room for parking,

You can enjoy the music & crowds downtown, then come home our quiet neighborhood of Bachilleres where you'll

sleep to the sounds of the sea.

.

$275/$325/$425 wk $40/50/$65nt Monthly Discounts

View from rooms
Small room
Large room
Fine dining a few steps away at Da Luisa or try the traditional neighborhood eateries a couple blocks farther. Stroll five minutes down the coastal sidewalk to Mango Cafe or Monchi's,shop at Chedraui or visit restaurants, bars, & beach clubs; minutes away by bike or on foot. Our guests recommend the Yoga classes a couple villas away at hotelito Casa Ixchel. Fresh juice, produce & tortillas a few blocks away in the village, as well as a pharmacy and variety of other stores and small local restaurants