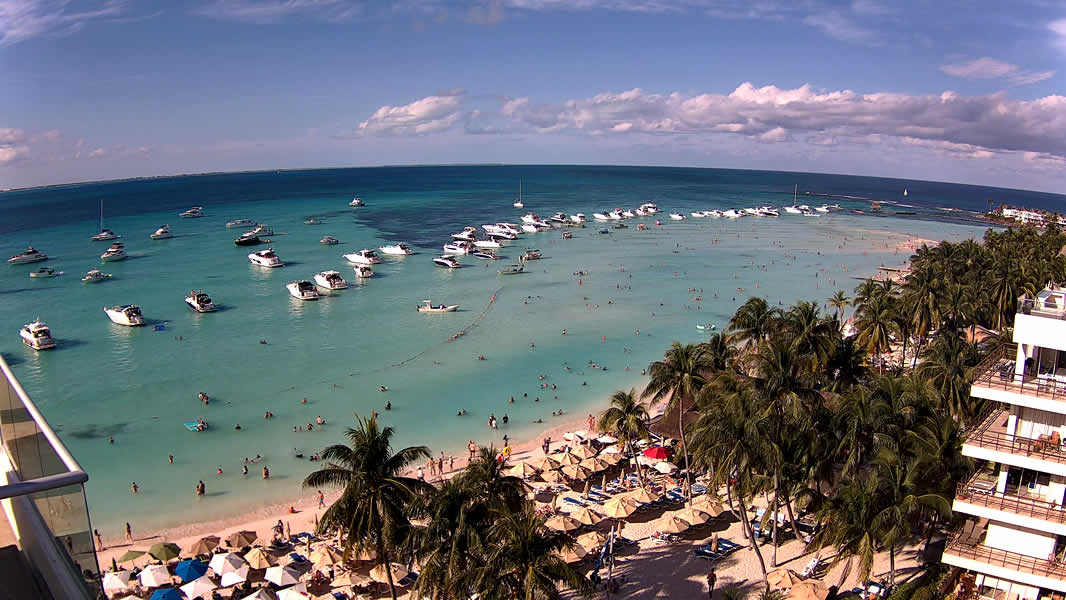 North Beach/Playa Norte In Real Time

In Isla Mujeres
LINK to 24 hour time lapse of the webcam
This is the "Morning Edition" with translated headlines & newspaper photos. The Afternoon Edition has translations of the news articles, Daily Events & the evening's Live Music Schedules. There are always links to the original articles in Spanish.
New face for Mundaca: Construction is 70% finished & expected to be completed in December
Nueva cara a Mundaca
En diciembre próximo concluirán obras de reconstrucción; avance del 70%
Lanrry PARRA
ISLA MUJERES, 24 de octubre.-
Raising awareness about water conservation
CAPA allocates resources for space
Fomentan cultura del agua
CAPA destina recursos para espacio
Lanrry PARRA
ISLA MUJERES, 24 de octubre.-
Agapito's government offering a variety of medical services today and tomorrow
Primero la salud
Gobierno de Agapito ofrecerá gran variedad de servicios médicos, hoy y mañaana
Lanrry Parra

ISLA MUJERES, 24 de octubre.-
Tvisla Mujeres
Noticias de Quequi......
Hundreds of fish die in the storm drains
Ecología

0

25 de octubre de 2014

---

Por Carlos Gasca.- Cientos de peces están condenados a morir atrapados en los registros pluviales de la colonia Salina Grande, ya que al bajar los niveles del agua ya no pueden retornar hacia los cuerpos lagunares.

Hundreds of fish are doomed to die that are trapped in the storm drains of colonia Salina Grande, now that the water levels are lowered and they cannot return to the bodies of water.
Caring for islanders with health fairs
Written by Diario Respuesta Jesus Molina
Category: Isla Mujeres
Read more: Favorecerán a isleños en jornadas médicas
por esto
Sterilization clinic for pets
Jornada de esterilización de mascotas
[+]
Ver mas
Tourism from tour boats
Reanuda traslado de turismo
[+]
Ver mas
This blog is brought to you by....
MaraVilla Caribe

Bed & Beach

Three rentals with large glass doors overlooking our white sand beach and the beautiful Caribbean sea, with kitchenettes &

free WIFI.

In the coastal neighborhood of Bachilleres, among upscale villas & boutique hotelitos, convenient to downtown or the colonias, yet separate.

Quiet & Private.




Free amenities such as hammocks, bikes, outdoor shower, portable beach chairs & beach towels, washer, loungers & BBQ.

Breathtaking panoramic views from the rooftop terrace. Upstairs room also available.

Downtown is ~ a mile away; if you don't feel like walking or biking, flag a $2 taxi or hop on the bus. We also have room for parking,

You can enjoy the music & crowds downtown, then come home our quiet neighborhood of Bachilleres where you'll

sleep to the sounds of the sea.

.

$275/$325/$425 wk $40/50/$65nt Monthly Discounts

View from rooms
Small room
Large room
Fine dining a few steps away at Da Luisa or try the traditional neighborhood eateries a couple blocks farther. Stroll five minutes down the coastal sidewalk to Mango Cafe or Monchi's,shop at Chedraui or visit restaurants, bars, & beach clubs; minutes away by bike or on foot. Our guests recommend the Yoga classes a couple villas away at hotelito Casa Ixchel. Fresh juice, produce & tortillas a few blocks away in the village, as well as a pharmacy and variety of other stores and small local restaurants