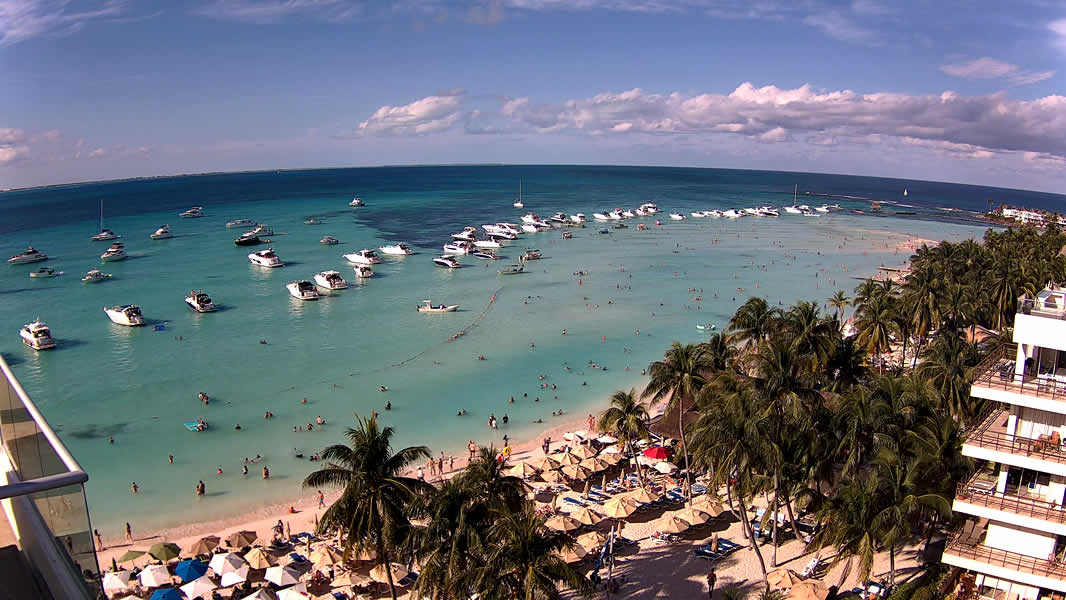 North Beach/Playa Norte In Real Time

In Isla Mujeres
LINK to 24 hour time lapse of the webcam
This is the "Morning Edition" with translated headlines & newspaper photos. The Afternoon Edition has translations of the news articles, Daily Events & the evening's Live Music Schedules. There are always links to the original articles in Spanish.
Cancun Harbor Master: Responsible for the protection of the Meco area reefs
Capitanía de Cancún, responsable
De proteger zona arrecifal del Meco
Lanrry PARRA
ISLA MUJERES, 26 de octubre.-
Merchants & service providers are ready for the December holiday season
Se alistan comerciantes
Y demás prestadores de servicios, para la temporada decembrina
Lanrry PARRA
ISLA MUJERES, 26 de octubre.-
Tvisla Mujeres
Noticias de Quequi......
Seeking to take advantage of the "DEMA Show"
Promoción

---

Por Carlos Gasca > Quequi.- La convención de buceo será en las vegas del 19 al 22 de noviembre.
Open water swimming competition
Written by Diario Respuesta Jesus Molina
Category: Isla Mujeres
Read more: Compiten tritones en aguas abiertas
por esto
Chain of reefs: Endangered
Cadena arrecifal, en peligro
[+]
Ver mas
PROFECO active for Day of the Dead holidays
Profeco activo para "Día de Muertos"
[+]
Ver mas
Open water swimming competition: Total success
Todo un éxito, el I Torneo de Nado en agua abierta
[+]
Ver mas
This blog is brought to you by....
MaraVilla Caribe

Bed & Beach

Three rentals with large glass doors overlooking our white sand beach and the beautiful Caribbean sea, with kitchenettes &

free WIFI.

In the coastal neighborhood of Bachilleres, among upscale villas & boutique hotelitos, convenient to downtown or the colonias, yet separate.

Quiet & Private.




Free amenities such as hammocks, bikes, outdoor shower, portable beach chairs & beach towels, washer, loungers & BBQ.

Breathtaking panoramic views from the rooftop terrace. Upstairs room also available.

Downtown is ~ a mile away; if you don't feel like walking or biking, flag a $2 taxi or hop on the bus. We also have room for parking,

You can enjoy the music & crowds downtown, then come home our quiet neighborhood of Bachilleres where you'll

sleep to the sounds of the sea.

.

$275/$325/$425 wk $40/50/$65nt Monthly Discounts

View from rooms
Small room
Large room
Fine dining a few steps away at Da Luisa or try the traditional neighborhood eateries a couple blocks farther. Stroll five minutes down the coastal sidewalk to Mango Cafe or Monchi's,shop at Chedraui or visit restaurants, bars, & beach clubs; minutes away by bike or on foot. Our guests recommend the Yoga classes a couple villas away at hotelito Casa Ixchel. Fresh juice, produce & tortillas a few blocks away in the village, as well as a pharmacy and variety of other stores and small local restaurants