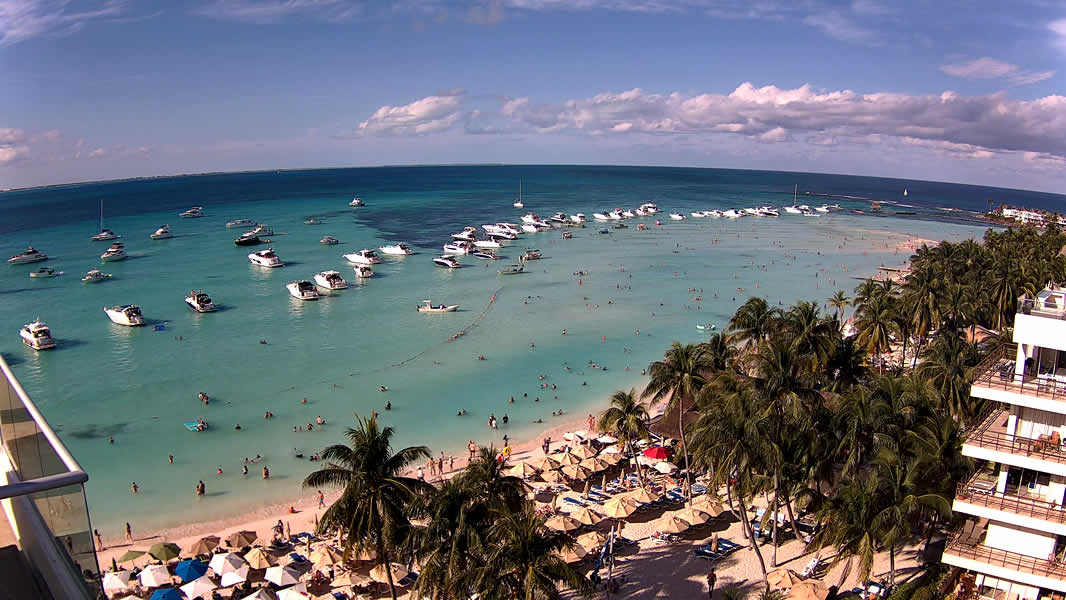 North Beach/Playa Norte In Real Time

In Isla Mujeres
LINK to 24 hour time lapse of the webcam
This is the "Morning Edition" with translated headlines & newspaper photos. The Afternoon Edition has translations of the news articles, Daily Events & the evening's Live Music Schedules. There are always links to the original articles in Spanish.
PROFECO imposes suspensions and penalties against jewelry stores for selling "patito" pieces to tourists
Inmovilizan joyerías
Profeco les aplica sanción por vender piezas "patito" a los turistas
ISLA MUJERES, 1 de octubre.-
Inauguration of new Maritime Terminal scheduled for Oct. 6: Confirmed
Acto inaugural, el próximo día 6
De la nueva terminal marítima, confirman
ISLA MUJERES, 1 de octubre.-
Harmony: Priority
Swearing in of the Committee for Consultation and Participation of the Community in Public Security
Armonía, prioridad
Rinde protesta Comité de Consulta y Participación de la Comunidad en Seguridad Pública
ISLA MUJERES, 1 de octubre.-
Tvisla Mujeres
Registration still available for the new courses promoted by the City of Isla Mujeres
Promueve ayuntamiento de Isla Mujeres nuevos cursos! Aún estas a tiempo de inscribirte!!
Noticias de Quequi......
Suffering from decreased lobster catches
Written by Diario Respuesta Jesus Molina
Category: Isla Mujeres

Trágico accidente automovilístico, en la avenida Rueda Medina, en donde pierde la vida un isleño de 46 años de edad, quien circulaba en su motocicleta, informó el director de Tránsito, Jairo Chevez.
In a tragic automobile accident on Rueda Medina avenue, the life was lost of isleno Jairo Chevez, 46, who was riding a motorcycle, reported police chief Jairo Chevez.
Read more: Fallece motociclista en Centro de Salud
por esto
PROFECO suspended four jewelry stores
Profeco suspende a cuatro joyerías
[+]
Ver mas
City Committee installed after one year
Después de un año instalan comité ciudadano
[+]
Ver mas
This blog is brought to you by....
MaraVilla Caribe

Bed & Beach

Three rentals with large glass doors overlooking our white sand beach and the beautiful Caribbean sea, with kitchenettes &

free WIFI.

In the coastal neighborhood of Bachilleres, among upscale villas & boutique hotelitos, convenient to downtown or the colonias, yet separate.

Quiet & Private.




Free amenities such as hammocks, bikes, outdoor shower, portable beach chairs & beach towels, washer, loungers & BBQ.

Breathtaking panoramic views from the rooftop terrace. Upstairs room also available.

Downtown is ~ a mile away; if you don't feel like walking or biking, flag a $2 taxi or hop on the bus. We also have room for parking,

You can enjoy the music & crowds downtown, then come home our quiet neighborhood of Bachilleres where you'll

sleep to the sounds of the sea.

.

$275/$325/$425 wk $40/50/$65nt Monthly Discounts

View from rooms
Small room
Large room
Fine dining a few steps away at Da Luisa or try the traditional neighborhood eateries a couple blocks farther. Stroll five minutes down the coastal sidewalk to Mango Cafe or Monchi's,shop at Chedraui or visit restaurants, bars, & beach clubs; minutes away by bike or on foot. Our guests recommend the Yoga classes a couple villas away at hotelito Casa Ixchel. Fresh juice, produce & tortillas a few blocks away in the village, as well as a pharmacy and variety of other stores and small local restaurants