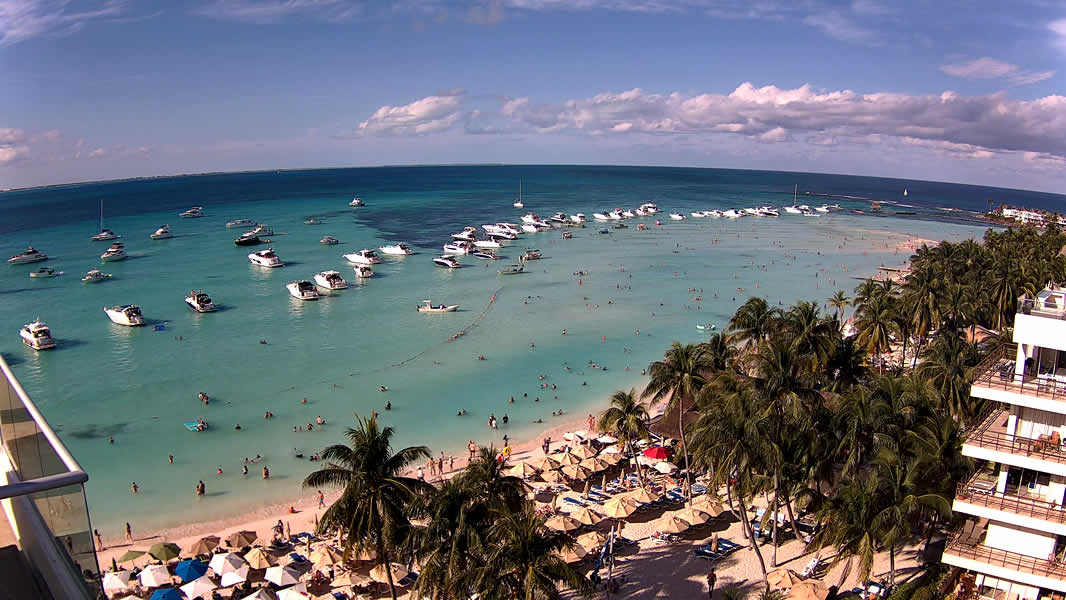 North Beach/Playa Norte In Real Time

In Isla Mujeres
LINK to 24 hour time lapse of the webcam
This is the "Morning Edition" with translated headlines & newspaper photos. The Afternoon Edition has translations of the news articles, Daily Events & the evening's Live Music Schedules. There are always links to the original articles in Spanish.
Off season "squeeze": At least 10 businesses closed temporarily
Aprieta temporada baja
Por lo menos 10 negocios con "cierres temporales"
ISLA MUJERES, 5 de octubre.-
Evaluation of municipal police
Committee of Consultation and Participation
Evalúan a la Policía Municipal
Comité de Consulta y Participación
ISLA MUJERES, 5 de octubre.-
Intense sports activity
Exciting weekend of basketball & handball
Intensa actividad deportiva
Durante vibrante fin de semana en básquetbol y hanball
ISLA MUJERES, 5 de octubre.-
Tvisla Mujeres
From today until next Thursday, the INE (formerly IFE) booth will be open in Isla Mujeres from 8am to 3pm (
That's the voter registration agency
).
Noticias de Quequi......
Resuming work on the avenue
SERVICIOS

---

Por Carlos Gasca > Quequi.-

The new terminal will include the cooperatives

INFRAESTRUCTURA

---

Por Carlos Gasca > Quequi.-
Written by Diario Respuesta
Category: Isla Mujeres
Read more: Agradecen gestión de Borge en obras
por esto
Beer seller closed
Clausura expendio de cerveza[+]
Ver mas
Storm drains: Clogged
La red pluvial, taponada
[+]
Ver mas
Neighbors surprised about the works at Mundaca
Sorprende a vecinos trabajos en Mundaca[+]
Ver mas
This blog is brought to you by....
MaraVilla Caribe

Bed & Beach

Three rentals with large glass doors overlooking our white sand beach and the beautiful Caribbean sea, with kitchenettes &

free WIFI.

In the coastal neighborhood of Bachilleres, among upscale villas & boutique hotelitos, convenient to downtown or the colonias, yet separate.

Quiet & Private.




Free amenities such as hammocks, bikes, outdoor shower, portable beach chairs & beach towels, washer, loungers & BBQ.

Breathtaking panoramic views from the rooftop terrace. Upstairs room also available.

Downtown is ~ a mile away; if you don't feel like walking or biking, flag a $2 taxi or hop on the bus. We also have room for parking,

You can enjoy the music & crowds downtown, then come home our quiet neighborhood of Bachilleres where you'll

sleep to the sounds of the sea.

.

$275/$325/$425 wk $40/50/$65nt Monthly Discounts

View from rooms
Small room
Large room
Fine dining a few steps away at Da Luisa or try the traditional neighborhood eateries a couple blocks farther. Stroll five minutes down the coastal sidewalk to Mango Cafe or Monchi's,shop at Chedraui or visit restaurants, bars, & beach clubs; minutes away by bike or on foot. Our guests recommend the Yoga classes a couple villas away at hotelito Casa Ixchel. Fresh juice, produce & tortillas a few blocks away in the village, as well as a pharmacy and variety of other stores and small local restaurants