..This is the live webcam at North Beach / Playa Norte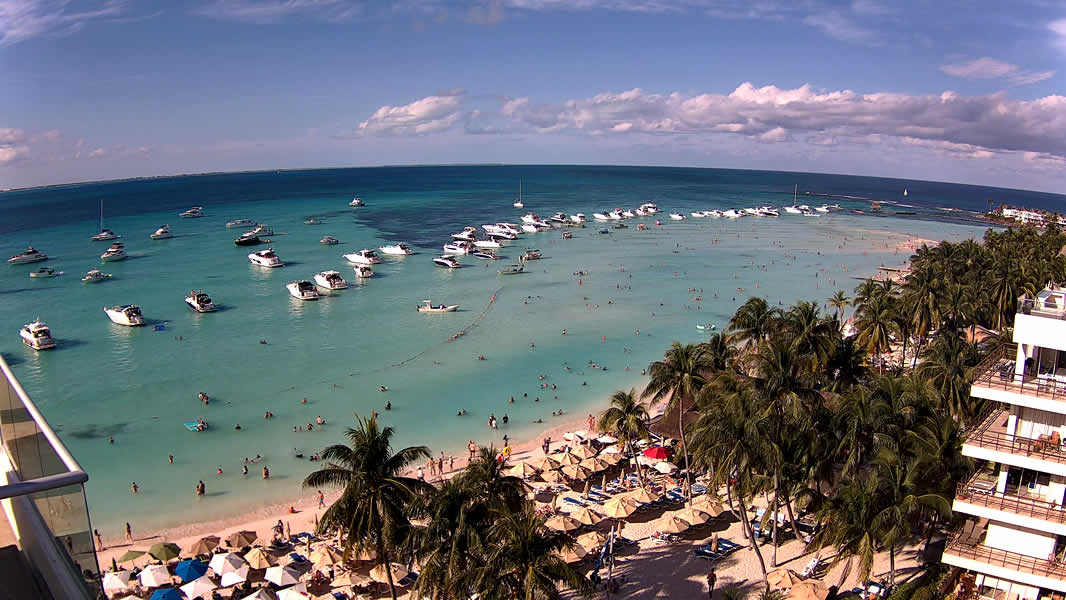 .
The "Morning Edition" has translated headlines & newspaper photos. This Afternoon Edition has translations of the articles, Daily Events & Live Music Schedules & the "Around the Internet in the Past 24 Hours" section including photos & info from individuals & local businesses ....

Daily In Isla Mujeres.

There are always links to the original articles in Spanish.
Changeover of City government in process
IFE: Only two weeks
Call to citizens
YESTERDAY'S DQR NEWS:
Dengue prevention complicated by recent school closures
Monitoring lake levels
Vigilan de cerca cuerpos lagunares
Ante intensas lluvias
Leer más...
SUNDAY'S DQR NEWS
Photo released of man suspected of murdering his partner: Seeking "Felix"
Offering basic English courses to workers affiliated with CROC
Tvisla Mujeres
Noticias de Quequi......
Transition team is ready
AYUNTAMIENTO

0

23 de septiembre de 2013

---

Seeking to make up missed classes
Por Carlos Gasca > Quequi.-

Educación

0

23 de septiembre de 2013

---

Por Carlos Gasca >Quequi.- All schools are conducting classes, after the strike which lasted about 15 days. At some schools, such as "Gabriela Mitral" there was an announcement of a change in class schedule to add an hour to make up the time lost during the strike.
FROM YESTERDAY'S NEWS AT DR
Aiming for more whale shark tourists in 2014
Although the statistics were not that favorable, the licensees were satisfied with the whale shark season. They were disappointed with its finale due to the rains, and held a mass to celebrate the season which began in May and concluded on Sept. 17th.
This article from Sunday...
State government shows commitment to Verde & Solidario Plan

is about the Recycling Trash for Food program.
SIPSE
Diario La Verdad
FROM YESTERDAY'S NEWS AT DlV:
Confesses to murdering his spouse in Isla Mujeres
A
por esto
Kindergartens and schools now open
Ahora sí, jardines y escuelas abren
[+]
Ver mas
Cycle is over
Aguántense porque acabó el ciclo
Ver mas
Restaurants close their doors
Restaurantes cierran sus puertas
. [+]
Ver mas
Last week before the changeover to the next municipal administration
Última semana y da comienzo la entrega-recepción de una administración municipal a la siguiente
[+]
Ver mas
FROM POR ESTO YESTERDAY
Encouraging influx of visitors
Alentadora afluencia de visitantes
Ver mas
Increased salmonella in children and teens
A la alza, salmonelosis en niños y jóvenes
[+]
Ver mas
Hotels organize Pool Party to attract islanders
Hoteles organizan "Pool Party" para atraer isleños
+]
Ver mas

This blog is brought to you by....
MaraVilla Caribe

Bed & Beach

Three rentals with large glass doors overlooking our white sand beach and the beautiful Caribbean sea, with kitchenettes &

free WIFI.

In the coastal neighborhood of Bachilleres, among upscale villas & boutique hotelitos, convenient to downtown or the colonias, yet separate.

Quiet & Private.




Free amenities such as hammocks, bikes, outdoor shower, portable beach chairs & beach towels, washer, loungers & BBQ.

Breathtaking panoramic views from the rooftop terrace. Upstairs room also available.

Downtown is ~ a mile away; if you don't feel like walking or biking, flag a $2 taxi or hop on the bus. We also have room for parking,

You can enjoy the music & crowds downtown, then come home our quiet neighborhood of Bachilleres where you'll

sleep to the sounds of the sea.

.

$275/$325/$425 wk $40/50/$65nt Monthly Discounts

View from rooms
Small room
Large room
Fine dining a few steps away at Da Luisa or try the traditional neighborhood eateries a couple blocks farther. Stroll five minutes down the coastal sidewalk to Mango Cafe or Monchi's,shop at Chedraui or visit restaurants, bars, & beach clubs; minutes away by bike or on foot. Our guests recommend the Yoga classes a couple villas away at hotelito Casa Ixchel. Fresh juice, produce & tortillas a few blocks away in the village, as well as a pharmacy and variety of other stores and small local restaurants
UPCOMING EVENTS
Sept. 30 Change of Municipal Government
Banda Sin Nombre: Schedule for September:
Chuuk Kay: Saturday and Sunday 3:30-5:30
Fayne's: Thursday-Saturday 10:15-12:15
There is a live music tab at the top of the page
On the internet in the past few days..
Hahahaha...Betsy's new recipe using coconut water, pickly pear cactus (called "tunas") and cucumber. (The neighbors are friends who are outa town, so Betsy is joking when she says Capt. Tony is stealing the coconuts.).These are videos at the link..(The recipe...
coconut water, tuna (the cactus sort), cucumber blended, strained and blended again with ice and a little sweetener if it needs it)
Tony Garcia

Que bonito dia. Que caliente sol

It says..what a beautiful day. How hot the sun is.
(The sea is calm..would be a great day for a trip to Isla Contoy w Capt Tony!)
It is sunny today, but late yesterday afternoon it got very rainy..
Not in Isla Mujeres....
Recicl'arte HT
6 hours ago
Bom dia! Good morning! Buenos dias! Bonjour!
LINK
such as these by Nicolas Samaras...
Back In Isla Mujeres..
.
Herrin
's
photo
from November 21, 2012.
.
·
Caribe On Canvas

Have you ever walked through the cemetery in Centro? It is really beautiful.
We would like to Introduce Our New Brewery on Isla Mujeres, a small island in the Caribbean off the coast of Cancun.
Cool Video of Team Isla Mujeres at the Zombie run in Cancun this weekend...
Jul Isla

Team Isla Mujeres vs Zombie Apocalypse!

—

z day.wmv
(That's Maria bartender at Iguana's under the zombie make up & Juls manages at Fenix)
El Mariachilango has home delivery & every day they feature quesadillas, huaraches, Sr burro, alambres..
Tony Garcia

Preparation for traditional Mayan food. Cochinita pibil
Cochinita pibil is young pig with pibil spices, covered in banana leaves & (traditionally) cooked in a pit..usually eaten on Sundays & can be purchased by weight early on Sunday mornings at the mercados.
Betsy Snider

Working on my rug. I really need to find some more blue tshirts for the core. I love how it reminds me of a coiled basket.
Sept 21 by Bruce
Another beautiful day on Isla
From theMexicoReport.com
National Treasures of the Mexican Caribbean
David A. Nuñez, author of Que es Lo Que Vi – What Did I See? National Treasures of the Mexican Caribbean, identifies more than 120 species most encountered in this region of Mexico. From fish and sea turtles to birds, mammals and corals, this colorful, bilingual book is packed with more than 100 photos captured by the author and his team, along with easy-to-read descriptions and groups of animals that visitors to this area are most likely to see.
At the end of the book, the author offers various online references for those interested in further details. Proceeds from the book benefit Mexiconservación, a non-profit environmental organization based in Tulum, Available for purchase through Amazon for just under $15, Visit Mexiconservación on Facebook for up-to-date environmental news about Mexico.
Sept 22..
Tony Garcia
Start good season. Fishing for local. Fishermens. Also. Lobster
You don't have to give any info to vote, and it takes you right to the Isla Animals option. Very easy! Click this link:
Please Help My Animal Shelter Win
Playa Norte

now in real time in Isla Mujeres
"Time Lapse" of Playa Norte Webcam: LINK
.
.