..This is the live webcam at North Beach / Playa Norte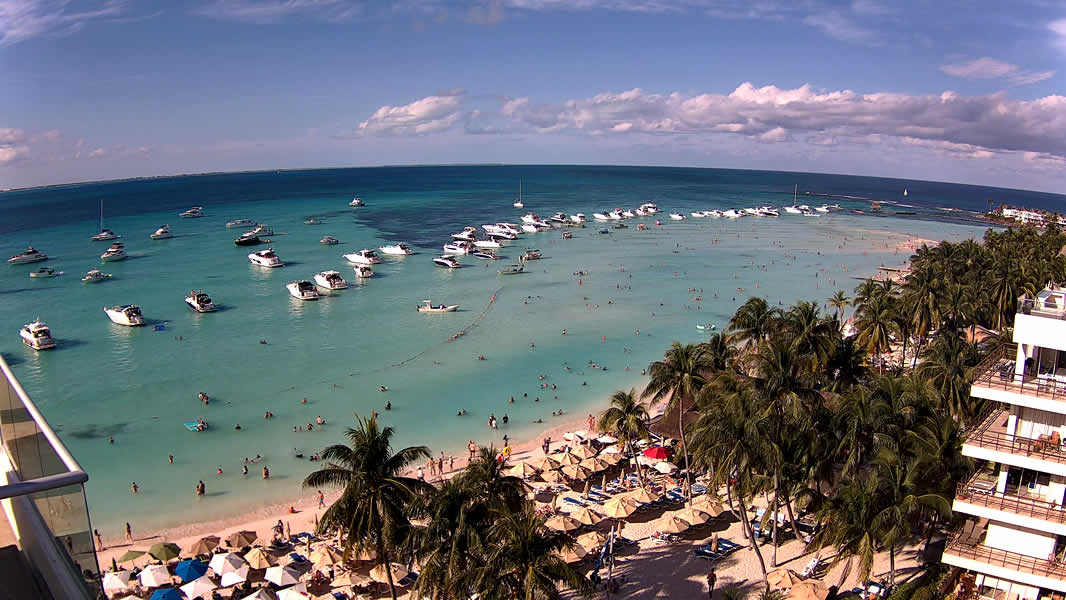 .
The "Morning Edition" has translated headlines & newspaper photos. This Afternoon Edition has translations of the articles, Daily Events & Live Music Schedules & the "Around the Internet in the Past 24 Hours" section including photos & info from individuals & local businesses ....

Daily In Isla Mujeres.

There are always links to the original articles in Spanish.
DIF gives tennis shoes to 270 families
Tvisla Mujeres
Children of the grade school "Jean Piaget" were the only students who participated at the monument of Chapultepec on Friday morning.
Honor Guard at commemoration at obelisk to the Cadet Heroes of Chapultepec in Isla Mujeres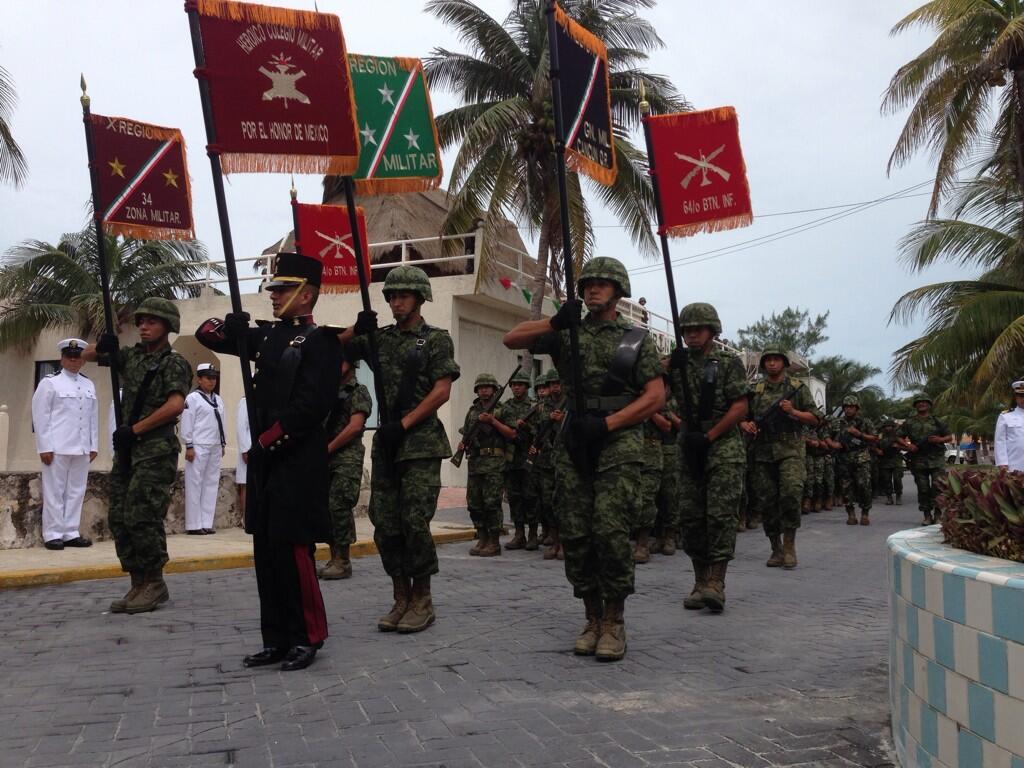 Noticias de Quequi......
Historic liberation of turtles
ECOLOGÍA

0

13 de septiembre de 2013

---

Por Carlos Gasca .-.Quequi reports that the turtle release, of ~50,000 hatchlings will occur today.

They are done at dusk, on the Media Luna beach downtown, or Guadalulpana beach. My GUESS would be downtown, since senior citizens are invited and the access is better there.

JUSTICIA

To address federal crime

0

13 de septiembre de 2013

---

Por Carlos Gasca .- At the commemoration of the Young Heroes of Chapultepec, the representative of the PGR, Attorney General's office said there is a possibility of setting up a mixed agency module in Isla Mujeres to address federal crimes, and that the request will be sent. The official promised increased surveillance and to maintain a presence to seek to inhibit crime.
SIPSE
Diario La Verdad
Rain hinders commercial activities
Satisfactory whale shark season
por esto
Establishing a PGR module
Establecerá un módulo la PGR
+]
Ver mas
Commemorating the Event of the Cadet Heroes
Conmemoran la Gesta Heroica de los Niños Héroes
[+]
Ver mas
Thousands of turtles to the sea
Miles de tortuguitas a la mar
[+]
Ver mas
"Flood" of promotions for Independence celebrations
'Lluvia' de promociones por las fiestas patrias
+]
Ver mas

This blog is brought to you by....
MaraVilla Caribe

Bed & Beach

Three rentals with large glass doors overlooking our white sand beach and the beautiful Caribbean sea, with kitchenettes &

free WIFI.

In the coastal neighborhood of Bachilleres, among upscale villas & boutique hotelitos, convenient to downtown or the colonias, yet separate.

Quiet & Private.




Free amenities such as hammocks, bikes, outdoor shower, portable beach chairs & beach towels, washer, loungers & BBQ.

Breathtaking panoramic views from the rooftop terrace. Upstairs room also available.

Downtown is ~ a mile away; if you don't feel like walking or biking, flag a $2 taxi or hop on the bus. We also have room for parking,

You can enjoy the music & crowds downtown, then come home our quiet neighborhood of Bachilleres where you'll

sleep to the sounds of the sea.

.

$275/$325/$425 wk $40/50/$65nt Monthly Discounts

View from rooms
Small room
Large room
Fine dining a few steps away at Da Luisa or try the traditional neighborhood eateries a couple blocks farther. Stroll five minutes down the coastal sidewalk to Mango Cafe or Monchi's,shop at Chedraui or visit restaurants, bars, & beach clubs; minutes away by bike or on foot. Our guests recommend the Yoga classes a couple villas away at hotelito Casa Ixchel. Fresh juice, produce & tortillas a few blocks away in the village, as well as a pharmacy and variety of other stores and small local restaurants
UPCOMING EVENTS
This is the Holiday Weekend for Mexican Independence Day
Grito: traditonal on town squares throughout Mexico (link)
Sept 15th on Town Square:
Tables available (300p)
9p Cultural Soiree
10:30 Independence Ceremony
11:30 Live Music....Dance with Super Crack band

Monday, Sept.16 8:30am Parade Main Street Rueda Medina
Sept. 19 6:55pm Moonrise (Sunset 6:45)
Sept. 30 Change of Municipal Government
Saturday's Live Music:

EARLY SHOWS
Fenix:
3-5 Frequencia Tropical Latin Reggae & Cumbia

Chuuk Kay: 3:30-6:30 Banda Sin Nombre LINK
Casa de los Suenos: 4-7 w 1/2 price appetizers LINK LINK
Iguanas: 6:30-8:30 Frequencia Tropical w BBQ ribs, steaks,etc LINK LINK
Brisas Grill: ~7p Cuban trio LINK
Sunset Grill: Sunset Keyboard & vocals LINK

A LITTLE LATER....
Fenix: 8-10 Latin Jazz w Fabio
LINK
Faynes 8-10 Raul Alexis LINK
Comono 8:30-11 Marco LINK
Poc Na ?

Link


Ocean Blues & Sassy Jazz 8-10 La Guera & Willy's Blues LINK




LATE NIGHT


Fenix 10:30-2 Guest DJ & Fire Show LINK
Faynes 10:30-12 Banda Sin Nombre LINK
La Terraza 10p-close Salsa & Latin LINK
Poc Na

Link
J
ohn Cain's schedule is
Tuesday- Cafe Del Mar, 8-10, solo guitar & vocals
Wednesday- Bally Hoo, 7-9, Sol Rockers band
Thursday-Sunset Grill 7-9
Friday- Iguana Bar-7-9, solo guitar & vocals

Iguana's is planning a special Menu of Mexican Food
On the internet in the past 24 hours...
You don't have to give any info to vote, and it takes you right to the Isla Animals option. Very easy.
Like · · Follow Post · Share
Green Verde will offer delivery at the hours below beginning Sept. 18 (Wednesday) Their menu is HERE
Greenverde Oscar Flores
Merca Isla
Logan Day

Good bye for this year my Big Fish Friends...safe travels see you next spring
Playa Norte

now in real time in Isla Mujeres
"Time Lapse" of Playa Norte Webcam: LINK
.
.