..This is the live webcam at North Beach / Playa Norte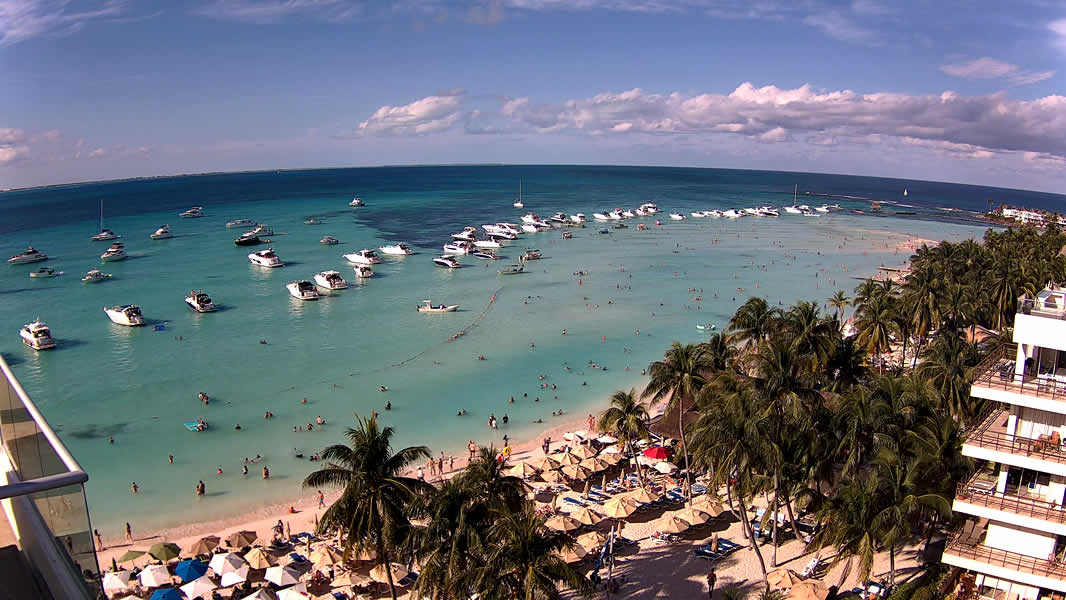 .
The "Morning Edition" has translated headlines & newspaper photos. This Afternoon Edition has translations of the articles, Daily Events & Live Music Schedules & the "Around the Internet in the Past 24 Hours" section including photos & info from individuals & local businesses ....

Daily In Isla Mujeres.

There are always links to the original articles in Spanish.
Boyfriend suspected in homicide: Allegedly caught last ferry on Tuesday
Agapito notes successful program: "Recycle Trash For Groceries"
Tvisla Mujeres
Kindergartens resume classes!
Noticias de Quequi......
New hospital at 80%
INFRAESTRUCTURA

0

20 de septiembre de 2013

---

Por Carlos Gasca > Quequi.-

INSFRAESTRUCTURA

0

20 de septiembre de 2013

---

Por Carlos Gasca > Quequi.- The owner of Hotel Na Balam and Fenix Lounge, Santiago Robles Martinez, said he was taken by surprise by the bridge construction at the Avalon Reef Hotel. He said he is outraged because this will affect Na Balam's beach club, Fenix Lounge, and the Avalon Reef hotel has not been willing to show him their permits. He sought information from the representative of PROFEPA,Ludivina Menchaca Castellanos, who he said was also surprised to hear of the construction, and planned to send an inspector by Saturday, Sept. 21st. He says construction of this bridge will block a large part of the concession to the federal zone that he has held for years, and it is his responsibility to report any problems. He also invites other federal, state, and municipal authorities to review the work, and to close it down if it is not within the laws, including the agencies SEMARNAT, ZOFEMAT, PROFEPA, API, SCT, and the Harbor Master.
Latest government report delivered
SIPSE
Record breaking season of sea turtle protection
Diario La Verdad
Entrance of tropical sea air persists in Isla Mujeres
It has been mostly sunny in Isla Mujeres Thursday, Friday, and this morning, without rain, but with occasional dark clouds passing through
. This report says the tropical maritime air is bringing hot weather and scattered showers to the Yucatan Peninsula.
por esto
Middle schools join kindergartens in work stoppage
Secundarias se unen al paro de labores en preescolares
[+]
Ver mas
Public works improve the image of the island, tho few
Pocas pero sí se hicieron obras para impulsar la imagen
[+]
Ver mas
Death from asphyxiation, not from abdominal wound
Murió por asfixia no por la herida en el abdomen
+]
Ver mas

This blog is brought to you by....
MaraVilla Caribe

Bed & Beach

Three rentals with large glass doors overlooking our white sand beach and the beautiful Caribbean sea, with kitchenettes &

free WIFI.

In the coastal neighborhood of Bachilleres, among upscale villas & boutique hotelitos, convenient to downtown or the colonias, yet separate.

Quiet & Private.




Free amenities such as hammocks, bikes, outdoor shower, portable beach chairs & beach towels, washer, loungers & BBQ.

Breathtaking panoramic views from the rooftop terrace. Upstairs room also available.

Downtown is ~ a mile away; if you don't feel like walking or biking, flag a $2 taxi or hop on the bus. We also have room for parking,

You can enjoy the music & crowds downtown, then come home our quiet neighborhood of Bachilleres where you'll

sleep to the sounds of the sea.

.

$275/$325/$425 wk $40/50/$65nt Monthly Discounts

View from rooms
Small room
Large room
Fine dining a few steps away at Da Luisa or try the traditional neighborhood eateries a couple blocks farther. Stroll five minutes down the coastal sidewalk to Mango Cafe or Monchi's,shop at Chedraui or visit restaurants, bars, & beach clubs; minutes away by bike or on foot. Our guests recommend the Yoga classes a couple villas away at hotelito Casa Ixchel. Fresh juice, produce & tortillas a few blocks away in the village, as well as a pharmacy and variety of other stores and small local restaurants
UPCOMING EVENTS
Sunset 6:45
Sept 21Moonrise 8:20
Sept 22 9:04
Sept. 30 Change of Municipal Government
Saturday's Live Music:

EARLY SHOWS
Fenix:
3-5 Frequencia Tropical Latin Reggae & Cumbia

Chuuk Kay: 3:30-6:30 Banda Sin Nombre LINK
Casa de los Suenos: 4-7 w 1/2 price appetizers LINK LINK
Iguanas: 6:30-8:30 Frequencia Tropical w BBQ ribs, steaks,etc LINK LINK
Brisas Grill: ~7p Cuban trio LINK
Sunset Grill: Sunset Keyboard & vocals LINK

A LITTLE LATER....
Fenix: 8-10 Latin Jazz w Fabio
LINK
Faynes 8-10 Raul Alexis LINK
Comono 8:30-11 Marco LINK
Poc Na ?

Link


Ocean Blues & Sassy Jazz 8-10 La Guera & Willy's Blues LINK




LATE NIGHT


Fenix 10:30-2 Guest DJ & Fire Show LINK
Faynes 10:30-12 Banda Sin Nombre LINK
La Terraza 10p-close Salsa & Latin LINK
Poc Na

Link
Banda Sin Nombre: Schedule for September:
Chuuk Kay: Saturday and Sunday 3:30-5:30
Fayne's: Thursday-Saturday 10:15-12:15
On the internet in the past 24 hours...
Photo & Caption by Bruce....
(Their Catrina skeleton awaits new clothes)
Tomorrow Saturday -- Mañana Sabado @
Fenix Lounge
Beach Club -- Here Comes the Sun! ::
Frecuencia Tropical
- Cumbia Reggae Band 3-5PM :: Dinner Latin Jazz with
Fabio 8PM-10PM :: Dancing + Drinks All Night with DJ Mandrak Diy 10:30PM-2AM + Live Fire Poi Show with Rebeca! :: Sunday -- Domingo Live Salsa with ¡Asere Que Bola! + FREE Chilpachole Pa' la Cruda! :: See You There -- No Falten!
Fenix Lounge updated their cover photo. —

This photo is probably by Caribe on Canvas



Chuuk Kay Restaurant Isla Mujeres

No deje de visitarnos los esperamos recuerde música viva, grandes sorpresas, cubetazos y el mejor tokinxik .

It says...Be sure to visit us and remember we have live music, big surprises, buckets of beer, and the best tikinxik.
You don't have to give any info to vote, and it takes you right to the Isla Animals option. Very easy! Click this link:
Please Help My Animal Shelter Win
Playa Norte

now in real time in Isla Mujeres
"Time Lapse" of Playa Norte Webcam: LINK
.
.