..This is the live webcam at North Beach / Playa Norte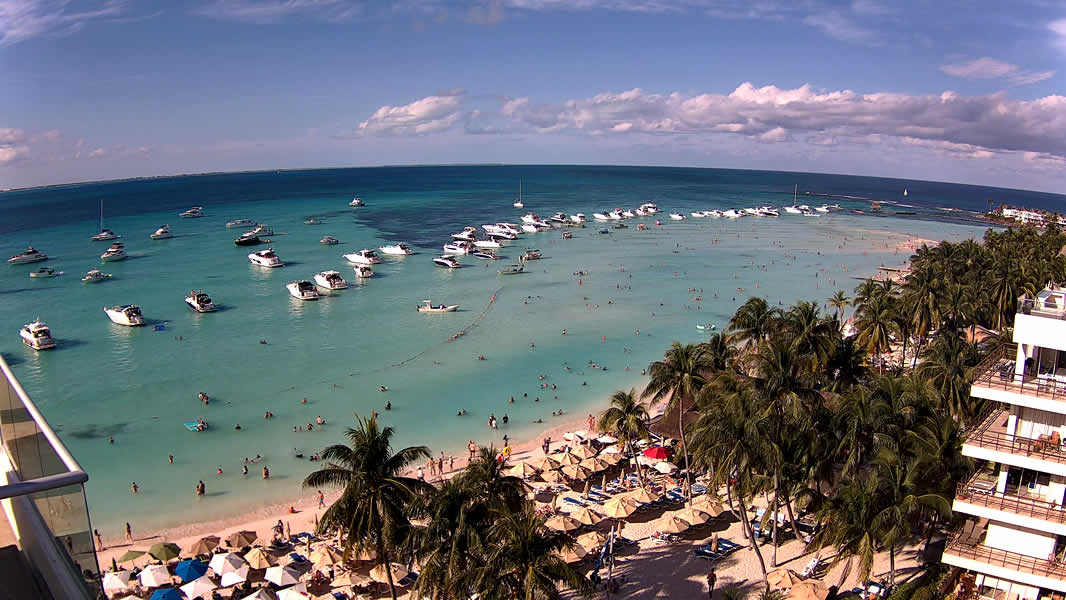 .
The "Morning Edition" has translated headlines & newspaper photos. This Afternoon Edition has translations of the articles, Daily Events & Live Music Schedules & the "Around the Internet in the Past 24 Hours" section including photos & info from individuals & local businesses ....

Daily In Isla Mujeres.

There are always links to the original articles in Spanish.


Commercial fishermen lose a million pesos from inclement weather
Baltazar Gomez Catzin, president of Social Justicia fishing cooperative, says the commercial fishermen have lost about a million pesos due to the inclement weather of the past eight days, which makes it hard for the fishermen to support their families. This represents a loss of income of about 200,000 pesos for each of the cooperatives, which is a deficit of a million pesos a day (falta de ingresos por alrededor de 200 mil pesos cada una, lo que significa un déficit de casi un millón de pesos al día.). He explained that daily there is 50 kilos of lobster brought in by the members, and about 100 kilos of fish, which can be less but that is normal, and if you multiply that between the five cooperatives, that is a loss of almost a million pesos daily. (

Lobster tails are 400/kilo and live lobster 200/kilo...so using 300p/kilo x 50 kilos is 15,000 pesos. Fish sells ~50p kilo (some are less, filets are more) x 100 is 5000pesos. So that is 20,000 pesos times fifty boats would equal a million pesos. However, when calculating "losses" one must consider that every season will include "x" number of days when inclement weather prohibits fishing. With an exchange rate of 12, a million pesos is 83,333 US dollars.)
The photos of public works published yesterday that he posted on Facebook will be included in his Informe
)
Tvisla Mujeres
Continuing rain in all of the Yucatan peninsula
Noticias de Quequi......
"Aviadores"
(refers to the departing bureaucrats...literally it means aviators)
want compensation without working
Gobierno

0

18 de septiembre de 2013

---

Por Carlos Gasca > Quequi.-

Urging preschool teachers to end strike

Educación

0

18 de septiembre de 2013

---

Por Carlos Gasca.-

.

Professor

, Gilberto

Avalos

Galué

,

representative of

the Ministry of

Education and

Culture of the Government

of the state, urged preschool teachers to end their strike which is affecting hundreds of children in the municipality. In Isla Mujeres, 80% of the schools are operating normally and only the preschool classes have not resumed. He said the government has guaranteed their rights and reached agreement with the union and with the Comité de Lucha, which this dissident group is ignoring. He said there is a partisan issue among these non PRI teachers, but they are ignoring agreements signed and endorsed by the strike committee. He said many of the requests were met fully and now they are failing to keep the agreement and therefore not only risking loss of their pay but also their jobs.
Partial resumption of classes
SIPSE
Mayor to give "informe" today
Alcalde de Isla Mujeres rinde informe mañana
Diario La Verdad
por esto
Enforcement agency in the "Month of Hidalgo"
Fiscales en el "mes de Hidalgo"
[+]
Ver mas
Literally an Hidalgo was a person of lower nobility who was usually exempt from taxes, and typically the term refereed to noblemen who lacked property. (Since only first sons inherited property, the other sons, and their sons for some generations, would be Hidalgos. As would noblemen whose families had lost their estates.) Hidalgos were known to disdain physical work and preferred to work in administrative capacities. I can't explain "Mes de Hidalgo" & don't know if the term relates to this information. The Spaniard who discovered Isla Mujeres was an Hidalgo, who had acquired property in Cuba.
Opposition to paying "freeloaders": The resources are needed for public investment
Nada de regalar dinero a zánganos vividores; recursos se necesitan para inversión pública
+]
Ver mas
Cases of dengue increase
Se incrementan casos de dengue
[+]
Ver mas
As of the 36th week of year, the combined number of cases of dengue on the mainland area and the island has reached fourteen, of which 12 were dengue fever and 2 were hemorrhagic. The spraying and monitoring for potential mosquito breeding sites has resumed the public schools which opened this week. The municipality has a low rate of dengue compared to last year, but it is important to keep potential mosquito breeding areas clean, because there is usually more rain in September and October.
Usually there are more cases in the mainland part of the municipality
.

This blog is brought to you by....
MaraVilla Caribe

Bed & Beach

Three rentals with large glass doors overlooking our white sand beach and the beautiful Caribbean sea, with kitchenettes &

free WIFI.

In the coastal neighborhood of Bachilleres, among upscale villas & boutique hotelitos, convenient to downtown or the colonias, yet separate.

Quiet & Private.




Free amenities such as hammocks, bikes, outdoor shower, portable beach chairs & beach towels, washer, loungers & BBQ.

Breathtaking panoramic views from the rooftop terrace. Upstairs room also available.

Downtown is ~ a mile away; if you don't feel like walking or biking, flag a $2 taxi or hop on the bus. We also have room for parking,

You can enjoy the music & crowds downtown, then come home our quiet neighborhood of Bachilleres where you'll

sleep to the sounds of the sea.

.

$275/$325/$425 wk $40/50/$65nt Monthly Discounts

View from rooms
Small room
Large room
Fine dining a few steps away at Da Luisa or try the traditional neighborhood eateries a couple blocks farther. Stroll five minutes down the coastal sidewalk to Mango Cafe or Monchi's,shop at Chedraui or visit restaurants, bars, & beach clubs; minutes away by bike or on foot. Our guests recommend the Yoga classes a couple villas away at hotelito Casa Ixchel. Fresh juice, produce & tortillas a few blocks away in the village, as well as a pharmacy and variety of other stores and small local restaurants
UPCOMING EVENTS
TONIGHT Sept. 19 6:55pm Moonrise (Sunset 6:45)
Sept. 30 Change of Municipal Government
Live Music
In Isla Mujeres on Thursdays
EARLY
The Joint

1-4 Marco-Reggae LINK
Casa de los Suenos

4-7 Banda Sin Nombre Half priced appetizers
LINK
f
Iguanas

6:30-8:30 Varies/Jazz,Caribbean
LINK
Fb
Cancelled...Sunset Grill

6-7:30 John Cain
LINK
~8p
Fenix:
Thurs-Sun
8-10 Latin Jazz w/Fabio LINK
Faynes

8-10 Raul Alexis
LINK
El Patio

8:30-11 La Guera & Willys Blues
LINK
Late
Faynes Banda Sin Nombre

10:30-12:15
LINK
Banda Sin Nombre: Schedule for September:
Chuuk Kay: Saturday and Sunday 3:30-5:30
Fayne's: Thursday-Saturday 10:15-12:15
On the internet in the past 24 hours...
Shawn Heinrichs created stunning images of whale sharks with fashion models in an effort to raise awareness about whale sharks needing protection, and part of the proceeds of the sales of the images benefits WildAid. This article talks about taking the pictures & the controversy surrounding whale shark tourism in the Philippines.
LINK
Meanwhile, here in Isla Mujeres, baby turtles emerging from a nest....If you can't see it here is the LINK posted Sept 18 by Mario Amaya Magana
The sun is shining this morning in Isla Mujeres....
.shp
It's the full moon, so watch out for the blue crabs migrating in Sac Bajo and along the Caribbean Road. This graphic from Amigos of Isla Contoy encourages you to help crocodiles return to their homes by calling 066
You don't have to give any info to vote, and it takes you right to the Isla Animals option. Very easy! UNTIL OCT 13..Click this link:
Please Help My Animal Shelter Win
Green Verde started offering delivery at the hours below YESTERDAY Their menu is HERE
Greenverde Oscar Flores
Merca Isla
Working Saturdays 9am-2pm in September..Month of wills
Playa Norte

now in real time in Isla Mujeres
"Time Lapse" of Playa Norte Webcam: LINK
.
.