..This is the live webcam at North Beach / Playa Norte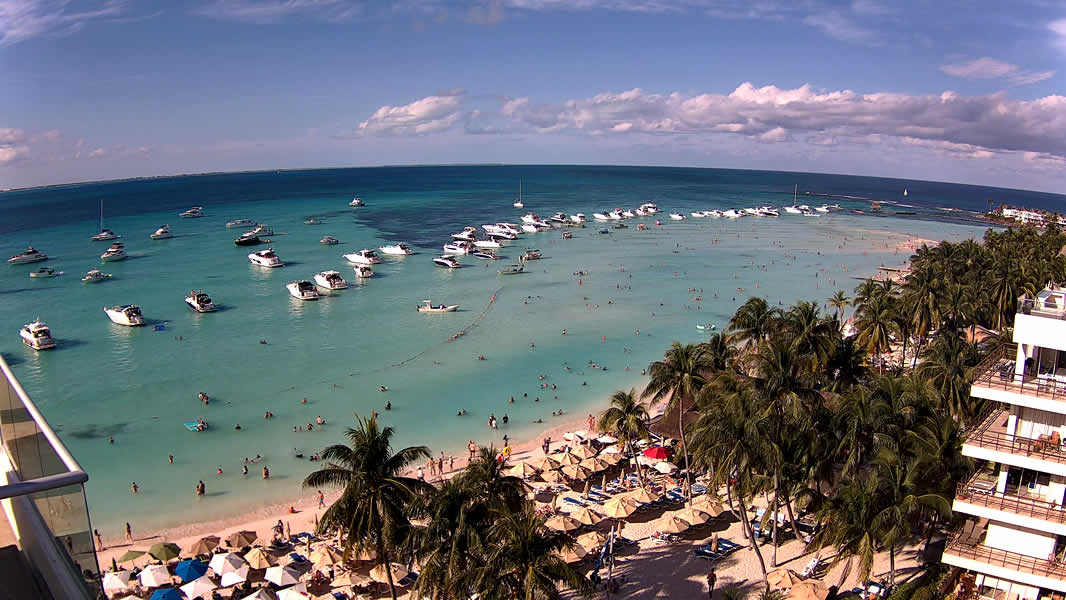 .
The "Morning Edition" has translated headlines & newspaper photos. This Afternoon Edition has translations of the articles, Daily Events & Live Music Schedules & the "Around the Internet in the Past 24 Hours" section including photos & info from individuals & local businesses ....

Daily In Isla Mujeres.

There are always links to the original articles in Spanish.


Primary school adds extra day: Making up missed classes
Since last week the primary school Julio Sauri Espinosa has been having classes scheduled on Saturdays, as though it were a normal school day, to make up for time lost during the strike. This will consist of a total of eight Saturdays to make up forty hours. Parents who said they could not bring their children on Saturdays were offered the option of having the children depart daily at 12:15pm instead of 11:15am. The primary school Cesar Mendoza scheduled Saturday classes after a meeting with parents. Some parents objected and others accused them of not wanting to get up early on Saturdays, but it was agreed that the classes will begin this weekend and continue throughout October.
No restrictions for the registered fishermen to use the Isla Contoy camp
Tvisla Mujeres
Noticias de Quequi......
PROFEPA ordered the demolition of the (

second

) pier at Avalon reef

The Avalon Reef Hotel began building a second bridge, and the manager of a nearby property asked to see the permits. When the hotel was unwilling, Santiago Robles Martinez filed a complaint with PROFEPA, the environmental authority, because the bridge being built in the Federal Zone would affect the beach club Fenix Lounge. PROFEPA ordered its immediate removal, because there was no permission sought or given. The Avalon Reef tore down the work and continued with repairs on their old dock, which serves as the only access to the property.
---
SIPSE
Diario La Verdad
por esto
Undocumented men received aid
Indocumentados reciben ayuda
+]
Ver mas
Making up the lost time
Recuperan el tiempo perdido

Ver mas

This blog is brought to you by....
MaraVilla Caribe

Bed & Beach

Three rentals with large glass doors overlooking our white sand beach and the beautiful Caribbean sea, with kitchenettes &

free WIFI.

In the coastal neighborhood of Bachilleres, among upscale villas & boutique hotelitos, convenient to downtown or the colonias, yet separate.

Quiet & Private.




Free amenities such as hammocks, bikes, outdoor shower, portable beach chairs & beach towels, washer, loungers & BBQ.

Breathtaking panoramic views from the rooftop terrace. Upstairs room also available.

Downtown is ~ a mile away; if you don't feel like walking or biking, flag a $2 taxi or hop on the bus. We also have room for parking,

You can enjoy the music & crowds downtown, then come home our quiet neighborhood of Bachilleres where you'll

sleep to the sounds of the sea.

.

$275/$325/$425 wk $40/50/$65nt Monthly Discounts

View from rooms
Small room
Large room
Fine dining a few steps away at Da Luisa or try the traditional neighborhood eateries a couple blocks farther. Stroll five minutes down the coastal sidewalk to Mango Cafe or Monchi's,shop at Chedraui or visit restaurants, bars, & beach clubs; minutes away by bike or on foot. Our guests recommend the Yoga classes a couple villas away at hotelito Casa Ixchel. Fresh juice, produce & tortillas a few blocks away in the village, as well as a pharmacy and variety of other stores and small local restaurants
UPCOMING EVENTS
The Inauguration of the new Mayor is tonight on the town square with the event beginning at 11:30pm.
Sept. 30 Change of Municipal Government
I will be working on this section for October-November. There is usually a Mayan-Caribbean Cultural Festival, and of course Day of the Dead, which lasts over a week here as Hanal Pixan.
At the end of November is the town saint celebration. Then in early December is the Virgin of Guadalupe festival which begins the Christmas holidays that continue into January and the Day of Kings.
Live Music on Sundays
EARLY SHOWS
The Joint: 1-4 Marco (Reggae) LINK
Casa de los Suenos 4-7 & Half Price Appetizers LINKLINK
Chuuk Kay: 3:30-6:30 Banda Sin Nombre LINK
Fenix: 3-5 Asere que Bola!

Free Chipachole

LINK

A LITTLE LATER....
Iguanas: Latin/Caribbean/Mx ~6p-8p LINK LINK
Brisas Grill: ?? ~dusk? Cuban trio? LINK
Sunset Grill: Sunset vocal & keyboard LINK
Faynes ?8-10 Raul Alexis LINK
Comono/El Patio

8:30 - 11 pm

? LINK
LATE NIGHT
Faynes 10:30-12 ? Banda Sin Nombre LINK

Poc Na ? Link

Tres Mentiras ? LINK
Cafe del mar ? LINK
La Catrina ? LINK
Banda Sin Nombre: Schedule for September:
Chuuk Kay: Saturday and Sunday 3:30-5:30
Fayne's: Thursday-Saturday 10:15-12:15
John Cain's current schedule is
Tuesdays at Cafe Del Mar
Wednesday at Bally Hoo with Sol Rockers.
Friday at Iguana Bar
Saturday at Sunset Grill
These start around 6:30 or 7 and last a couple hours
On the internet in the past 24 hours...
Fredy's restaurant by Caribe on Canvas
Caribe On Canvas

Ceviche and a cold beer at Picus would sure be a great way to spend lunch time today!
Healthcare options in Mexico
HERE
is an article in English by an expat who uses the IMSS for healthcare, with private docs and a catastrophic coverage plan. IMSS insurance fees are ~ $625usd (~7500pesos) yearly per family, with no copays or deductibles. (
There are some things it doesn't cover at first, whose coverage is phased in.)
Taken last year.by .Doris Nielsen Nickel .
— in Isla Mujeres.
Inauguration on Town square tonight at 11pm
Katie Cain Land Yoga Move is back- Gentle Yoga Move class is moving to a new location at El Milagros Marina and Hotel. Classes will resume Tuesday, October, 1.

Classes will be in the air conditioned movie theater on Tuesday and Thursday at 9AM. Saturday classes will be dependent on the number of students, at least three, until late October.Please bring a mat, some are available. Props are provided. Water is a must! Please contact me for more information.Namaste
Stuffed squash...That is a common local squash. (Squash is one of the 'three sisters' of Mesoamerican food..Beans, corn, & squash.)
These were for sale yesterday evening by delivery for 7 pesos each...they are filled with ground beef!
Genni AguilarMerca Isla

Para hoy ricos conitos rellenos de carne molidaa!!A partir de las 5pm hagan sus pedidos, por esta via, inbox, whatsapp 9981614873 o a mi casa 2742528 Servicio a domicilio
You don't have to give any info to vote, and it takes you right to the Isla Animals option. Very easy! Click this link:
Please Help My Animal Shelter Win
This LINK isn't from Isla Mujeres .... it is from the Grand Cayman's ...fascinating footage of coral spawning!
Leslie Woodbridge
Conchinta torta....que rico! From Manolitos
Playa Norte

now in real time in Isla Mujeres
"Time Lapse" of Playa Norte Webcam: LINK
.
.