..This is the live webcam at North Beach / Playa Norte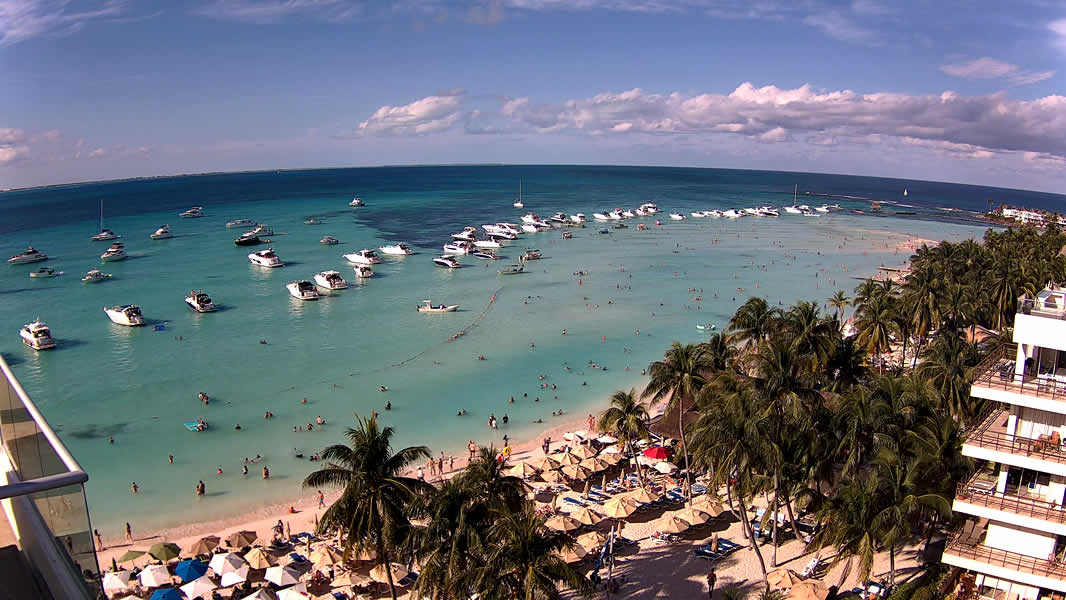 .
The "Morning Edition" has translated headlines & newspaper photos. This Afternoon Edition has translations of the articles, Daily Events & Live Music Schedules & the "Around the Internet in the Past 24 Hours" section including photos & info from individuals & local businesses ....

Daily In Isla Mujeres.

There are always links to the original articles in Spanish.
50% fewer lobsters caught
During recent weeks production has been decreasing
The fishermen reported an excellent beginning of the season in July, but over the weeks, production has been declining, which is attributed to factors such as the weather and poaching during the four month ban on lobster fishing. During the month of July, the cooperative "Caribe" collected 2910 kilos, (of which 85 kilos were tails and 2125 kilos were live lobster), while last year in July they harvested 1836 kilos. In August this year they got 2350 kilos (of which 641 kilos were tails and 1392 were live lobster), while last August they captured 2500 kilos. These days while they are restricted to port by weather, they have been mending their nets. They say they never lose faith that there are better times to come and they will be able to go out to work to provide for their families.
So, compared to last year:
July: 1074 more kilos
August: 150 less kilos
That means this year in July and August, Caribe coop caught 924

MORE

kilos than last year, which is nearly a tonne of lobster.
Whale shark season ends Sept 17th
Licensees will have a Mass
on Sept 18th

to give thanks for this season
Car: from 256 to 279 pesos, with a 10% resident discount available
Vans & pick up trucks: from 342 to 373 pesos with a 10% resident discount available
Minibus: from 447 to 487 pesos
Rates are given in the article for larger trucks.
Rates for motorcycles and bikes will remain at 87 and 82 pesos respectively, and passenger rates are unchanged at 38 pesos, and 35 for residents.
Tvisla Mujeres
Poor weather at the closure of whale shark season
The Harbor Master said the whale shark tour boats have been restricted to port since Tuesday, due to poor weather conditions from tropical wave #19, which may continue to affect them until the season officially closes on Sept 17. There are 243 permit holders in the region of which 135 are from Isla Mujeres, 83 are from Holbox, and 25 are from Cancun. Many have concluded their season, but some are hoping for good weather on Sunday, so they can take advantage of the last two days of the season. Harbor master Ismael Gonzalez Gil said on Saturday night it will be decided whether the port will be closed on Sunday. He said that he also restricted the boats over 40 feet, because the waves are larger out at that distance, and his intention is to keep tourists safe who want to swim with the world's largest fish.
More than 60,0000 hatchlings liberated
A release was scheduled for yesterday, Saturday, with the senior citizens participating. Previously this season 60,000 turtles have been released. There have been 1425 nests rescued with a total of 165,351 eggs, which is a significant increase.
Noticias de Quequi......
Increase in ferry rate for compact cars
TRANSPORTE

0

14 de septiembre de 2013

---

Por Carlos Gasca > Quequi.-

Fishermen losing hope of assistance

SUBSIDIO

0

14 de septiembre de 2013

---

Por Carlos Gasca > Quequi.- With the municipal economic crisis, the fishermen have given up hope of receiving aid from the City, but there is a state and federal program that may provide the ~200 fishermen with employment during the four months when lobster fishing is banned from March through June. It will be developed thru the Ministry of Social Development SEDESOL. The fishermen will be hired to clean up and rehabilitate beaches for minimum wages.
Increase in rates for vehicle ferry
Complaint about high school fee
An anonymous woman who said she is a parent of a high school student showed a receipt to the reporter for 350 pesos, which she said was required after they had already paid their school fees. It says "parental contribution" and has the signature of the Bachilleres school director. She says that educational authorities should intervene because this fee was not agreed upon by the parents.
SIPSE
Diario La Verdad
por esto
Increase in ferry rate for compact vehicles
A la alza tarifa a vehículos compactos
. [+]
Ver mas
Everything is ready for the Independence Day "Grito"
Todo listo para dar el "Grito"
[+]
Ver mas
Preparing to have a Mass for the kindness of the seas
Preparan misa por las bondades marítimas
+]
Ver mas
Unlike the small hotels, the all-inclusive hotels have an occupancy rate of 70-75%
A diferencia de los hoteles más pequeños, los Todo Incluido aún tienen ocupación de 70-75 %
[+]
Ver mas

This blog is brought to you by....
MaraVilla Caribe

Bed & Beach

Three rentals with large glass doors overlooking our white sand beach and the beautiful Caribbean sea, with kitchenettes &

free WIFI.

In the coastal neighborhood of Bachilleres, among upscale villas & boutique hotelitos, convenient to downtown or the colonias, yet separate.

Quiet & Private.




Free amenities such as hammocks, bikes, outdoor shower, portable beach chairs & beach towels, washer, loungers & BBQ.

Breathtaking panoramic views from the rooftop terrace. Upstairs room also available.

Downtown is ~ a mile away; if you don't feel like walking or biking, flag a $2 taxi or hop on the bus. We also have room for parking,

You can enjoy the music & crowds downtown, then come home our quiet neighborhood of Bachilleres where you'll

sleep to the sounds of the sea.

.

$275/$325/$425 wk $40/50/$65nt Monthly Discounts

View from rooms
Small room
Large room
Fine dining a few steps away at Da Luisa or try the traditional neighborhood eateries a couple blocks farther. Stroll five minutes down the coastal sidewalk to Mango Cafe or Monchi's,shop at Chedraui or visit restaurants, bars, & beach clubs; minutes away by bike or on foot. Our guests recommend the Yoga classes a couple villas away at hotelito Casa Ixchel. Fresh juice, produce & tortillas a few blocks away in the village, as well as a pharmacy and variety of other stores and small local restaurants
UPCOMING EVENTS
This is the Holiday Weekend for Mexican Independence Day
Grito: traditonal on town squares throughout Mexico (link)

TODAY! Sept 15th on Town Square:
Tables available (300p)
9p Cultural Soiree
Ambassadors, local artists, folk dancing
10:30 or 11pm Independence Ceremony
Fireworks
~11:30 Live Music....Dance with Super Crack band

Monday, Sept.16 8:30am Parade Main Street Rueda Medina
Sept. 19 6:55pm Moonrise (Sunset 6:45)
Sept. 30 Change of Municipal Government
Live Music on Sundays
EARLY SHOWS
The Joint: 1-4 Marco (Reggae) LINK
Casa de los Suenos 4-7 & Half Price Appetizers LINKLINK
Chuuk Kay: 3:30-6:30 Banda Sin Nombre LINK
Fenix: 3-5 Asere que Bola!

Free Chipachole

LINK

A LITTLE LATER....
Iguanas: Latin/Caribbean/Mx ~6p-8p LINK LINK
Brisas Grill: ?? ~dusk? Cuban trio? LINK
Sunset Grill: Sunset vocal & keyboard LINK
Bahia Tortuga: 7p Salsa LINK
Faynes 8-10 Raul Alexis LINK
Comono/El Patio

8:30 - 11 pm

- La Guera & Willys Blues LINK
LATE NIGHT
Faynes 10:30-12 Banda Sin Nombre LINK

Poc Na ? Link

Tres Mentiras ? LINK
Cafe del mar ? LINK
La Catrina ? LINK
Iguana's is planning a special Menu of Mexican Food
On the internet in the past 24 hours...
You don't have to give any info to vote, and it takes you right to the Isla Animals option. Very easy!
Green Verde will offer delivery at the hours below beginning Sept. 18 (Wednesday) Their menu is HERE
Greenverde Oscar Flores
Merca Isla
Isla Mujeres

Jardín Escultórico de Punta Sur.

Punta Sur's outdoor Sculpture Garden.
Selling Sandwichon after 2pm: Whole square 25p, half square 15p
Isla mujeres liberacion de tortugas
Sept 14, 2013
Playa Norte

now in real time in Isla Mujeres
"Time Lapse" of Playa Norte Webcam: LINK
.
.