..This is the live webcam at North Beach / Playa Norte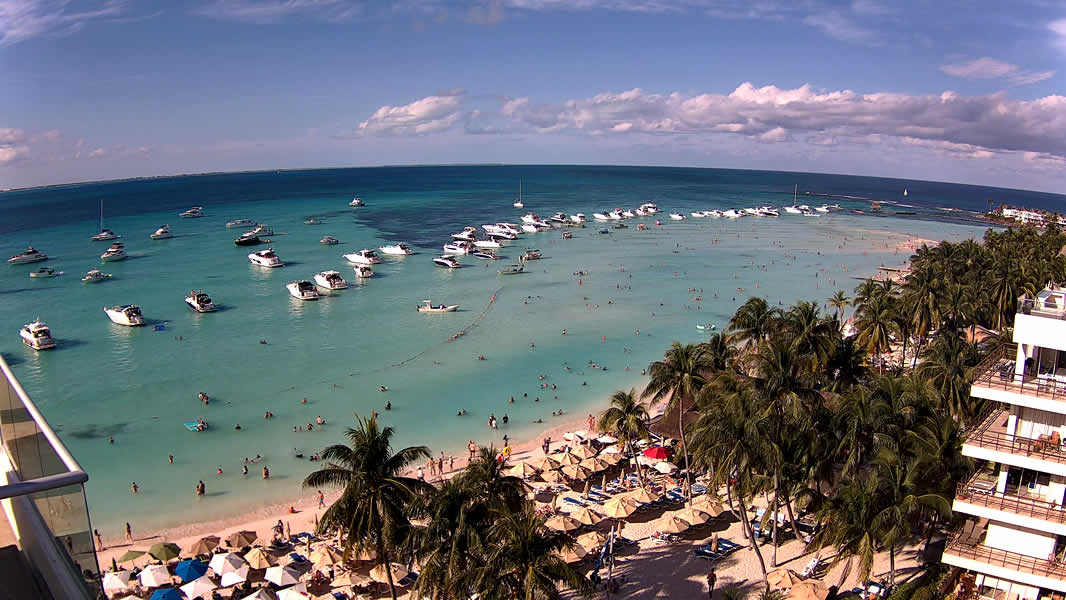 .
Fire In Continental Isla Mujeres Near Francisco May
The Director of Civil Protection of Isla Mujeres reported they are fighting a forest fire that is located within a kilometer of the town of Franciso May, near Chechen Ha. The area of fire has increased to ~30 hectares and it is in the township of Lazaro Cardenas, but the nearest access is at the town of Francisco May, in the continental zone of Isla Mujeres. The Director, Sulu Martinez, urged farmers and loggers to not cause these outbreaks, reminding them that this is prohibited at this time of year by state and federal laws, and can result in a jail sentence. It is being for by the National Forestry Commision (CONAFOR) in coordination with the State Forestry Institute of Quintana Roo (INFOQROO) and being affected by changing winds. Source:
Diario Q Roo/M
anuel Valdez
Treasure Hunt & Cultural Event
On the morning of Sunday, April 28, there will be a cultural event for families called "The Hidden Treasure of Mundaca", by the Parks & Museums agency in coordination with PAMAR, (Program for Children and Teens at Risk) and the DIF. The children will learn about the story of Mundaca and participate in a treasure hunt, and have refreshments. The families will do some cleaning of the natural areas, and will be planting plants. The event begins at 8am and invitations have been extended at the grade schools of the island. Source
: Diario Q Roo/
Manuel Valdez
New Alderman Replaces Gasca
On Monday afternoon at the 30th Ordinary Session of the City Council, Pedro Fuentes Ordoñez was sworn in as the ninth Alderman, to replace Edgar Gasca Arceo, who left office Sunday, to submit an application for a 90 day license to compete in the upcoming elections, which was approved on Thursday Source:
Diario Q Roo
/Manuel Valdez
Silvia Sánchez Navarro resigned from the District 14 Electoral Council.
Source:
Quintanarroens
e/Ovidio Lopez
Merchants Complain About Mobile Vendors
Diario Respuesta/J
esus Molina reports that there are merchants complaining about the number of mobile vendors, and they want the Enforcement agency to intervene. The merchants say there is a group of women from the state of Chiapas, called "Chapitas" who are all vending under one person's permit, and that their small children are participating. There are complaints of foreign women vending goods on Hidalgo in the evening illegally, and that people from Cancun sell all sorts of "goodies" to tourists on the beaches, mostly without permits. It is noted that many people are selling goods who do not have permits and do not live on the island, and unnamed merchants want the Enforcement agency to monitor the beaches to only allow vending by those who have licenses.
Waiter Arrested After Burglary
Twenty-three year old Germán Rodríguez Bonilla, originally from Tabasco, was arrested after a resident reported a home burglary. Local police were called at 10:25pm yesterday by a resident whose house is located near the gas station by the airport. The complainant reported the thief was wearing beige Bermuda shorts and a red shirt, and that very little time had passed since he left the house. Police began searching the weedy area near the home, and found the young man, who works as a waiter. He had stolen 300 pesos and belongings, which were returned to their owner. Subsequently, he was taken before the Public Prosecutor for the crime of burglary. Source:
Por Esto
Mild Absenteeism Monday Morning
Absenteeism on Monday at Isla Mujeres schools was ~15 percent as students returned to classes after 15 days of Easter Vacation
and the changeover to Daylight Savings Time
. One grade school teacher commented that some of the children arrived "listless", noting the normal pace of activities will quickly be resumed. In Isla Mujeres there are 756 preschool/kindergarten students, 2300 grade school students, 829 middle school students, and 348 high school students. Source
Por Esto
Bar Closure
Diario Respuesta/Jesus Molin
a reports a bar on Hidalgo was closed by the municipal Enforcement agency ( Dirección de Fiscalización) and has two closure seals on its doors from the Municipal Treasury department of Isla Mujeres, indicating a lack of documentation or fee payment. DR reports this bar is located where Mundaca Realty was formerly located and that it is run by Israelis. DR shares negative rumors about the bar from unnamed sources.
Recycling Trash & Receiving Food
Sunday morning more than 500 people lined up to exchange recyclable trash for basic food products, including local produce. This is part of the "Reciclando Basura por Alimentos" program of the state government and has been very well received by the Islanders. People have gotten into the habit of separating their recyclable trash to exchange at the next event. This program benefits the community in general and the most vulnerable families in particular. Source
: Diario Respuesta/
Jesus Molina

This blog is brought to you by....
MaraVilla Caribe

Bed & Beach

Three rentals with large glass doors overlooking our white sand beach and the beautiful Caribbean sea, with kitchenettes &

free WIFI.

In the coastal neighborhood of Bachilleres, among upscale villas & boutique hotelitos, convenient to downtown or the colonias, yet separate.

Quiet & Private.




Free amenities such as hammocks, bikes, outdoor shower, portable beach chairs & beach towels, washer, loungers & BBQ.

Breathtaking panoramic views from the rooftop terrace. Upstairs room also available.

Downtown is ~ a mile away; if you don't feel like walking or biking, flag a $2 taxi or hop on the bus. We also have room for parking,

You can enjoy the music & crowds downtown, then come home our quiet neighborhood of Bachilleres where you'll

sleep to the sounds of the sea.

.

$275/$325/$425 wk $40/50/$65nt Monthly Discounts

View from rooms
Small room
Large room
Fine dining a few steps away at Da Luisa or try the traditional neighborhood eateries a couple blocks farther. Stroll five minutes down the coastal sidewalk to Mango Cafe or Monchi's,shop at Chedraui or visit restaurants, bars, & beach clubs; minutes away by bike or on foot. Our guests recommend the Yoga classes a couple villas away at hotelito Casa Ixchel. Fresh juice, produce & tortillas a few blocks away in the village, as well as a pharmacy and variety of other stores and small local restaurants
Sunrise this morning from MVC B&B
On the internet in the past 24 hours...
"Time Lapse" of Playa Norte Webcam: LINK
Playa Norte

now in real time in Isla Mujeres
The Early Edition with the newspaper photographs and headlines is usually published around sunrise.
This Final Edition with the translated articles, plus original photos including the sunrise and the "Around the Internet in the Past 24 Hours" section usually publishes around
noon
.
Both blogs always have links to the original articles.
Usually if an article is "missing", it may have been published in another paper recently, and translated.in a previous post.
.