..This is the live webcam at North Beach / Playa Norte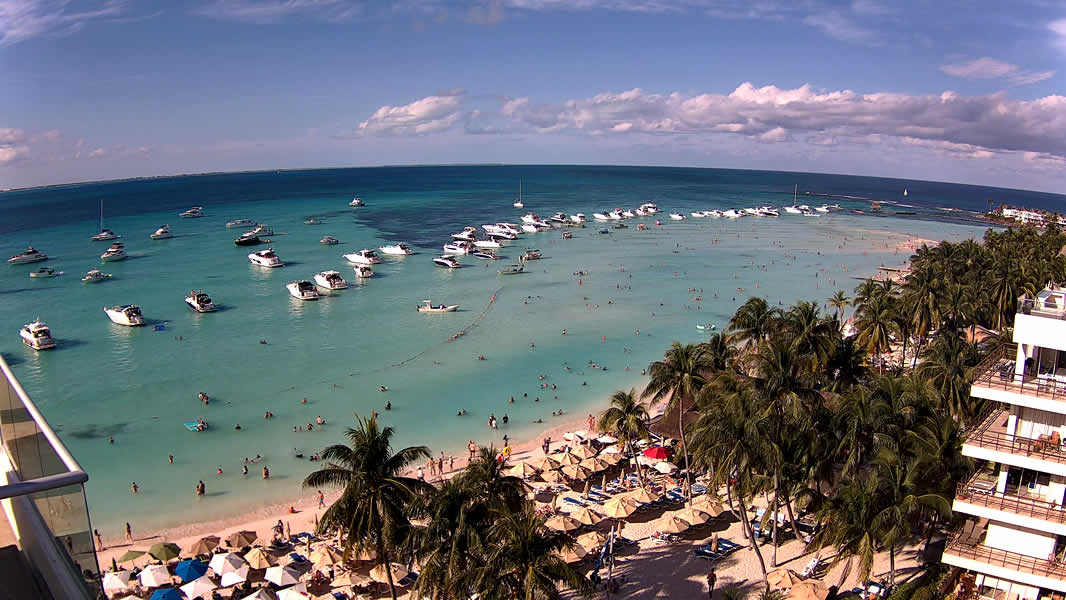 .
Teen In Critical Condition Following Accident
At 7:03pm on Saturday, in front of the cemetery near the irregular colonia of Guadalupana, eighteen year old José Daniel Villegas Canul skidded on his motorcycle and suffered a second degree head injury. It is presumed he lost control because of building material on the road and excessive speed. Paramedics took the unconscious teen to the General Hospital where he was stabilized before he was transferred to Cancun for more specialized care. According to reports he was traveling from south to north on a red Honda Biz without plates and had not consumed alcohol.The young man is in critical condition. The island is still awaiting delivery of the marine ambulance from state health authorities. . Source:
Diario Q Roo/M
anuel Valdez
No Increase In Vehicle Ferry Rates For Now
Although the vehicle ferry company invested more than three million pesos in maintenance of one of its ferries, they are not planning rate increases, explained the company's director Franco González Patrón. It is possible that before the end of the year, there will be an increase of six to seven percent. They spend about 400,000 pesos monthly on fuel, and they pay the Port Authority 500 pesos per berth, totaling close to 100,000 pesos per month. The director commented that dredging is needed in both Punta Sam and Isla Mujeres. Source:
Diario Q Roo/
Manuel Valdez
Free Birth Certificates For Children's Day
The last day to apply for free birth registration is April 22 and the documents will be given out to commemorate the Day of the Child on April 30. The child's age must not exceed six years and nine months, and parents must bring their identification and the child's certificate of live birth. This is part of the "Identity is my right" program and they expect about fifty children to benefit. So far applications have been filed for nine children from the island and fifteen from the mainland. Source:
Diario Q Roo/
Manuel Valdez
Initiative To Benefit Q Roo Islands
The initiative to provide greater support and infrastructure to islands, by adding a paragraph to Article 8 of the Constitution of Quintana Roo, has gained approval from the Legislature, and must now be ratified by the ten municipalities before it can become law. There are nearly 100,000 residents on the three islands of Mujeres, Cozumel, and Holbox. This bill is sponsored by Demetrio Celaya Cotero, who notes that the three islands together comprise about 564 square kilometers, of which Holbox is 80 square kilometers, Cozumel is 477 square kilometers, and
Isla Mujeres is 7 square kilometers
. Source:
SIPSE/Lanrry
Parra
"Saldo Blanco": Report of uneventful holiday season
The Easter Holiday season officially ended yesterday and the chief of police, Joaquin Poot said on the island and mainland there were 117 arrests, of which 91 were for administrative offenses addressed by the Qualifier Judge (Juez Calificador), while ten were turned over to the Prosecutor (Ministerio Público del Fuero Común ) and six were arrested for drugs and made available to the Special Prosecutor for Drug Trafficking Investigation.(
That adds up to 107
) During this holiday period from March 23 to April 7 there were 11 accidents, with most involving property damage only and no one was transported to the hospital with serious injuries. (
The first story from Diario Q Roo contradicts this
) At the checkpoints set up to prevent drunk drivers, where vehicles were held when their drivers were under the influence of alcohol, they secured 20 motorcycles and seven golf carts. The owners of these vehicles could have them back the next day when they showed their documents. The Department of Civil Protection reported that they only treated a wildfire. The Navy will draw up its report next week regarding operations in the municipality. Source
Por Esto
Back To School
On Monday, more that 4233 students return to school after enjoying more than two weeks of vacation for the Easter holidays. In Isla Mujeres there are 756 kindergarten/preschoolers, 2300 grade school students, 829 middle school students, and 348 high school students.The Ministry of Education reported that ~330 teachers returned to work on both the island and the mainland. They have 17 more days before the next long weekend holidays in May, which are called "puentes
" which literally means "bridges".
Source:
Por Esto
Jewelry Store Complaints
The director of Tourism, Jahil Hoth Perez, said there had been complaints against the jewelry stores from tourists and tenants regarding poor service and misrepresentation. The complaint of poor service at Taxco II was about rudeness, harassing tourists, and stealing customers from other businesses. PE said a manager has been caught drunk on the job, giving a poor impression, and prompting a tourist to complain. For
Taxqueñito
, the complaint involved being sold a valuable jewel, then realizing the product was of lower quality, which was resolved with returning the customer's money. The director of Tourism said establishments with a history of complaints will be punished by the Director of Urban Development and Auditing. ( Dirección de Desarrollo Urbano y Fiscalización). Por Esto says it is a shame that Isla Mujeres lacks a PROFECO office (Consumer Protection) and that these problems harm the image of the municipality. Source:
Por Esto

This blog is brought to you by....
MaraVilla Caribe

Bed & Beach

Three rentals with large glass doors overlooking our white sand beach and the beautiful Caribbean sea, with kitchenettes &

free WIFI.

In the coastal neighborhood of Bachilleres, among upscale villas & boutique hotelitos, convenient to downtown or the colonias, yet separate.

Quiet & Private.




Free amenities such as hammocks, bikes, outdoor shower, portable beach chairs & beach towels, washer, loungers & BBQ.

Breathtaking panoramic views from the rooftop terrace. Upstairs room also available.

Downtown is ~ a mile away; if you don't feel like walking or biking, flag a $2 taxi or hop on the bus. We also have room for parking,

You can enjoy the music & crowds downtown, then come home our quiet neighborhood of Bachilleres where you'll

sleep to the sounds of the sea.

.

$275/$325/$425 wk $40/50/$65nt Monthly Discounts

View from rooms
Small room
Large room
Fine dining a few steps away at Da Luisa or try the traditional neighborhood eateries a couple blocks farther. Stroll five minutes down the coastal sidewalk to Mango Cafe or Monchi's,shop at Chedraui or visit restaurants, bars, & beach clubs; minutes away by bike or on foot. Our guests recommend the Yoga classes a couple villas away at hotelito Casa Ixchel. Fresh juice, produce & tortillas a few blocks away in the village, as well as a pharmacy and variety of other stores and small local restaurants
Sunrise this morning from MVC B&B
The rising moon was a sliver of a crescent, that barely shows up in the photo below.
On the internet in the past 24 hours...
Virgilio FernandezmagañaRecuerdos de isla mujeres! Memories of Isla Mujeres

FIRST

TOURIST

PROVIDER

IN

ISLA MUJERES

!

Virgilio

"

El Chino" Fernandez,

in addition to writing

songs

to

our beautiful island

,

he was

a pioneer

of tourism in

northern

Q.Roo

.

-

In

this photograph from

the

year 1955

we see our

character

, teaching

diving

to a

foreign

tourist

in

a pen of

turtles

in the calm

waters

of the

"

Bay of

Isla Mujeres

."

-
Bruce:

Sailboat in the backyard. at MVC B&B
"Time Lapse" of Playa Norte Webcam: LINK
Playa Norte

now in real time in Isla Mujeres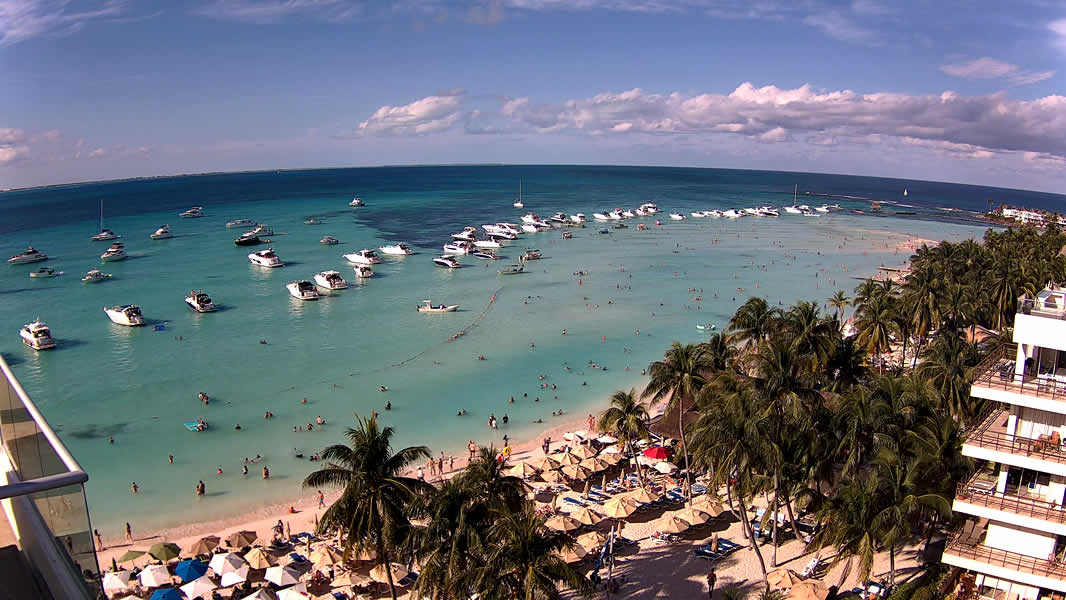 The Early Edition with the newspaper photographs and headlines is usually published around sunrise.
This Final Edition with the translated articles, plus original photos including the sunrise and the "Around the Internet in the Past 24 Hours" section usually publishes around
noon
.
Both blogs always have links to the original articles.
Usually if there is a headline in the Early Edition, but no information in the Final Edition, it was probably already translated recently.
.