This is the live webcam at North Beach / Playa Norte
Cahuameros aspired to the championship
Faced communication problems
Encouraging physical activity
200 athletes participate in recreational walk-race
Tvisla Mujeres
Here are some of the maneuvers that were done to keep the ZGas truck from falling into the sea, photo by TVIslaMujeres on Twitter.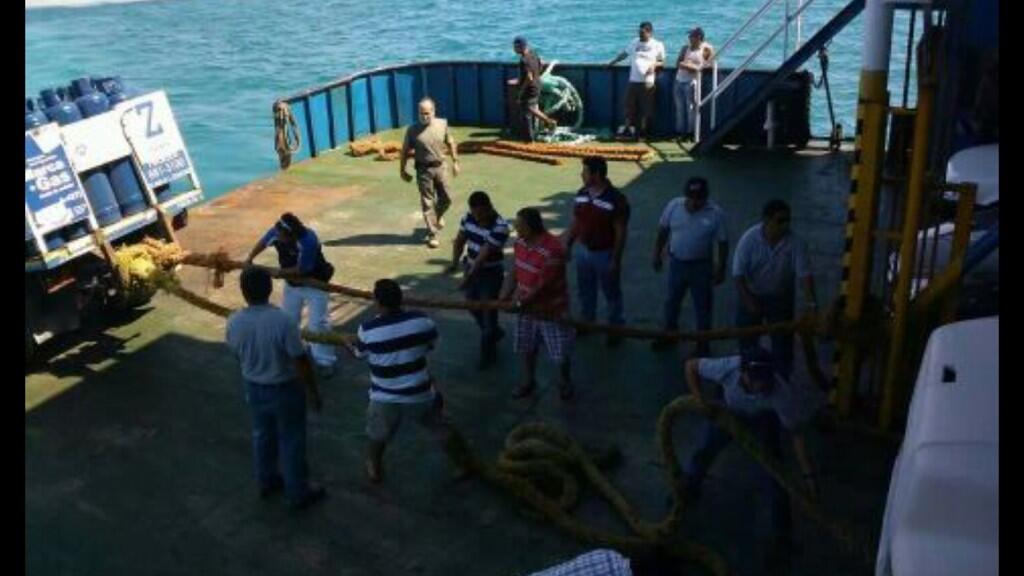 Noticias de Quequi......
Urge firm hand for vacant lots
Social

0

23 de marzo de 2014

---

Por Carlos Gasca > Quequi .-

Es necesario poner sanciones a quienes abandonen sus predios.




Accidente

Truck rescued from nearly falling into the sea

---

Por Carlos Gasca > Quequi .-

Un vehículo de Z gas no tenía freno de mano y quedó colgando del transbordador.
por esto
Cahuameros gave away the victory
Cahuameros regala el triunfo
[+]
Ver mas
Over 200 runners at the starting line
Banderazo de salida a más de 200 corredores
.. [+]
Ver mas
Standing guard in honor of Colosio
Montan guardia en honor a Colosio
[+]
Ver mas
La Fundación Colosio en Isla Mujeres commemorated the 20th anniversary of the death of former Presidential candidate Luis Donaldo Colosio Murrieta, whose murder has not been solved. In addition to his importance on a national level, he left his mark on Isla Mujeres in the form of public works and services that we enjoy every day.
Between 1993 and 1994, as head of SEDESOL, and thru the Solidaridad program, Sr. Colosio developed and implemented a variety of projects. One of the most significant was the closure of the open air trash dump, and establishing the trash transfer facility, with equipment to move the trash from the island to the landfill at Ranch Viejo on the mainland. With resources from Solidarity, a program of sanitation was implemented to end the contamination of Salina Grande, which also allowed the filling in of Salina Conasupo. On the reclaimed land from the spaces that were dredged from these bodies of water, island families now enjoy sports and civic facilities, and green areas and parks. The Cruz de la Bahia (Cross in the Bay) project was also funded by resources from the Solidaridad program, as well as the rescue of the Mayan ruins at Punta Sur, among other smaller projects.
The event was attended by the President of the PRI, the Mayor andh is wife who heads the DIF, as well as former mayors, and other politicians and officials who included: presidente del PRI en Isla Mujeres, Enrique Cahuich Bates; ex presidentes municipales como Gerardo Magaña Barragán y Fidel Villanueva Madrid; ex diputados como Enrique Lima Zuno, Mari Trejo Pacheco; ex presidentes de partido como Reynaldo Leal Escobedo, Balbino León Paredes y el maestro Ramón Celis Peña.
Yesterday's Por Esto....
Pet vaccination campaign begins
Inicia campaña de vacunación de mascotas
Ver mas
Clean sweep
La razzia arrasó parejo
[+]
Ver mas
There are also officials within the City Government who are upset at what some consider a draconian attitude, because they thought only the sellers lacking proper permits would be removed, and those invading the public areas of Rueda Medina, and those who despite having established stores, are walking the beaches as though they are mobile vendors.
However the raid affected every informal vendor, even those who in addition to having permits from the Comercio en Vía Pública, were paying for a concession in the Federal Zone, which gives them a right to set up in that area.
An official who preferred to remain anonymous said the informal venders were relocated to an area on the street Adolfo Lopez Mateos, and by the municipal cemetery, where some were trying to sell their wares along the roadways. Others are considering relocation in small stores which cost an average of 3000 pesos in monthly rent, which is a situation that is causing them dispair because they do not know where they will get the financial resources that are needed to function as an established store.
One vendor said they were very bothered by the argument for their removal given by the City; that the tourists needed freedom of movement along the Rueda Medina malecon; because there are many downtown business, especially along Rueda Medina, who invade the sidewalks with their displays, planting them almost halfway into the street, and tourists must dodge and weave to walk without running into them, when the sidewalks are full. "We are not the only ones," he said.
Concern over basketball league
Malestar y desconcierto en liga de basquetbol [+]
Ver mas
Beaches free of mobile vendors
Playas libres de ambulantes]
Ver mas
Sunbathers and families were enjoying the intense heat, and the cool Carribean waters of the public beaches of Isla Mujeres, with temperatures at an average of 30 degrees Celsius and mostly clear skies. There were no mobile vendors on the beaches, because they had been removed by the agencies of Fiscalización and Comercio en Vía Pública. There were tourists and locals, which included beauties sunbathing in tiny bikinis, as well as families sharing picnics. Visitors began arriving early via tour boats and ferries, and some enjoyed shopping or renting golf carts, which are very popular with the picnickers who visit for the day.
This blog is brought to you by....
MaraVilla Caribe

Bed & Beach

Three rentals with large glass doors overlooking our white sand beach and the beautiful Caribbean sea, with kitchenettes &

free WIFI.

In the coastal neighborhood of Bachilleres, among upscale villas & boutique hotelitos, convenient to downtown or the colonias, yet separate.

Quiet & Private.




Free amenities such as hammocks, bikes, outdoor shower, portable beach chairs & beach towels, washer, loungers & BBQ.

Breathtaking panoramic views from the rooftop terrace. Upstairs room also available.

Downtown is ~ a mile away; if you don't feel like walking or biking, flag a $2 taxi or hop on the bus. We also have room for parking,

You can enjoy the music & crowds downtown, then come home our quiet neighborhood of Bachilleres where you'll

sleep to the sounds of the sea.

.

$275/$325/$425 wk $40/50/$65nt Monthly Discounts

View from rooms
Small room
Large room
Fine dining a few steps away at Da Luisa or try the traditional neighborhood eateries a couple blocks farther. Stroll five minutes down the coastal sidewalk to Mango Cafe or Monchi's,shop at Chedraui or visit restaurants, bars, & beach clubs; minutes away by bike or on foot. Our guests recommend the Yoga classes a couple villas away at hotelito Casa Ixchel. Fresh juice, produce & tortillas a few blocks away in the village, as well as a pharmacy and variety of other stores and small local restaurants
Charity Info
See tab at top of page!
Donation Drop offs:
Red Cross: Social Justicia Restaurant
(south of ferry terminal, north of car ferry)
Books for Grade School Reading Program, Items for Isla Animals, Diabetes Supplies, Shoes for the Kids, Items for
Little Yellow School House..
.Barlitos @ Marina Paraiso
Buenas tardes, ya tenemos a la venta los boletos para el 3° Desayuno del Sombrero Rosa el Donativo sera de $250 pesos , sera el día Sabado 29 de Marzo a partir de las 9:00 en el Restaurante D´Lilys , tendremos concurso de Sombreros y premiaremos a los mejores, si desea adquirir Boletos puede ser por este medio o a las Telefonos de nuestra Oficina que es el 88 77 00 73 Gracias
It says....tickets are available for the 3rd Pink Hat breakfast for a donation of 250pesos. It will be held on Saturday, March 29 at the restaurant D'Lilys, with a hat contest and prizes. You can call 88 77 00 73 or you can contact Por Siempre Viva at: https://www.facebook.com/porsiempre.viva
Thank you.
~~~~~~~~~~~~~~~~~~~~~~~~~~~~~~~
Music
Miguel's high season schedule:

Thursday at 6pm Marina Paraiso Isla Mujeres with Seblues Hernandez Miranda - blues variety
Wednesday - Saturday at 10:30 Fayne's BarandGrill with La Banda Sin Nombre - Rock, blues & pop
Friday - Saturday at 12:00 mn Tequileria La Adelita with La Banda Sin Nombre - Salsa & Mexican
Sunday at 7:00 Bahia Tortuga with The Sol Rockers - Rock & blues .
John Cain's schedule
Banda Sin Nombre at Chuuk Kay 3:30p Sat & Sun
Fenix Sat ~1 or 2p Reggae/Cuban

Sun ~1 or 2p Salsa
(

Start times have been variable. Posted on menu board by entrance

)
Fenix Lounge

Domingo Salsa en Vivo con ¡¡Puro Sabor - Salsa Cubana !! :: Sunday Live Salsa with ¡¡Puro Sabor - Salsa Cubana !! + Gratis/FREE Chilpachole Pa' la Cruda! + Tragos/Drinks + SUP & Kayak :: See You There!! / No Falten!!



You may find live music after 9 or 10 on Hidalgo at Fayne's, La Terraza, or Comono, and at Poc Na Hostel.
~~~~~~~~~~~~~~~~~~~~~~~~~~~~~~~~~~~~~
Texas Holdem Every Monday and Thursday
at 6:00pm
El Patio Caribbean Grill
~~~~~~~~~~~~~~~~~~~~~~~~~~~~
~~~~~~~~~~~~~~~~~~~~