The first issue of The Isla Mujeres Magazine to benefit Isla charities has been published, featuring a variety of talented writers and photographers! Thank-you to everyone who has visited & shared it!
Check out the Charity document, patronize the supportive businesses & visit the blogs of the talented contributors! Contact me at westofcuba@gmail.com if you'd like to donate $15 to your fav charity, for an ad. Good causes, good exposure. Ad for a year is a $45 donation. 100% is contributed.

Feel free to copy & share the Charity document! Telling your friends about the Magazine & sharing links helps Isla Charities, too. Your support is appreciated & small efforts add up to big differences. Thanks!
This is the live webcam at North Beach / Playa Norte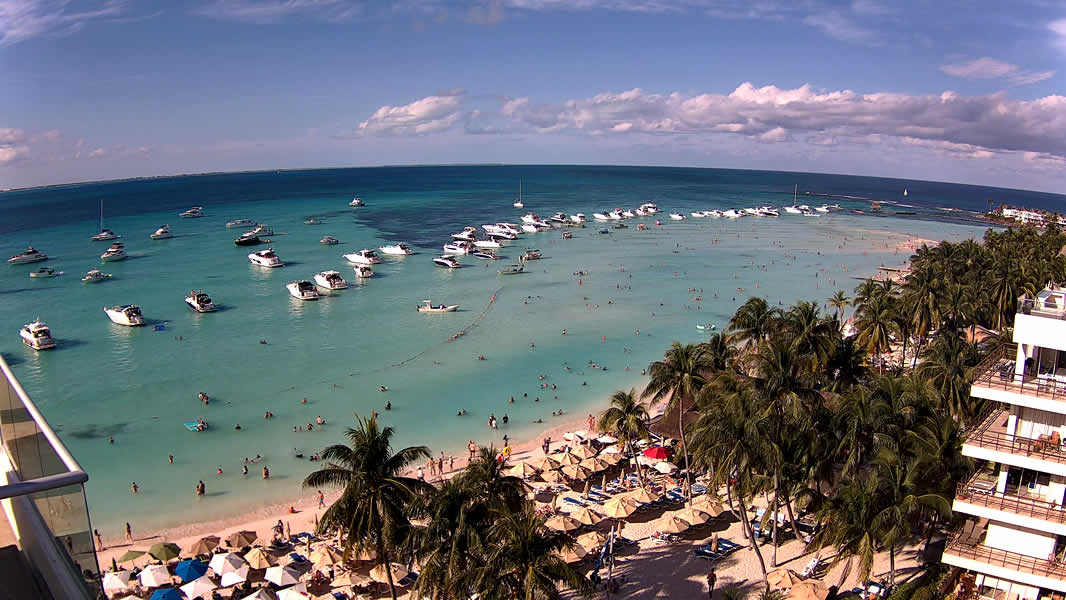 Strengthening the Red Cross with invaluable citizen support
Se fortalece más la Cruz Roja
Lunes, 03 de Marzo de 2014 22:00
Con invaluable apoyo ciudadano
ISLA MUJERES, 3 de marzo.- .
Leer más...
This article says an used ambulance was purchased in good condition, (
It says for 1000 pesos but other articles said 40,000
) and that a computer was also purchased, for handling tax issues, at a cost of 10,000 pesos. The perimeter fence is under construction, at a cost of 14,000 pesos.These works are paid by from funds collected at convenience stores, which amounted to 53,883 pesos. There has been some income from teaching classes 'de cardio' from 4pm to 8pm at the facilities. The Red Cross now has a nutritionist providing consultations Monday-Friday after 1pm. They are offering general medical consults by Dr. Xhanalt Gonzalez Mora, which include general medicine, outpatient treatments, emergencies, diabetes control, as well as tests for diabetes and cholesterol, and Pap tests. There have been donations by individuals including a marine band communication system with two radios and an antenna, by "Steve Fierre de Broken", as well as medical supplies by the Shaw family from Canada, Kathy Enny (
Ennis
) and Barbara Cut.
Agapito thanks the armed forces
Initiate "Canje de Armas" to support the population
Agapito agradece a fuerzas armadas
Lunes, 03 de Marzo de 2014 21:39
Por apoyo a población, al iniciar Canje de Armas
ISLA MUJERES, 3 de marzo.-
Leer más...
This is a federal program, which is a national disarmament campaign, that concludes March 10th. There are two arms exchange modules, with one located on the right side of the Palacio Municipal and the other at the Community Center on the mainland. Trained staff will receive the weapons and give financial incentives as appreciation. There will be no inquiry and a rapid and safe procedure is guaranteed. In a speech, the Mayor expressed his respect and gratitude for all the members of the Mexican Army and the Navy.
Islanders revive the tradition in honor of "Momo"
Vistoso Carnaval playero
Lunes, 03 de Marzo de 2014 21:38
Isleños le apuestan a recuperar tradición en honor a "Momo"
ISLA MUJERES, 3 de marzo.-
Leer más...
The first parade of Carnaval was colorful and enthusiastic, and infected the entire island with excitement. The troupes danced and sang to the Posada Beach where there was a party featuring the band Asere que bola. The King Manuel I and the Queen Daniela I led a party that was attended by the five competing troupes as well as troupes from the dance academies, family troupes, in honor of the King Momo. The senior citizens danced and sang, as is traditional. The party continued Sunday night on the plaza with a costume contest for the children, a pet costume contest, and one of the troupes performed. The names of the contest winners are given.
Tvisla Mujeres
Noticias de Quequi......
Request extension of Constitutional Term
---
Por Carlos Gasca > Quequi .-
El sábado cuando se define su suerte
0 comentarios
Leer toda la noticia
por esto
Occupancy of Isla Mujeres hotels reaches 80% during long weekend
Hoteles de Isla Mujeres alcanzaron 80% de ocupación durante el largo fin de semana
[+]
Ver mas
Disorganization tarnished the celebration
Desorganización ha empañado la fiesta
[+]
Ver mas
The Organizing Committee of Carnaval reported there are about 15 troupes dancing and entertaining, which include children and adults. There was some traffic congestion due to detours. There is a box downstairs at City Hall for letters to Juan Carnaval, which iwll be published, except personal attacks. Anyone wishing to submit satirical compositions or poems should do so responsibly. The reading of the will shall occur on the town square at the evening party which beings at 7pm. On Tuesday will be the traditional Negrada of the troupes, toro petate, will occur at midday, and in the evening with be the Noche de Comparsas (troupes)
SEDENA begins program of voluntary arms exchange
Sedena inició programa de canje voluntario de armas
[+]
Ver mas
This blog is brought to you by....
MaraVilla Caribe

Bed & Beach

Three rentals with large glass doors overlooking our white sand beach and the beautiful Caribbean sea, with kitchenettes &

free WIFI.

In the coastal neighborhood of Bachilleres, among upscale villas & boutique hotelitos, convenient to downtown or the colonias, yet separate.

Quiet & Private.




Free amenities such as hammocks, bikes, outdoor shower, portable beach chairs & beach towels, washer, loungers & BBQ.

Breathtaking panoramic views from the rooftop terrace. Upstairs room also available.

Downtown is ~ a mile away; if you don't feel like walking or biking, flag a $2 taxi or hop on the bus. We also have room for parking,

You can enjoy the music & crowds downtown, then come home our quiet neighborhood of Bachilleres where you'll

sleep to the sounds of the sea.

.

$275/$325/$425 wk $40/50/$65nt Monthly Discounts

View from rooms
Small room
Large room
Fine dining a few steps away at Da Luisa or try the traditional neighborhood eateries a couple blocks farther. Stroll five minutes down the coastal sidewalk to Mango Cafe or Monchi's,shop at Chedraui or visit restaurants, bars, & beach clubs; minutes away by bike or on foot. Our guests recommend the Yoga classes a couple villas away at hotelito Casa Ixchel. Fresh juice, produce & tortillas a few blocks away in the village, as well as a pharmacy and variety of other stores and small local restaurants
Carnaval schedule...
There are parades in the afternoon (see dates below), down Rueda Medina between the north end (by the monument to the fishermen & Jax) and the whale shark monument at the Bay malecon. This year they have been starting at the south end and traveling north. There are performances, competitions & events nightly on the Town Square, which are usually scheduled to begin around 8pm. The troupes also perform at parties, hotels, restaurants, & in the streets. This info is from the newspaper articles about Carnaval, most of which lacked specific times. Last year the events on the square were scheduled to begin at 8p, but often started later. The parades were scheduled to start at 3p, but started earlier and later. You can generally see and hear the participants & spectators moving toward the event before it begins.
Feb 27 Thursday 9:15pm Dance Troupe performance at Hotel Posada del Mar Palapa (downtown, north end of main street.)
Friday, February 28th
scheduled to begin at 9pm on the town square. will be the crowning of the kings and queens, including the king and queen of the fiesta, the kings and queens of the academies, of the senior citizens, and the disabled.
March 1 Sat. 1pm Dance Troupe performance in street in Bachilleres (East coastal road, Aeropuerto, just before Salina Chica/first colonia, near Casa Ixchel & Da Luisa)
Saturday night, March 1, will be Cuban night.



Sunday, March 2

, Parade scheduled to begin at 3pm on Rueda Medina and they will hold the traditional Carnaval Playero at the Posada del Mar Beach,
with the children's costume contest on the beach at 4pm. There will be competitions & presentations at the town square, usually scheduled to begin around 8pm.



Monday March 3

will be the second parade through the main streets of Isla Mujeres. There will be the traditional regional evening on the town square with Yucatecan outfits, and the dance of the pig's head & the bull petate (el baile de la cabeza de cochino y el toro petate), among other activities There will be a costume contest in the Open category and a competition between the dance troupes in the Regional category.
In addition, with the regional night on Monday, there will be a celebration of the discovery of Isla Mujeres, which occurred on the 3rd of March.



Tuesday March 4th

is the last day of Carnaval, the "Mardi Gras", which begins at mid day with the Negrada, when the troupes will pass through the streets downtown, in the presence of the traditional "Toro petate". That night the festival will continue on the town square with the contest between the troupes, followed by the reading of the will of "Juan Carnaval" and the burning of his effi
gy.
Charity Info
See tab at top of page!
Donation Drop offs:
Red Cross: Social Justicia Restaurant
(south of ferry terminal, north of car ferry)
Books for Grade School Reading Program, Items for Isla Animals, Diabetes Supplies, Shoes for the Kids, Items for
Little Yellow School House..
.Barlitos:
is closed & relocating. email me at westofcuba@gmail for help arranging pick ups.
Kathy Ennis has volunteered to fill in. They plan to reopen at Marina Paraiso in March.
~~~~~~~~~~~~~~~~~~~~~~~~~~~~~~~
Music
Miguel's high season schedule:

Thursday & Friday at 6pm Marina Paraiso Isla Mujeres with Seblues Hernandez Miranda - blues variety
Wednesday - Saturday at 10:30 Fayne's BarandGrill with La Banda Sin Nombre - Rock, blues & pop
Friday - Saturday at 12:00 mn Tequileria La Adelita with La Banda Sin Nombre - Salsa & Mexican
Sunday at 7:00 Bahia Tortuga with The Sol Rockers - Rock & blues .
John Cain's schedule
Tuesday, Cafe Del Mar, solo, 8 to 10 pm
Saturday, The Sunset Grill, solo, 530 to 730 pm
Sunday, Bahia Tortuga, The Sol Rockers, 630 to 900 pm
Banda Sin Nombre at Chuuk Kay 3:30p Sat & Sun
Fenix Sat ~1 or 2p Reggae/Cuban

Sun ~1 or 2p Salsa
(

Start times have been variable. Posted on menu board by entrance

)
Fenix Lounge

Domingo Salsa en Vivo con ¡¡Puro Sabor - Salsa Cubana !! :: Sunday Live Salsa with ¡¡Puro Sabor - Salsa Cubana !! + Gratis/FREE Chilpachole Pa' la Cruda! + Tragos/Drinks + SUP & Kayak :: See You There!! / No Falten!!



You may find live music after 9 or 10 on Hidalgo at Fayne's, La Terraza, or Comono, and at Poc Na Hostel.
Texas Holdem Every Monday and Thursday
at 6:00pm
El Patio Caribbean Grill
.