This is the live webcam at North Beach / Playa Norte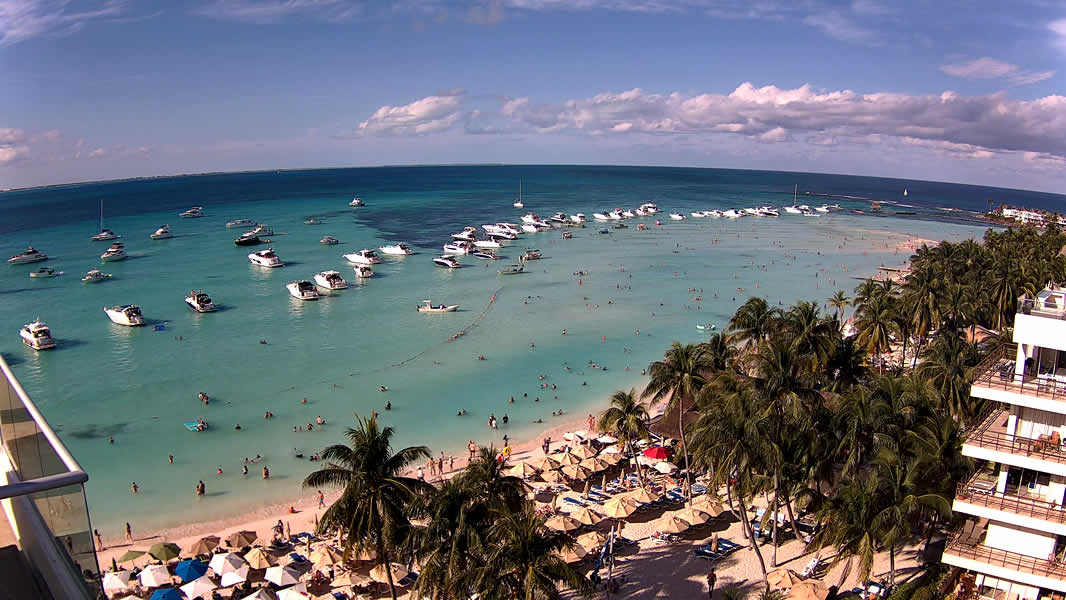 LINK to 24 hour time lapse of the webcam
The "Morning Edition" has translated headlines & newspaper photos. This Afternoon Edition has translations of the news articles, Daily Events, the Live Music Schedule & the "Around the Internet in the Past 24 Hours" section including photos & info from individuals & local businesses ....

Daily In Isla Mujeres.

There are always links to the original articles in Spanish.
Money owed paid to workers at El Pescador beach club
Preparing grants for land transport of students in Continental Zone
Tvisla Mujeres
Noticias de Quequi......
Beach club paid workers

Laboral

0

02 de febrero de 2014

---

Por Carlos Gasca-Quequi.

ACCIDENTE

Child sent to hospital from Chedraui

---

Por Carlos Gasca-Quequi.-
An eight year old boy was in the sports area of Chedraui, when a weight fell upon his left foot, causing an injury, and his mother called the Red Cross. The paramedics immobilized the foot and transported him to the General Hospital.
First contest of escoltas held
por esto
Parent ask for report from high school
Padres piden informe en Cobach
[+]
Ver mas
They replace them periodically. No one plays basketball there.
) There are also concerns about the drop out rate.
Labor conflict solved
Solución a conflicto laboral
[+]
Ver mas
Semi darkness at Punta Sur
Penumbra, invitación de robo al turismo
Ver mas
Rescuing the Makax Lagoon
Al rescate de la laguna Makax
[+]
Ver mas
I'll translate this one manana.
This blog is brought to you by....
MaraVilla Caribe

Bed & Beach

Three rentals with large glass doors overlooking our white sand beach and the beautiful Caribbean sea, with kitchenettes &

free WIFI.

In the coastal neighborhood of Bachilleres, among upscale villas & boutique hotelitos, convenient to downtown or the colonias, yet separate.

Quiet & Private.




Free amenities such as hammocks, bikes, outdoor shower, portable beach chairs & beach towels, washer, loungers & BBQ.

Breathtaking panoramic views from the rooftop terrace. Upstairs room also available.

Downtown is ~ a mile away; if you don't feel like walking or biking, flag a $2 taxi or hop on the bus. We also have room for parking,

You can enjoy the music & crowds downtown, then come home our quiet neighborhood of Bachilleres where you'll

sleep to the sounds of the sea.

.

$275/$325/$425 wk $40/50/$65nt Monthly Discounts

View from rooms
Small room
Large room
Fine dining a few steps away at Da Luisa or try the traditional neighborhood eateries a couple blocks farther. Stroll five minutes down the coastal sidewalk to Mango Cafe or Monchi's,shop at Chedraui or visit restaurants, bars, & beach clubs; minutes away by bike or on foot. Our guests recommend the Yoga classes a couple villas away at hotelito Casa Ixchel. Fresh juice, produce & tortillas a few blocks away in the village, as well as a pharmacy and variety of other stores and small local restaurants
FOR FEBRUARY EVENTS>>>>
February begins with a long holiday weekend that features the competition for the Carnaval Kings & Queens on Saturday (Feb. 1st), then on Sunday are tamale parties for Epiphany. Monday is a day off for Constitution Day & the (fun!)benefits begin on Monday, that accompany Island Time Fishing Tournament. ITFT lasts all week until the following Sunday night. (See schedule of events below.)
The next weekend is Valentine's Day & the Lion Fish Tournament. On the 15th the Carnaval King & Queen will be presented & Carnaval begins as the month ends. Read more here at the Isla Mujeres Magazine February Events Page!
The tentative, partial Carnaval schedule...
(

There are usually parades in the afternoon, down Rueda Medina to the whale shark festival, and events at night on the Town Square. The troupes also perform at parties, hotels, restaurants, & in the streets

.

There are usually activities on Friday night also.

)
Saturday night, March 1, will be Cuban night, with the traditional Negrada.

On Sunday, March 2, they will hold the traditional Carnaval Playero at the Posada del Mar Beach. (

Along Main Street/Rueda Medina. Playero means of the beach.

).

On Monday March 3 will be the traditional regional evening with Yucatecan outfits, and the dance of the pig's head & the bull petate (el baile de la cabeza de cochino y el toro petate), among other activities. In addition, with the regional night on Monday, will be held a celebration of the discovery of Isla Mujeres, which occurred on the 3rd of March.

On Tuesday March 4th the competitions between the troupes will take place, as well as the traditional reading of the will of Juan Carnaval, and then the burning event.
This week....
Feb 1 Competition for Adult King & Queen of Carnaval

Feb 2 Candlemas / Fiesta de la Candelaria Join your friend for a tamale party! On King's Day (January 6th), those who got the baby Jesus in their piece of Rosca/ King's cake, are hosting the party today.
The second of February occurs forty days after Christmas, and is celebrated by Catholics as the "Feast of Purification" or as the "Presentation of Christ at the Temple." According to Jewish law it was customary to bring a baby to the temple after that period of time had passed. Jesus would have been taken to the temple on February second, if he was born on Dec. 25th.
The second day of February corresponds to the first day of the first month on the Aztec calendar, called Atlcahualo o Quauitleoa. There is an ancient tradition in many parts of Mexico to take corn cobs to the church to be blessed on this day, in anticipation of the onset of planting season.
Atole is also traditional for this party, which like tamales, is a corn based food.Chocolate is usually included on both celebrations, King's Day and Candlemas, and like corn, is also an important substance in indigenous traditions.
In many Catholic churches (and homes) in Mexico, on February second the baby Jesus icon is taken from the Nativity scene, dressed in finery, and moved to a niche, where it remains for the rest of the year before being 'lifted' to its niche.
The baby was placed in the Nativity during the first of the Posadas, on December 16th, and remained there until Candlemas. During the Posadas there is a children's Posada play on the town square and neighborhood reenactments of Mary & Joseph being denied shelter, with a party at the house that admits them. On King's Day, January 6th, the figurine (and Mexican children) was given presents, "from the 3 Magi/ wise men". The pieces of King's cake that are shared by families, parishes, and coworkers are also said to represent gifts from the Magi, with their three colors representing the three Kings, and there are three baby figurines inside.
The tamales vary by region.

In Isla Mujeres they may be accompanied by with sophisticated guajillo chile sauce with achiote , tomato , garlic , onion and spices, while in addition to masa and pork, the filling may include olives, capers , raisins and almonds.

If it is prepared by people from Chiapas, they may have added carrot, potato, peas, peppers and boiled egg.



Feb. 2 is the midpoint between winter solstice and spring equinox, and some believe it can indicate upcoming weather.

Feb 2 is Dia de Marmota, or Groundhog's Day in the US

Feb 2 is World Wetlands Day (Usually there is a clean up of the lagoon areas)

Feb 3 Day off for Constitution Day: Long weekend with closures

Island Time Fishing Tournament Benefits help the Little Yellow School House

Feb 3 Monday 6pm Los Fuegitos Benefit w live music

Feb 4 Tuesday Registration for Isla Time Fishing Tournament, Captain's Meeting, Party at Buhos

Feb 5 Wednesday 2p-5p Soggy Peso Benefit "Margarita Madness" w live music

Feb 5 Día de la Constitución / Constitution Day

Feb 6 Thursday 3p-6p BBQ & Open House at LYSH

Feb 7 Friday 5p-10p Iguanas at Marina Paraiso Fiesta Benefit w music, comedy, auction, food, fire dancers, and prizes

Feb 8 Saturday 7:30-10:30 Buhos Awards dinner w live music for ITFT

Feb 9 Sunday 4p-7p Brisa's Grill Dance Party for ITFT
Free pet sterilization campaign Feb 9th at the Taxi lodge 9a-4p. Register by February 5th at the Ecology agency at Hacienda Mundaca between 9a - 4p.
Charity Info
See tab at top of page!
Donation Drop offs:
Red Cross: Social Justicia Restaurant
(south of ferry terminal, north of car ferry)
Books for Grade School Reading Program, Items for Isla Animals, Diabetes Supplies, Shoes for the Kids, Items for
Little Yellow School House..
.Barlitos:
On Hidalgo, the pedestrian street, at Abasolo
~~~~~~~~~~~~~~~~~~~~~~~~~~~~~~~
Music
Thursdays....SeBlues
Sunday Bahia Tortuga with the Sol Rockers 7:00pm - 9:00pm
John Cain's schedule
Banda Sin Nombre at Chuuk Kay 3:30p Sat & Sun
Fenix Sat ~1 or 2p Reggae/Cuban

Sun ~1 or 2p Salsa
(

Start times have been variable. Posted on menu board by entrance

)
Fenix Lounge

Domingo Salsa en Vivo con ¡¡Puro Sabor - Salsa Cubana !! :: Sunday Live Salsa with ¡¡Puro Sabor - Salsa Cubana !! + Gratis/FREE Chilpachole Pa' la Cruda! + Tragos/Drinks + SUP & Kayak :: See You There!! / No Falten!!



You may find live music after 9 or 10 on Hidalgo at Fayne's, La Terraza, or Comono, and at Poc Na Hostel.
Texas Holdem Every Monday and Thursday