Check out our new Restaurant Guide.

..with Delivery numbers, Menus, & (coming soon) Special Deals...HERE!
..This is the live webcam at North Beach / Playa Norte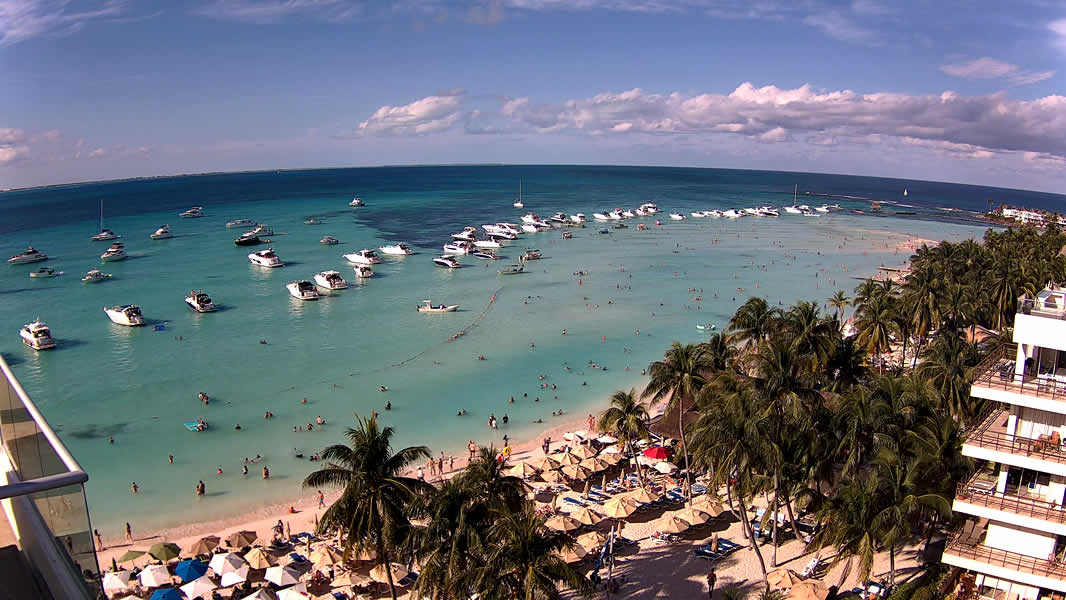 .
Company guarantees ferry service during this vacation period
Ferries: In good condition
Tvisla Mujeres
Arrival and securing of election material concluded for District 14
Noticias de El Quintanarroense
Prepared to close the campaign
Ferry service guaranteed
Garantizan servicio de barco
.Ovidio Lopez
Noticias de Quequi......
Arrival of election material



ELECCIONES

---
Wastewater in Paseo de Peces avenue
Announcement of the children's fishing tournament
SIPSE
Announcement of extended ferry hours
Municipios | Anuncian ampliación de horarios del servicio de ferry


133 students graduate middle school in Isla Mujeres
Municipios | Egresan 133 alumnos de la secundaria en Isla MujeresElection material arrives in Isla Mujeres
Municipios | Llega material electoral en Isla Mujeres
Preparing to close the campaign in Isla Mujeres

Municipios | Preparan cierre de campaña en Isla Mujeres
Finishing details for the children's fishing tournament
Diario La Verdad
por esto
Successful start
for lobster season
Exitoso inicio de captura de langosta
+]
Ver mas.
The lobster season began Monday, after a four month ban, with high expectations by the fishermen, who left early to capture the crustaceans. Restaurants began selling the product at prices of 300-400 pesos, and may exceed 600 pesos, depending on the size and type of dish. Some of the more popular styles are stuffed, grilled, or prepared with coconut. The fishermen hope to exceed last season's harvest of 400 tons before the season ends on the 28th of February.
Navy
tightens security
at docks
La Armada refuerza la seguridad en muelles
[+]
Ver mas
This blog is brought to you by....
MaraVilla Caribe

Bed & Beach

Three rentals with large glass doors overlooking our white sand beach and the beautiful Caribbean sea, with kitchenettes &

free WIFI.

In the coastal neighborhood of Bachilleres, among upscale villas & boutique hotelitos, convenient to downtown or the colonias, yet separate.

Quiet & Private.




Free amenities such as hammocks, bikes, outdoor shower, portable beach chairs & beach towels, washer, loungers & BBQ.

Breathtaking panoramic views from the rooftop terrace. Upstairs room also available.

Downtown is ~ a mile away; if you don't feel like walking or biking, flag a $2 taxi or hop on the bus. We also have room for parking,

You can enjoy the music & crowds downtown, then come home our quiet neighborhood of Bachilleres where you'll

sleep to the sounds of the sea.

.

$275/$325/$425 wk $40/50/$65nt Monthly Discounts

View from rooms
Small room
Large room
Fine dining a few steps away at Da Luisa or try the traditional neighborhood eateries a couple blocks farther. Stroll five minutes down the coastal sidewalk to Mango Cafe or Monchi's,shop at Chedraui or visit restaurants, bars, & beach clubs; minutes away by bike or on foot. Our guests recommend the Yoga classes a couple villas away at hotelito Casa Ixchel. Fresh juice, produce & tortillas a few blocks away in the village, as well as a pharmacy and variety of other stores and small local restaurants
Sunset yesterday from MVC B&B
& Sunrise this morning from MVC B&B
MVC Presents...Upcoming Events!
Monday July 1
Lobster Season Begins (And Lobster tacos return to Soggy Peso on Mondays!)
Thursday, July 4
at 4-7pm Town Square Art Fair
Fourth of July parties...
Casa de los Suenos has BBQ & Banda Sin Nombre
Soggy Peso usually has one with BBQ, maybe mariachis
other places you're likely to find folks celebrating...
Chuuk Kay, Miguel's Moonlight, Iguana's, Fenix...
Friday, July 5 7p (?) Town Square Stage Senior Citizen's Beauty & Talent Contest
Saturday, July 6

9am-11am La Gloria English School Yard Sale
Sunday, July 7

Elections: Alcohol will be less available & not for sale at grocery stores & carryout locations. Tourist-oriented businesses that serve food are usually allowed to sell beer & cocktails to foreigners, and may require a food purchase.
Saturday, July 20

9am Children's fishing tournament Weigh in-1pm
Critter events...
It is currently the season for swimming with the whale sharks, and turtles are mating offshore & nesting on the eastern beaches. The mating is visible by day, especially off Punta Sur, the South Point. The nesting happens in the wee hours, and there are Tortugranja personnel, volunteers, and Naval staff monitoring the beaches to prevent people from disrupting them, and to gather and transport the eggs for incubation.
By far, most of the turtles nesting in Isla Mujeres are Green turtles (called Blancas in Spanish), and the second most common are the huge Loggerheads, and there are some Hawksbills. The Green turtles take ~60 days to hatch and the hatchlings are released by the public at events at dusk on Media Luna or Guadalupana beaches. The releases will begin in about a month & be held periodically until early October.
Lately the water has been very calm and there have been many manta rays, with many swimming upside down, in addition to many whale sharks. Offshore from MVC, we have been seeing dolphins & turtles from the balcony, and lotsa big fish while snorkeling.
There are small red crabs that migrate to & from the sea in July, watch out for them at night on the coastal road at the southeastern part of the isle.
IN ISLA MUJERES LIVE MUSIC TODAY/TONIGHT: TUESDAY
EARLY
Casa de los Suenos

LINKwebsite LINKfb

4-7

Banda Sin Nombre


Sunset Grill

Playa Norte LINK Dusk Vocalist & Keyboard
~8p


Cafe del Mar

8-10 John Cain LINK LINK


El Patio/ComoNo

(rooftop) LINK

8:30 - 11

- La Guera & Willys Blues


Fayne's

: LINK

8:00-10:00-Raul Alexis


Ocean Blues & Sassy Jazz

LINK- 8 - 10


LATE


Fayne's
LINk
Poc Na ?

Link
Tres Mentiras ? LINK
J
ohn Cain's schedule is
Tuesday- Cafe Del Mar, 8-10, solo guitar & vocals
Wednesday- Bally Hoo, 7-9, Sol Rockers band
Friday- Iguana Bar-7-9, solo guitar & vocals
Sunday- Bahia Tortuga- 7-9, Sol Rockers band
On the internet in the past 24 hours...
Come out and Join us for our Big 4th of July Celebration this Thursday starting at 3:00. Bring your swim suit and relax in the ocean while enjoying live music
by La Banda Sin Nombre. We will have a special "Back Yard BBQ" menu as well as drink and shot specials all night. Once the sun goes down enjoy all the fireworks in Cancun!
John Cain...
The Sol Rockers are pleased to announce that we will be playing Wednesday from 7 to 9 pm (and hopefully every Wednesday) at The Bally Hoo Restaurant. We love Solange, Miguel, Elba and the crew so come out and support this new venue for the band if you can. We appreciate it. Great food and a good wooden dance floor.
Mundaca Divers
..Amazing Day This saturday.....You Will Love Itt.COME NOW Its Amazing
Isla Mujeres
Watching in awe the amazing waters at Isla Mujeres
Photo by Marco Colaci
Bruce

Looks like rain. From MVC B&B today
Bruce . At Tortugranja last year
Jackie Conlon added 4 new photos to the album Isla Mujeres - June 2013 Around the Island.
— in Isla Mujeres.
Last 24 hrs
"Time Lapse" of Playa Norte Webcam: LINK
Playa Norte

now in real time in Isla Mujeres
The Early Edition has headlines & newspaper photographs.
This Afternoon/Final Edition has translated articles, events, & original photos with the "Around the Internet in the Past 24 Hours" section.
Both blogs always have links to the original articles.
Usually if there is a headline, but no translation, it was probably published in another paper recently, and the information was translated.in a previous post, usually in the past couple days.
.
Check out our new Restaurant Guide.

..with Delivery numbers, Menus, & (coming soon) Special Deals...HERE!