Check out our new Restaurant Guide.

..with Delivery numbers, Menus, & (coming soon) Special Deals...HERE!
..This is the live webcam at North Beach / Playa Norte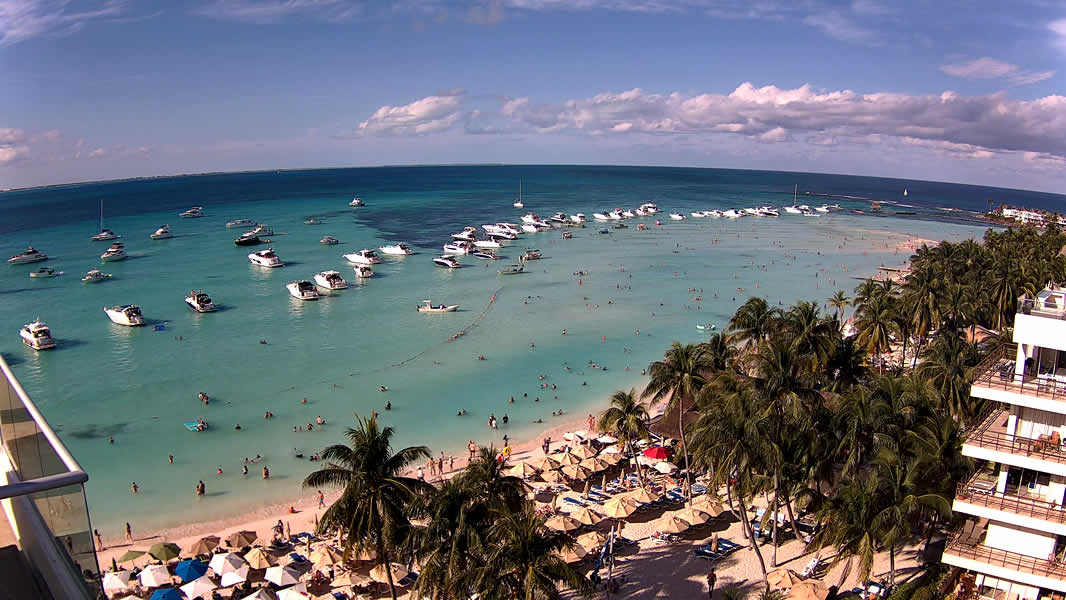 .
Pushing & pulling between fishermen & entrepreneurs over lobster prices
Increases in the costs of production cause conflicts with marketers
Isla Mujeres: Becoming the best fishing destination
Tourism providers learn ways to improve services
Tvisla Mujeres
Hyperbaric chamber ready to function for Monday: Agapito Magana
The lobster season begins today and will run for four months. The hyperbaric chamber is in working order, with thanks to efforts from two political (PRI) candidates. Director of the Board & representative of the State Federation of Fishing Cooperatives, Baltazar Gómez Catzín, confirmed that the chamber is 100 percent operational and said that five members of each of the local fishing cooperative's boards are aware of the work that has been done and many of them have received training courses in operating the capsule. He said it never hurts to have a basic knowledge of the operation of the equipment and more so when it comes to saving the life of a fellow fisherman. (
The chamber had major repairs done last season, and was reported to be operational, but was not in use because there was no contract with a doctor specialized in its use. There were some classes given to hospital personnel, but they said they were not adequately trained to operate the chamber. The recent work in the past two weeks included corrections to some of the work previously done, like changing brass oxygen lines for stainless steel and adding gauges
.)
Noticias de El Quintanarroense
No author is given, but it was probably written by the town historian, Fidel Villanueva Madrid
Customs in the Mayan society
Costumbres en la sociedad maya


Among other things this article says the number three is assigned to girls & women because it is associated with the three legged stools they sit on to make tortillas and cook food, and with the three stones required to have a stove (el fogón), as well as with the three legged metate they use to grind grains. Men are associated with the number four which represents the four corners that a milpa has, which are the directions they leave to go hunting, fishing, or to market, among other activities. At three months for girls and four months for boys, the infants are carried astride a godfather's hip with the belief that this would encourage bowed legs which enabled them to walk faster.
.The friar Diego de Landa described the social behavior of the Maya as follows:


"They are clean, cheerful, and sociable; and they like to talk, laugh and make jokes.

They have a confident character and are endowed with a strong sense of justice.

They are generous and very hospitable, and they share their things with strangers even if they have little of it (..) They take advice from the elders and boasted of being old." They are also described as active, energetic, and hardworking, despite their corn based diet.
They had customs that affected aspects of physical beauty including practices that altered cranial shape and encouraged strabismus among infants, as well as practices involving piercing of nose, ears or lips, and filing of teeth.
The article talks about the importance of music and of ceremonies and dances to prevent problems or bad spirits, especially relating to agriculture, and how these were male ceremonies, except for some elderly women who performed the dances. It has a little information about their beliefs about death and the afterlife, including the belief that the dead return to earth for a week each year, when their families honor and commemorate them.
Noticias de Quequi......
SIPSE
Diario La Verdad
por esto
Lobster harvest begins
Arranca la captura de langosta
]
Ver mas
Imparten Conferencia Magistral de pesca
Ver mas
Fishing Conference held
This blog is brought to you by....
MaraVilla Caribe

Bed & Beach

Three rentals with large glass doors overlooking our white sand beach and the beautiful Caribbean sea, with kitchenettes &

free WIFI.

In the coastal neighborhood of Bachilleres, among upscale villas & boutique hotelitos, convenient to downtown or the colonias, yet separate.

Quiet & Private.




Free amenities such as hammocks, bikes, outdoor shower, portable beach chairs & beach towels, washer, loungers & BBQ.

Breathtaking panoramic views from the rooftop terrace. Upstairs room also available.

Downtown is ~ a mile away; if you don't feel like walking or biking, flag a $2 taxi or hop on the bus. We also have room for parking,

You can enjoy the music & crowds downtown, then come home our quiet neighborhood of Bachilleres where you'll

sleep to the sounds of the sea.

.

$275/$325/$425 wk $40/50/$65nt Monthly Discounts

View from rooms
Small room
Large room
Fine dining a few steps away at Da Luisa or try the traditional neighborhood eateries a couple blocks farther. Stroll five minutes down the coastal sidewalk to Mango Cafe or Monchi's,shop at Chedraui or visit restaurants, bars, & beach clubs; minutes away by bike or on foot. Our guests recommend the Yoga classes a couple villas away at hotelito Casa Ixchel. Fresh juice, produce & tortillas a few blocks away in the village, as well as a pharmacy and variety of other stores and small local restaurants
Check out our new Restaurant Guide.

..with Delivery numbers, Menus, & (coming soon) Special Deals...HERE!
Sunrise this morning from MVC B&B
Calm seas today, but bigger breakers, and the sun is shining. Yesterday we had a sunny morning, then rain in the afternoon-nothing intense. It brought very pleasant, cooler temperatures.
This morning's Backyard Turtle Trails....
I'm not sure if this was one mama turtle or two. Toured the upper beach & made a nest at left, half-burying that boulder in sand.
These photos don't do justice to the work of the turtles last night. It looks like someone was chargin around on ATV's down there ;)
MVC Presents...Upcoming Events!
Monday July 1
Lobster Season Begins (And Lobster tacos return to Soggy Peso on Mondays!)
Thursday, July 4
at 4-7pm Town Square Art Fair
Fourth of July parties...
Casa de los Suenos has BBQ & Banda Sin Nombre
Soggy Peso usually has one with BBQ, maybe mariachis
other places likely to announce events...
Chuuk Kay, Miguel's Moonlight, Iguana's, Fenix...
Friday, July 5 7p (?) Town Square Stage Senior Citizen's Beauty & Talent Contest
Saturday, July 6

9am-11am La Gloria English School Yard Sale
Sunday, July 7

Elections: Alcohol will be less available & not for sale at grocery stores & carryout locations. Tourist-oriented businesses that serve food are usually allowed to sell beer & cocktails to foreigners, and may require a food purchase.
Saturday, July 20

9am Children's fishing tournament Weigh in-1pm
Critter events...
It is currently the season for swimming with the whale sharks, and turtles are mating offshore & nesting on the eastern beaches. The mating is visible by day, especially off Punta Sur, the South Point. The nesting happens in the wee hours, and there are Tortugranja personnel, volunteers, and Naval staff monitoring the beaches to prevent people from disrupting them, and to gather and transport the eggs for incubation.
By far, most of the turtles nesting in Isla Mujeres are Green turtles (called Blancas in Spanish), and the second most common are the huge Loggerheads, and there are some Hawksbills. The Green turtles take ~60 days to hatch and the hatchlings are released by the public at events at dusk on Media Luna or Guadalupana beaches. The releases will begin in about a month & be held periodically until early October.
Lately the water has been very calm and there have been many manta rays, with many swimming upside down, in addition to many whale sharks. Offshore from MVC, we have been seeing dolphins & turtles from the balcony, and lotsa big fish while snorkeling.
There are small red crabs that migrate to & from the sea in July, watch out for them at night on the coastal road at the southeastern part of the isle.
LIVE MUSIC In Isla Mujeres
Scheduled for TODAY / TONIGHT: MONDAY
Early Time
The Joint 1-4 Marco (Reggae)

LINK
Casa de los Suenos 4-7 Banda Sin Nombre LINKLINK
Sunset Grill- Dusk keyboard/vocals LINK
~7p
Faynes- 8-10 Raul Alexis LINK
Cafe del Mar- 8p ? LINK LINK
Comono Roof 8:30-11

La Guera & Willys Blues LINK
John Cain's schedule is

Tuesday- Cafe Del Mar, 8-10, solo guitar & vocals
Wednesday- Bally Hoo, 7-9, Sol Rockers band
Friday- Iguana Bar-7-9, solo guitar & vocals
Sunday- Bahia Tortuga- 7-9, Sol Rockers ban
d
On the internet in the past 24 hours...
Happy Canada Day to our Canadian Neighbours South of The Border!
(Yesterday-Sunday)Tony Garcia

Back sweet home. Raining afternoon with thunder and lighting the course on Contoy was excellent.
Ronda : list of PIÑATAS for sale in an Isla Mujeres ad on Fb...I wanna buzz lager, please..;)
*monster high
*spider man
*iron man
*sirenita


...

*bella
*angellina ballerina
*buzz lager
*budy
*capitan america y mas!
Isla Mujeres

Sunday! Let's have some fun! ¡Domingo! ¡Vamos a divertirnos!
Caribe On Canvas

here's a shot that I just reworked yesterday. It was taken in the beach area adjacent to Fenix Lounge.
Last 24 hrs
"Time Lapse" of Playa Norte Webcam: LINK
Playa Norte

now in real time in Isla Mujeres
The Early Edition has headlines & newspaper photographs.
This Afternoon/Final Edition has translated articles, events, & original photos with the "Around the Internet in the Past 24 Hours" section.
Both blogs always have links to the original articles.
Usually if there is a headline, but no translation, it was probably published in another paper recently, and the information was translated.in a previous post, usually in the past couple days.
.
Check out our new Restaurant Guide.

..with Delivery numbers, Menus, & (coming soon) Special Deals...HERE!