Join the nearly 10,000 followers of Isla Mujeres News & Events on Facebook for more photos, videos, events & updates
~~~~~~~~~~~~~~~~~~~~~~~~~~~~~
Dawn this morn
from MVC B&B...
Rain rolling in yesterday morning
...
Two new ferries for Isla Mujeres
("primarily") that will each hold 459 passengers (!), with stages for live bands, powerful sound systems & multicolored lights above & below the waterline. Looks like three levels.
LINK
to article in English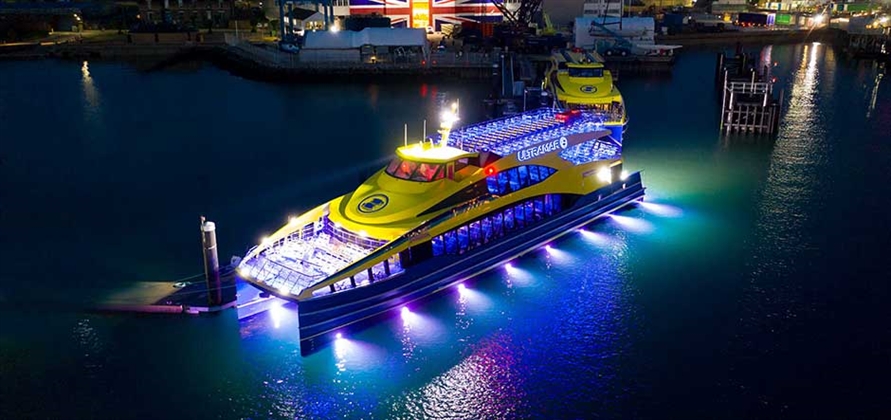 Photo from Cruise and Ferry Net LINK
VIDEO
,
VIDEO
of
car flipped near the hurricane shelter and abandoned,
videos were posted around 8-9pm.
Photo of the car on its side
(and police officers) with caption noting it is a Nissan Versa, abandoned by its driver, 'presumably in a state of drunkenness' near Capt. Dulche.
VIDEO of empty Playa Centro
with caption that says: This is how "Playa Centro" looks in Isla Mujeres, due to the rain from Tropical Wave #10.
The Mayor expects an excellent summer holiday season
VIDEO
Good acceptance of the Isla Verde campaign
VIDEO
VIDEO posted around 8-9pm yesterday (Sunday)
Last evening, the ambulance & police came to this accident scene near Capt Dulche-Playa Lancheros-the Hurricane Shelter, but the flipped car had been abandoned. The reporter says the music is still playing and the airbag was deployed & he presumes excessive speed and alcohol may have been involved. The comments say it is a silver Nissan Versa.
As of July 1st, the offices of ZOFEMAT (Federal Zone agency) will be located in the Casa de la Cultura building.
Recognition and appreciation for the 75 graduates of the high school
Colegio Bachilleres with the City Secretary General representing the Mayor at their graduation ceremony (photos)
About 5336 students in the municipality, from both public and private schools began their summer holidays
on Friday, June 28, and they will return to class on August 26.
VIDEO that recommends wearing clothing that blocks solar rays when you go into the sea,
because sunscreen (including biodegradable) and tanning lotions are harmful to the reefs and sealife. The first tank is regular sunscreen, the second is biodegradable, and the third is tanning oil. The stats are an estimate of how much sunscreen is used annually by tourists in the waters by Cozumel.
Due to decreased hotel occupancy, some restaurants
downtown and in the tourism areas of Isla Mujeres have shortened their hours, and aren't open in the mornings. Although Isla Mujeres has been free of sargasso, it is affecting tourism in the region because it is affecting Cancun and the Riviera Maya, according to the representative of the
National Chamber of Commerce in Isla Mujeres, Juan Carrillo Figueroa. He says hotel occupancy is less than 30 percent.
From
Por Esto :
Rainy weather decreased tourism
Tropical wave #10 did not cause the heavy rain that was expected, but it decreased tourism. Playa Centro and North Beach were empty at noon, but since people realized it wasn't raining and there were no strong winds, they began to arrive, although fewer than usual.
More tourists are expected this summer
There were 25% more tourists during the summer of 2018, compared to the summer of 2017, which is attributed to the fact that Isla Mujeres has been much less affected by sargasso than other destinations, in addition to the safety and cleanliness of the island. The mayor said that the volume of tourists this summer is expected to exceed last year, because the beaches are in good condition, the urban environment is clean, and the island is safe.
He also spoke about the new campaign to have municipal employees and their department heads cleaning on Saturdays in the streets, mangroves, parks, sidewalks & paths, and other public areas. There is also an intense campaign to remove tons of accumulated trash from the Transfer Facility with the hiring of half a dozen trucks, each with a 30 ton capacity, to carry out this task during July, moving 2000 tons per week.
Anti-sunscreen campaign
There is a video campaign on social media against the use of sunscreens, including biodegradable sunscreen, which are thought to be associated with bleaching of the corals. The Ministry of Tourism (SEDETUR) reported that the state of Quintana Roo had nearly 20 million visitors in 2017. It is assumed that a vast majority went to the beach, wearing sunscreen. It is recommended that clothing be worn that blocks solar rays.
Los Cockteleros remain undefeated
The Cockteleros baseball team of Isla Mujeres had their seventh consecutive victory when they beat the Baseball Boys (of Cancun) with a score of 4-3. The team are leading the competition in Group B of the Puerto Morelos League, and expected to qualify for the final tournament with a good chance of winning the title.
Yesterday.....
Isla Mujeres news briefs
Breves de Isla Mujeres
The campaign among fishing cooperatives to capture lionfish, an invasive exotic species to our reefs, is still active and ongoing. Monitoring indicates that initial results are successful, and the population is declining.
María del Carmen García Rivas, of SEMARNAT (Ministry of the Environment and Natural Resources)reported that lionfish have decreased in the Reef National Park of Puerto Morelos. She said they also have natural predators such as sharks, groupers and cormorants.
The Isla Mujeres Cockteleros were scheduled to play an 'away' game on Sunday against the Baseball Boys (of Cancun) at 11am.
Forty children had their first communion
As part of the annual festivities for the fifth year at the Sacred Heart of Jesus church in colonia La Gloria, forty children celebrated their first communion on Friday. There were events of Thursday, and the annual procession thru the streets of the colonia was on Friday night.
Fishermen advised to carry their documents on board
With the eight-month lobster season about to begin on July 1st, the president of the Federation of Fishing Cooperatives of Quintana Roo, Baltazar Gomez, advised the fishermen to have their documents on board for inspection by Naval personnel.
Each vessel must have current documents, certificates and permits to catch lobster and fish, in addition to the required safety equipment, such as fire extinguishers, lights, life preservers, whistles, flares and anchors. It is noted that they are monitoring for cloning of boats which has been detected recently, in addition to the safety equipment.
The prices of lobster are:
whole live from 400 to 450 pesos per kilo; whole dead, from 350 to 400; and tails, from 580 to 600 pesos (~$16us/lb). These are the prices for the five cooperatives of Isla Mujeres, and the more than 20 cooperatives in the state of Quintana Roo.
~~~~~~~~~~~~~~~~~~~~~~~~~~~~~
This blog is brought to you by....
View from the rooms.
MaraVilla Caribe
Bed & Beach
Three rentals with large glass doors overlooking our white sand beach and the beautiful Caribbean sea, with kitchenettes &

fast WIFI.
In the coastal neighborhood of Bachilleres, among upscale villas & boutique hotelitos, convenient to downtown or the colonias, yet separate.

Quiet & Private.
Kitchen in a large studio. (Sur & Norte are identical)



Kitchenette in small room, Medio. There's a table & chairs across from it & a double bed.
A large slider opens from each of the 3 rooms onto the patio where each has a table & chairs, hammock & clotheslines. The BBQ is behind the pole, and the outdoor shower is outa the pic at left.
Large studio (Norte), I'm standing in the kitchen. A queen & single bed.
Free amenities such as hammocks,bikes, BBQ grills, safes, portable beach chairs & beach towels, washer & dryer, loungers.

Breathtaking panoramic views from the rooftop terrace. Large sliding doors open to a patio & our backyard-beach, overlooking the Caribbean sea. Upstairs room also available.

Downtown is ~ a mile away; if you don't feel like walking, flag a $2 taxi. Parking.

You can enjoy the music & crowds downtown, then come home our quiet neighborhood of Bachilleres where you'll

sleep to the sounds of the sea.

.

$275/$325/$425 wk $40/50/$65nt Monthly Discounts


Large studio (Sur) with Queen & Single bed. Slider door & view are behind me.




Fine dining a few steps away at Da Luisa or try the neighborhood eateries a couple blocks farther. Within ten minutes walk are a variety of restaurants including Mango Cafe, Brisas, Manolitos, La Chatita, Green Verde, Kash Kechen Chuc, and the large department store-grocery , Chedraui. Visit marinas, bars, & beach clubs that are minutes away by bike or on foot. Attend Yoga classes a couple villas away at hotelito Casa Ixchel. Fresh juice, produce & tortillas a few blocks away in the village, as well as a variety of other stores and small local restaurants. It takes 20-30 minutes to walk downtown.
```````````````````````````````````````````````````````````````````````

July 16 7:35
July 17 8:22
July 18 9:04
July 19 9:43
July 20 10:20
July 21 10:54
Painting by Pamela Haase
Sunset ~7:30p
Sunrise ~6:10a

On Saturdays

at 8a-10a, Plogging events to clean up the island are held, meetup locations at this LINK . Bring your refillable bottle & they'll supply gloves, water, & bags, Here's the Accion Isla LINK

Wednesday nights

at 8:45p

, a new bicycling group invite people to join them for healthy recreation, meeting at Juarez & Abasolo. Lights required, helmet recommended.

LINK In July, fishermen in this region are banned from catching Octopus, Shrimp, & Conch LINK The baseball games

at the El Pescador stadium in front of Chedraui are usually held on Sundays, starting around 1p, when there's a 'home' game.

The new date for the Women's Fishing Tournament

"El Dorado del Caribe" haven't been announced yet.




Turtle nesting season continues throughout July.

The turtles nest along the eastern beaches in the wee hours of the night and Tortugranja staff and volunteers gather the eggs and incubate them in a pen outside the facility. Three species nest annually in Isla Mujeres; Greens, Loggerheads, and Hawksbills. The sex of the turtles is determined by the temperature of the sand, which is common in reptile

s.


Whale shark tour season

continues throughout July, ending in mid-September. The eight-month lobster catching season begins July 1st, and this year's prices are:

whole live- 400 to 450 pesos per kilo; whole dead-350 to 400; and tails- 580 to 600 pesos (~$16us/lb-tails).

Delta Aquarids Meteor Shower

July 12-August 23, peaking in late July

Saturday, July 6

Barracuda Fishing Tournament with a scooter for first prize, TV's for second and third, and cash for fourth and fifth places. It's sponsored by the political party PRI and will have a DJ & other activities starting at 11am.

Saturday, July 6th

at 4p, Connor Williams, offensive guard for the Dallas Cowboys, will sign autographs & do photo-ops with fans at the soccer field in Salina Chica. Then the "Isla Mujeres Bowl 2019" will be held in two categories of players up to age 13; and those of 15 years and up in separate male & female teams. Free. This will be "touch football", played according International Flag Football rules.

Fri-Mon, July 19-22- Whale Shark Festival Sources for Weather Information: LINK to Civil Protection Q Roo weather bulletin (Spanish) LINK to Mexico National Weather Service (Spanish) LINK to satellite images for the Mexico National Weather Service LINK to GOES East Band 16 GIF (animation) LINK to a private weather station on Isla Mujeres