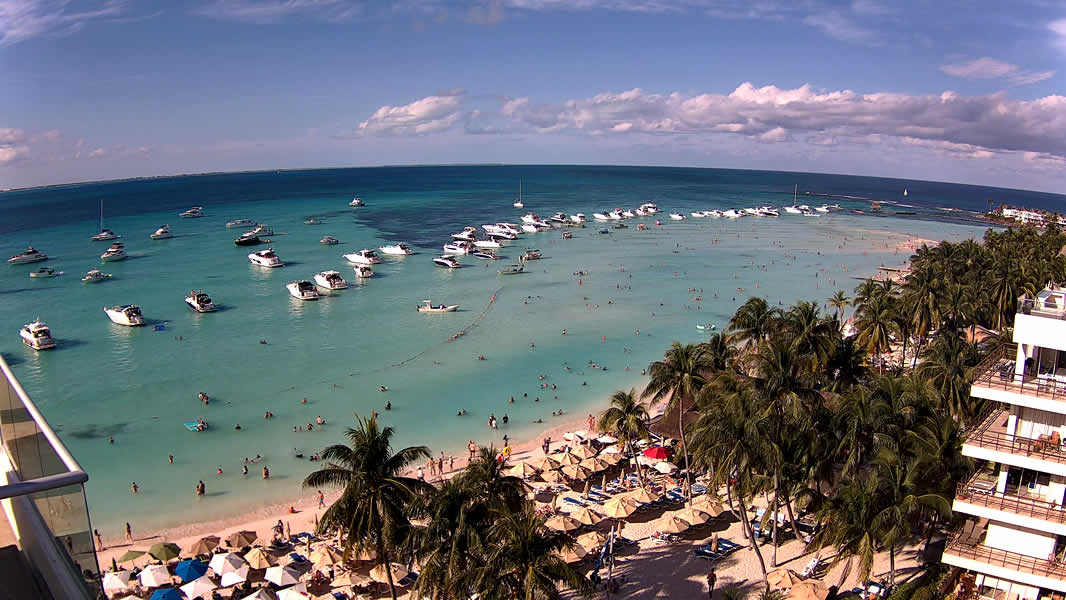 This is the live webcam at North Beach / Playa Norte. HERE is a timelapse version, that you can set to slow or fast (fps-frames per second). It takes a few seconds to load.
Follow Isla Mujeres News & Events on Facebook for highlights of news & events, and more photos & videos
~~~~~~~~~~~~~~~~~~~~~~~~~~~~~~~~~~~~~~~~~
~~~~~~~~~~~~~~~~~~~~~~~~~~~~~
FB News Sites about Isla Mujeres
Tvisla Mujeres
Isla Mujeres Al Dia
VIDEO
and photos of road repair and detour on prolongacion Rueda Medina in front to the Marma construction supply company and Green Verde and the caption says to be careful.
There is an announcement, with photo, of Sunday's baseball game. See Por Esto below.
Noti Isla Mujeres
VIDEO
of road repair and detour on prolongacion Rueda Medin, with interview that notes this will also be taking place in other areas of the island, including the colonias.
VIDEO
with caption that says:
12 hurricane shelters are enabled for the current hurricane season in Isla Mujeres
IM Noticias
~~~~~~~~~~~~~~~~~~~~~~~~~~~~~
From por esto Link to their Isla Mujeres articles & photos
Good weather expected for the weekend
Buen clima para el fin de semana
.. [+]
Ver masFull article at this link
This article is about Friday's weather forecasts. The current forecast from the state Civil Protection meteorological site says (translated):
Partly cloudy, scattered showers with squalls accompanied by isolated lightning, hot and muggy, easterly and southeasterly winds from 15 to 25 kph., with occasional stronger gusts.
HERE is the weather report from Wunderground & the Isla Mujeres weather station, in English. HERE is the weather report from the National Weather Service for Isla Mujeres, in Spanish.
The port was open for all nautical activities on Friday, and there were a good number of tourists arriving, generating economic benefits. The fleet of 240 boats engaged in whale shark tours were able to work, and the nautical signaling systems were all functioning. There have been no incidents so far this year.
Isla Mujeres University in 2019
Universidad de Isla Mujeres en 2019
[+]
Ver masFull article at this link
The university financed by Catholics in Isla Mujeres should start operations in January 2019,offering five specialties: hotel industry, tourism, languages, gastronomy, and computers, said Father
Raúl Sánchez Alonso.
Those interested in being part of the study plan will have to take an intensive course in English as the chosen language to communicate between teachers and students.
They will also take a leadership course.
This will be prior to starting their coursework. This is expected to benefit ~200 young people, according to the preliminary estimates from people close to the project.
There are
people from the United States who currently reside in Isla Mujeres who are offering support, who want to contribute something so that young people have the opportunity to prepare themselves, considering that of every 10 high school graduates, half would not have the opportunity
to obtain a higher level of education due to lack of money.
In his pastoral work with youths, Father Raúl Sánchez detected this problem three years ago and began to put together this plan.
The five buildings should be completed at the end of August, and the second one is currently under construction. They will be equipped in the fall, to open in January, offering five specialties.
Cockteleros vs Tigres for state baseball title
Cockteleros contra Tigres por el título del beisbol estatal
+]
Ver masFull article at this link
The Cockteleros de Isla Mujeres, will play Los Tigres de Cancun on Sunday at the island's baseball stadium El Pescador at 1pm on Sunday in the first game of the competition for state champions in the Primera Fuerza (lit. First Force) league. This is the first in a series, since the champions must win two out of three games. The second game will be in Cancun on June 24. There are 17 teams in the league. Good weather is expected for Sunday's game.
~~~~~~~~~~~~~~~~~~~~~~~~~~~~~
From

the Municipal Facebook site.....

( FB page link)
In accordance with the electoral laws, the municipal Facebook site has suspended the release of information as of March 29, until after the election on July 1st.

~~~~~~~~~~~~~~~~~~~~~~~~~~~~~
This blog is brought to you by....
View from the rooms.
MaraVilla Caribe
Bed & Beach
Three rentals with large glass doors overlooking our white sand beach and the beautiful Caribbean sea, with kitchenettes &
free WIFI.
In the coastal neighborhood of Bachilleres, among upscale villas & boutique hotelitos, convenient to downtown or the colonias, yet separate.

Quiet & Private.
Kitchen in a large studio. (Sur & Norte are identical)



Kitchenette in small room, Medio. There's a table & chairs across from it & a double bed.
A large slider opens from each of the 3 rooms onto the patio where each has a table & chairs, hammock & clotheslines. The BBQ is behind the pole, and the outdoor shower is outa the pic at left.
Large studio (Norte), I'm standing in the kitchen. A queen & single bed.
Free amenities such as hammocks, BBQ grills, outdoor shower, portable beach chairs & beach towels, washer & dryer, loungers.

Breathtaking panoramic views from the rooftop terrace. Large sliding doors open to a patio & our backyard-beach, overlooking the Caribbean sea. Upstairs room also available.

Downtown is ~ a mile away; if you don't feel like walking, flag a $2 taxi. Parking.

You can enjoy the music & crowds downtown, then come home our quiet neighborhood of Bachilleres where you'll

sleep to the sounds of the sea.

.

$275/$325/$425 wk $40/50/$65nt Monthly Discounts


Large studio (Sur) with Queen & Single bed. Slider door & view are behind me.




Fine dining a few steps away at Da Luisa or try the neighborhood eateries a couple blocks farther. Within ten minutes walk are a variety of restaurants including Mango Cafe, Brisas, Manolitos, La Chatita, Green Verde, Kash Kechen Chuc, and the large department store-grocery , Chedraui. Visit marinas, bars, & beach clubs that are minutes away by bike or on foot. Attend Yoga classes a couple villas away at hotelito Casa Ixchel. Fresh juice, produce & tortillas a few blocks away in the village, as well as a variety of other stores and small local restaurants. It takes 20-30 minutes to walk downtown.
```````````````````````````````````````````````````````````````````````
June

E

vents
Provided by MaraVilla Caribe & Isla Mujeres Daily News & Events
Full moon rising over the Caribbean
June 1 10:07
June 2 10:52
June 3 11:35
June 27 7:14
June 28 8:03
June 29 8:49
June 30 9:33
Painting by Pamela Haase
Sunset ~7:25
Sunrise ~6:05
It's whale shark tour season (thru mid September) and turtle nesting season (thru mid October).
Photo by Tony Garcia of turtles mating off Punta Sur
Tortugranja staff collecting eggs at MaraVilla Caribe beach
A busy night for the mama turtles digging nests at MVC
Friday, June 1
Navy Day
Día de la Marina. Usually there is a wreath placed at sea in memory of sailors who lost their lives at sea

.
Saturday, June 2 Plogging cleanup 8a Location TBA
LINK
Action for Isla link
Sunday, June 3 Noches Magicas performances at 8p on the Town Square
Tuesday, June 5 World Environment Day
Friday, June 8 World Ocean's Day
Saturday, June 9 Plogging cleanup 8a Location TBA
LINK
Action for Isla link
Sunday, June 10 Noches Magicas performances at 8p on the Town Square
Saturday, June 16 Plogging cleanup 8a Location TBA
LINK
Action for Isla link
Sunday, June 17 Father's Day
Sunday, June 17 Noches Magicas performances at 8p on the Town Square
Thursday, June 21 Summer Solstice
Sat & Sun, June 22 & 23 Women's fishing tournament "La Dorada del Caribe" Fifth edition
Saturday, June 23 Plogging cleanup 8a Location TBA
LINK
Action for Isla link
Sunday, June 24 Noches Magicas performances at 8p on the Town Square
Sources for Weather Information:
LINK
to Civil Protection Q Roo weather bulletin (Spanish)
LINK
to Mexico National Weather Service (Spanish)
LINK
to satellite images for the Mexico National Weather Service (Yucatan peninsula is under Satellite GOES Este, I recommend "Animacion"
LINK
to a private weather station on Isla Mujeres
LINK
to Tropic Watch (in English)
LINK
to NHC in US (in English)
LINK
to Tropical Tidbits (in English)