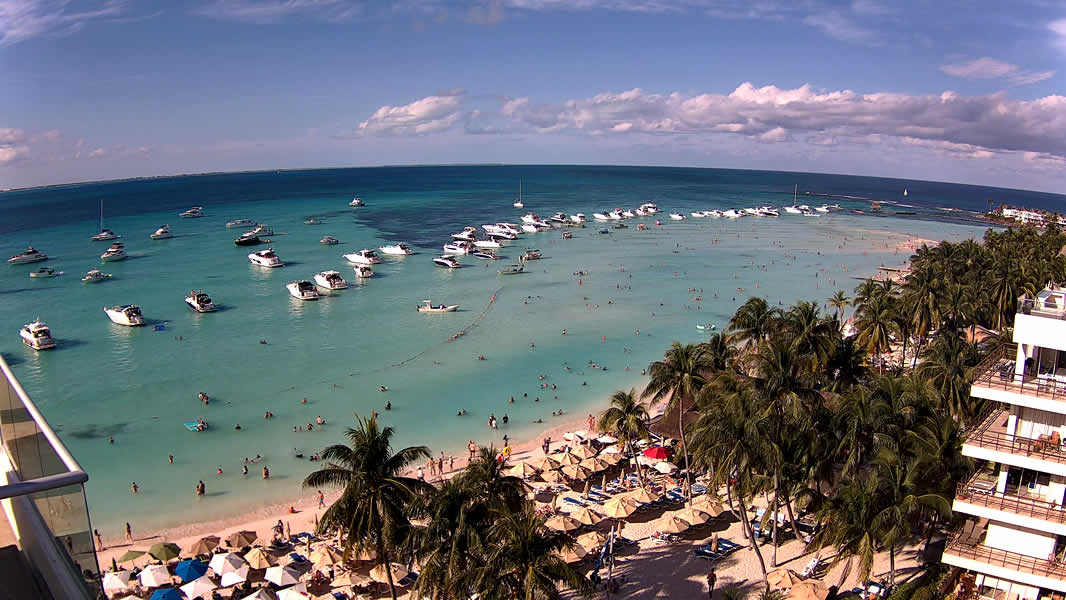 This is the live webcam at North Beach / Playa Norte. HERE is a timelapse version, that you can set to slow or fast (fps-frames per second). It takes a few seconds to load.
Disagreement on North Beach between businessmen continues
~~~~~~~~~~~~~~~~~~~~~~~~~~~~~
From

the Municipal Facebook site.....

( FB page link)
Dec. 4: World Day of Publicity
4 de Diciembre, Día Mundial de la Publicidad.
With the arrival of the holiday season, City of Isla Mujeres personnel work at putting up the decorations in the main parts of the downtown. This season, the Christmas spirit takes over the streets, which will be ready to receive tourists for the holidays
.
~~~~~~~~~~~~~~~~~~~~~~~~~~~~~
From
Tvisla Mujeres

( link

)
~~~~~~~~~~~~~~~~~~~~~~~~~~~~~
From por esto Link to their Isla Mujeres articles
Navigation restricted for small boats again
De nuevo, navegación restringida
.. [+]
Ver mas
December 4
The port was closed for navigation by boats under 40 feet from 6:30am due to effects of cold front #17 causing winds averaging 40 kph and gusting up to 60kph, which affected about six hundred boats. The rain that fell in the morning and early afternoon put a stop to most tourism, except in restaurants and bars.
With cloudy skies that threatened rain, there was a minimum number of people at the beach in the morning, who left when the rain started. There were a few foreign tourists, who must surely be from a cold country, for whom the weather conditions were not sufficient to force them out of the water.
Comisionista hawker Ramon Canche said, "It's always the same when it rains; a lot fewer tourists come to the island, since it's not as much fun, and it coincides with the port closing, so the tourism coops can't work either." Golf cart rental agency employee Manuel Lopez said, "Although demand is less when it rains, today was not so bad because when it started to rain, we had already rented several carts, and additionally, there are many people who do not mind getting wet, and just want to have fun and explore the island."
Businessmen disagree & tourists pay the price
Empresarios se pelean, turistas la pagan
. [+]
Ver mas
Islanders want better rate from vehicle ferry
Reclaman a operadora del ferry apoyar a isleños
.. [+]
Ver mas
Following the recent petition that was presented to the Ultramar ferry company with a list of demands, islanders are preparing to collect signatures to ask the Maritime ferry company for improved rates for islanders and to apply the rate for compact cars to more vehicles.
Currently the rate is nearly 500 pesos per round trip, and in social networks a user complained about the small discount of 17 pesos. There is no passenger discount for residents and for vehicles it is only 5 percent. They also want separate crossing for cargo loads, including those with the trash trailer truck, and they want the company to implement a customer service telephone number.
Congratulations to Isla Blanca Cooperative
Cooperativa Isla Blanca, de plácemes
[+]
Ver mas
This blog is brought to you by....
View from the rooms.
MaraVilla Caribe
Bed & Beach
Three rentals with large glass doors overlooking our white sand beach and the beautiful Caribbean sea, with kitchenettes &
free WIFI.
In the coastal neighborhood of Bachilleres, among upscale villas & boutique hotelitos, convenient to downtown or the colonias, yet separate.

Quiet & Private.
Kitchen in a large studio. (Sur & Norte are identical)



Kitchenette in small room, Medio. There's a table & chairs across from it & a double bed.
A large slider opens from each of the 3 rooms onto the patio where each has a table & chairs, hammock & clotheslines. The BBQ is behind the pole, and the outdoor shower is outa the pic at left.
Large studio (Norte), I'm standing in the kitchen
Free amenities such as hammocks, bikes, outdoor shower, portable beach chairs & beach towels, washer, loungers & BBQ.

Breathtaking panoramic views from the rooftop terrace. Upstairs room also available.

Downtown is ~ a mile away; if you don't feel like walking or biking, flag a $2 taxi or hop on the bus. We also have room for parking,

You can enjoy the music & crowds downtown, then come home our quiet neighborhood of Bachilleres where you'll

sleep to the sounds of the sea.

.

$275/$325/$425 wk $40/50/$65nt Monthly Discounts


Large studio (Sur) with Queen & Single bed. Slider door & view are behind me.




Fine dining a few steps away at Da Luisa or try the traditional neighborhood eateries a couple blocks farther. Stroll five minutes down the coastal sidewalk to Mango Cafe, Bahama Mama, Brisas, or Manolitos. Walk less than 10 minutes to shop at Chedraui or to dine at Green Verde, Kash Kechen Chuc, or Seso Loco. Visit marinas, bars, & beach clubs that are minutes away by bike or on foot. Our guests recommend the Yoga classes a couple villas away at hotelito Casa Ixchel. Fresh juice, produce & tortillas a few blocks away in the village, as well as a variety of other stores and small local restaurants.
December

events
Sunset ~6:05
Moonrise over the Caribbean
Dec. 25 6:46
Dec. 26 7:43
Dec. 27 8:38
Dec. 28 9:32
Dec. 29 10:24
Dec. 30 11:09
Dec 31 12:03am (Jan. 1)
Casa de Cultura:

The photography exhibition of Isla's biological diversity is scheduled to continue thru Dec. 7. It features 70 photographs of native flora & fauna by local amateur photographers, including city employees, and students, rotated in groups of 40.

Casa de Cultura: "Una Mujer en Isla Mujeres" continues thru Dec. 11. Includes photographs and works on handmade bark paper.
On Thursday Dec. 3 you are invited to come to the esplanade (outdoor plaza) of the Casa de Cultura Isla Mujeres for the 10p food samples (from 5-7) and the artist fair (from 4-9), & dance troupe performances.
Thursday, Dec. 3 World Disabilities Day 4p March from police station to Salina Chica Green Dome where there will be workshops, educational activities, testimonials, and a performance by a pair of dancers from Cancun. Cancelled due to weather
Friday,

December 4 Inauguration of exhibition "A Tribute to the Mexican Muralistas" by the high school students of Bachilleres
This free photography exhibition continues thru Monday Dec. 7, featuring the biological richness of Isla Mujeres and its native flora and fauna at the Casa de la
Cultura Isla Mujeres
. It includes 70 photos, rotated thru in groups of forty, taken by local amateur photographers.
~~~~~~~~~~~~~~~~~~~
Nov 28 - Dec 8

Festival for the Virgin of Immaculate Conception,
the Town Saint. is held annually.
Link
Photos from two years ago (City press release)
Saturday, Nov. 28
Church of Immaculate Conception Mass at 7p followed by the taking down of the icon and a procession thru downtown, followed by fireworks, with music and folkloric performances of traditional dances in regional clothing at the church esplanade
Festival events at 8p nightly.
Sunday, Nov. 29: Miraflores neighborhood guild, with music and a dance
Monday, Nov. 30: The union of the Public Security Department (police) with a presentation of the ballet folclórico at the Casa de la Cultura, starting at 8pm.
Tuesday, Dec. 1: Two groups. The CROC gastronomic union and the neighborhood guild of colonia Salina Chica, where the RDS dance troupe will perform at 8pm
Wednesday, Dec. 2: Colonia Salina Grande neighborhood guild, with a presentation by the Senior Citizens Dance troupe and a performance by local artists César López and Anabel Burgos.
Thursday, Dec. 3: The cooperatives Caribe and Isla Bonita with a presentation of the ballet folclórico La Isleña at 8pm.
Saturday, Dec. 5: Four groups: Patria y Progreso fishing coop, Justicia Social fishing coop, el esperado woman's group, and the neighborhood guild of colonia La Gloria, with a presentation of the program Lluvia de Estrellas (Cascade of Stars) with local singers.
Sunday, Dec 6: The cooperative Isla Mujeres and the children's group, and the confirmations will take place
Monday, Dec. 7: Mega caravan with participation by all the people, with Las Mañanitas being sung to the Virgin of Immaculate Conception at the chapels of Caridad del Cobre, Sagrado Corazón and La Guadalupe.
Tuesday, Dec. 8: The guild of Las Conchitas, the first communions will take place, and the grand boat procession with dozens of vessels depart from the concrete pier at 4pm. THE POSTER SAYS 3P.
8p Celebration (Gran Kermesse), Dancing, Concert Town Square
Dec. 11 Casa de Cultura
noon Isla Mujeres-Caribbean Poetry Contest awards
Dec. 11 Chapel of Guadalupe Salina Chica-overlooking the Caribbean People gather to sing Las Mananitas to the Virgin of Guadalupe at midnight
Dec. 12 Dia de la Virgen Guadalupe...patron saint of Mexico Link to info about Guadalupe & Juan Diego

Start of Guadalupe-Reyes Holiday period, which ends January 6th.
Dec, 16-24 Posadas Navidenas... There is usually a children's Posada play during this time Link to information
During the posadas, there is usually a dance on the town square, featuring dances & costumes from different regions of Mexico
Dec. 19 Annual Golf Cart Parade 6p from Bachilleres thru the colonias
Dec. 20 Cancun Hotel Zone area 5p Annual decorated boat parade Link
Dec. 24 Noche Buena / Christmas Eve
Dec. 25 Dia de Navidad / Christmas Day
Dec. 26 Usually the annual
Quinceaneras

event and Mass at the Church of Immaculate Conception for young women who turned 15 during 2015 and who will be wearing beautiful gowns. More info TBA when available
Dec. 28 Dia de los Santos Innocentes A day of practical jokes, similar to "April Fool's Day"
Dec. 29
you are invited to come to the esplanade (outdoor plaza) of the Casa de
Cultura Isla Mujeres
for the 10p food samples (from 5-7) and the artist fair (from 4-9), & dance troupe performances.
Dec. 31 New Year's Eve Usually celebrated with a large party on the square with fireworks and dancing until dawn or beyond. People observe the sunrise at Punta Sur on New Year's morn. Tables can be reserved in advance, until sold out. More info TBA when available.
A New Year's article I wrote a couple years ago entitled "Did you eat twelve grapes? What color is your underwear?"
In Isla Mujeres, families celebrated the arrival of the New Year together. Some set up tables in the streets and dined on turkey stuffed with ground beef, with pinatas strung overhead, while others crowded the zocolo downtown for the bands and main fireworks. Every neighborhood brought in the New Year with a Bang, and the skies exploded with color in all directions. The stores have been selling dried salted cod, "bacalao", a traditional New Year's food that is pronounced "bah-kah-LAH-oh".
The newspapers mentioned the tradition of eating twelve grapes. These uvas de buenas suerte (grapes of good luck) should be consumed during a countdown, and each represents one month. The champagne toast is often an inexpensive cider that is shared by the whole family. Other customs include cleaning your house on New Year's eve & sweeping out bad luck. Wearing red underwear could bring you love in the New Year, or your white undies may bring you peace, and yellow represents wealth. Chocolate coins also represent wealth. Those who hoped to travel, grabbed an empty suitcase and took it around the block a couple times, or may have set it by the door, or circled it in the living room.
The old year may be represented by a life size character called El Viejo, The Old Man, who is filled with fireworks and set ablaze in the street. He may represent a politician, or he may be holding cigars & tequila. Fireworks are everywhere, and their names include metralletas (literally "machine guns" – but it means fire crackers), cañones (larger fire crackers), voladores (rockets) in many different sizes, chifladores (whistlers) and barre pies ("foot sweepers", that shoot sparks while spinning on the ground).
If you drop a shoe on New Year's morn and it lands "boca arriba" (mouth/face up) you will enjoy good luck in the upcoming year. Now it's time to shop for toys for the kids for Dia de los Reyes on January 6, and look up a recipe for rosca de reyes...King's cake, or they'll be available for sale. You eat this with hot chocolate, and if you get the Baby...it means you'll be hosting the next party & providing the tamales on Candlemas Day, Feb. 2.
Every Tuesday and Thursday: Free spay/neuter clinic (Isla Animals)
Consults 100p, Vaccines: parvo & distemper 50p, flea & tick meds 20p, wormer 10p. Helpers always welcome! Isla Animals, Mundaca Hacienda, 10am-4pm (No food morning of surgery/water ok)