This is the live webcam at North Beach / Playa Norte.
Follow Isla Mujeres News & Events on Facebook for highlights of news & events, and more photos & videos
~~~~~~~~~~~~~~~~~~~~~~~~~~~~~~~~~~~~~~~~~
~~~~~~~~~~~~~~~~~~~~~~~~~~~~~
News from the Municipal Facebook site.....

( FB page link)
In Isla Mujeres
we continue to work on conservation of the environment and fauna.
We have a commitment to take care of sea turtles during the nesting season,
to date there are 271 nests with 32,226 eggs. (Aug. 9)
VIDEO
whose captions say We continue working to protect sea turtles during the current nesting season.
VIDEO
whose caption says:
We continue working to keep Isla Mujeres

as the safest municipality in the state. Yesterday Isla Mujeres police officers began taking courses on "Human Rights in Police Work".
~~~~~~~~~~~~~~~~~~~~~~~~~~~~~
FB News Sites about Isla Mujeres
Tvisla Mujeres
Watching a low pressure system in the Atlantic
LINK
(
See information below the Por Esto section
)
City closes optical shop
LINK
There is some controversy and confusion over this closure, with allegations of possible political revenge since the owner was a City Council candidate with the MORENA political party.
Inspectors with the municipal office of Fiscalización y Cobranza (Compliance and Payments), who have a new director, decided to close an optical shop owned by Ricardo Gaytán Puerto, who insists that he had all his documents in order when the closure seals were placed.
Indications are that an error was made by the Municipal Treasury.
The owner of the optical shop "Isla Mujeres", Ricardo Gaytán Puerto, said that all his documentation is in order, so there is conjecture that this could be a political persecution, because he supports the MORENA political party and its Mayoral candidate,
Edgar Gasca Arceo, who was defeated during the recent election.
Mr. Gaytan said three inspectors from the municipal Fiscalizacion Department came on
Wednesday, around 7:00 pm,

requesting documentation for the operation of the business.
He said he presented the operating license for 2018, which covers the payments and authorizations of fees such as garbage collection, land use, and Civil Protection, all in force.
However, during the review, the inspectors detected that a document of consent or receipt of payment had a date of 2017, an error committed by the municipal Treasury Department that went unnoticed, and yet, the closure proceeded.
The owner of the optical store explained that the operating license was authorized because all of the requirements had been met, yet despite this, the inspectors applied the closure. .
He made it clear that the error on the document's receipt was not made by the owner of the premises, it was made by by the officials in charge of collecting the fees.
He was clear in pointing out that he will not pay a 'mordida' nor offer bribes, since he pointed out that corruption at the beginning does not come from the people. (ya que señaló que la corrupción en su inicio no proviene del pueblo.)
He concluded by saying that he is the first optician of Quintana Roo, since 50 years ago, and this had never happened to him, and he claimed that his party would not behave in this manner.
Anticipating more power outages in Isla Mujeres
LINK
Even though the problems with blackouts has been reported for over 8 years (more than a six-year term), there is no budget to deal with changing the submarine line, which as everyone knows, has expired its useful life, which is why there is now an emerging plan to obtain generators to be able to guarantee the electrical supply in the island. (Note: The state Governor is in the second year of his six year term, and the President-elect of Mexico and the Senate will begin their six years on December 1st.)
According to CFE workers, the problem lies in the lack of adequate planning and investment for the lines that supply electricity. In the face of this emergency, the CFE (Federal Electrical Commission) now plans to bring about 24 power plants to Isla Mujeres, which would be responsible for guaranteeing electric power in each of the sectors.
One worker said, "The island is now divided into three large sectors, which are subdivided and we are installing some transformers to avoid overloading the lines."
They acknowledged that the definitive solution would be to change the submarine line, but this could take one to two years, not only because of the budget issue, but also because of the change in government.
For now, the CFE has adopted measures to "ration" power to hotels that have alternate service stations (power plants), in order to avoid overloading the lines in different sectors of Isla Mujeres.
Islander called to join National Juvenile Handball Team
LINK
Joshua Nava Fuentes, 18, traveled to Mexico City to participate in a training camp and join the national handball team and
participate in the IHF COPA, which will take place
September 25 to 30.
Accumulating Trash at the Transfer Facility
The Director of Public Services of Isla Mujeres, Pablo Moreno Povedano acknowledged that in the subject of garbage, specifically regarding the transfer of trash to the Continental Zone landfill, the City has been unable to keep up, due to the large number of tourists that arrived during this holiday season.LINK
Making sure Seguro Popular offers quality services
LINK
Crossing on the vehicle ferry is still attractive and economical
LINK
The vehicle ferry "Isla Blanca" resumed service after being suspended by authorities, and its economical rate of 40 pesos per passenger is attractive to visitors. The other vehicle ferry "Sergio Gracia" went to Ciudad del Carmen in Campeche to receive maintenance.
The company said they intend to have the ferry back within a period of no more than a month and thus put the two boats to work, which would help with the flow of cargo transport.
Lancheros (who provide small boat tours) operating at 50%
LINK
José Manuel Ancona Galué, president of the cooperative "Adolfo López Mateos" said that coop members are operating at 50 percent, currently.
He explained that many vacationers begin to return to their places of origin and therefore the season for them is practically finished.
He said just last week they were operating at 100 percent, while now only half of their boats are going out.
The lancheros, as the boatmen are also known, explained that although many people are still arriving, few are interested in taking their tous, which include swimming (snorkeling) in the area of el Farito lighthouse and a buffet lunch.
PROFEPA office with closed doors
LINK
It has been nearly a year since the PROFECO (
Federal Consumer Protection Agency

) module was inaugurated, which shares facilities with Tourism, in front of the Casa de la Cultura), although it is unknown how many procedures they have achieved. Many say that the office is always closed, with no staff or secretaries to assist with procedures or take a complaint.
At the national level, the PROFECO agency is promoting the "Back to School and Private Schools" operation, however, at least on Isla Mujeres, to date, no progress has been made on these operations.
Ana Laura Castillo, in charge of Education and Dissemination of PROFECO, explained that in the case of Isla Mujeres it is unfortunately expected that there will be no school supplies Fair, but she promised that there would be a "monitoring".
She explained that the Profeco does not regulate prices, but they will respond to complaints and sanctions could be issued for any increases in prices of products that are most in demand currently when the students are about to return to school.
Isla Mujeres Al Dia
A place you must visi
t (Isla Mujeres)
VIDEO
Interview with the SINTRA representative in Isla Mujeres, Isis Morales, who announced that the agency's operation would continue in an ongoing manner. VIDEO
SINTRA operation monitoring vehicles
(photo)
The CFE continues with maintenance work and installation of a equipment for better distribution of the electricity within the grid. (photo)
Registration continues at the Middle School "Benito Juarez"
VIDEO
Municipal government continues protecting sea turtles
(article and photos, this information was previously translated)
Isla Mujeres police officers began taking courses on "Human Rights in Police Work". (photos)
Noti Isla Mujeres
IM Noticias
Joshua Nava Fuentes, 18, traveled to Mexico City to join the national handball team.
More power outages are expected this year (photos & article).
It is anticipated that there will be sporadic blackouts in Isla Mujeres for approximately one year, due to the problem of high demand overloading the insufficient existing electrical infrastructure, according to workers with the Federal Electrical Commission (CFE), who came to the island to carry out corrective actions aimed at alleviating the problems that the isle is going through.
One of these workers explained that in order to avoid having the demand overload the electrical infrastructure of Isla Mujeres, especially at night, and at the same time to avoid overheating the submarine line, which is what causes the momentary blackouts, the large hotels which have electrical generators are being asked to use them and they will be provided with fuel to operate their own equipment.
They said that these actions which have been implemented recently are provisional, since they will not solve the problem, but are intended to avoid momentary blackouts, as much as possible.
They explained that work is being done on the segmentation of the island until it is divided into 24 areas, with the intention of providing each of them with an electric generator, which would be activated at the moment that a failure occurs.
They explained that a great deal is involved with trying to replace the submarine cable with another one of greater capacity, and that this could occur in a year or so, which would solve this problem once and for all.
Closure seals placed on optical shop (photos & article).
This article has the same information as the one translated above, noting that the shop is in colonia Salinas.
Increasing demand for passenger service on the car ferry (photos & article)
This information has been translated already.
Generation of garbage exceeds capacity of the Public Services Department
Isla Mujeres on August 10, 2018. - The accumulation of garbage in the Trash Transfer Facility of Isla Mujeres, which some estimate at more than 25,000 tons, is attributed to the increase in the generation of garbage which occurred
during this summer holiday season, as a result of the record-breaking number of visitors, which reached 30,000 per day at its peak.
This was announced by the Director of Public Services, Pablo Moreno Povedano, who admitted that the amount of garbage that was generated during this holiday period exceeded their capacity, creating 60 tons of trash daily, compared to the usual 42 tons per day.
He said another truck was put into operation on Thursday, which is expected to decrease the amount of trash accumulated at the Transfer Facility, because with this vehicle, they will be able to remove about 65 tons per day.
He said that talks are being held with the Marinsa company, which is the new administrator of the vehicle & cargo ferries, asking them to grant what is needed to carry out this work, to increase the rate of removal.
He also mentioned that he has been talking with the Mayor, with the intention of putting into operation an emergent plan that allows the total cleaning of the Trash Transfer Center of Isla Mujeres, using at least two more "gondolas" (large trucks), which would speed up the removal of garbage from the island.
With this proposed measure, they expect to be able to remove an average of 100 tons of garbage from the island every day, until the transfer center is cleaned out.
~~~~~~~~~~~~~~~~~~~~~~~~~~~~~
From por esto Link to their Isla Mujeres articles & photos
Sargasso invades North Beach
Sargazo invade Playa Norte
Ver masFull article at this link
August 10--During the night and in the first hours of today (Friday), a large quantity of sargasso arrived and accumulated on the east side of Playa Norte, to be removed by the cleaning crew in the following hours. There were hundreds of kilos along about 300 linear meters, but it didn't create a problem for tourists, because it doesn't smell badly and would be cleaned away completely for the weekend tourists, before they arrive. However, at midday, some more of the sargasso had arrived, and could be seen in the area where tourists were relaxing and walking, but it did not have bad odors, and dries out quickly in the heat.
Mats of sargasso can be seen from the east side of the island, and some enters the area by the Casa de la Rocas, by the islet Yunque, where the hotel Mia is located. It is expected to continue to arrived in August and September, and even into the fall. The other coastal areas of Quintana Roo have been greatly affected, much more so that the island.
Slow sales of artisan products
Pocas ventas de productos artesanales
.. [+]
Ver masFull article at this link
Souvenir vendors who sell handcrafts at outdoor shops and around the island say their prices are lower because their profit margin is lower, and many create and collect their own products. They hope word of mouth advertising will improve their sales, and don't pay comisionistas, but some taxi drivers bring them clients who are seeking souvenirs to take home with them.
There are vendors with stalls in front of colonia La Guadalupana with very affordable prices, who sell conchs for 30 pesos while at the beach they cost up to 100 pesos. There are also souvenir sellers at Punta Sur, Sac bajo, and other locations, including along the perimeter/coastal road. They pay a monthly fee of 300 pesos to the municipal government.
Police study Human Rights to avoid violating them
Los Policías estudian los Derechos Humanos, a fin de no violentarlos
. [+]
Ver masFull article at this link
Emblematic lighthouse in ruins
Emblemático faro, en ruinas
[+]
Ver masFull article at this link
This article is similar to the previous two published recently by Por Esto criticizing APIQRoo, the state Port Authority, for failure to maintain the lighthouse downtown, which has not been in use since hotels were built on its north side that were taller than it and its signaling devices were moved to the top of the building that is now the Mia hotel.
Activities taking place at sea without problems
Sin problema realizan las actividades en el mar
[+]
Ver masFull article at this link
August 9 The effects of Tropical Wave #27 were less than expected and it didn't disrupt nautical activities , including tours to Isla Contoy and to observe and swim with the whale sharks.The fishermen went out to catch lobster, fish and other seafood without problems, and there have been no shortages of seafood reported.
Pleasant cloudy day to enjoy the beach
Agradable día nublado para disfrutar de la playa
]
Ver masFull article at this link
At noon on Thursday, the day became cloudy, with the passage of Tropical Wave #27, but no rain fell. At 11am, North Beach was about 30% full, and large numbers of tourists continued to arrive on the ferries. The cloudy weather reduced the risk of heat stress, which has affected half a dozen visitors daily in recent weeks.
The Tourist Police and security personnel with private companies and the concession holders report there has been no problem with thefts this season and monitoring has been effective. The restaurants have been operating at 80 to 90 percent, and in general a "Saldo Blanco" (no serious incidents) has been reported for the holiday season thus far.
~~~~~~~~~~~~~~~~~~~~~~~~~~~~~
From the NHC at 2am (unchanged at 8a)
 A non-tropical area of low pressure is forecast to form over the
central Atlantic in a few days. The low could gradually acquire
subtropical or tropical characteristics while moving slowly
northeastward during the middle of next week.
* Formation chance through 48 hours...low...near 0 percent.
* Formation chance through 5 days...low...20 percent.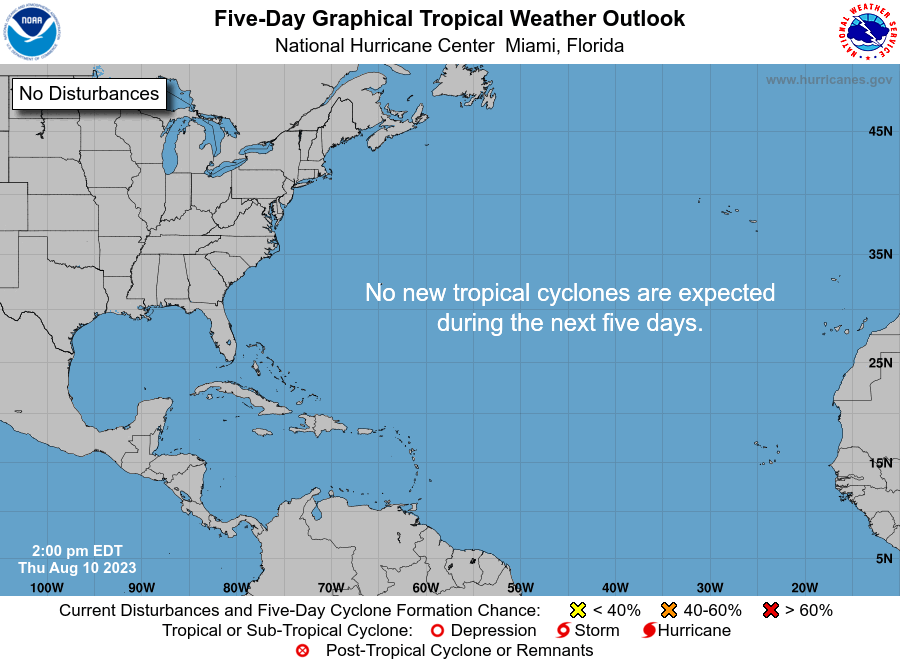 Two Meteor showers, Three Planets & Sirius the Dog Star
The Perseid meteor shower is currently ramping up in preparation for its peak tomorrow night, with
the best views during the predawn hours of the 13th. Tonight's shower is also expected to be spectacular. This year, there will be no interference from the moon, so the annual Perseid shower may produce up to 110 "shooting stars" per hour, if the clouds cooperate.
The meteors increase as the night progresses, with the best viewing in the predawn hours of Monday morning when the shower's radiant climbs highest. The Southern Delta Aquariid shower can also be observed, which peaked July 30th, and are slower, fainter, and less numerous than the Perseids.
About 30-45 minutes before sunrise, you should be able to see Sirius, the Dog Star, to the east-southeast, which is the night sky's brightest star. (Which seems appropriate during these 'dog days', named for its constellation, Canis Major.)
While the brightest star hangs low in the east before dawn, the brightest planet, Venus, lurks low in the west after sunset. On Monday evening, it will make a pretty pair with the 10-percent-lit crescent Moon appearing 10° to its right, over the Bay.
Mars appears nightly, low in the southeast over the Caribbean as darkness falls and grows more prominent as the evening continues, until about 4am. The Red Planet reached its peak during the last week of July, but is still easily observable. Saturn is visible until about 2am, but harder to spot.
On Tuesday after sunset, the Moon & Venus will make an even prettier pair, with the planet hanging 7° below the crescent Moon, which will appear 18 percent illuminated, over the skyline of Cancun. The 'peaking' of the Perseid meteors passes after the 14th, but the shower continues thru the 24th of August.
The built in seating on the roof of MVC is a great place to lie back & watch the night sky, or bring up one of the comfy portable beach chairs! Once your eyes adjust to the dark, you can also keep a lookout for turtles, tho this is a slow year & only a few have nested on our beach so far. (Graphic courtesy of Sky & Telescope, photo of Bruce w guests watching a mama turtle still digging at sunrise.)
Graphic from Sky & Telescope. Other sources
LINK
LINK
LINK
~~~~~~~~~~~~~~~~~~~~~~~~~~~~~
This blog is brought to you by....
View from the rooms.
MaraVilla Caribe
Bed & Beach
Three rentals with large glass doors overlooking our white sand beach and the beautiful Caribbean sea, with kitchenettes &
free WIFI.
In the coastal neighborhood of Bachilleres, among upscale villas & boutique hotelitos, convenient to downtown or the colonias, yet separate.

Quiet & Private.
Kitchen in a large studio. (Sur & Norte are identical)



Kitchenette in small room, Medio. There's a table & chairs across from it & a double bed.
A large slider opens from each of the 3 rooms onto the patio where each has a table & chairs, hammock & clotheslines. The BBQ is behind the pole, and the outdoor shower is outa the pic at left.
Large studio (Norte), I'm standing in the kitchen. A queen & single bed.
Free amenities such as hammocks, BBQ grills, outdoor shower, portable beach chairs & beach towels, washer & dryer, loungers.

Breathtaking panoramic views from the rooftop terrace. Large sliding doors open to a patio & our backyard-beach, overlooking the Caribbean sea. Upstairs room also available.

Downtown is ~ a mile away; if you don't feel like walking, flag a $2 taxi. Parking.

You can enjoy the music & crowds downtown, then come home our quiet neighborhood of Bachilleres where you'll

sleep to the sounds of the sea.

.

$275/$325/$425 wk $40/50/$65nt Monthly Discounts


Large studio (Sur) with Queen & Single bed. Slider door & view are behind me.




Fine dining a few steps away at Da Luisa or try the neighborhood eateries a couple blocks farther. Within ten minutes walk are a variety of restaurants including Mango Cafe, Brisas, Manolitos, La Chatita, Green Verde, Kash Kechen Chuc, and the large department store-grocery , Chedraui. Visit marinas, bars, & beach clubs that are minutes away by bike or on foot. Attend Yoga classes a couple villas away at hotelito Casa Ixchel. Fresh juice, produce & tortillas a few blocks away in the village, as well as a variety of other stores and small local restaurants. It takes 20-30 minutes to walk downtown.
```````````````````````````````````````````````````````````````````````
Full moon rising over the Caribbean
Aug 1 10:45
Aug 2 11:23
Aug 26 7:32
Aug 27 8:10
Aug 28 8:46
Aug 29 9:24
Aug 30 10:02
Aug 31 10:42
Painting by Pamela Haase
Sunset ~7:25 to ~7:05 (beginning vs end of month)
Sunrise ~6:20 to ~630
Provided by MaraVilla Caribe & Isla Mujeres Daily News & Events
It's whale shark tour season (thru mid September) and turtle nesting season (thru mid October).
Saturday, August 4
The Plogging volunteers will meet at the Mundaca Hacienda at 8am, and clean up from there until they reach Zama Beach Club, where they will enjoy soft drinks and fruit. A reminder to bring you reusable water bottle and to wear gym shoes.
Sunday, August 5
on the Town Square at 8p Dance troupes and singers from Isla Mujeres and Cancun....Noches Magicas!
Cancelled and you are invited to enjoy Noches Magicas next Sunday at 8p on the Town Square
Tuesday, August 8
Inauguration of the Dog Friendly Beach at 4:30p, below the cell tower and municipal slaughterhouse.
Sunday, August 12
Noches Magicas on the Town Square at 8p
Friday, August 17
Events celebrating the founding of the town TBA. Isla Mujeres was founded on August 17, 1850 as the town of Dolores, which is celebrated annually with events which include placing a wreath at the Cross in the Bay, and performances on the Town Square.
Saturday, August 18
Dance event on the Town Square at 7:30p
Sunday, August 26
The Circuito Maya race in Isla Mujeres will take place on Sunday, August 26, starting at 6:30am, with registration limited to 300 participants, and there will be 5k, 10k, and 15k categories. The kits will be available Saturday, August 25 from noon to 8p. The cost is 250 pesos for residents who present a voter registration card with an Isla Mujeres address and 400 pesos for others.
The Circuito Maya race in Isla Mujeres is the "Air" (Iik') element of the four races, which take place in four Pueblos Magicos in Quintana Roo and Yucatan. The other elements are Fire (K'aak'), Earth (Lu'um), and Water (Ha'). The other races are in Tulum, Bacalar, and Valladolid.
See website for more information: https://www.circuitomaya.mx/
Last year the Gastronomic Competition for Lionfish was held at the end of August.
Plogging events to clean up the island are held on Saturdays
LINK
and here's the
Accion Isla LINK
who are having events associated with project RESCATE.