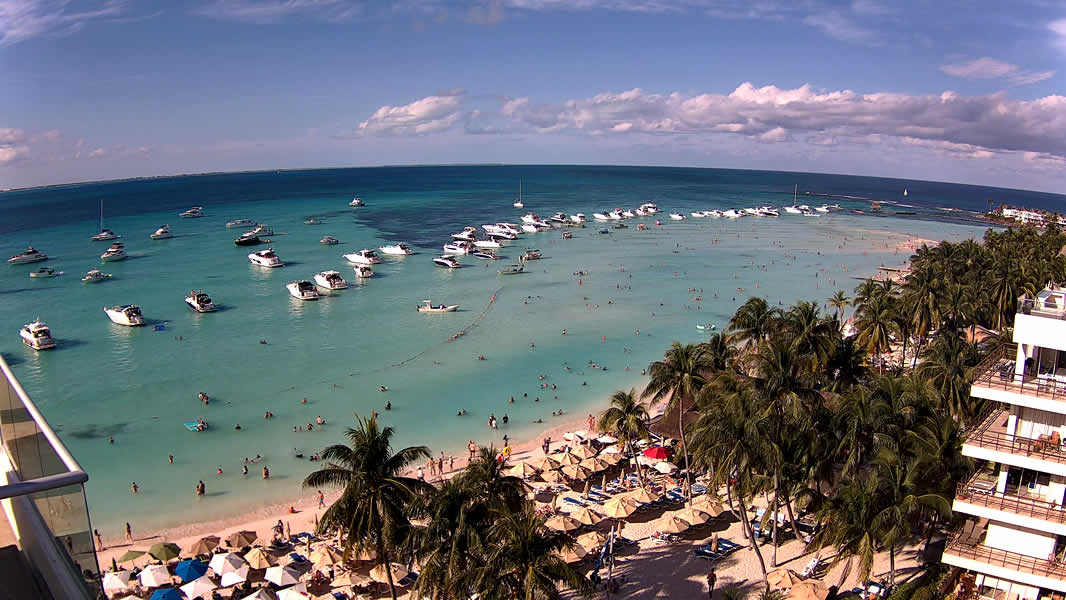 This is the live webcam at North Beach / Playa Norte. HERE is a timelapse version, that you can set to slow or fast (fps-frames per second). It takes a few seconds to load.
Good earnings expected during Carnaval: Mayor Juan Carrillo
Leer más..Full article at this link.
See translation in the City section below...
Strong north winds caused interruption of car ferry service
Leer más...Full article at this link
For the second time this year, car ferry service was suspended to Punta Sam which is uncommon. The strong North winds were more intense at the Punta Sam terminal since it does not have the same kind of natural protection as in Isla Mujeres, where the terminal is protected by the Bay. At 12:30pm on Wednesday, the ferry Sergio Aguilar Gracia was having difficulty maneuvering at the dock of the Punta Sam terminal, which was done successfully with the help of a winch located there. There were no incidents with the vehicles or cargo, and the management decided to suspend service, to avoid risking any mishaps.
~~~~~~~~~~~~~~~~~~~~~~~~~~~~~
From

the Municipal Facebook site.....

( FB page link)
Thanks to the good promotion of this destination a high level of hotel occupancy is expected this weekend on the island
GRACIAS A LA BUENA PROMOCIÓN QUE SE REALIZA DEL DESTINO, SE ESPERA ALTO NIVEL DE OCUPACIÓN HOTELERA DURANTE EL FIN DE SEMANA EN LA ÍNSULA
The Mayor said that it is important to emphasize that it is important to the municipal government to continue with the traditions and festivities that identify Isla Mujeres, as is the case with Carnival, encouraging the participation and enjoyment of the island families, as it is also an attraction for this
destination to increase the number of visiting tourists.
The Isla Mujeres Carnaval 2017 will take place Feb 24-28 with various free activities for the whole family, with performances by the dance troupes, coronation of the kings and queens, live music on the Town Square, and parades on Rueda Medina.
City Council approves important agreements in favor of islanders
The City Council of Isla Mujeres unanimously approved several agreements on issues of transparency, municipal development, ecology, and seeking better benefits for islander families. A collaboration agreement was signed with the Ministry of Public Management for collaboration with transparency and the fight against corruption. An agreement was signed for participation in the Program for Municipal Development. A unanimous vote was made in favor of the creation of the Animal Care and Welfare Regulation (
Reglamento del Cuidado y Bienestar Animal
) which is an important step for the municipality in the management of pets. A report was given about water and sanitation services on the island and in the Continental Zone by an Aguakan representative.
The City of

#

islamujeres

invites you to participate in the tournament of volleyball and football women that will take place on Saturday March 11th at 9:00 am on the rapid soccer field in Colonia La Gloria.
El H. Ayuntamiento de

#

IslaMujeres

te invita a participar en el Torneo de Volibol y Fútbol Femenil que se llevará a cabo el sábado 11 de marzo a las 9:00 am en la cancha de fútbol rápido de la colonia La Gloria.
There is a video of the Artist Fair that says
.... In Isla Mujeres art & local culture are promoted & encouraged. One of the featured events for tourists is the Fair of Art & Flavor / Feria del Arte & Sabor. Every Thursday at 4pm outside the Casa de la Cultura where hundreds of tourists and local residents enjoy examples of handicrafts, paintings, and food that is regional, national, and international, as well as live music and products that are made islander entrepreneurs, and much more.
~~~~~~~~~~~~~~~~~~~~~~~~~~~~~
From
Tvisla Mujeres

( link to photos & articles

)
Hotel occupancy of 95% expected for Carnaval weekend
http://www.tvislamujeres.com.mx/isla-mujeres-espera-llegar…/
The Harbor Master closed the port for navigation by small boats due to strong winds from cold front #29
http://www.tvislamujeres.com.mx/frente-frio-numero-29-para…/
Car ferry crossings to Punta Sam were suspended
http://www.tvislamujeres.com.mx/ferry-suspenden-cruces-hac…/
~~~~~~~~~~~~~~~~~~~~~~~~~~~~~
From por esto Link to their Isla Mujeres articles & photos
This blog is brought to you by....
View from the rooms.
MaraVilla Caribe
Bed & Beach
Three rentals with large glass doors overlooking our white sand beach and the beautiful Caribbean sea, with kitchenettes &
free WIFI.
In the coastal neighborhood of Bachilleres, among upscale villas & boutique hotelitos, convenient to downtown or the colonias, yet separate.

Quiet & Private.
Kitchen in a large studio. (Sur & Norte are identical)



Kitchenette in small room, Medio. There's a table & chairs across from it & a double bed.
A large slider opens from each of the 3 rooms onto the patio where each has a table & chairs, hammock & clotheslines. The BBQ is behind the pole, and the outdoor shower is outa the pic at left.
Large studio (Norte), I'm standing in the kitchen. A queen & single bed.
Free amenities such as hammocks, bikes, outdoor shower, portable beach chairs & beach towels, washer, loungers.

Breathtaking panoramic views from the rooftop terrace. Upstairs room also available.

Downtown is ~ a mile away; if you don't feel like walking or biking, flag a $2 taxi. Parking.

You can enjoy the music & crowds downtown, then come home our quiet neighborhood of Bachilleres where you'll

sleep to the sounds of the sea.

.

$275/$325/$425 wk $40/50/$65nt Monthly Discounts


Large studio (Sur) with Queen & Single bed. Slider door & view are behind me.




Fine dining a few steps away at Da Luisa or try the traditional neighborhood eateries a couple blocks farther. Within ten minutes walk are the restaurants Mango Cafe, Bahama Mama, Brisas, Manolitos, Green Verde, Kash Kechen Chuc, and the large department store-grocery Chedraui. Visit marinas, bars, & beach clubs that are minutes away by bike or on foot. Attend Yoga classes a couple villas away at hotelito Casa Ixchel. Fresh juice, produce & tortillas a few blocks away in the village, as well as a variety of other stores and small local restaurants. It takes 20-30 minutes to walk downtown.
```````````````````````````````````````````````````````````````````````
February

E

vents
Provided by MaraVilla Caribe & Isla Mujeres Daily News & Event
s
Feb. 2 Thursday 4-9 Artist Fair Casa de Cultura Art, Food, Craft Beer, Music, Fun
Feb. 5 Sunday 8p Town Square The Noches Magicas performances will feature three singers and four dance troupes, including the children's Folklorico troupe
Constitution Day This is the Centennial. The Mexican Constitution was drafted in Santiago de Querétaro by a Constitutional Convention during the Mexican Revolution. It was approved by the Mexican Constitutional Congress on February 5, 1917.
Feb. 6 Monday Day Off for Constitution Day (A Federal holiday, some cities & towns will have parades and celebrations. This is the Centennial)
Feb 7-11 Island Time Fishing Tournament
Feb. 9 Thursday 4-9 Artist Fair Casa de Cultura Art, Food, Craft Beer, Music, Fun
Feb. 10 6:39 followed by a lunar eclipse
Feb. 11 7:36
Feb. 12 8:31
Feb. 13 9:24
Feb. 14 10:16
Feb 11-16 National Artisans Fair 11a-10p Town Square
Feb. 12 Sunday 8p Noches Magicas performances Town Square
Feb. 14 Tuesday Valentine's Day
Feb. 16 Thursday 4-9 Artist Fair Casa de Cultura Art, Food, Craft Beer, Music, Fun
Feb. 19 Sunday 8p Noches Magicas performances Town Square
Feb. 23 Thursday 4-9 Artist Fair Casa de Cultura Art, Food, Craft Beer, Music, Fun
Feb. 24 Friday Flag Day
Feb. 24-28 Carnaval
FRIDAY FEB 24
GALA NIGHT OF CORONATIONS

Coronation of the Kings & Queens of Carnaval
Performances by Carnaval Dance Troupes
Town Square / 8p
Dance to

Live Music by MegaBoom
Photos by Bruce from Carnaval 2015
~~~~~~~~~~~~~~~~~~~~~~
The Artist's Fairs are scheduled weekly on Thursdays at the Casa de Cultura, 4-9 thru April 20.
Yoga at the Casa Cultura on Monday & Wednesday mornings at 9am and Tuesday & Thursday evenings at 6pm. On the back street, Guerrero, at Abasolo.